A colorful hearty breakfast made with quinoa, cabbage, avocado and an over easy egg topping with a light and healthy hollandaise sauce that tastes just like the real thing!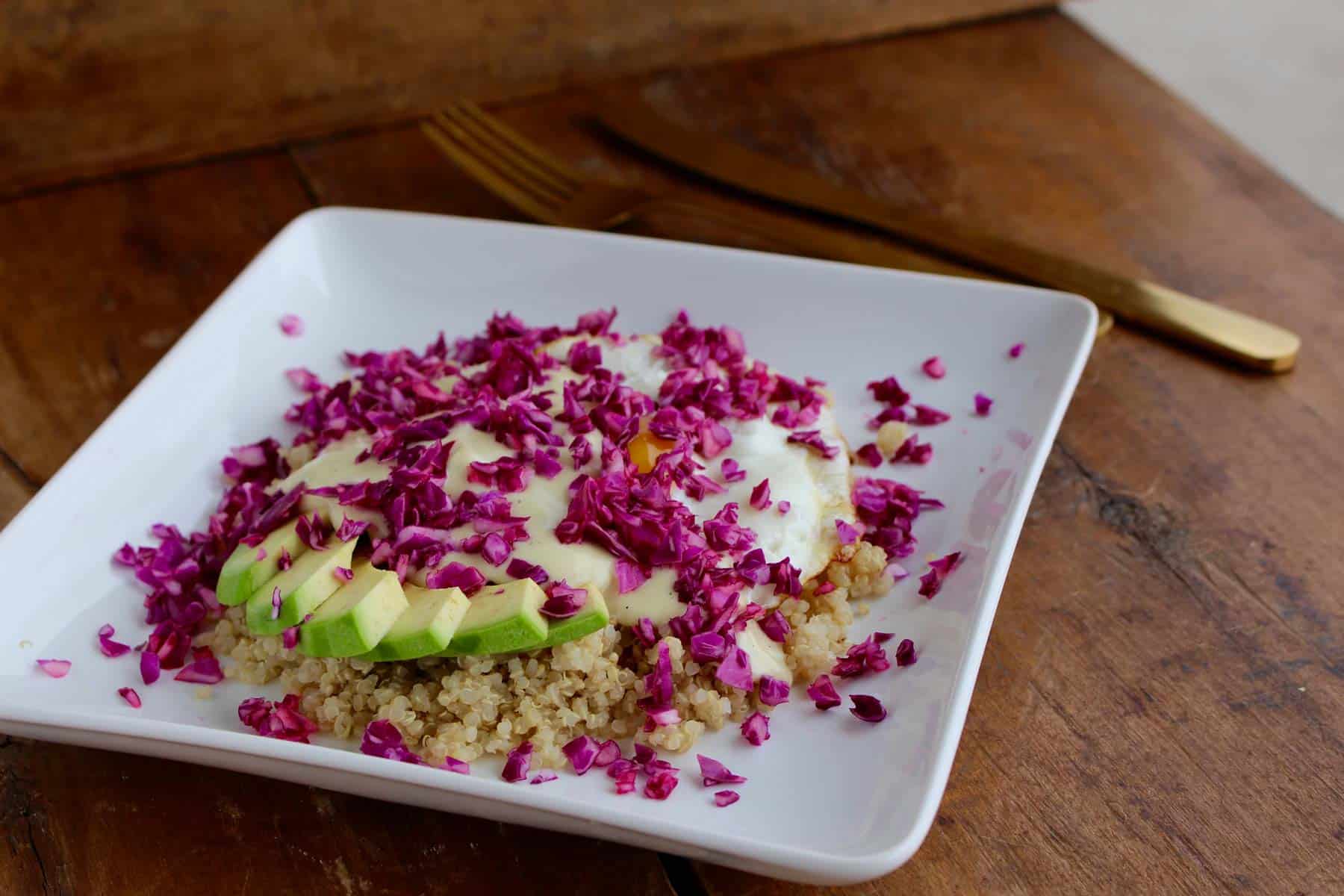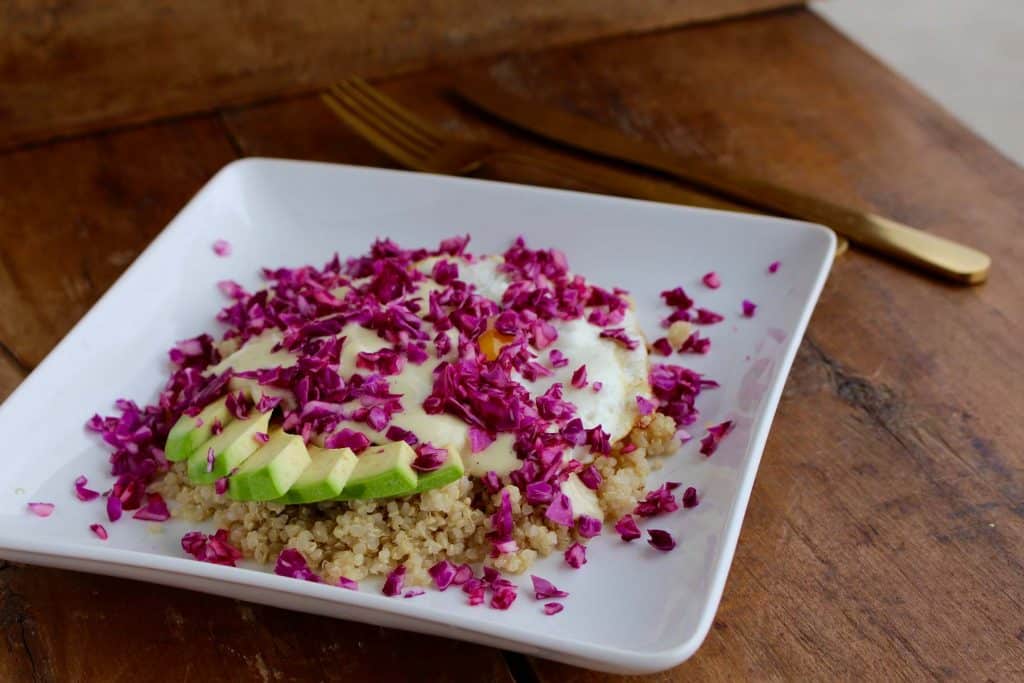 ---
I had zero plans of posting this recipe. I made this for breakfast last weekend and decided it looked kind of nice. So I pulled out my camera and tried to take a few quick pics before I scarfed in down… because I was really hungry. Sidebar – My nickname since I was a little kid has always been Harry which turned into Hungry Harry a few years ago. #HungryHarry #TheRealHungryHarry.
Anyway, I have a hard time even calling this a recipe because it is just a pile of random ingredients I dumped on a plate when I was hungry for a good hearty breakfast. Although very little thought went into it, it was pretty tasting, satisfying and healthy.
Having a variety of different flavors, textures and colors is the trick to making something out of anything.
Quinoa = nutty and slightly slightly chewing/firm (how do you describe the texture of quinoa?!)
Egg = soft and rich
Avocado = creamy and slightly sweet
Cabbage = fresh, crunchy and tangy (from the lemon juice)
Hollandaise = everything amazing, buttery and saucy
---
Other Breakfast Recipes
---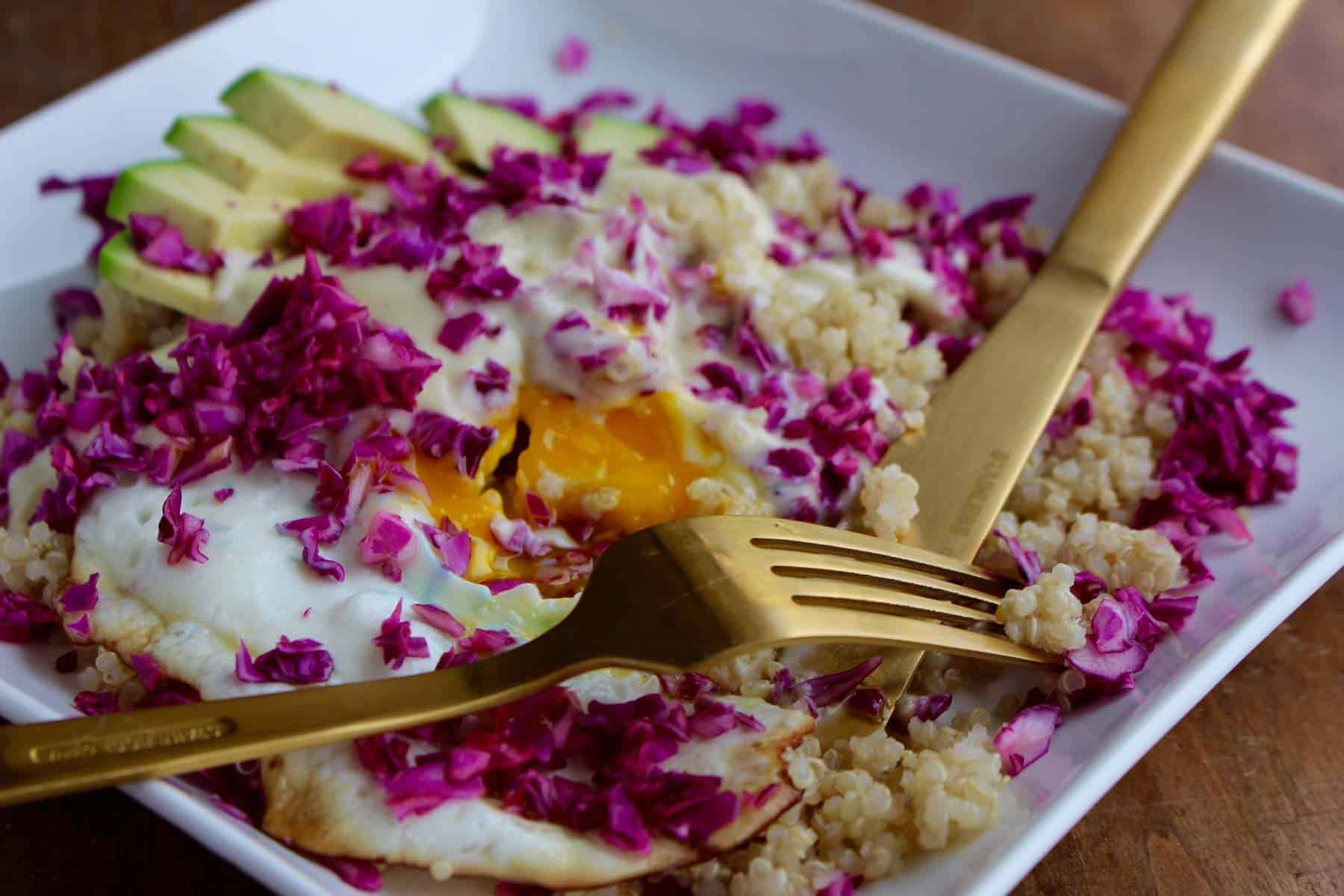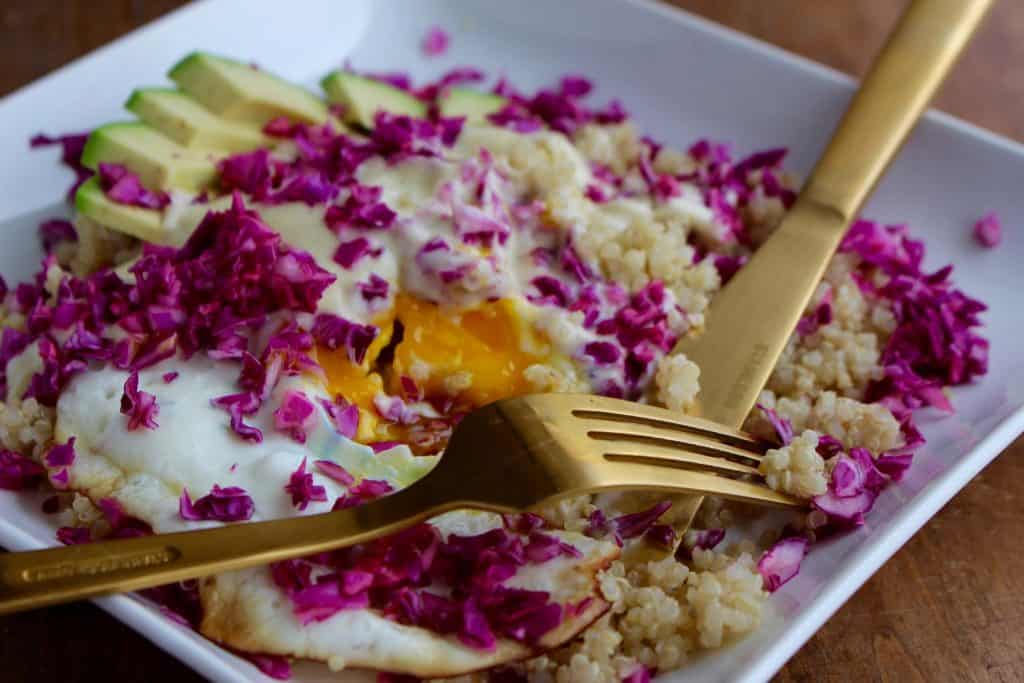 Print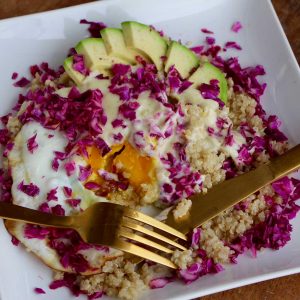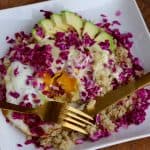 Breakfast Quinoa with Healthy Hollandaise
---
Prep Time:

10 minutes

Cook Time:

10 minutes

Total Time:

20 minutes

Yield:

1

1

x
Scale
Ingredients
3/4 cup

cooked quinoa
handful of red cabbage

1/2 Tbsp

. lemon juice (optional)

1

egg

1 tsp

. butter

1/4

avocado

2

spoon-fulls of Hollandaise*
salt
---
Instructions
Quinoa: Cook quinoa according to package instructions. It is usually 1 part quinoa to 2 parts water. OR you can just make quinoa in bulk and keep a supply of cooked quinoa in your fridge like I do. So, when hunger comes a knockin' it is already ready to go!
Cabbage & Avocado: Chop up a handful of red cabbage or pop it in a food processor. I used my mini food processor because it did all the work for me in about 4 seconds. Then sprinkle the cabbage with a pinch of salt and a squeeze of lemon juice (1/2 Tbsp.). Cut the avocado into slices.
Egg: Put a small pan over medium to medium/low heat. Grease the pan with a little bit of butter. I cooked my egg sunny side up but you can cook your egg however you please! To cook it sunny side up gently crack the egg into the pan. Then cover the pan and let it cook for about 3 minutes. Keep a close eye on it. The eggs is done when the egg white has cooked through and the edges are golden brown. The yolk should still be bright yellow and runny. Season with a pinch of salt.
Assemble: It is time to pile it all on a plate. Start with the quinoa, then add the egg, avocado and cabbage. Then top with Hollandaise sauce (queue angels singing)!
---
Notes
*You can get hollandaise "packets" at the grocery store or make healthy hollandaise at home that tastes like the real deal!