Generally, I write about healthy things. I believe eating real fresh food is the key to a healthy diet. However, I also believe in living life, new experiences, and making memories. Therefore, on occasion I may veer off my normal course when it comes to the foods I eat. Once a year, the Minnesota State Fair is one of those occasions, but instead of veering of course I actually pull a complete U-turn and speed in the opposite direction going 100 mph. Hey, it is only one day. I started this tradition with my brother Mike when I was in college. One year, there was so much eating that after I battled Mike in a Dance Dance Revolution competition (yeah blast from the past), I ended up vomiting in a State Fair trash can which was one of the more unpleasant experiences of my life.
For those of you who aren't familiar with the Minnesota State Fair, it is the second largest fair in the United States (only second to the Texas State Fair). For 12 days the Fair pulls the most interesting individuals out of the woodwork (seriously the people watching is incredible). This is the only place where it is standard to see an 83 year old woman wearing a tube top while carrying around a GIGANTIC tub of cookies and sporting a giant paper pickle hat. God, I love the fair.
The Minnesota State Fair is also famous for its wide array of glutenous food options which are all amazing for a variety of reasons.
Without even exaggerating, you can get almost anything on a stick. Obviously there are basics such as pickle on a stick or cheese on a stick, but it gets so much better than that. You can get chicken and waffles on a stick, coffee on a stick, hot dish on a stick, spaghetti & meatballs on a stick, breakfast on a stick (the name is so ambiguous it is actually absurd). The list goes on.
There is a fried version of everything… and I mean everything. You can find deep fried candy bars, deep fried twinkies, deep fried bacon (which may actually result in a heart attack), deep fried nachos, deep fried alligator, and many others. Looking for healthy options? They do have fruit!… but it is deep fried. Sorry.
Some of the food options are straight up bizarre. The BBQ Pickle Ice Cream is questionable but I'd give it a shot. There is also something called a shrimp dog but the name alone gives me such chills, I have yet to try it. You might want to stop by the classy wine and cheese booth but don't you fret! They slapped the classy right out of it by deep frying fine cheeses and offering bacon donuts.
Without further ado, you can find my (and my husband Tom's) 2016 Minnesota State Fair food adventure below! Enjoy!
---
Deep Fried Grilled Cheese Bites & Not Your Father's Root Beer
Oh my good Lord these bites were AMAZING. The cheese was thin and almost a little saucy versus the thicker texture of cheese is a normal grilled cheese sandwich. The thinner cheese worked though to balance out the extra breading from being deep fried. Not Your Father's Root Beer was the perfect pairing as it is pretty sweet. Not a bad combo to start out our State Fair eating extravaganza!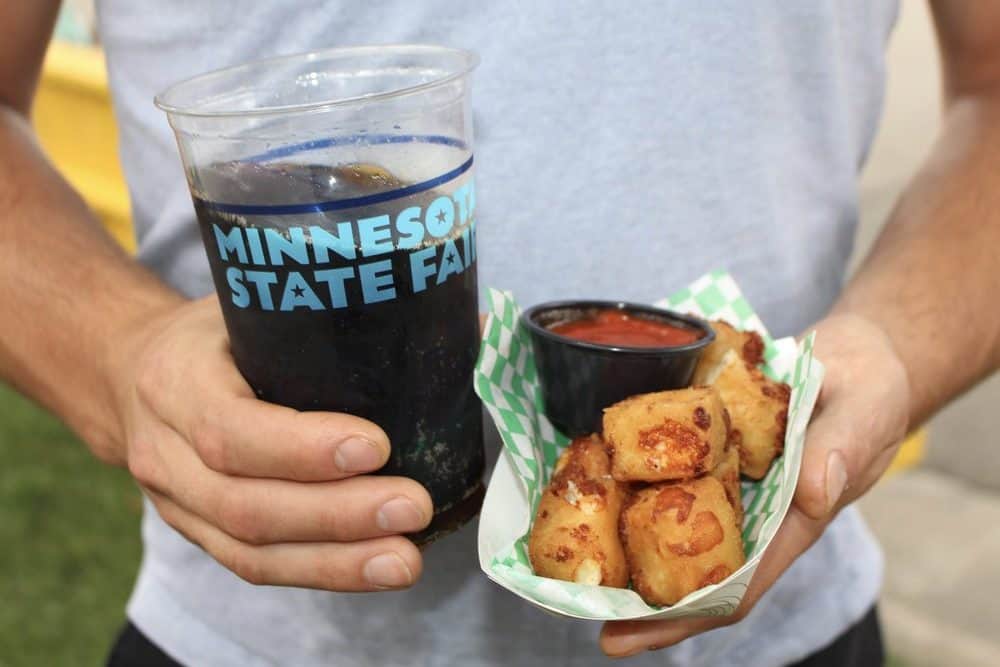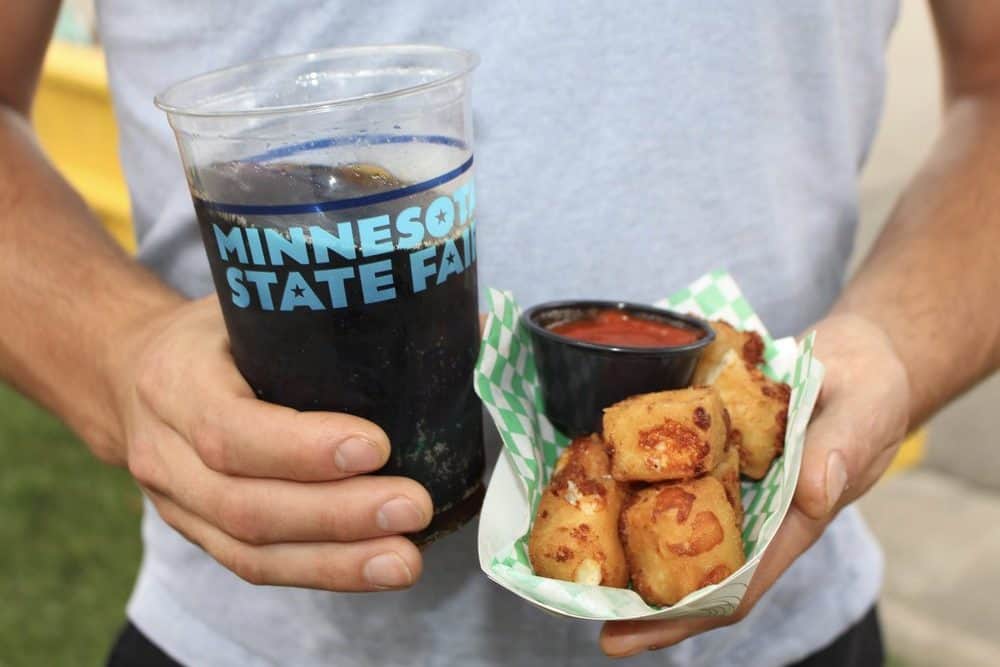 ---
Candied Bacon Donut Sliders
Although these sliders were pretty darn good, they weren't my favorite. They were slightly dry and served at room temperature. I feel guilty speaking ill of a fabulous duo such as donuts and bacon but, I was picturing more of a warm mini donut type thing when I ordered these beauties.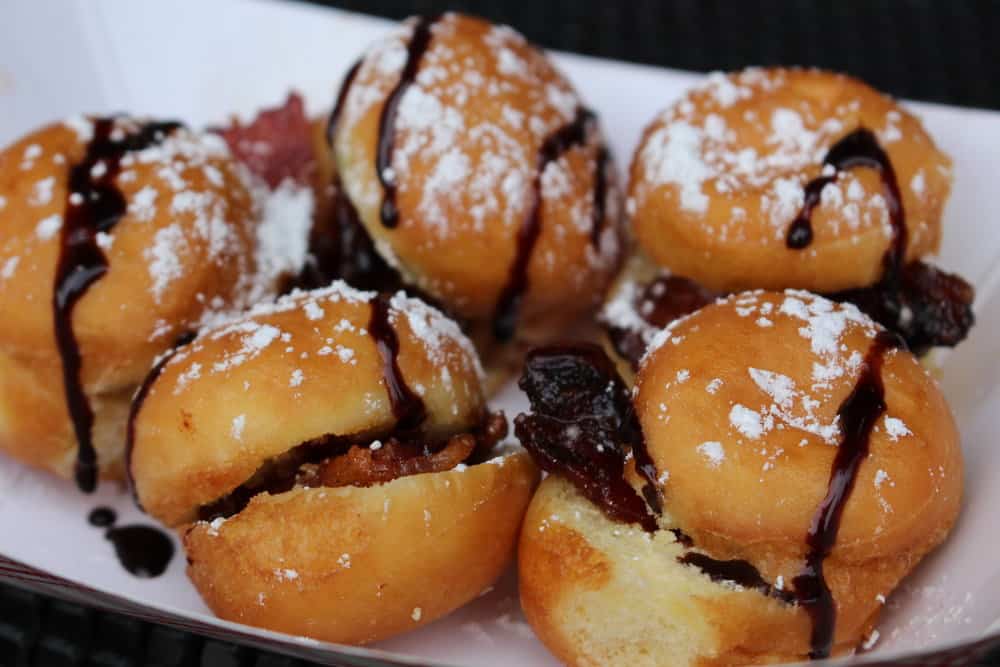 ---
Wine Fried Brie
Fried brie pretty much speaks for itself. You really can't go wrong with warm gooey brie wrapped inside a crispy golden shell. However, I'm not sure where the wine came into play. I couldn't take it at all!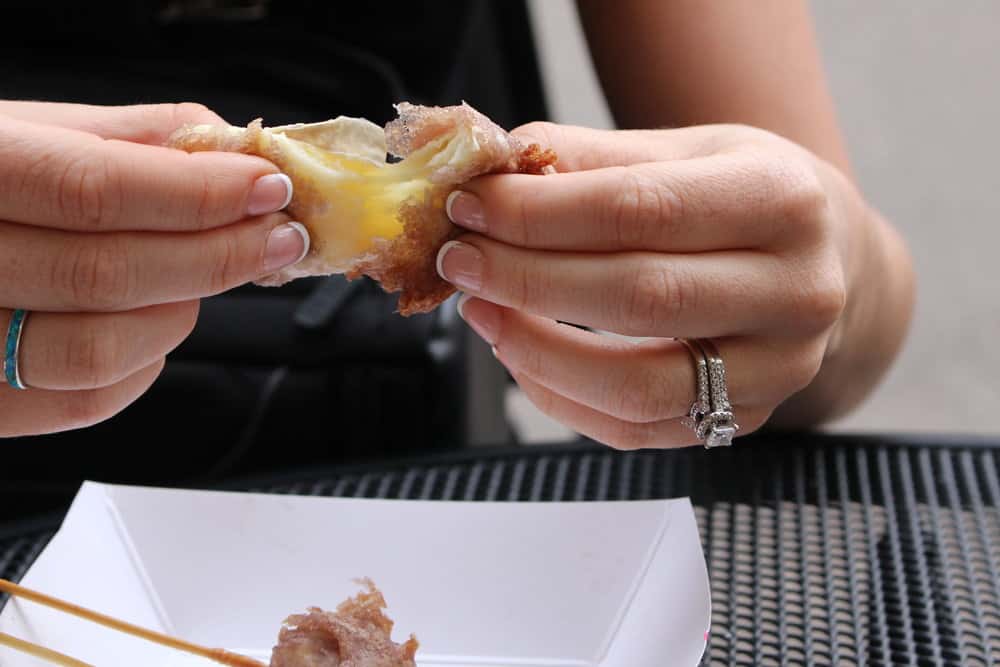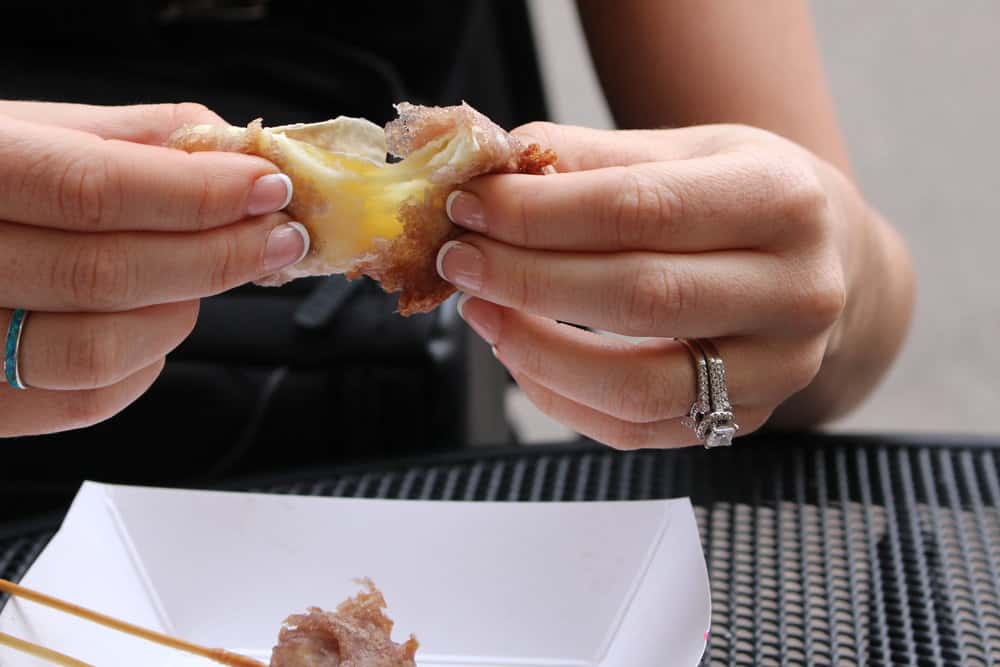 ---
The Glorious Blooming Onion
Although I like to try the new and weird food combinations that emerge every year, I always go back to the basics for a few of my food selections… such as the Glorious Blooming Onion. For starters this thing is HUGE and physically heavy. The beautiful golden petals dipped in liquid gold made my heart sing.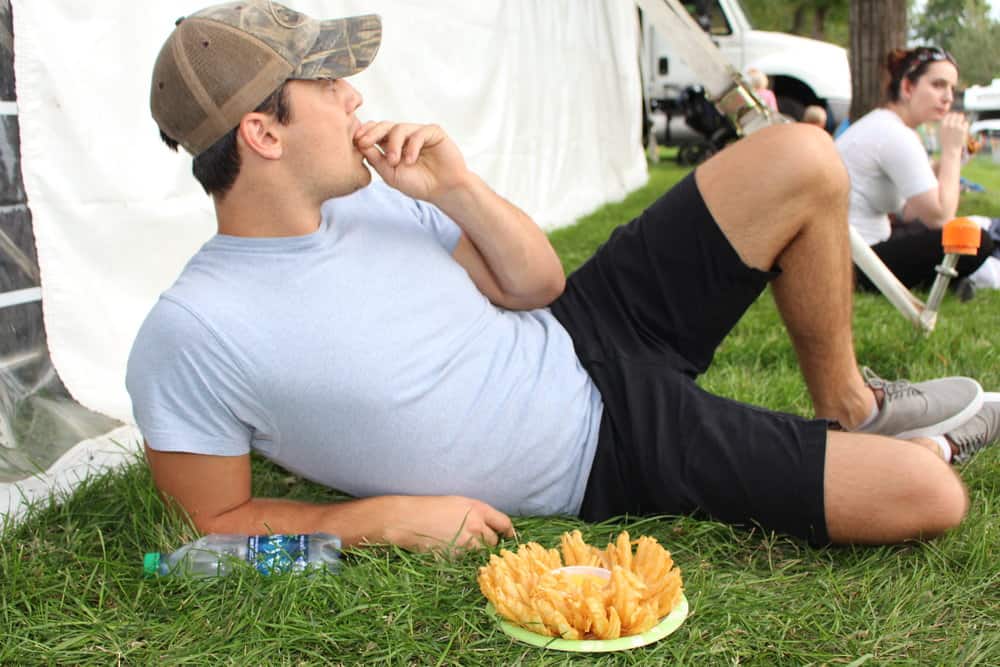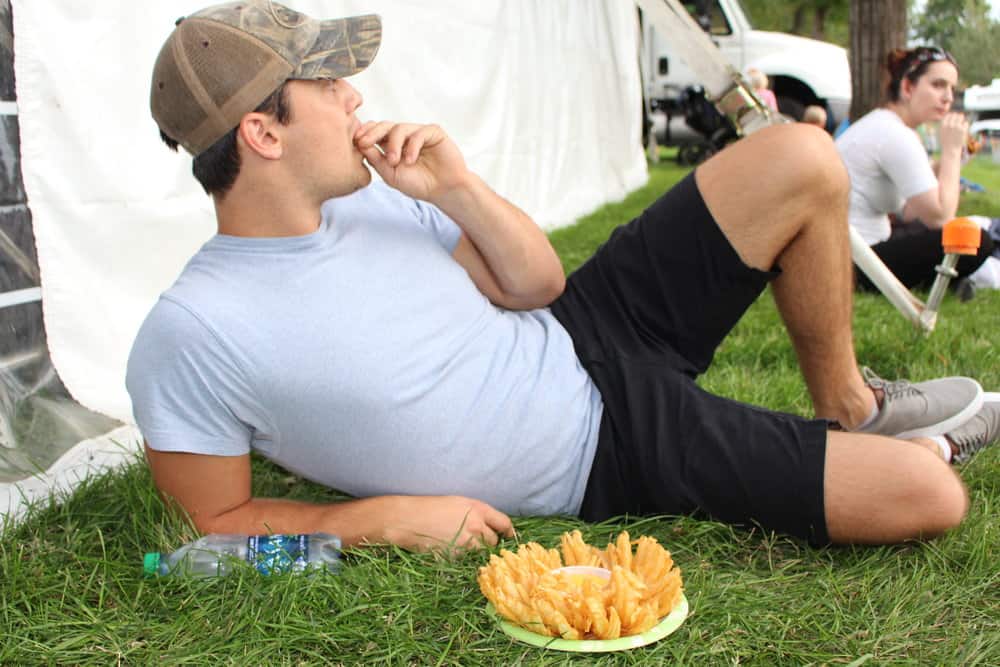 Tom looking modelesque as he poses with his onion.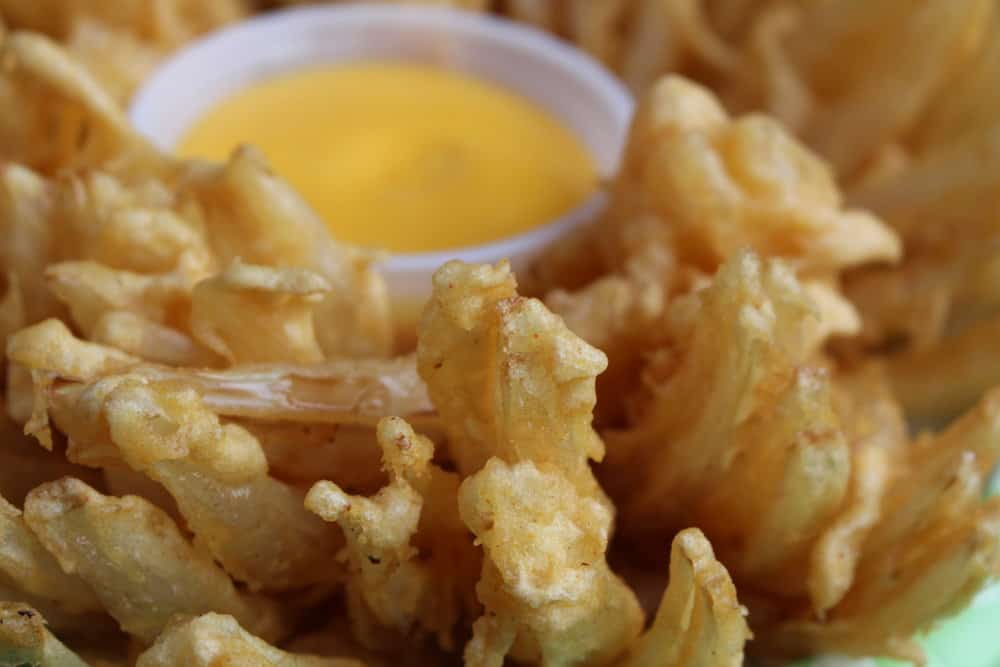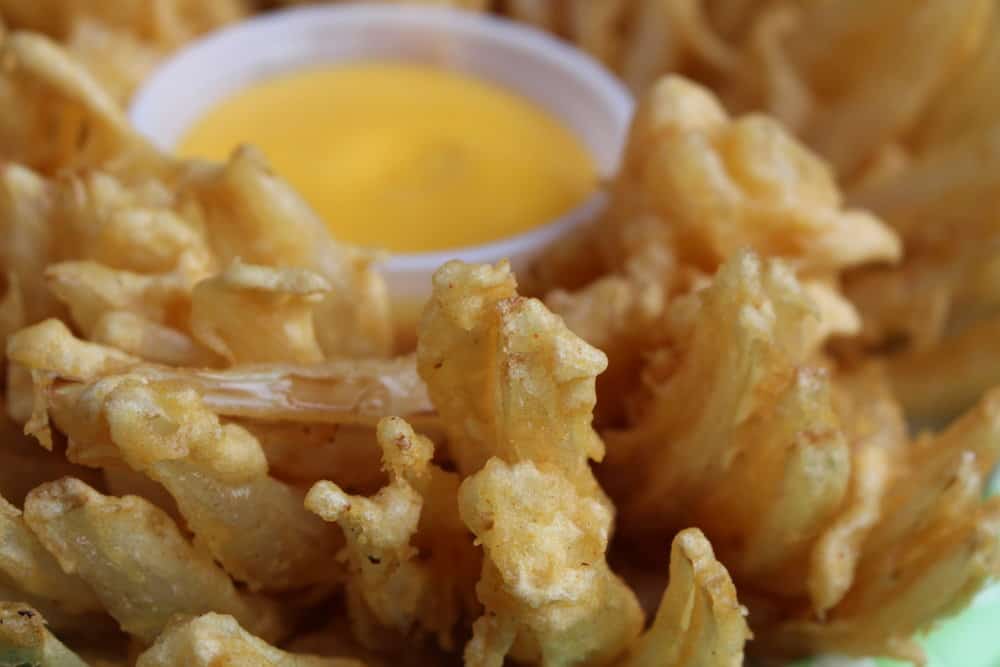 ---
Loaded Tater Tots
The tots from The Tot King were getting a HUGE amount of praise this year. Because loaded tots aren't particularly new or strange, I wasn't super excited to try them but I had a fear of missing out if I didn't give them a go. Thank god I decided to get these little golden bundles of sheer goodness. The outside of eat tot was perfectly golden and crispy (with a big crunch factor) while the inside was fluffy, soft, and warm. Hands down the best tots I've ever had.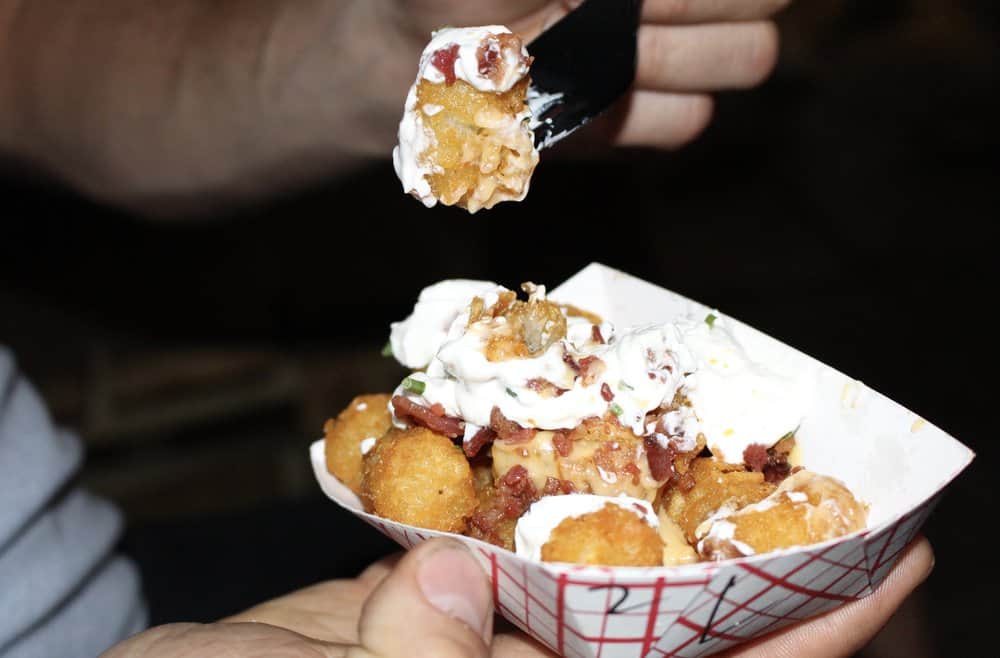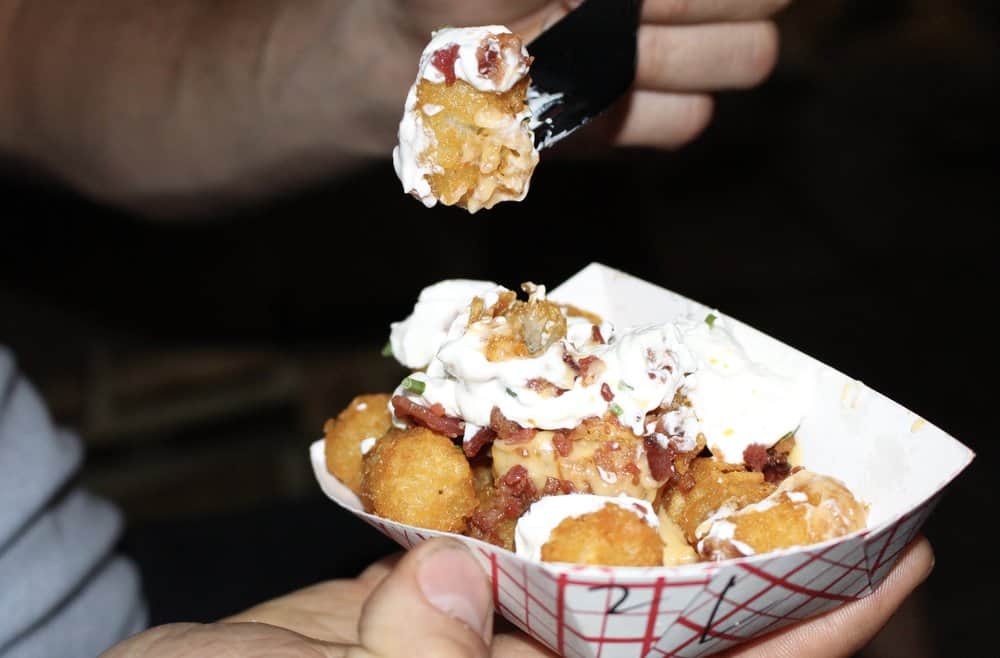 ---
Giant Pixy Stix
Like any kid in a candy store, I couldn't resist one of those giant Pixy Stix. My husband, dared me to eat a grotesque amount of this glorious tart sugar in a single mouthful… I instantly regretted it.
---
Minnesota Roasted Corn
The roasted corn at the Minnesota State Fair is LEGEND… wait for it… ARY! It is sweet, perfectly roasted, dripping in butter and doused with an obscene amount of salt. It is as close to perfection as it gets.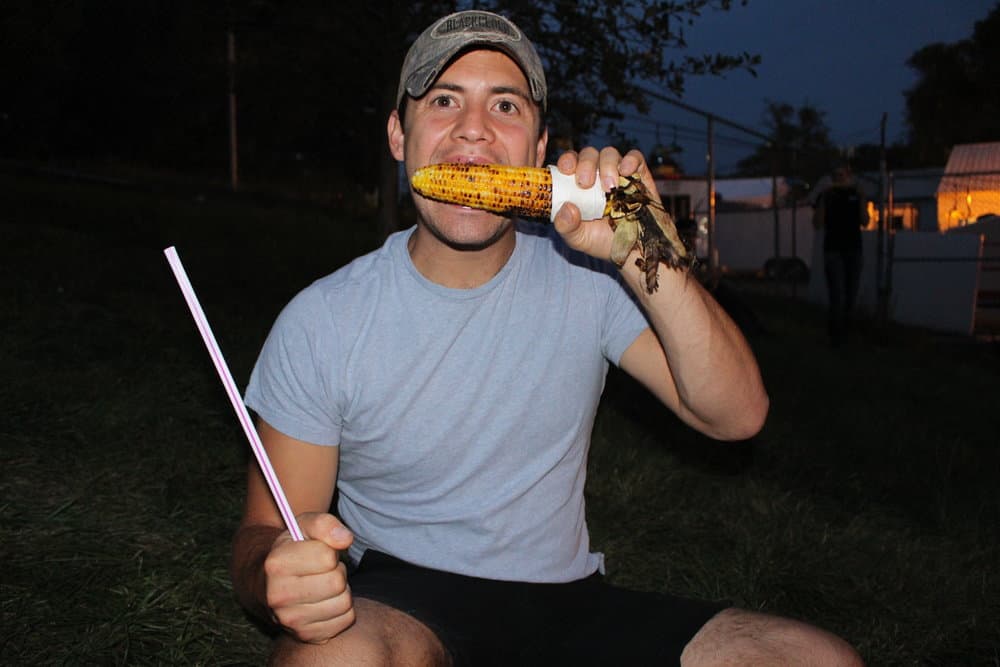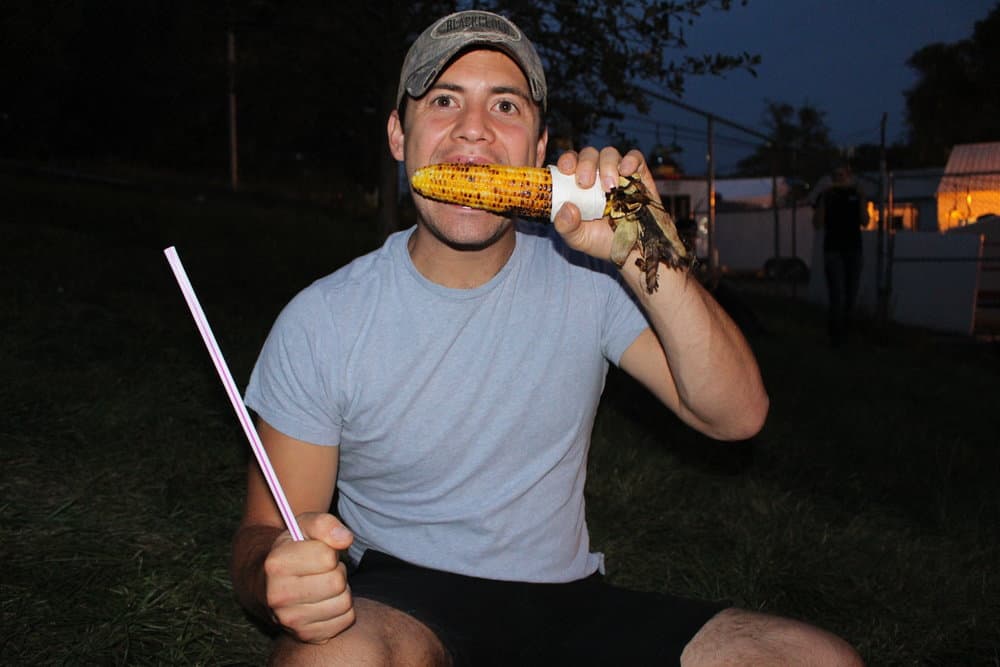 Pixy Stix in one hand and corn in the other.
---
Deep Fried Cookie Dough
Surprisingly this was the first year I've tried Deep Fried Cookie Dough and it might be my last. Don't get me wrong. It was quite tasty but the heavy dough created a dense mass in the pit of my stomach that made me want to vomit for almost a straight hour. This was probably a one and done for me.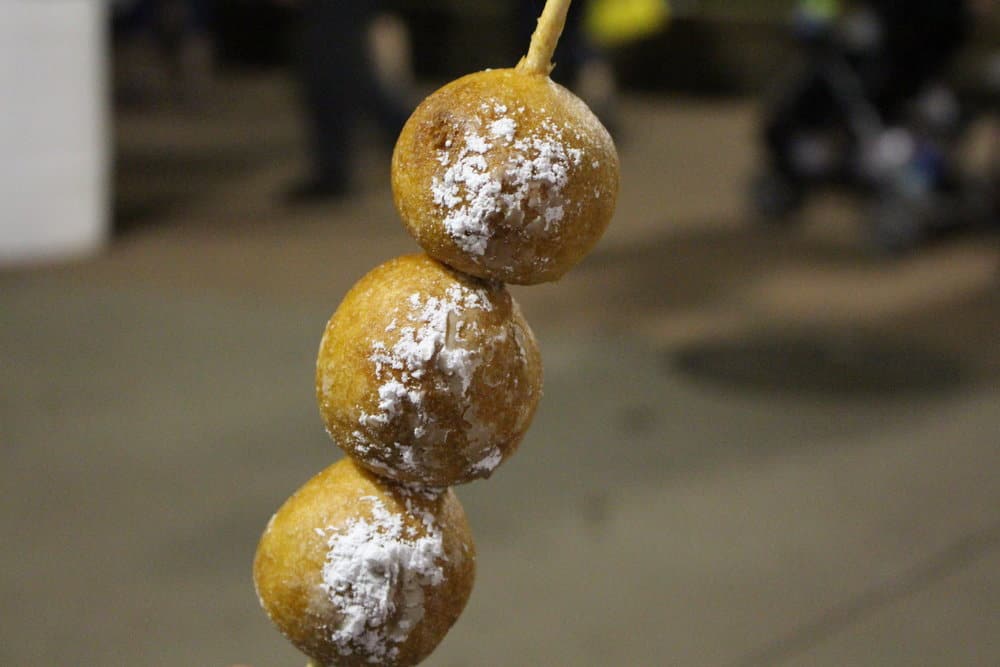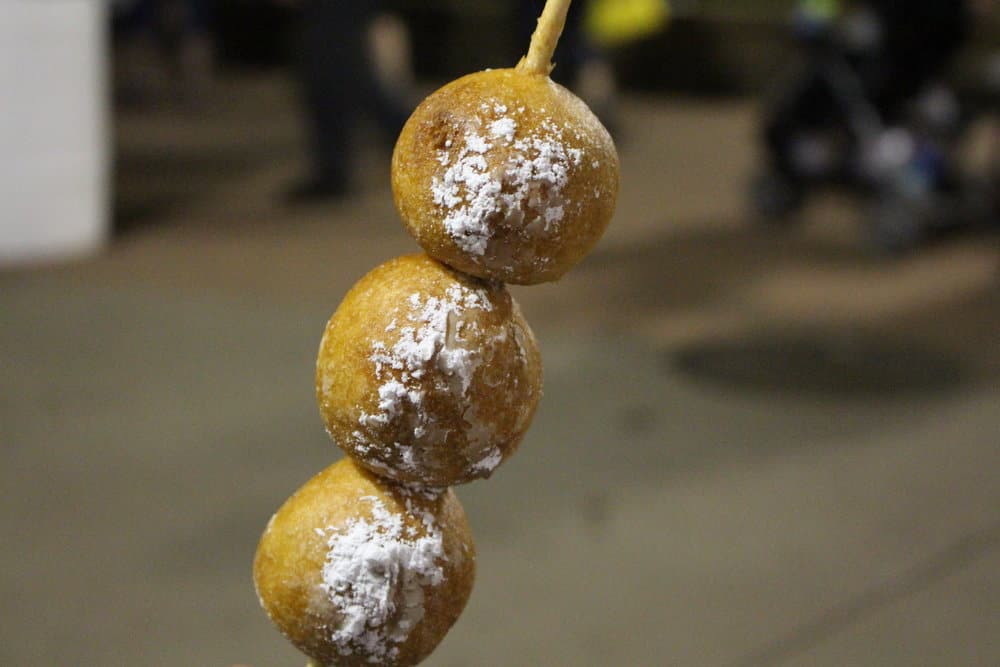 ---
A Caterpillar Name Cletus
This part isn't food related, but I promise to get back to the good stuff in a moment. I impulsively purchased a caterpillar that I will have to care for until it becomes a chrysalis and eventually a Monarch butterfly. Clearly, the 7 year old version of myself emerged. Tom, my spouse, named him Cletus… but when he becomes a butterfly his name will be Melvin. I don't know why. I just smile and nodded my head at Tom. 🙂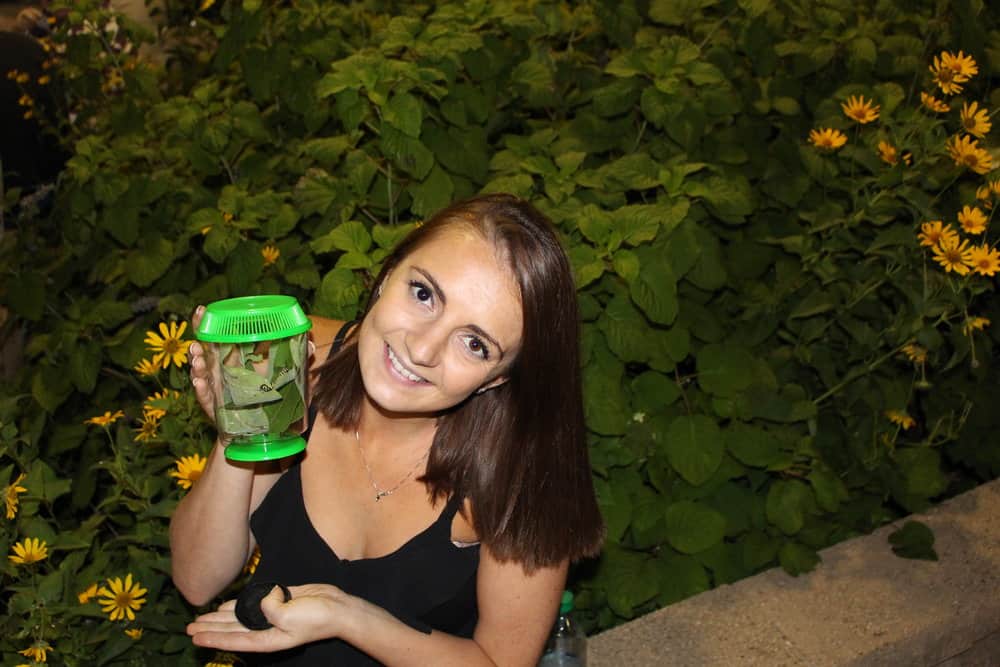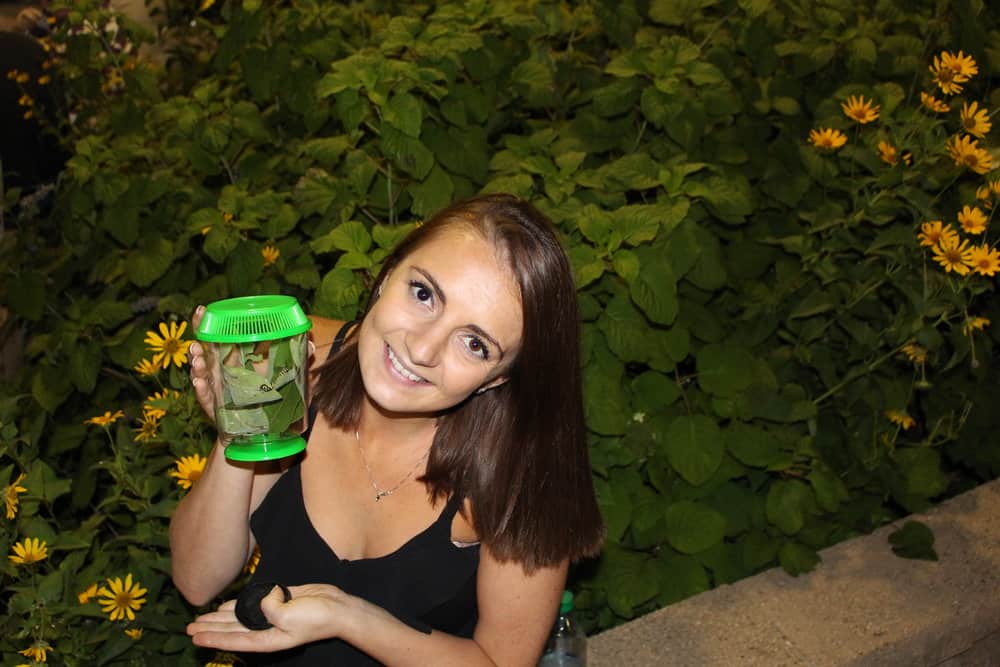 ---
Deep Fried Nachos Supreme
The Deep Fried Nachos Supreme won the gold medal and my heart. They were so delicious! The saltiness from the cheese and "chips" were perfectly balanced by the tartness of the sour cream and freshness from the guac and salsa. Also, the crunch that came with every bite knocked my socks off. I will dream of these nachos until next year.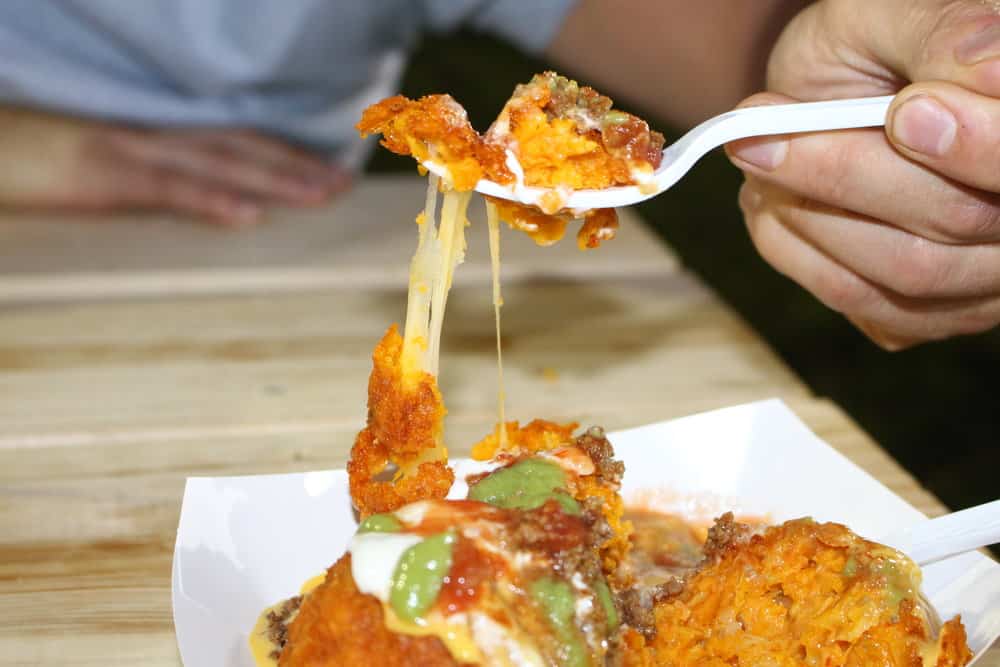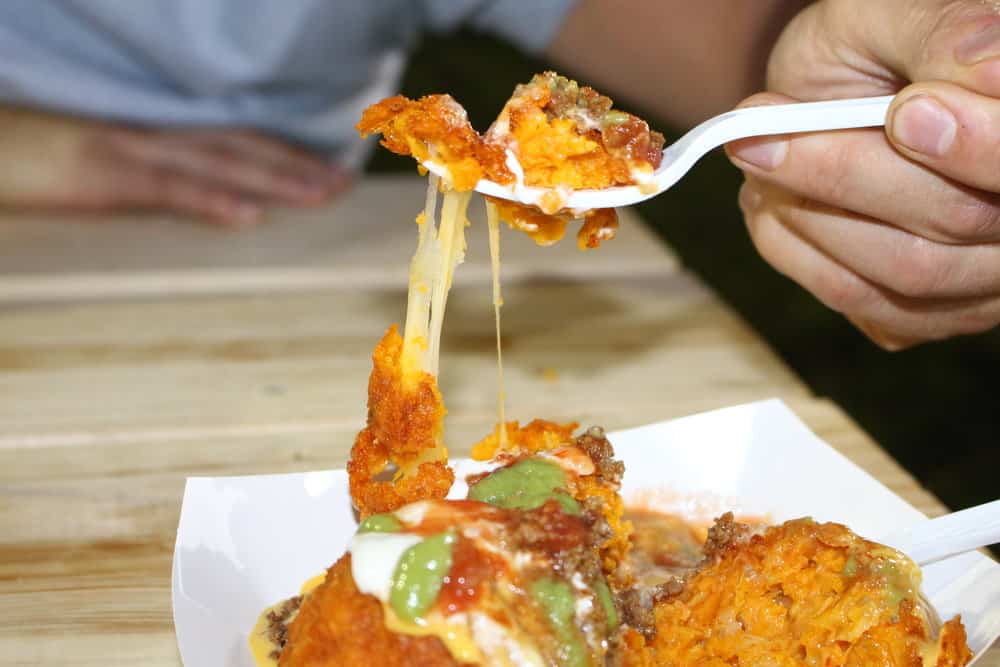 ---
After our State Fair escapades, Tom and I basically rolled home, immediately fell asleep, and woke up to a food hangover. Until next year!