Heirloom tomatoes and fresh basil simply scream summer and are the superstars of this dish. Not only are they delicious but they are also beautiful and smell absolutely divine. If I could roll around in a giant pile of fresh basil… I would.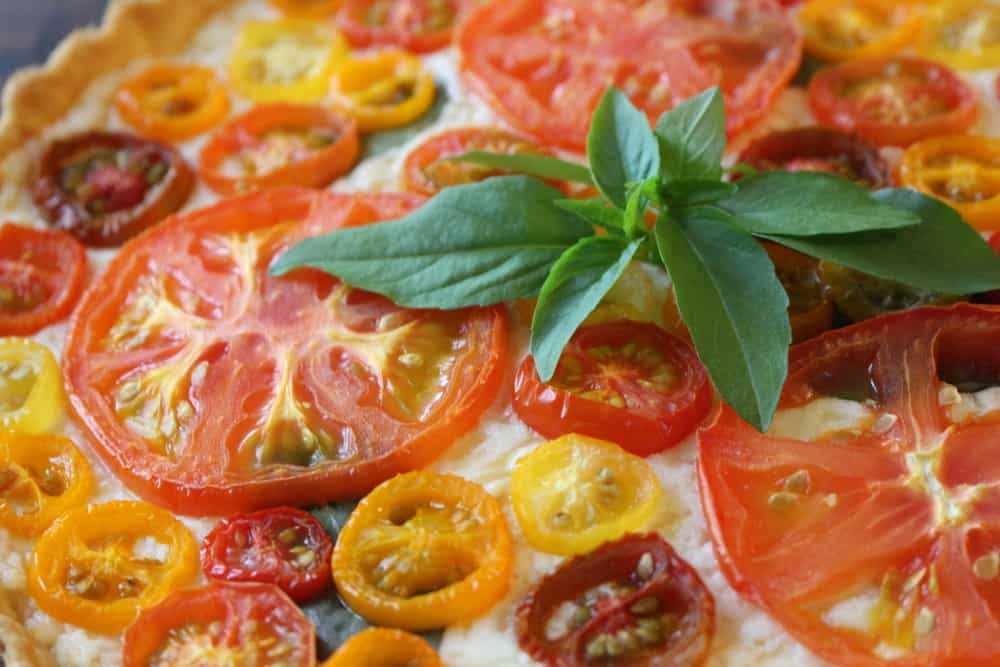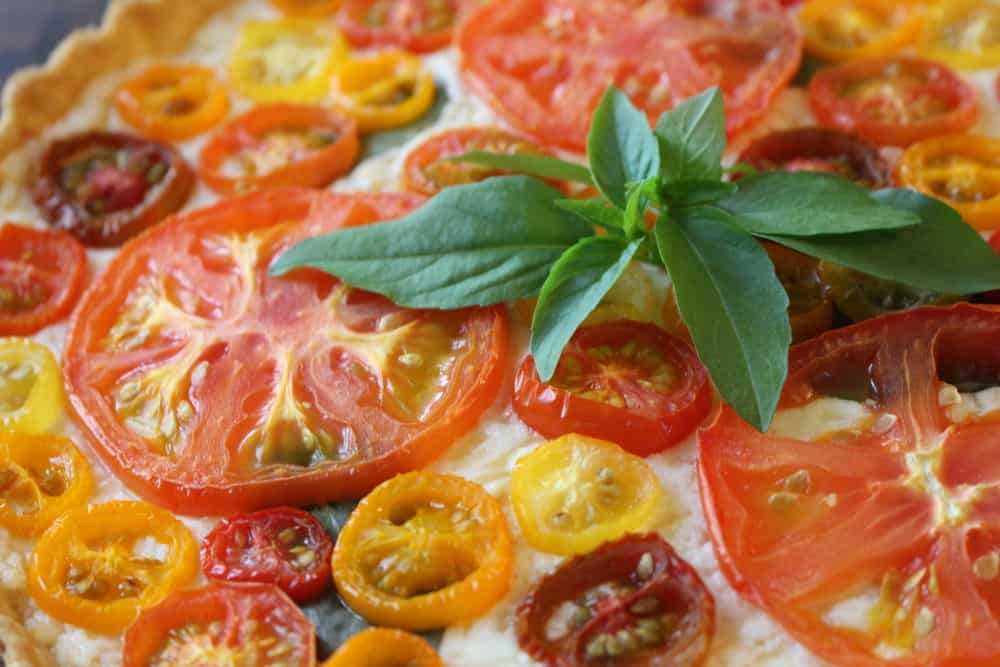 ---
How It Came to Be
Last week, I was having a long day at work. One of those days that leaves you feeling physically and mentally exhausted. As I rode the bus home, I fantasized about plopping myself on the couch and watching Game of Thrones while someone fed my macaroni. Instead I was greeted by two very excited puppies that had more energy than the bunny on crack.
I sprawled out on the couch for a minute and the puppies attacked me with kisses. This might sound like a wonderful way to come home but one of my "puppies" is a 70 pound English Lab. Her welcome home kisses are the equivalent of a sponge bath if you aren't prepared to defend yourself against her puppy love.  Anyway, after the puppies calmed down a bit, I asked them if they would make me dinner. They didn't respond and just gave me the classic puppy head tilt instead.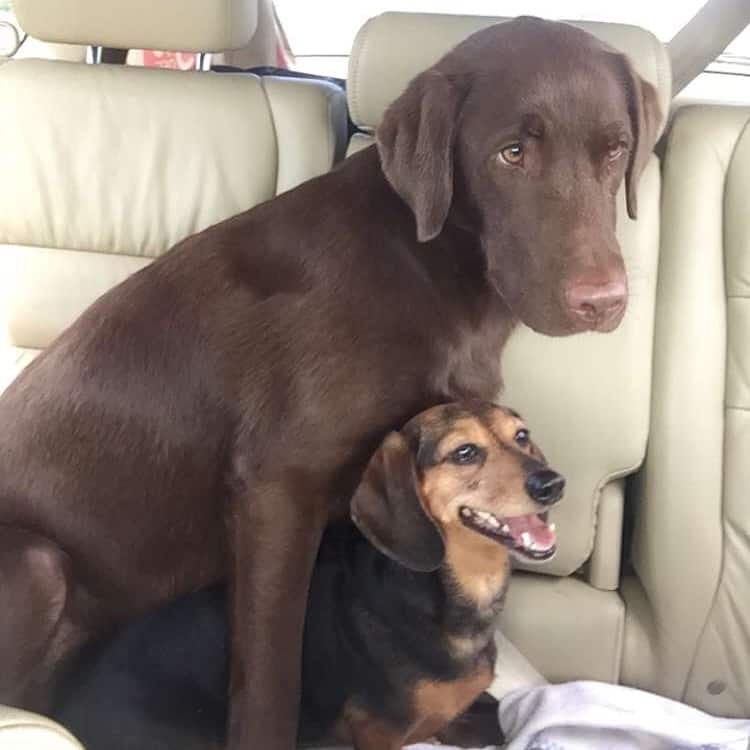 At this point I was VERY hungry. I walked into the kitchen and got a whiff of fresh basil from a planter I grow fresh herbs in. That is all it took. I NEEDED to have something with basil in it. So, I grabbed a handful of basil and rummaged through the rest of the kitchen to find other ingredients to use… and a Parmesan Tomato Basil Tart is what I came up with! I quickly assembled the tart and popped it in the oven.
---
Other Tomato Recipes
---
Parmesan Tomato Basil Tart – Before & After Cooking
---
About the Recipe
Alright, enough about my boring life. Let's get down to business. I love this dish for multiple reasons:
It is easy and requires few ingredients (especially if you use store bought pie crust! shhhhhh!).
It requires very little time.
It is a visual stunner. Bring this beauty to the in-laws for brunch and it is SURE to impress!
The leftovers are delicious. I actually split this tart into sixths and grab a slice for breakfast with a little spinach salad.
It is healthy and fresh with just a pinch of "naughty"… aka the parmesan.
---
Print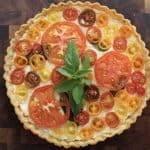 Parmesan Tomato Basil Tart
---
Prep Time:

10 minutes

Cook Time:

20 minutes

Total Time:

30 minutes

Yield:

6

1

x
Scale
Ingredients
1

pie crust*

1 cup

of Parmesan cheese

1 cup

of ricotta cheese

1/2 tablespoon

lemon juice
heirloom tomatoes (roughly 2-3 cups sliced)
fresh basil
salt (optional)
---
Instructions
Preheat the oven to 400 degrees Fahrenheit.
Line a 9″ tart pan with your pie crust and bake according to package instructions or recipe.
In a medium bowl, combine the Parmesan cheese, ricotta cheese, and lemon juice to make the tart filling. Then spread the filling into the baked pie crust.
Cut the tomatoes into slices and dab with a paper towel to remove as much moisture as possible. Too much moisture can make the tart runny and soggy.
 Place 5-8 basil leaves on top of the filling in the pie crust. This will help blend all the delicious flavors together.
Next, place the tomato slices as close together as possible on top of the filling and basil leaves in the pie crust. NOTE: If you prefer fresh (non-baked) tomatoes, serve the tart as is and skip step 7!
Place the tart in the preheated oven for 20-25 minutes.
Top with fresh basil, season with salt if desired, and serve. Refrigerate leftovers.
---