Crispy Tofu Summer Rolls with Spicy Peanut Sauce
I love this Crispy Tofu Summer Rolls recipe because it is a deliciously healthy snack loaded with flavor, crunch and all the colors of the rainbow!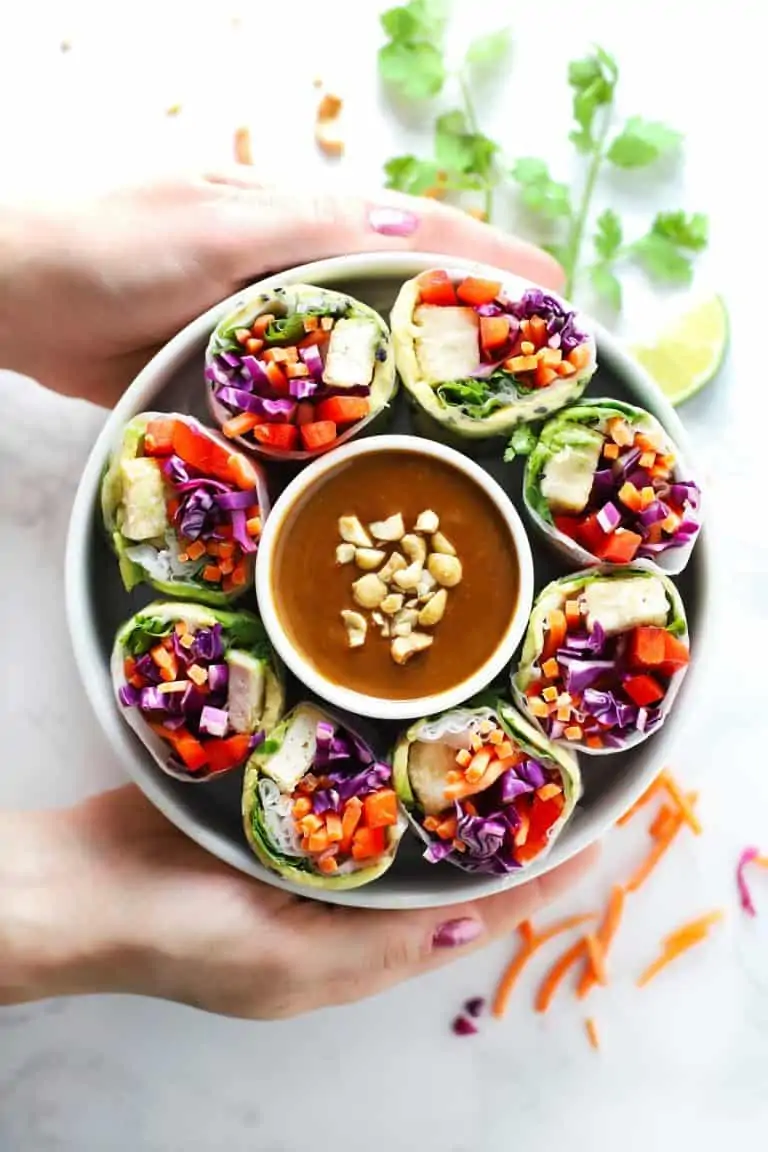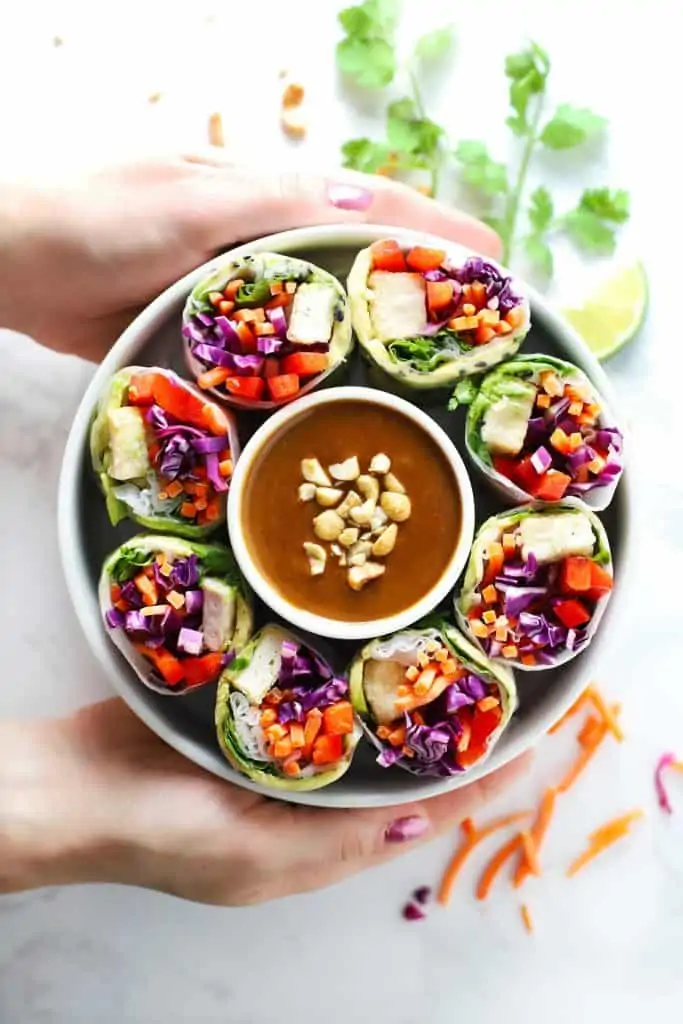 About The Recipe
Summer rolls are one of those unicorn snacks in that they're packed with vegetables yet still outrageously good. These little rolls are crisp, fresh, colorful and TASTY. The creamy avocado combined with the zesty cabbage, crunchy peanuts and spicy peanut sauce is amazing.
Crispy tofu is optional.
This recipe adds crispy tofu to the summer rolls to make them a little heartier. However, tofu is totally optional. So, if you don't like tofu or are in a hurry, feel free to skip the tofu.
---
Recipe Q&A
What is the difference between summer and spring rolls?
Spring rolls (think egg rolls) are generally fried and have a crunchy exterior. Summer rolls are not fried or cooked. They are stuffed with fresh vegetables and rolled up into tasty little rolls with rice paper.
What are summer rolls made of?
Summer rolls are fresh fruits and vegetables rolled up in rice paper like little burritos. Other ingredients such as tofu, shrimp or tuna can also be added.
You can find rice paper at your grocery store in the Asian section.
Can you make summer rolls ahead of time?
Technically, you can make summer rolls ahead of time but there are a few things to know first. Generally, summer rolls are best if eaten immediately after they are prepared. However, life doesn't always workout that way, right? So, if you want to make summer rolls ahead of time, here's what you do.
Make your summer rolls. Then, individually wrap each roll tightly with plastic wrap. Next, place the wrapped rolls in sealed containers with a damp paper towel. Store the containers in the fridge. If not wrapped and stored in sealed containers, the fridge will immediately dry out the summer rolls.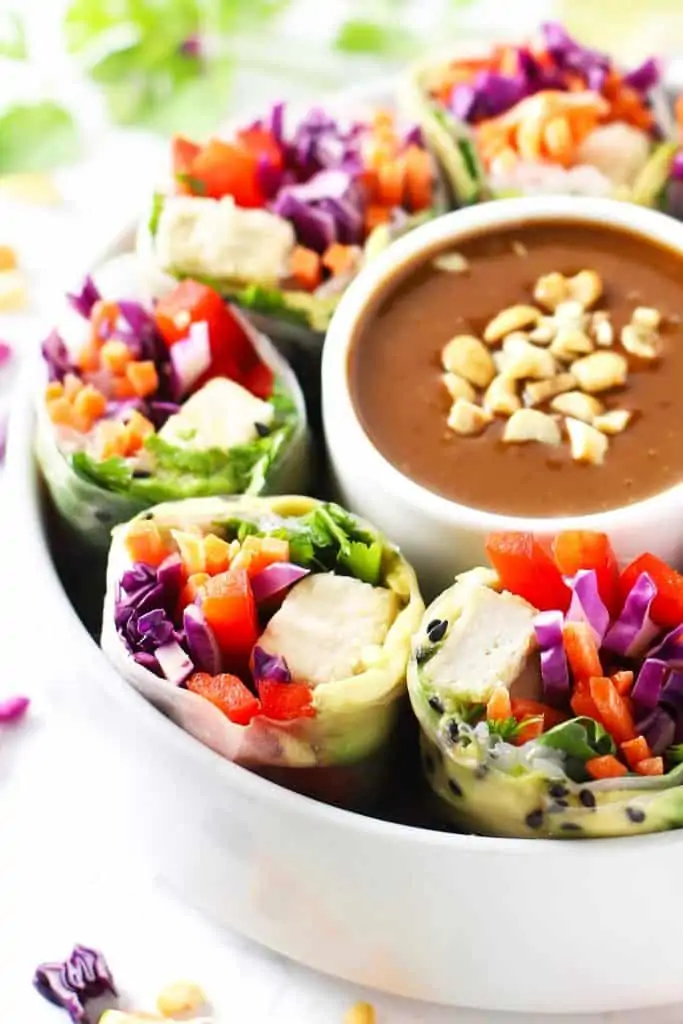 ---
Don't let summer rolls intimidate you! It is just like rolling a little burrito. Give it a couple tries. You will quickly get the hang of it. Here's a quick overview with a few tips.
Prep all your ingredients and have them ready to go at your workstation before you start assembling your summer rolls. The formal term for this is mise en place. I refer to it as being ready for liftoff.
Get a pie dish (or something similar) and fill it with warm water. One piece at a time, soak the rice paper in the warm mater for 15-30 seconds or until the rice paper has softened.
Gently take the rice paper out of the water and place it on a clean counter or cutting board. Assemble and roll immediately so the rice paper doesn't dry out.
Place the avocado on the top half of the center section and the remaining ingredients on the bottom half of the center section (as seen in steps 2 and 3 in the image below).
Fold the left side and the right side in towards the middle (step 4).
Fold the bottom section towards the middle and gently, but firmly tuck in the filling ingredients as you start to roll (step 5) and keep rolling (step 6 and 7).
Serve whole or cut in half (step 8) to see the beautiful colors of the veggies inside! Don't forget the dipping sauce!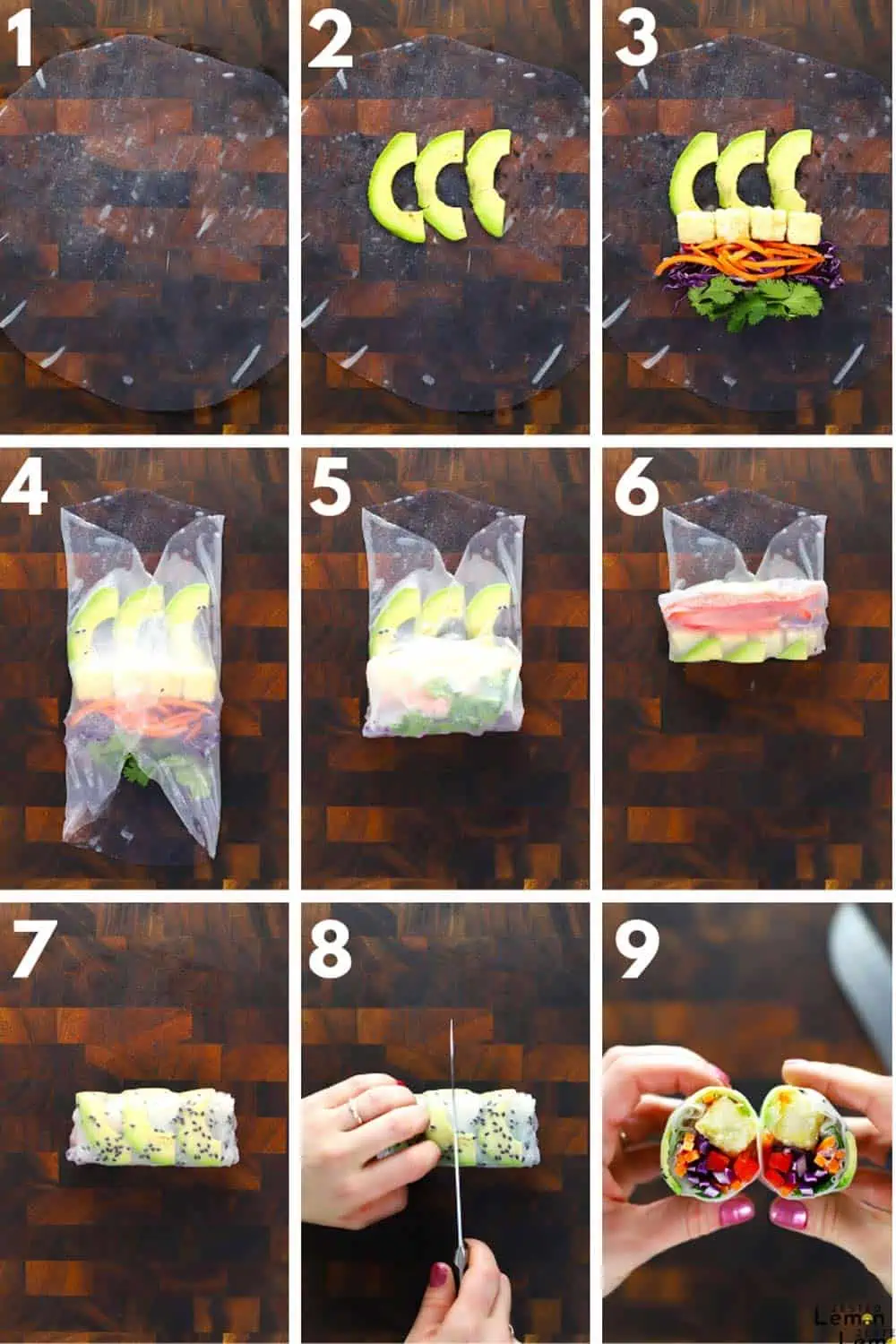 ---
Other Vegetarian Recipes
---
How to Make Crispy Tofu Summer Rolls (1 min)
---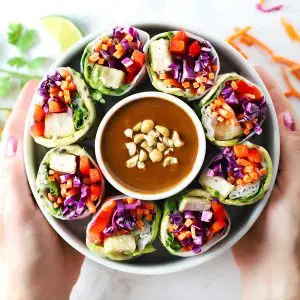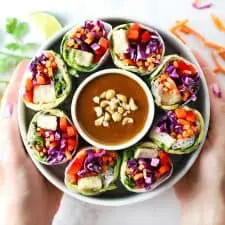 Crispy Tofu Summer Rolls with Spicy Peanut Sauce
Pin Recipe
Print Recipe
Rate Recipe
I love this Crispy Tofu Summer Rolls recipe because it is a deliciously healthy snack loaded with flavor, crunch and all the colors of the rainbow! 
Ingredients
Crispy Tofu Ingredients:
12

ounces

extra firm tofu

3

Tbsp.

corn starch

1/3

cups

oil for frying

,

coconut oil, olive oil, avocado oil, etc.
Summer Roll Ingredients:
12

sheets rice paper

1

avocado

,

very thinly sliced

crispy tofu

,

from above

1

red bell pepper

,

thinly sliced

1

cup

purple cabbage

,

thinly sliced

1

cup

shredded carrots

1

cup

cilantro loosely packed

1

lime

,

cut into wedges

2

Tbsp.

peanuts

Black sesame seeds

,

optional
Peanut Sauce Ingredients:
1/2

cup

peanut butter

1/4

cup

soy sauce

2

Tbsp

rice wine vinegar

1

Tbsp

sesame oil

2

Tbsp

honey

1

tsp

red pepper flakes

1

tsp

ground ginger

1/3

cup

water*
Instructions
Crispy Tofu Instructions: 
Prep Tofu: Drain the tofu and cut into 1/2″ cubes. Put the cubed tofu between multiple laters of paper towels to remove as much moisture as possible. Press down on the tofu and pat dry as much as possible. Put a large skillet over medium/high heat and coat the bottom with oil. It is important to heat the oil before coating the tofu. 

Coat Tofu: Pat down the tofu one last time with a paper towel and put the cubed tofu in a Ziplock bag with the cornstarch. Seal the bag and gently shake it to coat the tofu with cornstarch. If you do not have a Ziplock bag, put the tofu and cornstarch in a bowl and gently toss the tofu with your hands to coat it. NOTE: Make sure to coat the tofu with the cornstarch immediately before frying to ensure the crispiest tofu.

Fry Tofu: When the oil is hot enough, place the cubed tofu in the pan (there should be a little sizzle). Use a spatula to move around the tofu every minute or so to ensure all sides become crispy. Cook the tofu for about 5-7 minutes or until slightly golden and all sides are crispy. Remove the tofu from the pan and place on paper towels to remove excess oil.
Summer Roll Instructions:
Prep Rice Paper: Fill a pie dish or a similar container with warm water. Soak the rice paper, one sheet at a time, in the warm water until softened and ready to roll (about 15-30 seconds depending on brand and water temperature). 

Add Ingredients: Lay the softened rice paper on a cutting board or clean counter. Add a few thin slices of avocado, 3-4 cubes of tofu, red bell pepper slices, purple cabbage, shredded carrot, cilantro, squeeze of lime juice, peanuts and sesame seeds (optional). 

Roll: Start by folding the left and ride sides inwards towards each other. Next fold the bottom up towards the middle to look like an envelope. Lastly, gently but firmly, tuck and roll the ingredients up like a burrito (see visual instructions below). Serve immediately with peanut sauce! 
Peanut Sauce Instructions:
Combine: Put all ingredients in a bowl. Whisk until well combined and the sauce is smooth.

Enjoy: Enjoy immediately or store in a sealed container in the fridge.**
Notes
*The thickness of the sauce and amount of water needed to thin out the sauce depends greatly on the kind of peanut butter used. For example, natural peanut butters are thinner than traditional peanut butters. Thicker peanut butter = more water. Thinner peanut butter = less water. Add water slowly until the desired consistency is reached. 
**The sauce will thicken in the fridge due to the cool temperature. Simply pop it in the microwave for 15-20 seconds at a time (stirring in between) until the sauce becomes the desired consistency.
Nutrition
Serving:
2
rolls
|
Calories:
397
kcal
|
Carbohydrates:
32
g
|
Protein:
12
g
|
Fat:
26
g
|
Cholesterol:
2
mg
|
Sodium:
641
mg
|
Fiber:
5
g
|
Sugar:
9
g
Have you tried this recipe?
Let me know what you think! Rate this recipe and leave a comment below.