Vegetarian Black Bean Enchiladas
This Vegetarian Black Bean Enchilada recipe is healthy yet incredibly flavorful and satisfying. Best of all it is easy and the leftovers are awesome!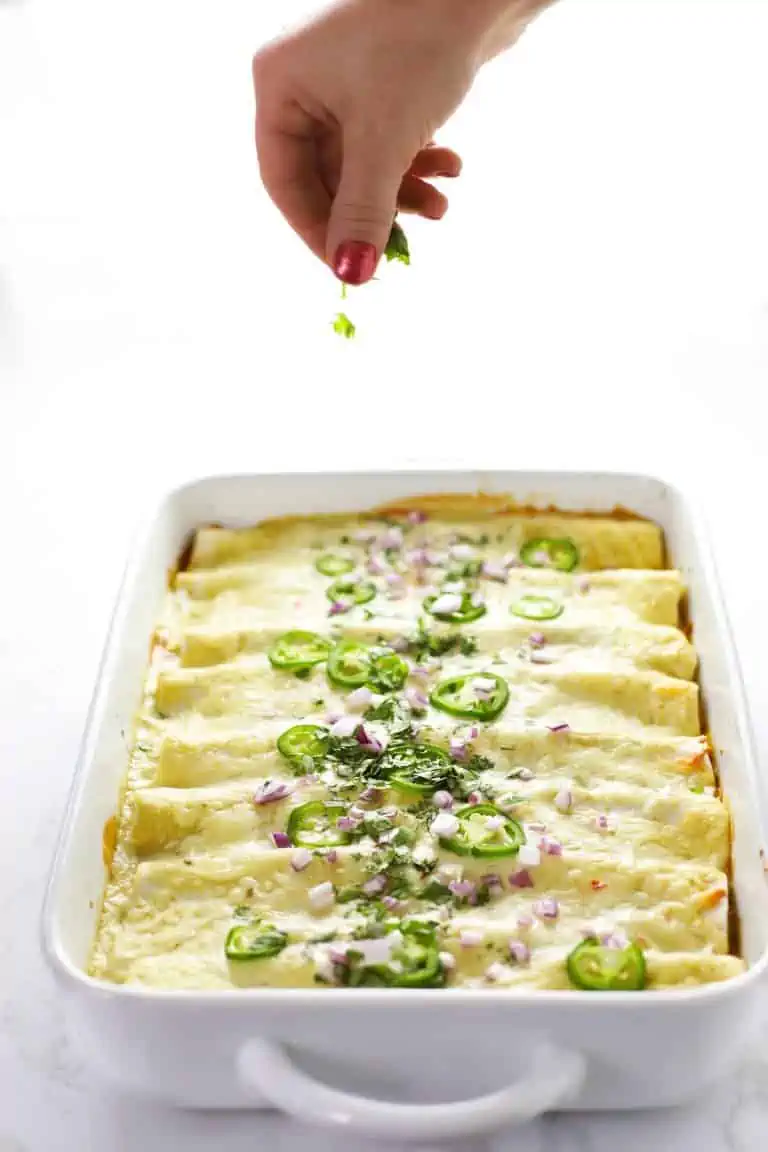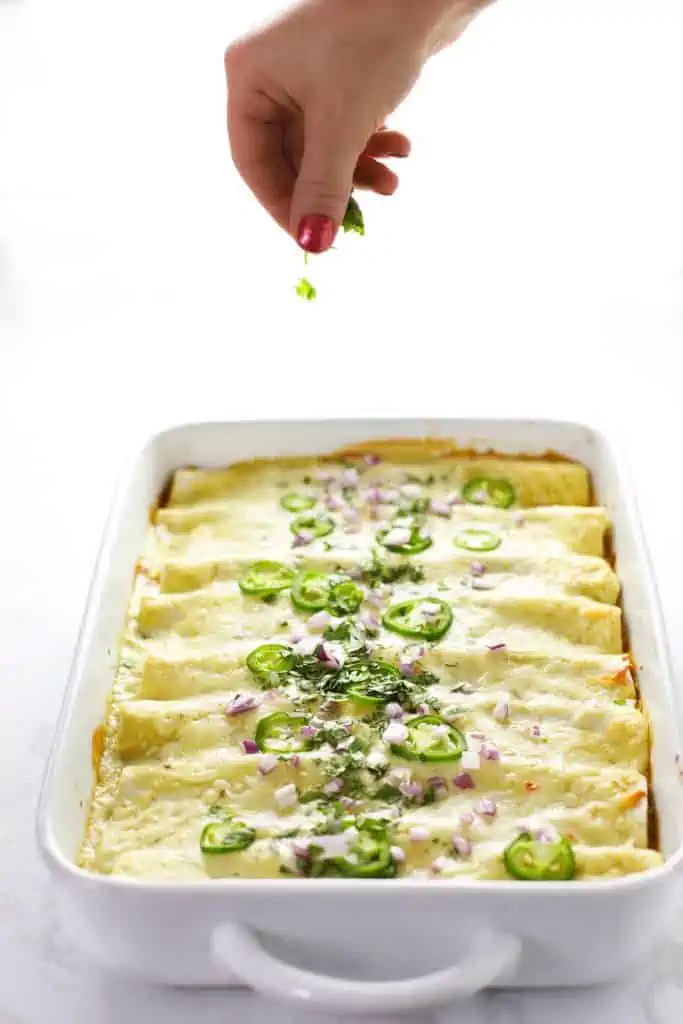 ---
Quick Tips & Tricks
Use a Measuring Cup: Make the sauce (it is only two ingredients) directly in a large measuring cup for easy pouring.
Green Enchilada Sauce: Make sure to get GREEN enchilada sauce at the store. I can't tell you how many times I've intended to get green enchilada sauce but accidentally grabbed red enchilada sauce.
Toppings: Don't skip out on the toppings (especially the cilantro, red onion, jalapeño and lime). They add the perfect balance of flavor and freshness. I promise you won't regret it.
Type of Greek Yogurt: I always recommend using full-fat plain Greek yogurt instead of the fat-free version. It is much creamier and more flavorful!
Tortilla Size: Although you can use any size tortilla, fajita sized tortillas make 8 enchiladas and fit perfectly in a 9 x 13 baking dish.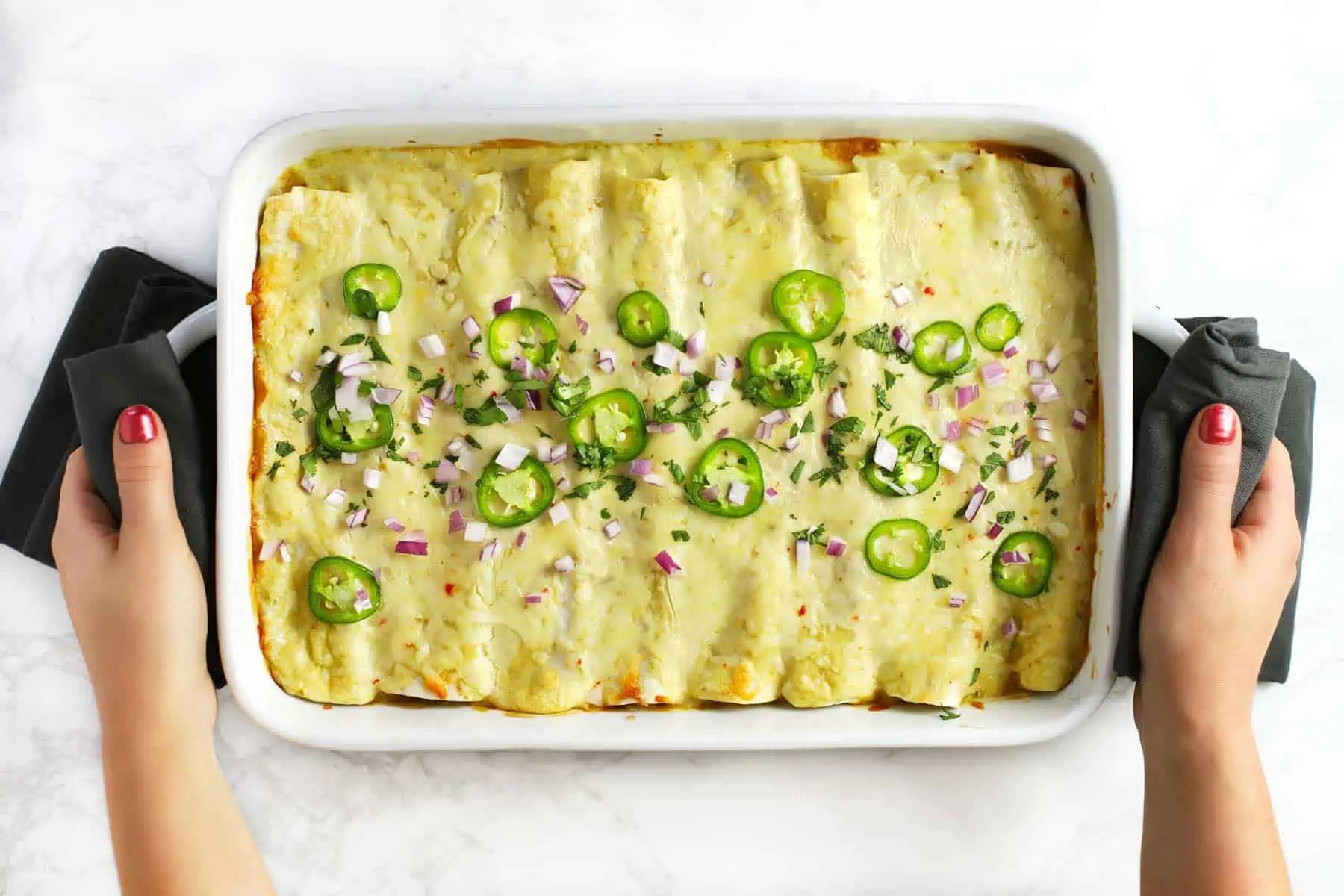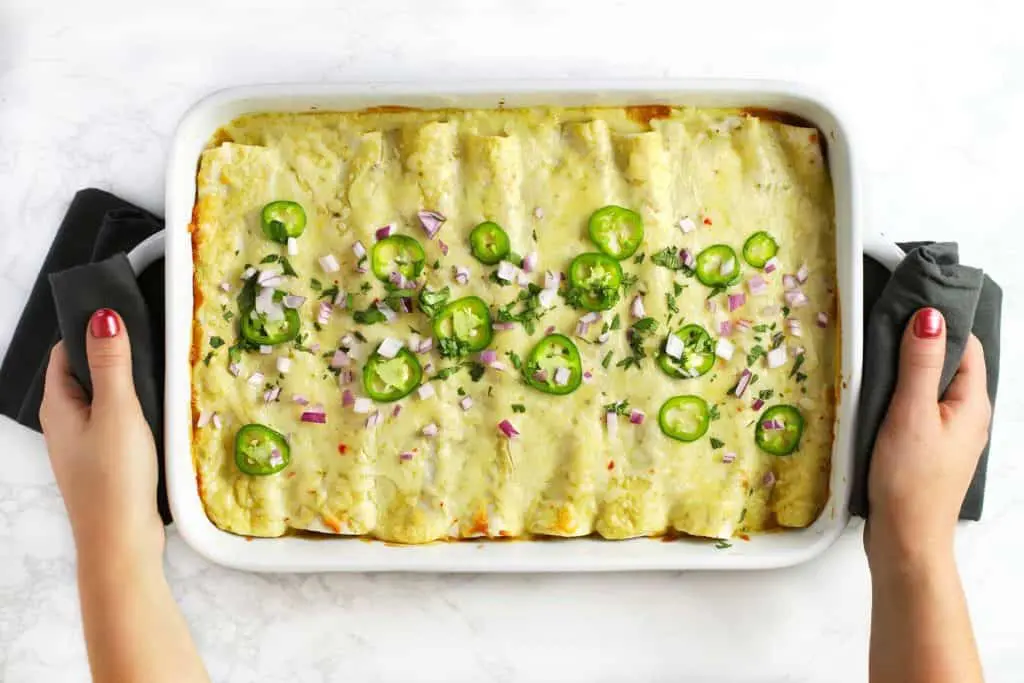 ---
Enchilada How-To

How to Make Vegetarian Enchiladas
This recipe uses black beans in place of meat or poultry. We added tons of flavor and texture with spices, red onion, diced green chiles, pepper jack cheese and red bell pepper. My meat loving husband, Hot Tom, loves these enchiladas and says they are very filling and satisfying. He is the self-proclaimed taste tester for Zested Lemon. 🙂
How to Keep Enchiladas from Sticking to Pan
There are two things you should do to make sure your delicious enchiladas don't stick to your baking dish. First, spray your baking dish with non-stick cooking spray. Second, make sure to put a layer of sauce in the bottom of the baking dish BEFORE putting the enchiladas in it.
How to Roll Enchiladas
We use a pretty basic method in this recipe because the filling is easy to work with and doesn't easily spill out the sides. Just put a nice big scoop of the filling in the middle of the tortilla and spread it across the tortilla from side to side. Then grab two sides of the tortilla and bring them together like a taco so the filling settles in the center of the tortilla (checkout the video at 39 seconds to see how it's done). Put the tortilla back down, tuck in one side and roll it up. It is WAY easier than it sounds. It takes like 15 seconds to do one.
How to Make Enchiladas Healthy
There are a few ways we lightened up this recipe and made it healthier.
We lightened up the filling by replacing meat/poultry with black beans.
To sneak in some more veggies and add a little crunch, we added red bell pepper to the filling.
Instead of sour cream, we used plain Greek yogurt. It might sound odd but I swear to you it tastes exactly the same (if not better)!
Enchiladas wouldn't be enchiladas without cheese but we used a reasonable amount. So, these enchiladas still have that cheesy goodness we all love without overdoing it!
The tortillas in the photographs and videos of this post are white flour tortillas but whole wheat tortillas or corn tortillas can be used if you're looking for healthier or lower calorie options. In fact, corn tortillas are traditionally used for enchiladas. I just personally like flour tortillas in this recipe.
How to Keep Tortillas from Cracking
Tortillas are more pliable and easier to roll when they are warm and moist. Cover the tortillas with a damp paper towel and microwave for 15 seconds. That's it! They're ready to for rolling!
How to Reheat Enchiladas
Oven Method: Cover the enchiladas with foil and pop them in a preheated oven at 350 degrees for 20 minutes or until warmed through.
Microwave Method: Heat the enchiladas in the microwave using 30 second intervals until warmed through. Personally, I microwave my enchiladas for 30 seconds, flip them and microwave an additional 30 seconds.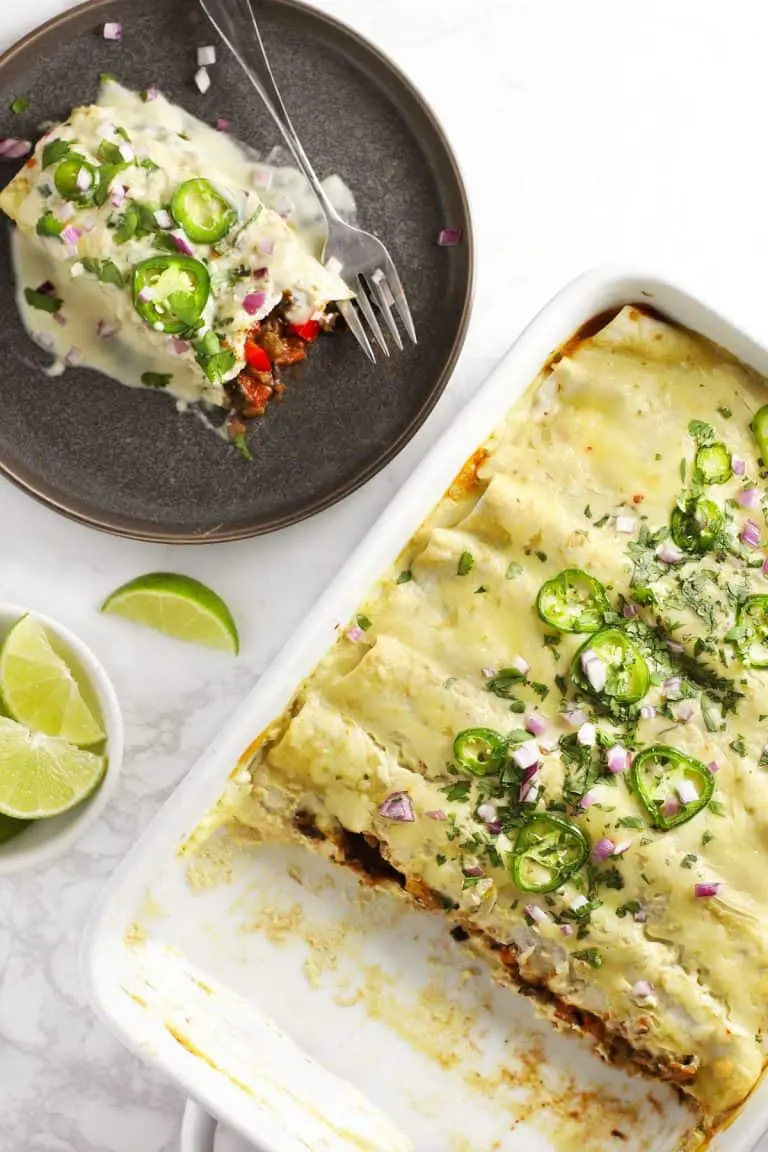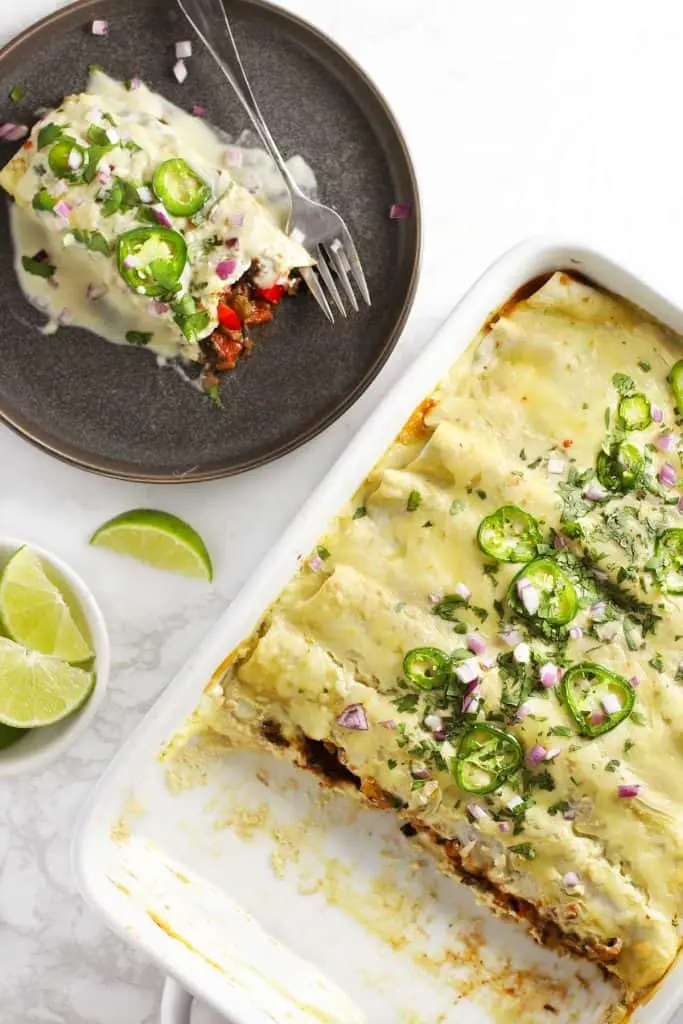 ---
What do you eat with enchiladas?

These are some seriously hearty vegetarian enchiladas and can be a complete meal all on their own but who doesn't like options?! I'd recommend Roasted Brussel's Sprouts with Spicy Lime Aioli, Fruit and Veggie Loaded Guac (omit the bacon to make vegetarian) and Avocado Black Bean Corn Salad.
Oh and enchiladas wouldn't be complete without a batch of margs! Try my Strawberry Basil Fresh Fruit Margaritas or my Blueberry Margaritas!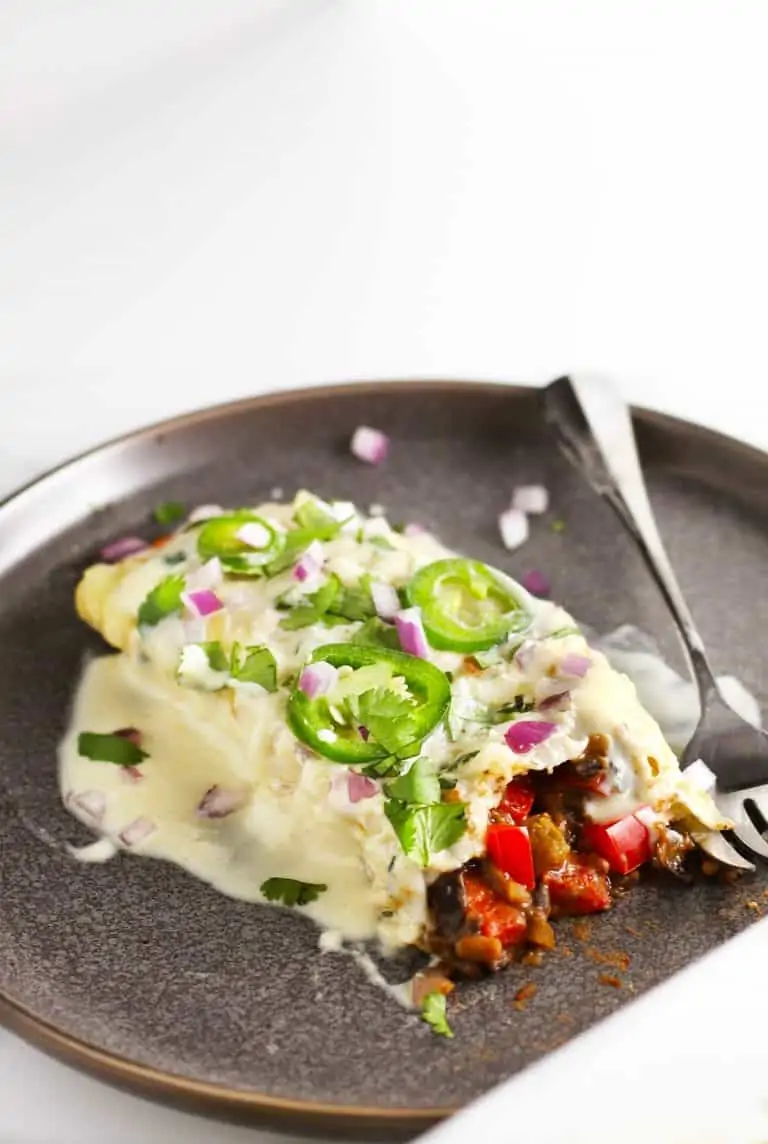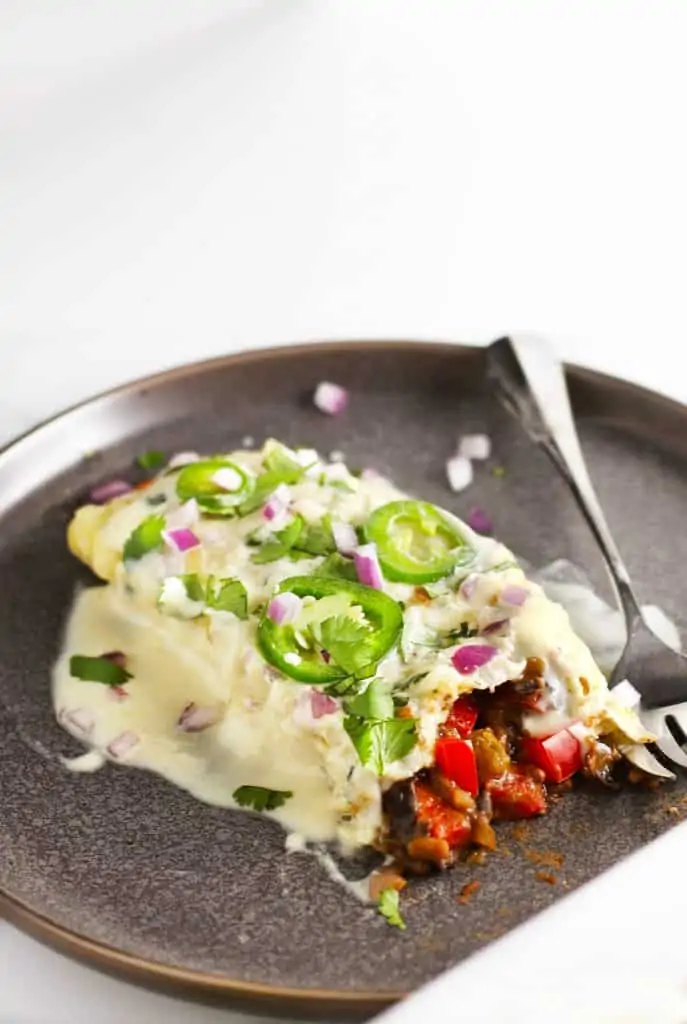 What salad goes with enchiladas?
If I eat a salad with these enchiladas, I usually go for a basic green salad with a simple vinaigrette (olive oil + vinegar or lemon juice + salt + pepper). However, if you want to stick within the cuisine, an Avocado Black Bean Corn Salad is a perfect fit!
---
How to Make Vegetarian Black Bean Enchiladas (1 min)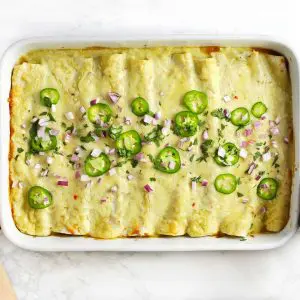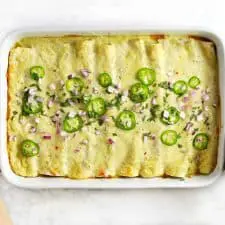 Vegetarian Black Bean Enchiladas
Pin Recipe
Print Recipe
Rate Recipe
This Vegetarian Black Bean Enchiladas recipe is healthy yet incredibly flavorful and satisfying. Best of all it is easy and the leftovers are awesome!
Ingredients
Sauce Ingredients:
1

28 oz can green enchilada sauce (about 2 cups)

3/4

cup

plain Greek yogurt
Filling Ingredients:
1

Tbsp.

olive oil

1

red onion

2

15 oz cans black beans

2

tsp.

chili powder

1

tsp.

cinnamon

1

tsp.

paprika

1

tsp.

cumin

1

tsp.

salt

1/2

tsp.

pepper

3/4-1

cup

water

1

4 oz can diced green chilis

2

red bell peppers

1/2

cup

shredded pepper jack cheese
Assembly Ingredients:
8

fajita size tortillas

1/2

cup

pepper jack cheese
Optional Toppings:
red onion

red bell pepper

cilantro

lime wedges

jalapeño slices

avocado
Instructions
Sauce Instructions
In a large measuring cup (or small/medium bowl)  combine the green enchilada sauce and Greek yogurt. Set aside.  
Filling Instructions
Peel and dice the onion. Drain and rinse the black beans. Dice the bell peppers.

Cook Onion: Put the olive oil and diced red onion in a large pan over medium to medium/high heat. Cook until they've softened (about 5 minutes).

To the pan, add the black beans, spices/seasonings (chili powder, cinnamon, paprika, cumin, salt and pepper) and water. Stir to combine and cook for a 2-3 minutes.

Using a potato masher, mash the black beans. For a smoother filling, mash them more. For a chunkier filling mash them less.

Once done mashing, remove the pan from the heat. Add the diced green chilis, bell pepper and 1/2 cup of the pepper jack cheese. Stir to combine.
Assembly Instructions
Preheat the oven to 350 degrees. Spray a 9×13 baking dish with nonstick cooking spray. Cover the bottom of the baking dish with some of the sauce made in step 1 (about 1 cup).

Fill the tortillas evenly with the filling, roll them up and put them in the pan. Pour the rest of the sauce over the top of the enchiladas and sprinkle with the remaining 1/2 cup of pepper jack cheese.
Bake & Eat Instructions
Put the enchiladas in the preheated oven for 25 minutes.

Let cool for 10 minutes before serving. Top with red onion, bell pepper, jalapeno slices, cilantro, avocado and a squeeze of lime juice. 
Notes
Tortillas are more pliable and easier to roll when they are warm and moist. Cover the tortillas with a damp paper towel and microwave for 15 seconds. That's it! They're ready to for rolling!
Nutrition
Serving:
1
enchilada
|
Calories:
379
kcal
|
Carbohydrates:
56
g
|
Protein:
20
g
|
Fat:
9
g
|
Cholesterol:
14
mg
|
Sodium:
1469
mg
|
Fiber:
14
g
|
Sugar:
11
g
Have you tried this recipe?
Let me know what you think! Rate this recipe and leave a comment below.