These foolproof Make-Ahead Slow Cooker Mashed Potatoes are everything you'd ever want in a recipe. Finally creamy buttery delicious mashed potatoes that save you time, stress and oven space.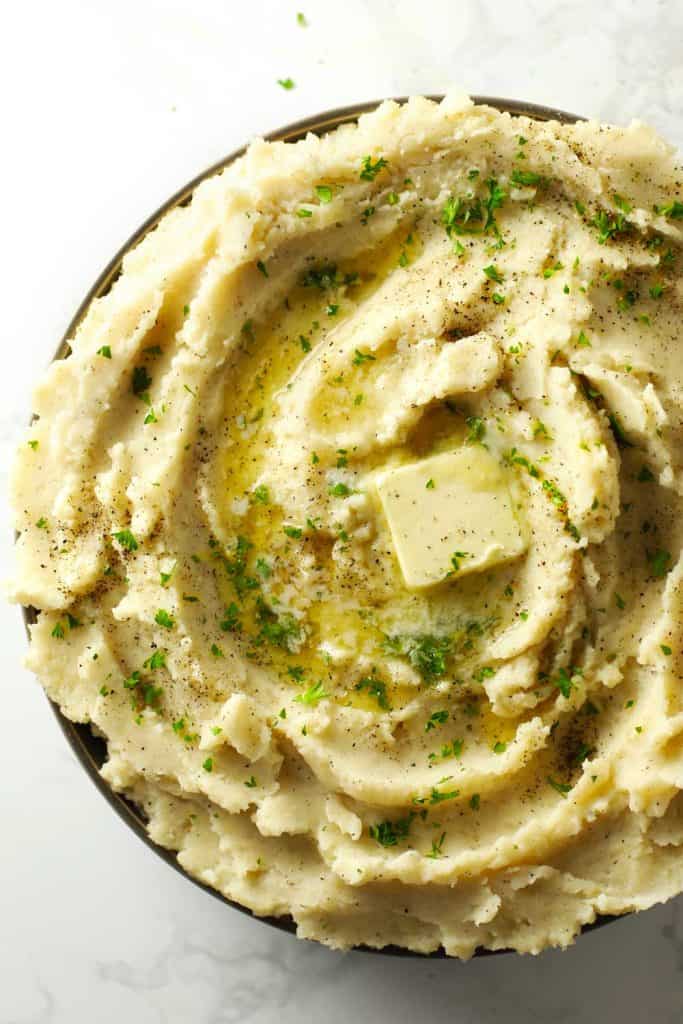 ---
Make Memories
The Thanksgiving Mashed Potato Massacre
Mashed potatoes, especially at Thanksgiving, always remind me of my dearest brother, Brian. Well, he's actually my late brother. It still feels weird saying that. He passed away suddenly in February of 2019 and sometimes it still doesn't feel real. I miss Brian dearly but at least I have many treasured memories to look back on and Brian's Thanksgiving Mashed Potato Massacre is definitely one of them!
Thanksgiving is a group effort in my family. Everyone has to bring something or help make something. Several years ago my mom assigned Brian the task of mashing the potatoes.
Determined to master his assignment, Brian mashed and whipped those potatoes with the arm strength of a Greek god. The outcome was… not pretty. Sure, I knew too much mashing leads to gluey mashed potatoes but OH. MY. GOD. This was on a whole new level of goo.
Remember Gak? The stretchy green goo kids used to play with in the 90s? Yeah, the potatoes resembled a giant bowl of Gak. It was incredible and entirely inedible. As siblings do, we spent the remainder of the day poking fun at Brian and telling him he ruined Thanksgiving (jokingly of course). However, all was not lost. My mom pulled a box of instant mashed potatoes out of the cupboard and BOOM! Crisis averted!
Here's the best part of the entire story!
I explained to Brian that he over mashed the potatoes and all he had to do was lighten up on the mashing and whipping.
Well, the next year at Thanksgiving, Brian wanted to redeem himself but HE DID IT AGAIN! He mashed those potatoes to the point of no return. I honestly don't even know how he managed to do so. It takes a bit of effort and arm strength to over-mash potatoes, especially to the level of glueyness that Brian achieved for the 2ND YEAR IN A ROW!
Brian was outstanding at pretty much everything in life… except cooking. I adored him for all his cooking mishaps and hilarious food questions. This story always makes me laugh. Unfortunately I don't have a picture of the mashed potatoes but I was able to track down this group shot from that Thanksgiving.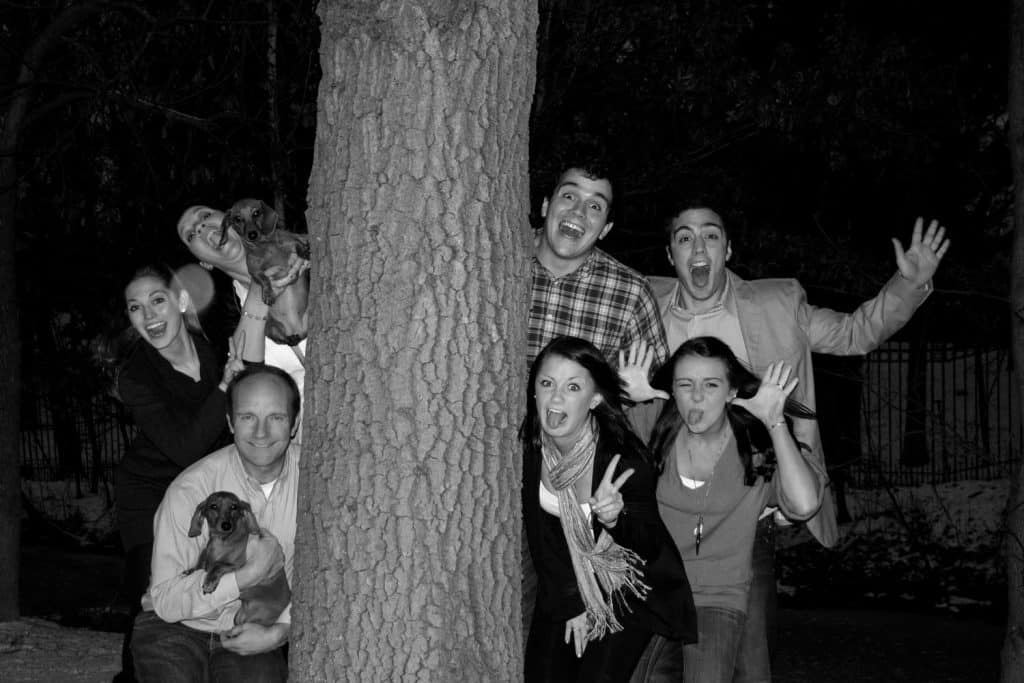 ---
How to Make Perfect Mashed Potatoes
(my top 5 tips)
Use russet potatoes.
Do a cold water start. This means put the potatoes in a large pot, cover with cold water and then put on the stove.
Salt the water. Don't be shy. Throw in a small handful. Don't worry. Most of the salt with go down the drain when you strain the potatoes but cooking them in salt water adds remarkable flavor.
Mash while hot. Mashing your taters while hot will make the lightest/fluffiest potatoes.
Use a ricer. A ricer is the best tool for mashing potatoes. It is foolproof and gives you perfectly smooth and fluffy mashed potatoes every time with minimal effort.
---
Make-Ahead Slow Cooker Mashed Potatoes
(1 minute video)
---
Other Potato Recipes
Here are a few other recipes I picked out. All are awesome but nothing beats a big scoop of creamy mashed potatoes smothered in gravy.
---
Mashed Potato Q&A
Can you make mashed potatoes ahead of time?
Yes! That is the beauty of this recipe. You can make these taters a day or two ahead of time and pop them in the fridge until showtime. Put the mashed potatoes in a slow cooker on low for a few hours with a couple pats of butter, stirring occasionally. Viola! Amazing make ahead mashed potatoes!
This is a PERFECT recipe for Thanksgiving. Make it ahead of time so you can spend more time with your loved ones and less time in the kitchen. As an added bonus this recipe frees up oven space (which there never seems to be enough of on Thanksgiving)!
What are the best potatoes for mashed potatoes?
I usually recommend starchy potatoes like russet or Idaho potatoes for creamy, smooth, fluffy potatoes. These varieties can withstand more mashing than others without becoming gummy.
How many pounds of potatoes per person?
Plan to have 1/2 lb. of potatoes per person. So, a five pound bag of potatoes will serve approximately 10 people. However, if you're feeding some serious mashed potato lovers, I'd play it save and make a double batch just in case. This recipe reheats wonderfully and makes excellent leftovers!
Note: 1 lb. of potatoes makes about 2 cups of mashed potatoes.
How long do you boil potatoes for mashed potatoes?
Generally, a standard timeframe would be anywhere from 10-20 minutes. However, various factors such as potato size, pot size and heat source impact cook time.
Personally, I rarely focus on cook time when boiling potatoes. Instead I rely on the fork test. Simply pierce one of the potatoes with a fork. The fork will easily slide to the center of a done potato with no resistance. If there is any noticeable resistance, let those bad boys cook a little longer.
Tip: Do not use a paring knife to test doneness. A sharp knife can be deceiving when determining doneness.
To double check doneness, I simply eat a piece of potato. Done potatoes should have a soft, smooth and overall appealing texture. Underdone potatoes tend to have a grainy, lumpy, unappetizing textures.
How to keep mashed potatoes warm in crockpot?
Just pop those tasty mashed potatoes in a crockpot on low or warm and stir them occasionally. Add a couple pats of butter on top of the potatoes. This will add a little richness and moisture to the potatoes. Mix in a splash of milk if needed for additional creaminess.
---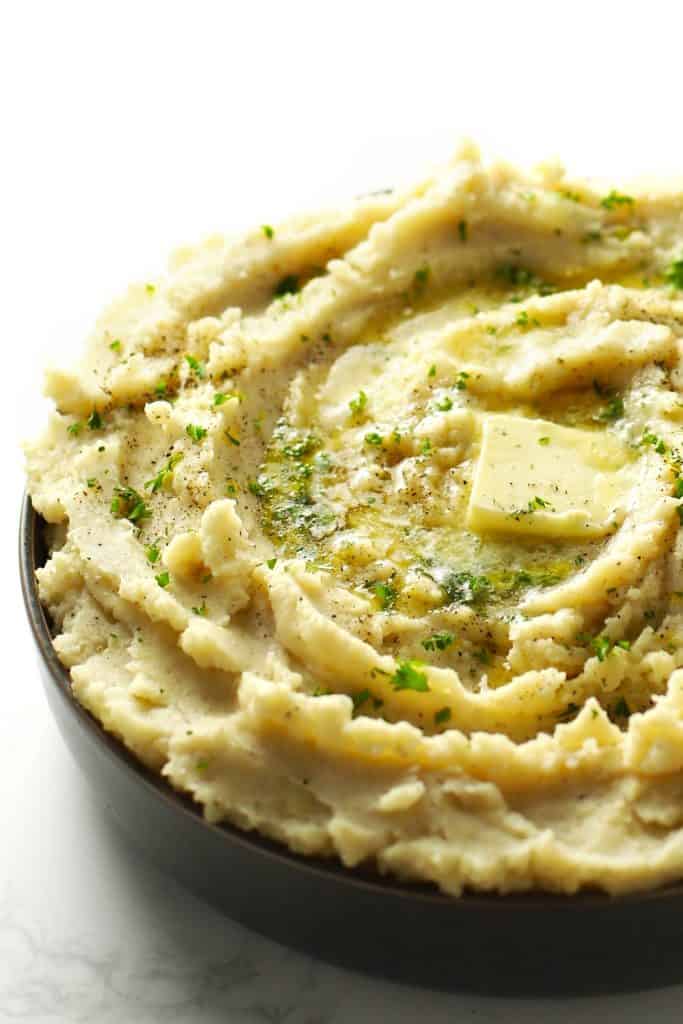 ---
How to Mash Potatoes
The method in which you mash your potatoes can either make or break your mashed taters. Here's why.
Potatoes release starch when mashed. More mashing = more starches released. Too many released starches result in mashed potatoes that have the consistency of glue. Not great.
The more you mash, the heavier and gummier the potatoes. The less you mash, the lighter and fluffier the potatoes. So, the goal is to thoroughly mash the potatoes with the least amount of effort. Below are my recommendations from best to worst.
Ricer – A ricer makes perfectly smooth mashed potatoes with the least amount of effort and is my personal favorite. Ricers are relatively cheap and don't take up tons of storage space. Tip: Opt for a stainless steal ricer instead of a plastic one. They work 1,000 times better. THIS is the ricer I currently use and it is by far my favorite.
Food Mill – A food mill also produces perfectly smooth mashed potatoes with minimal effort. The downsides are it is harder to clean and takes up more storage space.
Colander – Don't have a ricer or food mill? Just use a colander! Put the potatoes in a colander. Then put the colander in a large bowl. Use a spatula to push the potatoes through the holes in the colander (same concept as a ricer). Once through the colander, the potatoes will fall into the large bowl. This method does take more time and a significant amount of arm strength but is a good option if you don't want to buy another kitchen tool.
Potato Masher – Cheap, easy to use, quick to clean and takes up minimal storage space. The texture will be slightly chunky but still creamy. Just be mindful to not over-mash your taters.
Hand or Stand Mixers – Mixers create heavy dense mashed potatoes. However, they can turn your potatoes to glue VERY quickly. Use mixers with extreme caution.
Blenders and Food Processors – I recommend avoiding these tools altogether. They are just begging for a gummy mashed potato disaster!
---
Mashed Potatoes Mistakes and How to Fix Them
How to fix mashed potatoes that are too salty
Added too much salt? No worries! To counteract saltiness, add something with an acidic flavor. Sour cream and plain Greek yogurt are good options for mashed potatoes. Lemon juice will also do the trick!
Mixing in more milk, cream or unseasoned potatoes won't counteract the saltiness like acid will but it will help tame the saltiness by diluting it. So, in short just keep adding stuff until the salt is no longer overpowering!
How to fix runny mashed potatoes
Option 1 – Put the runny potatoes in a large pan over low to medium/low heat. Do not cover. The heat will evaporate some of the excess moisture and thicken the potatoes. Stir the potatoes occasionally to keep them from sticking to the bottom of the pan.
Option 2 – Thicken runny potatoes by stirring in cornstarch or flour. Start with a half tablespoon and add more as needed.
How to fix dry mashed potatoes
Mix in more moisture such as milk, half and half or heavy cream. You could also throw in some sour cream, Greek yogurt, cream cheese or butter for added creamy richness.
How to fix gluey mashed potatoes.
The easiest course of action is to avoid gluey potatoes altogether. Use russets potatoes, mash them while they're still hot and most importantly do not over mash them (I recommend using a ricer).
Unfortunately there isn't a way to truly fix gluey mashed potatoes. Overly mashed potatoes release too many starches which causes the gummy texture. There is no way to reverse this. However, if you find yourself stuck with a pot of gummy potatoes, below are a few ideas to try to salvage them.
Make a batch of instant mashed potatoes and stir them into the gluey ones.
Turn it into a casserole. Combine the gluey potatoes with ingredients such as cut up veggies, chicken, breadcrumbs, butter and parmesan cheese. Put the mixture in a casserole dish, top with cheese and/or breadcrumbs and pop it in the oven.
Throw the gluey potatoes in the trash. Get a ricer and make perfect mashed potatoes every time.
---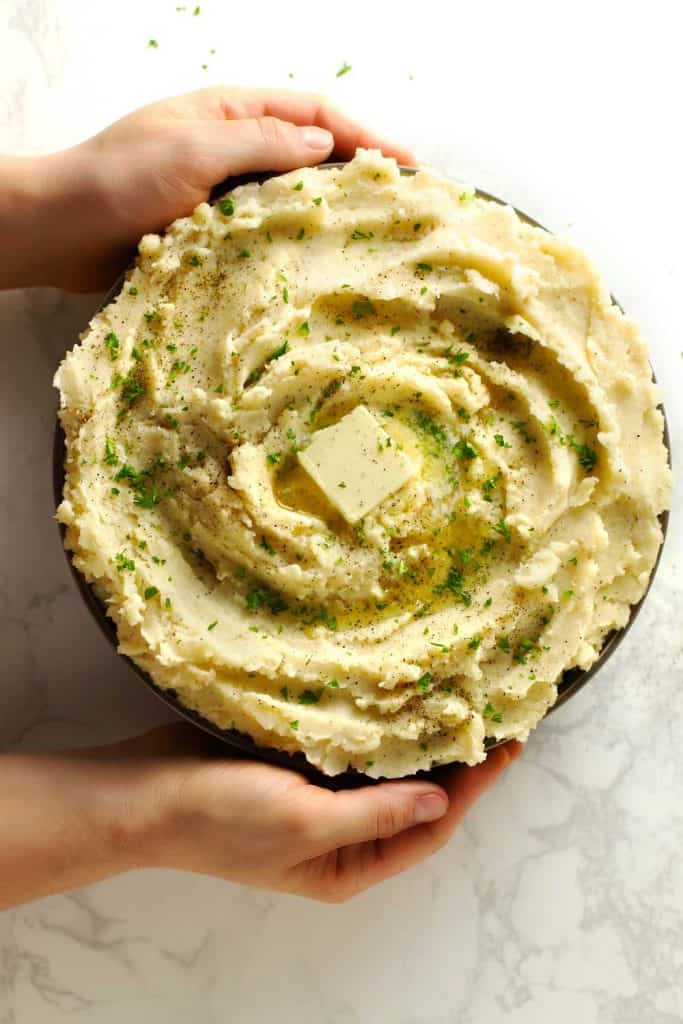 ---
Make-Ahead Slow Cooker Mashed Potatoes
Pin Recipe
Print Recipe
Rate Recipe
These foolproof Make-Ahead Slow Cooker Mashed Potatoes are everything you'd ever want in a recipe. Finally delicious mashed potatoes that save you time, stress and oven space!
Ingredients:
5

lbs.

russet potatoes

1/2

cup

1 stick butter + 2 Tbsp.

1/2

cup

heavy whipping cream

1

cup

plain Greek yogurt

1

cup

milk

1/4

tsp.

onion powder

1/4

tsp.

garlic powder

1 1/2

tsp.

salt

1

tsp.

pepper
Instructions
Cook Potatoes: Peel and cube potatoes into 1" pieces. Place potatoes in large stock pot and cover with cold water. Generously salt the water (a palmful will do). Bring the potatoes to a rolling boil. Then reduce to a simmer. Cook until the potatoes are fork tender (usually 10-20 minutes). Drain potatoes thoroughly. 

Mash & Mix: While the potatoes are still hot, use a ricer or potato masher* to mash the potatoes directly in the slow cooker (to save dishes). Add all remaining ingredients except 2 Tbsp. butter. Stir until combined. Cut the last 2 Tbsp. of butter into pieces and put on top of potatoes. If making mashed potatoes ahead, cover and place in fridge until ready to cook/eat. 

Slow Cook: 

Option 1: If serving potatoes within a few hours of completing Step 2, put the slow cooker on warm and stir occasionally. 

Option 2: If making potatoes in advanced and refrigerating, take the mashed potatoes out of the fridge and let sit at room temperature for 30 minutes before turning on the slow cooker. Cover and slow cook on low  for 3 hours, stirring occasionally.

Enjoy! Refrigerate leftovers in sealed containers. 
Notes
*I recommend using a stainless steel ricer if you have one. It is the quickest and easiest way to ensure the fluffiest smoothest potatoes with the least amount of effort. If you are using a potato masher, be careful not over mash the potatoes. Too much mashing and the potatoes can become gummy.
Nutrition
Serving:
1
cup
|
Calories:
330
kcal
|
Carbohydrates:
44
g
|
Protein:
8
g
|
Fat:
15
g
|
Saturated Fat:
9
g
|
Cholesterol:
44
mg
|
Sodium:
401
mg
|
Potassium:
1022
mg
|
Fiber:
3
g
|
Sugar:
3
g
|
Vitamin A:
498
IU
|
Vitamin C:
13
mg
|
Calcium:
92
mg
|
Iron:
2
mg
Have you tried this recipe?
Snap a picture and tag @ZestedLemon with the hashtag #zestedlemon so I can see your beautiful creations!