This Easy Spicy Peanut Sauce is creamy, sweet, salty and slightly spicy all in one. The best part? It only takes 5 minutes to make and you can keep it in the fridge for whenever your heart desires.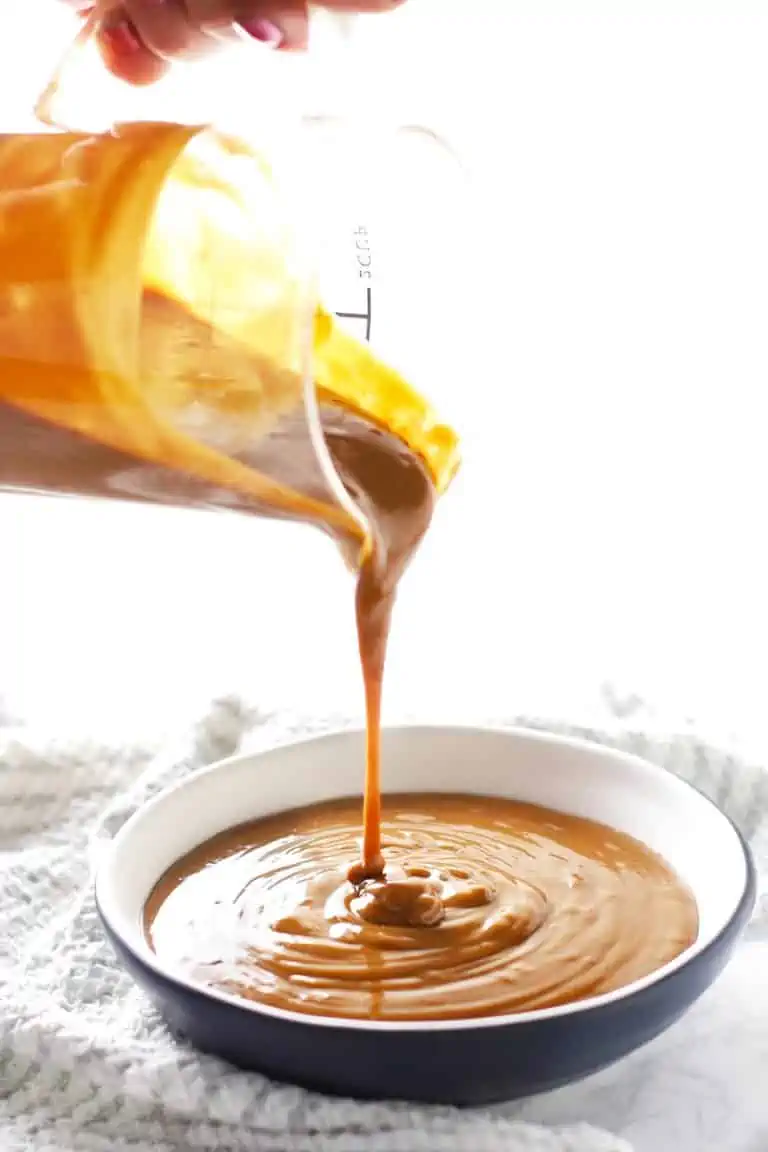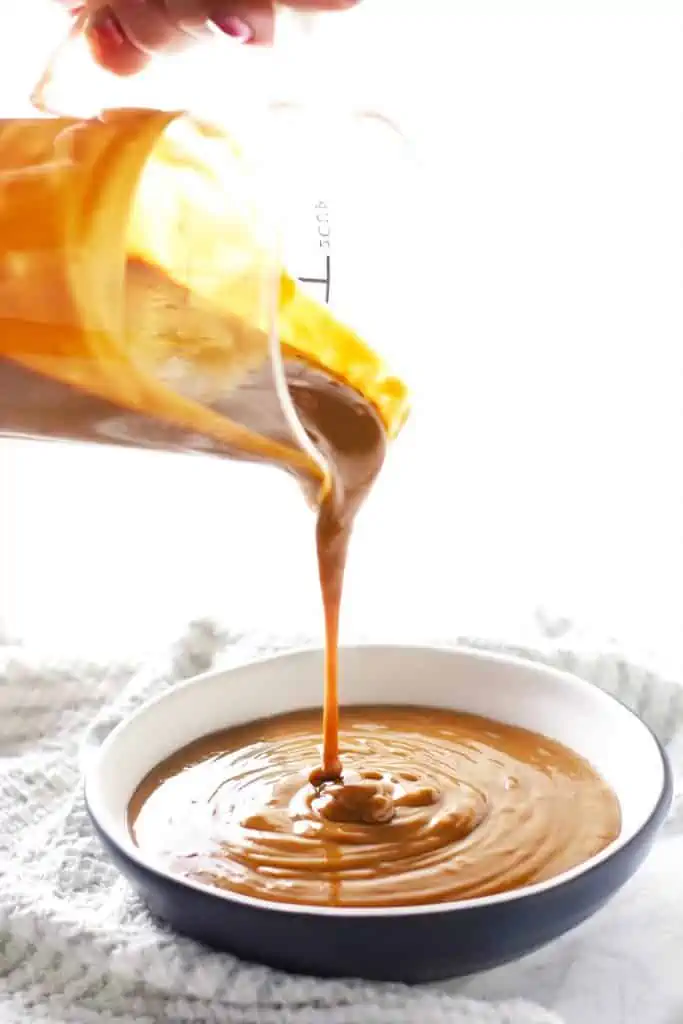 ---
Easy Peanut Sauce Q&A
How long will peanut sauce keep in fridge?
I would say about a week. Personally, I've kept it in the fridge longer than that and had no problems but I don't recommend it because that is when you start playing with fire!
Can you freeze peanut sauce?
Yes! Put it in a freezer safe baggie or sealed container before popping it in the freezer. You could also freeze the peanut sauce in ice cube trays to create individual portions. So, if you want just enough peanut sauce for a meal or two you only have to thaw a few cubes worth of peanut sauce instead of the whole batch!
How spicy is this peanut sauce?
The red pepper flakes in this recipe make it spicy. Using the measurements listed below I'd say it is a medium spice level. You can taste the spice but it definitely does not kick you in the mouth or make your eyes water.
If you are sensitive to spice, cut back on the red pepper flakes or just omit them altogether.
If you are a spice queen (or king) add more red pepper flakes!
What kind of peanut butter to use to make peanut sauce?
You can use whatever kind of peanut butter you prefer. However, there are a couple quick things to note. Natural peanut butters are generally thinner than good old fashioned Jif peanut butter.
Consistency: If using natural peanut butter, you will need less water to thin it out in step 1 of the recipe. Traditional peanut butter like Jif or Skippy will make a thicker sauce and will need more water to thin it out in step 1 of the recipe.
Sweetness/Flavor: The flavor of peanut butter can vary greatly between brands. Generally, traditional peanut butters like Jif and Skippy are sweeter while natural peanut butters are slightly less sweet. Use whichever you prefer. I personally like traditional peanut butter for this recipe but all kinds will work!
Texture: Wanna get real wild? Use chunky peanut butter. It adds an awesome crunch!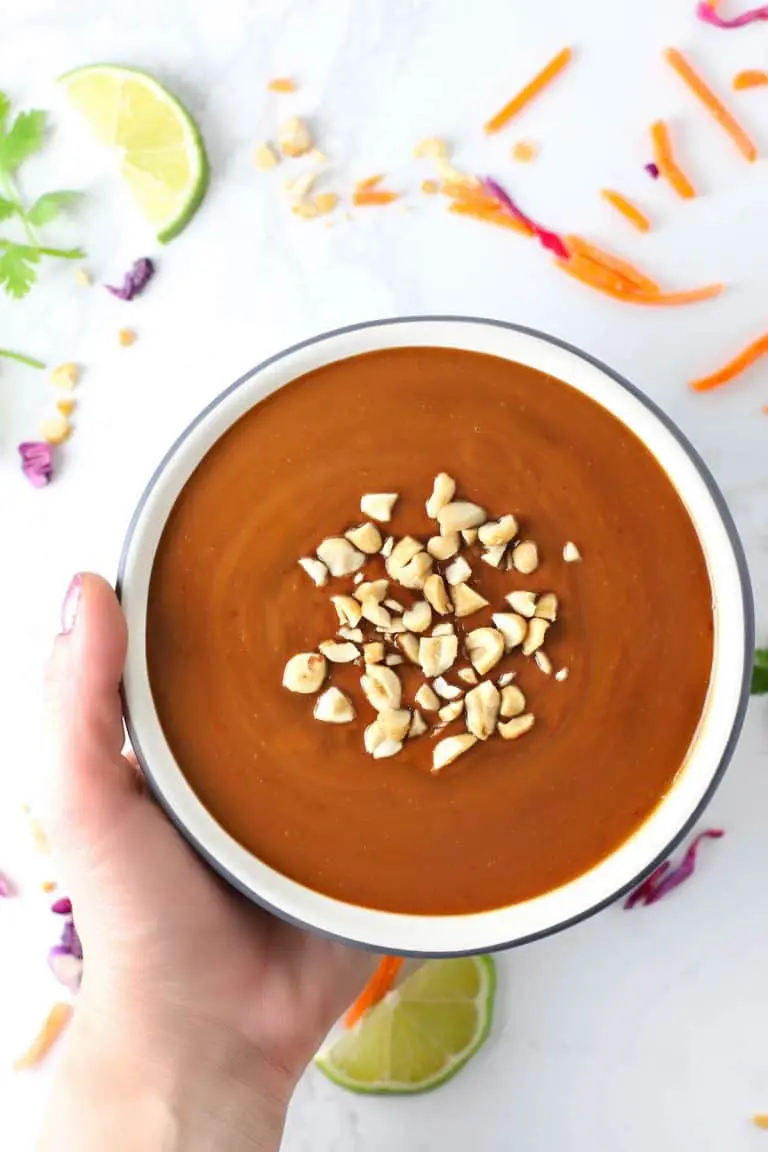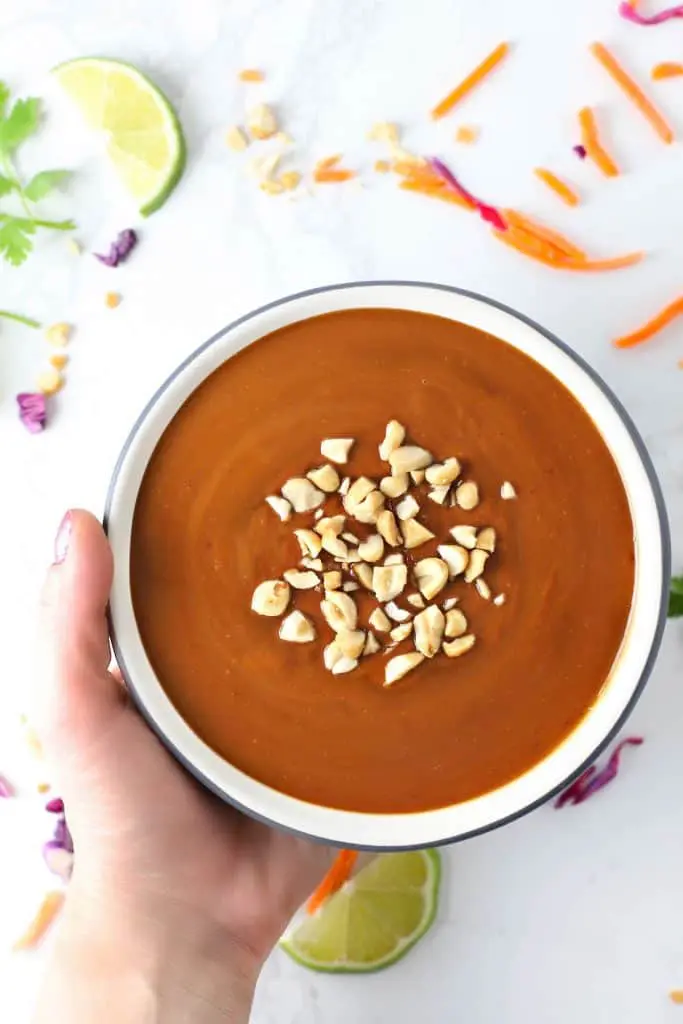 What tastes good with peanut sauce?
Toss up some spicy peanut chicken wings. Follow the recipe for Healthy Air Fryer Wings through step 3. Then instead of tossing them in buffalo sauce, toss them in this spicy peanut sauce. They are SO good!
Dip vegetables in peanut sauce. I could eat vegetables all day every day if I dipped them in this sauce.
Grab a free veggie roasting cheat sheet to keep in your kitchen so you never run out of veggies to dip in this delicious peanut sauce!
---
Other 5-Minute Sauces
---
How to Make Easy Spicy Peanut Sauce (1 min)
---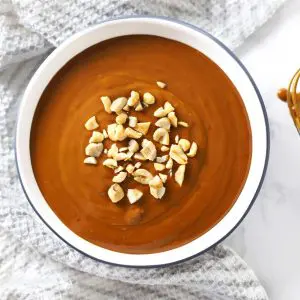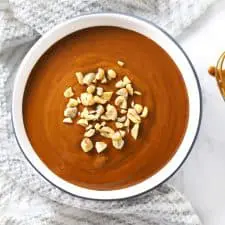 Easy Peanut Sauce
Pin Recipe
Print Recipe
Rate Recipe
This Easy Spicy Peanut Sauce is creamy, sweet, salty and slightly spicy all in one. The best part? It only takes 5 minutes to make!
Ingredients
1/2

cup

peanut butter

1/4

cup

soy sauce

2

Tbsp.

rice vinegar

2

Tbsp.

honey

1

Tbsp.

sesame oil

1

tsp.

red pepper flakes

1

tsp.

ground ginger

Up to 1/3 cup water*
Instructions
Combine: Put all ingredients in a bowl. Whisk until well combined and the sauce is smooth.

Enjoy: Enjoy immediately or store in a sealed container in the fridge.**
Notes
*The thickness of the sauce and amount of water needed to thin out the sauce depends greatly on the kind of peanut butter used. For example, natural peanut butters are thinner than traditional peanut butters. Thicker peanut butter = more water. Thinner peanut butter = less water. Add water slowly until the desired consistency is reached. 
**The sauce will thicken in the fridge due to the cool temperature. Simply pop it in the microwave for 15-20 seconds at a time (stirring in between) until the sauce becomes the desired consistency.
Nutrition
Serving:
4
Tbsp.
|
Calories:
175
kcal
|
Carbohydrates:
10
g
|
Protein:
7
g
|
Fat:
13
g
|
Sodium:
654
mg
|
Fiber:
2
g
|
Sugar:
6
g
Have you tried this recipe?
Let me know what you think! Rate this recipe and leave a comment below.