The tofu recipe that took the third place spot in my meat-loving husband's list of favorite foods.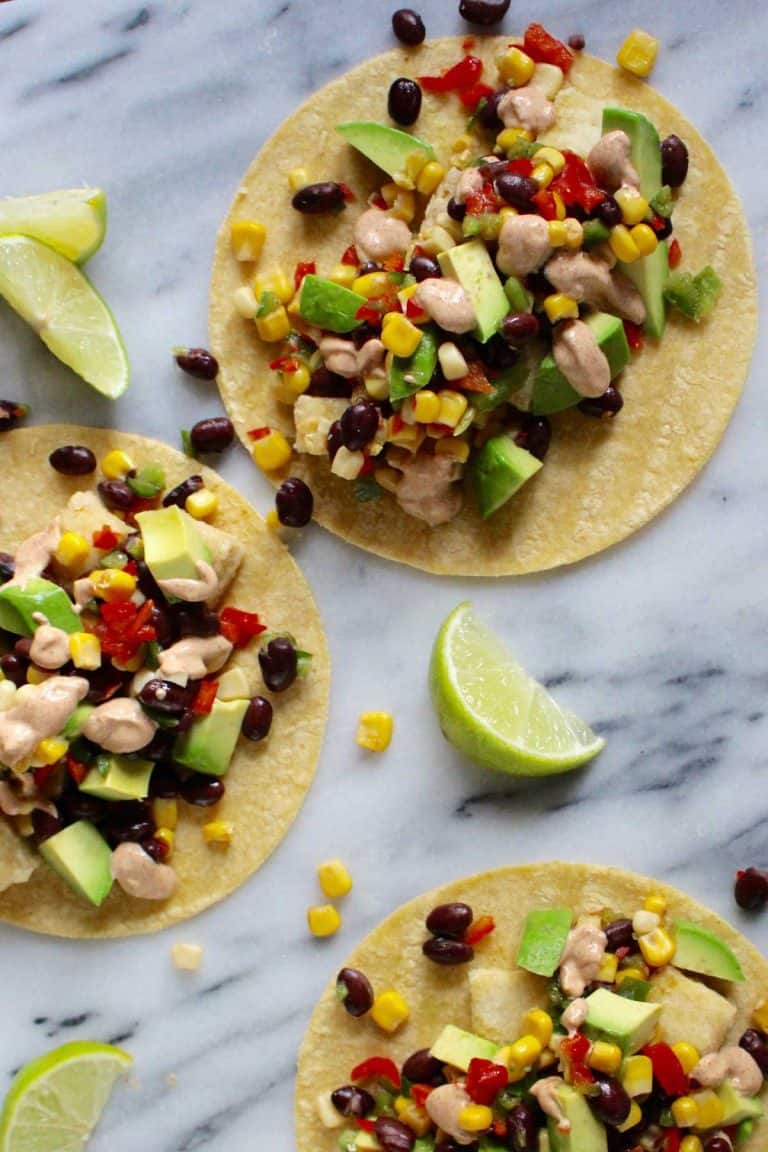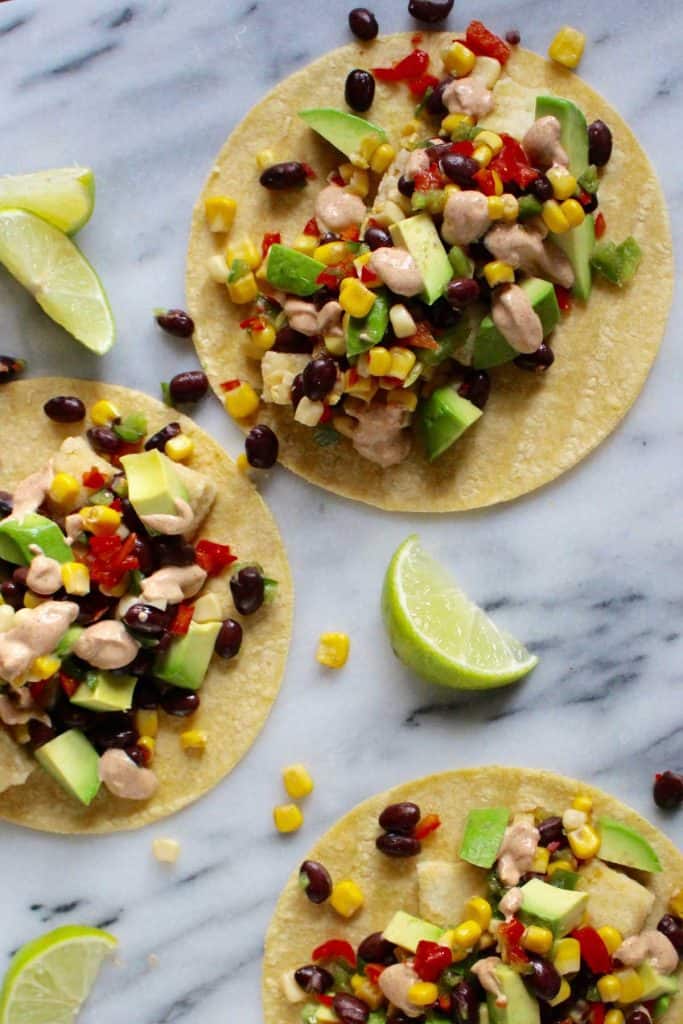 ---
Tacos are Awesome
Raise your hand if you love tacos (FYI I raised both hands). I LOVE tacos and I mean I really love tacos. However, when it comes to "healthy foods" they tend to get a bad rap. Sure the tacos from your local sport's bar that weigh two pounds and are slathered with processed liquid cheese probably don't make the "healthy" cut.
That is with anything though. For example a salad is instantly considered a healthy and light meal choice but this is FAR from true in many instances. No offense to Applebee's (trust me I was their biggest half off apps customer in college) but their Oriental Chicken Salad is the perfect example of this because it is terribly unhealthy despite being a salad. Checkout the nutritional information if you dare!
Eat Well & Like What You Eat
Maintaining a healthy diet is important to me but I'm not willing to sacrifice the foods I love to do so. I am a foodie and I love to eat. I think food brings people together and should be something we enjoy (not only something that fuels our body). Therefore, I find ways to take delicious foods I love and make them healthy which brings be back to Spicy Tofu Tacos!
Give tofu a try. It is GOOD!
Tofu isn't as prevalent in home cooking as say chicken. Many people dismiss it without ever trying it. Let me tell you… don't knock it til' ya try it! My spouse, Tom, claimed he liked these tacos more than my famous crispy fish tacos (his third favorite meal of all time) which SHOCKED me. To give a little context to this story, Tom is the stereotypical outdoorsman who would eat red meat for every meal if it didn't kill him. So, you can imagine my surprise when a tofu dish took over the third place spot of Tom's favorite meals. If that isn't convincing enough to try tofu, I don't know what is!
---
Spicy Tofu Taco Recipe Breakdown
I have a recipe for these satisfying tacos below but I am going to quickly walk through why I chose each ingredient to hopefully inspire you to make healthy swaps in other meals or to create your own tacos without a recipe! In all honesty, I created this recipe on the fly with ingredients I had on hand. There are no rules. Use what you have and don't be afraid to try to things or new combinations. You'd be surprised how often bizarre and random ingredient combinations turn out to be absolutely delicious.
Tortillas: Swap out flour tortillas for corn tortillas. Also, watch the size. Go for the small tortillas. Generally, three small corn tortillas have fewer carbs and calories than ONE medium flour tortilla. I don't know about you but I would way rather have three tacos than one. Besides the tortilla is definitely not the tastiest part. It basically just holds everything together.
Protein/Base: In this recipe, I opted for tofu because I had some laying around and I'm trying to incorporate more meat-free meals into my diet. Any protein will work if the correct portions are used. However, tofu, fish and chicken are lighter options than beef and pork.
Veggies/Toppings: This is where I like to LOAD in the fresh stuff. Not only is this the place to get in a bunch of healthy veggies but this is the place where the tacos really come to life. Here is why:

Beans: hearty and filling
Corn: color and flavor/sweetness
Red Bell Pepper: color and crunch
Jalapeno: flavor/spice
Avocado: color, flavor/sweetness and creamy texture
Lime Juice: flavor/acidity

Sauce: A lot of people think sauces are the devil when it comes to losing weight and eating a healthy diet. I couldn't disagree more. The right sauce and/or the right amount of sauce is a BRILLIANT way to bring any meal together, add flavor and make a meal satisfying. Here are three tricks I used in the Spicy Tofu Tacos sauce:

Healthy Swap: I swapped out sour cream for Greek yogurt.
Added Flavor: I added taco seasoning and a tiny bit of lime juice to the Greek yogurt to really give it a serious punch of flavor. The added flavor reduces the need for TONS of sauce.
Portion Control Trick: Excess calories, fat, sodium, etc. can add up REALLY fast if we aren't mindful of portion control. Here is a little trick. With this sauce, I added a little milk (water works too) to thin it out and give it a more of a saucy consistency versus a dollop consistency. Because it is thinner, you are able to use less of it while still getting sauce over the entire taco without sacrificing any flavor.
Although this is a tasty dish, the finished product of the meal itself isn't the only purpose of this particular recipe. Cooking is so much more than following a recipe. Being able to easily make adjustments in recipes and being able to cook some things without a recipe makes eating well easy and enjoyable versus stressful and time consuming. In hopes of encouraging those who don't have a lot of cooking experience, I have explained in detail how and why things are done in each step below. I also included some helpful tips, things to look for, and ways to adjust the recipe to your liking. The directions are simple and quick despite their lengthy appearance at first glance. Feel free to shoot me an email with questions or comments!
---
Other Taco Recipes
---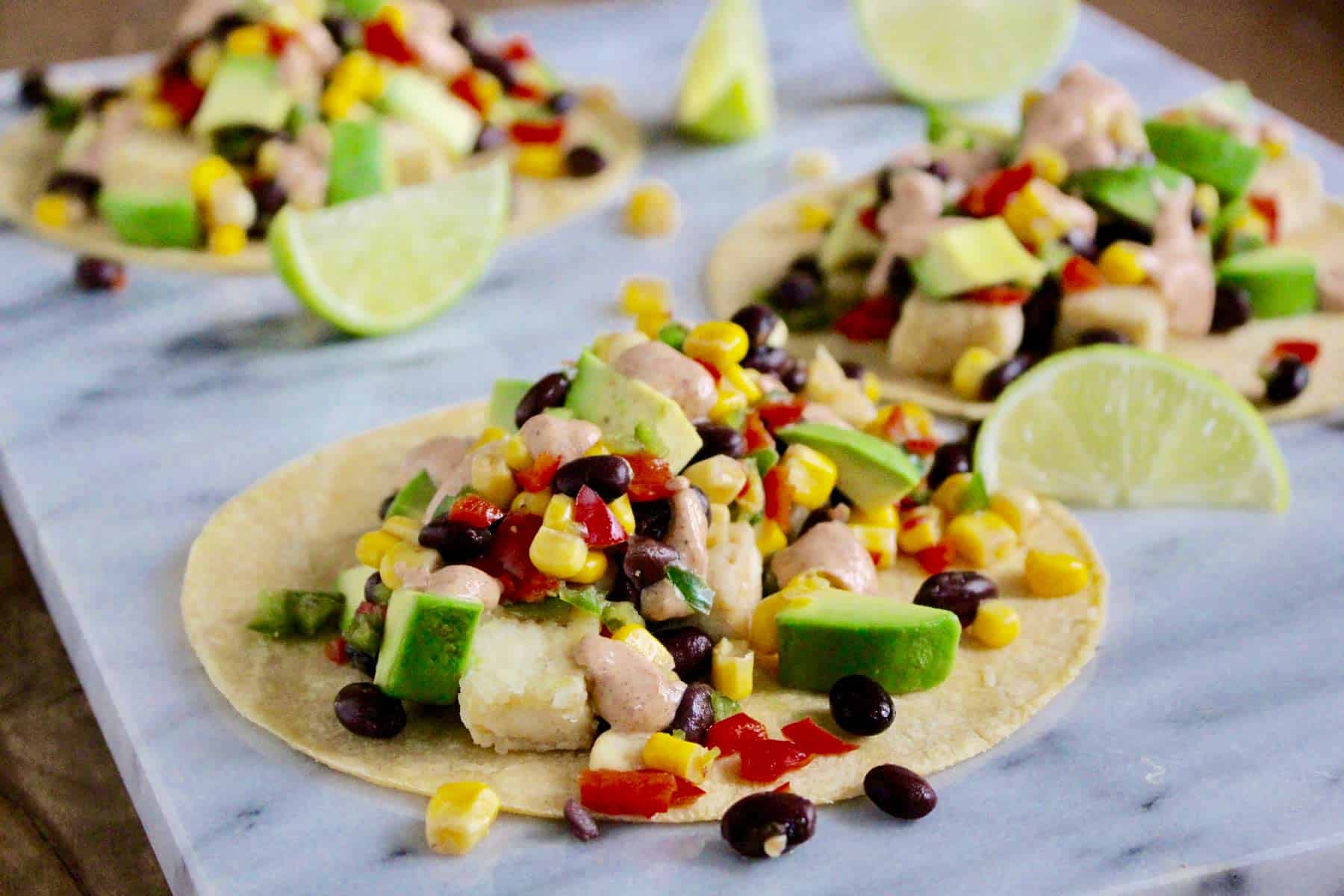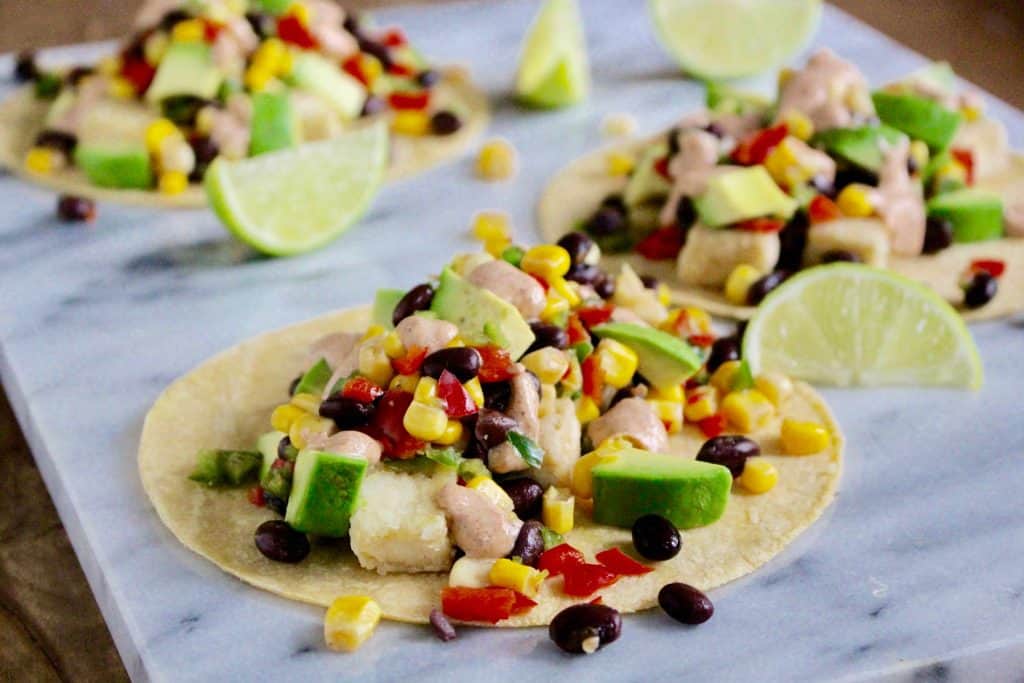 Print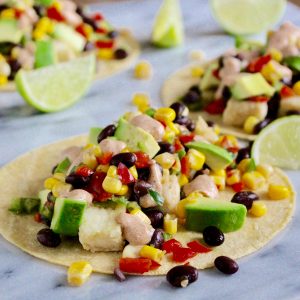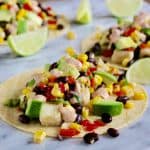 Spicy Tofu Tacos
---
Prep Time:

20 minutes

Cook Time:

10 minutes

Total Time:

30 minutes

Yield:

4

1

x
Scale
Ingredients
8

–

12

small corn tortillas

1

package tofu (

12 oz

)

1

can black beans (drained and rinsed)

1

can corn (drained and rinsed)

1

avocado cubed

1

–

2

bell peppers diced (I used red but any color will do)

3

jalapenos diced

1/3 cup

Greek yogurt (or sour cream)

2

–

3

tsp taco seasoning

3

–

4

Tbsp cornstarch

1

–

2

Tbsp milk or water (optional)
lime juice
salt (to taste)
---
Instructions
Cut Tofu: Cut tofu into cubes. I normally cut my tofu into 1/2″-3/4″ cubes, but it is entirely up to you. You can cut them into any size or shape you like. Simply adjust cooking times accordingly (smaller = less time, larger = more time).
Press Tofu: Next you will want to remove some of the moisture from the tofu. Place a few paper towels under your cubed tofu and on top of your tofu. Then "press" it which is basically fancy talk for putting something heavy on top of it like a cutting board with a couple of canned goods stacked on top or a cast iron pan. Tofu is like a sponge. Putting weight on it will help remove some of the moisture. Many people say you need to press tofu for at least an hour. I personally never have that much time. So, I usually cut up my tofu first so it can press for a couple minutes while I prep other ingredients. It works out just fine for me. I also purchase extra-firm tofu (this is one of the more common options available at most grocery stores) which has less moisture to  begin with. So, it saves time!
Fresh Toppings: Combine beans, corn, bell peppers, jalapenos, avocado, salt (to taste) and lime juice (to taste but I normally start with 1 Tbsp and go from there). Feel free to add or exclude any ingredients as you wish! Cabbage, cilantro, tomatoes and different types of beans are a few examples of possible additions. The ribbing (thin white sections on the inside of jalapeno) and the seeds of jalapeno pack some serious heat for all my spicy peeps out there. If you aren't really into spice, simply remove and discard the ribbing and the seeds. Time Saving Tip:When I made these tacos, I was in a hurry and didn't want to spend 3 or 4 minutes cutting up the peppers and jalapenos. So, I just popped them in my mini food processor, pushed the pulse button 4 or 5 times, and voila! I had chopped peppers and jalapenos in 5 seconds. A lot of people shy away from using appliances because they don't want to clean them (I TOTALLY get that) but my little food processor takes all of 20 seconds to wash out. It is awesome.
Sauce: Combine the taco seasoning, Greek yogurt and a tiny squeeze of lime. About 1.5 tsp should do the trick but I encourage you to follow your taste buds not the measuring cup. Taste it and see what you think. If one ingredient is way too strong, add more of the other ingredients to balance it out. How is the texture? Too thick? Add milk or water 1 Tbsp (or less) at a time until it reaches a nice saucy consistency.
Heat Pan: Put a pan over medium to medium/high heat. Generously coat the bottom of the pan with oil. I used coconut oil but feel free to use what you like or have on hand.
Coat Tofu: Give your tofu one last good pat down with a couple of paper towels. Then coat the tofu with the cornstarch. Here's an awesome little trick. Put your cubed tofu in a zip lock baggie with the cornstarch and give that ziplock bag a good shake (make sure you seal that bad boy unless you want your kitchen to look like in snowed cornstarch). This coats tofu perfectly in about 7 seconds. Don't have a ziplock baggie? No problem. Just toss the tofu with cornstarch in a bowl.
Crisp Tofu: IMMEDIATELY after the tofu is coated, drop the tofu in the pan preheated pan. You should hear a sizzle right away. If you don't hear a sizzle and only hear silence and crickets, your tofu won't crisp up. Test out your pan with one piece of tofu to make sure it sizzles… just to play it safe. Flip the tofu with a spatula every minute or so to make sure all sides of the tofu crisp up. This shouldn't take long. I'd say 4-5 minutes. Not sure if the tofu is done? Test it out (careful, it's hot)! If it is nice and crispy, remove the tofu from the pan and you're done! If it isn't as crispy as you'd like, let the tofu cook for a little longer. Simple as that!
Assemble: Once the tofu is done cooking, it is time to assemble and then TIME TO EAT! This is pretty darn easy. Put some crispy tofu on your tortillas with a heap of the fresh toppings and a drizzle of sauce. Now you're ready to dive into the zesty bundles of goodness. Enjoy!
---
Notes
Read this recipe all the way through first! It will save you time.