This quick and easy Spicy Tofu Tacos recipe has crispy tofu, creamy avocado, fresh salsa and zesty sauce wrapped in a warm tortilla. If you like tacos, you need to try this recipe!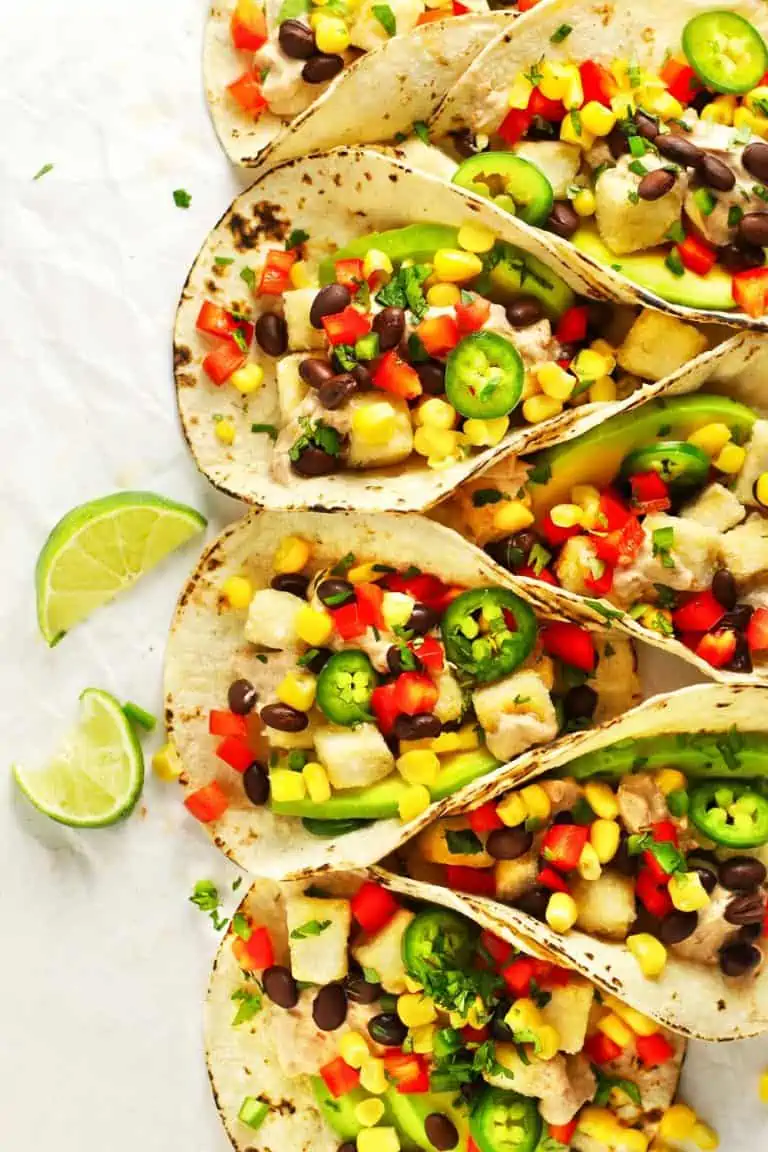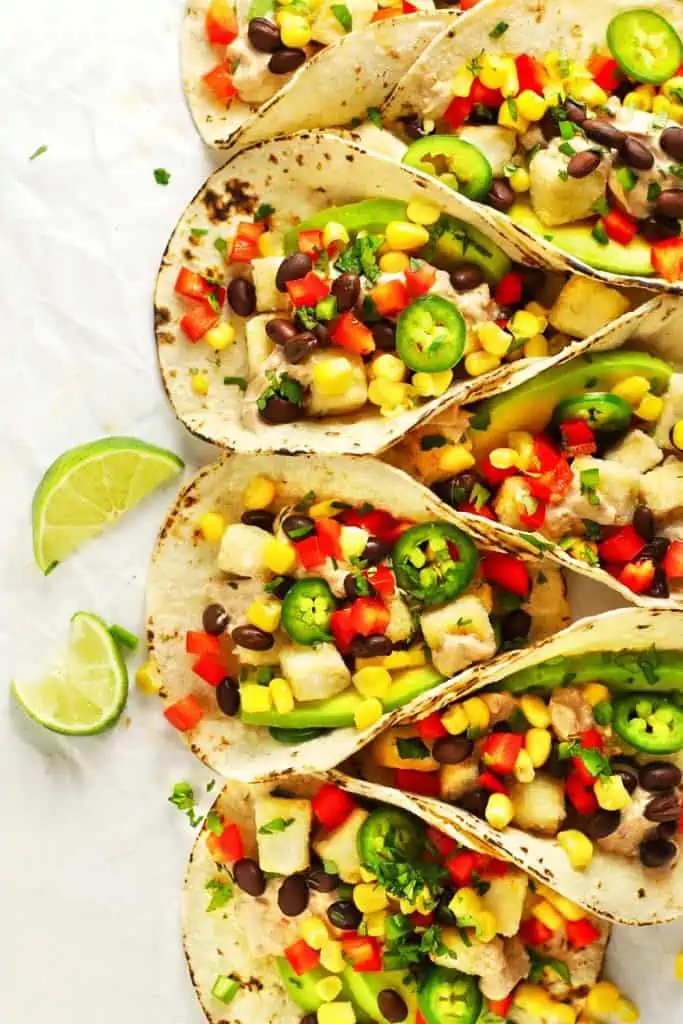 ---
About the Recipe
1. Flavor
This recipe is vegetarian and quite healthy but don't let that fool you because these little bundles are SO good!
These tacos have the perfect balance of flavors and textures. The tofu is light and crispy. The beans are hearty while the corn and bell pepper add a hint of fresh sweetness. Avocado adds creaminess and the lime juice adds citrusy zest. Roll all that goodness in a warm tortilla with a dollop of sauce and you have a taco that'll make you weak in the knees.
2. Ingredients
This recipe isn't only delicious but it is loaded with a ton of fresh and healthy ingredients! We've got tofu and tortillas along with corn, beans, jalapeño, avocado, bell pepper and a healthy Greek yogurt based sauce.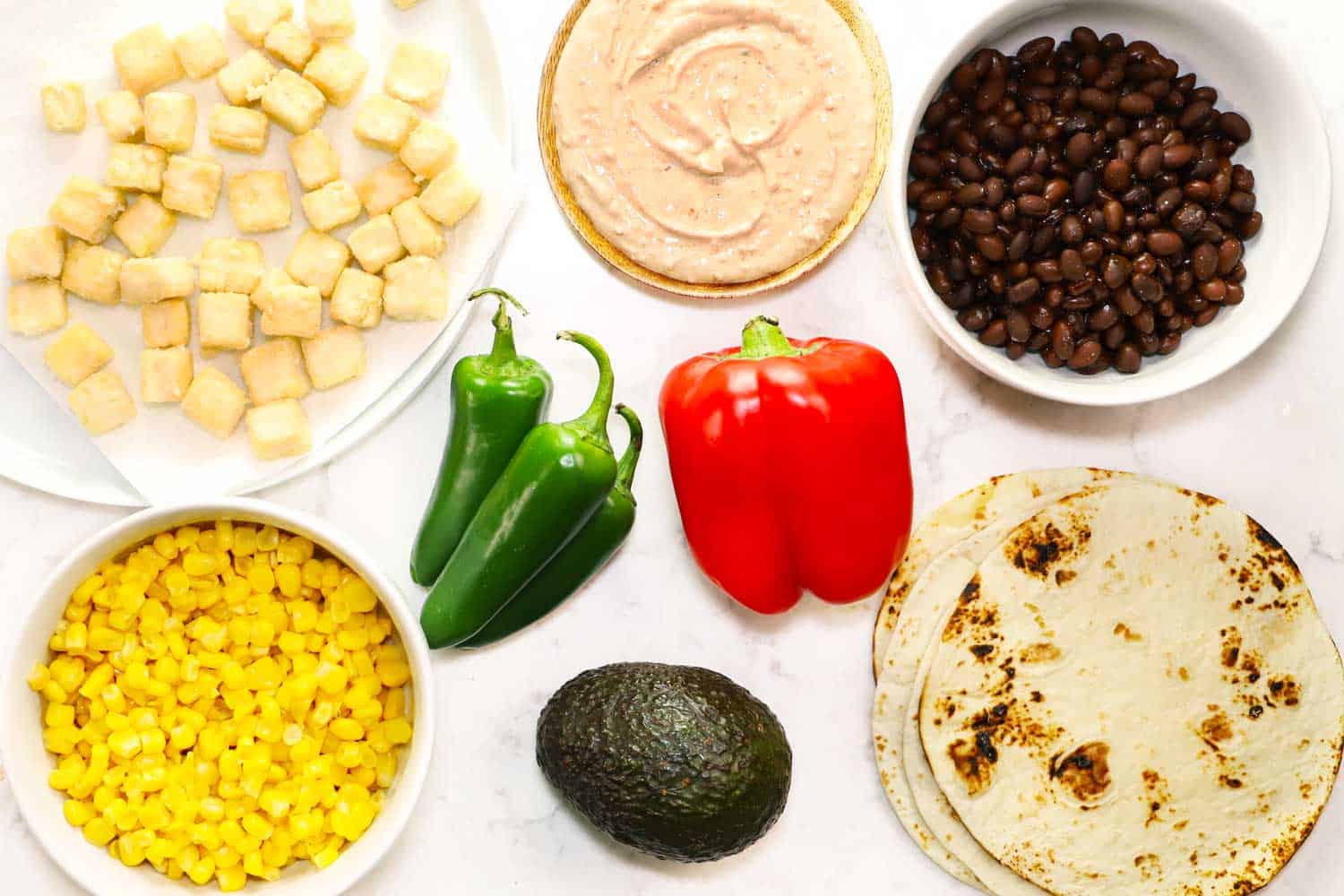 3. How to Make Tofu Tacos
Watch this quick 60 second video and see how this recipe is made!
4. Hot Tom Approved
My husband, Hot Tom, claimed he liked these tacos more than my famous crispy fish tacos (his fourth favorite meal of all time) which SHOCKED me. Hot Tom, is the stereotypical outdoorsman who would eat red meat for every meal if it didn't kill him. So, it is a big deal when a tofu dish makes Hot Tom's favorite meals list. If that isn't convincing enough to try these tofu tacos, I don't know what is!
---
How to Fry Tofu
Frying tofu is easy and is the only way to truly get that light and crispy texture!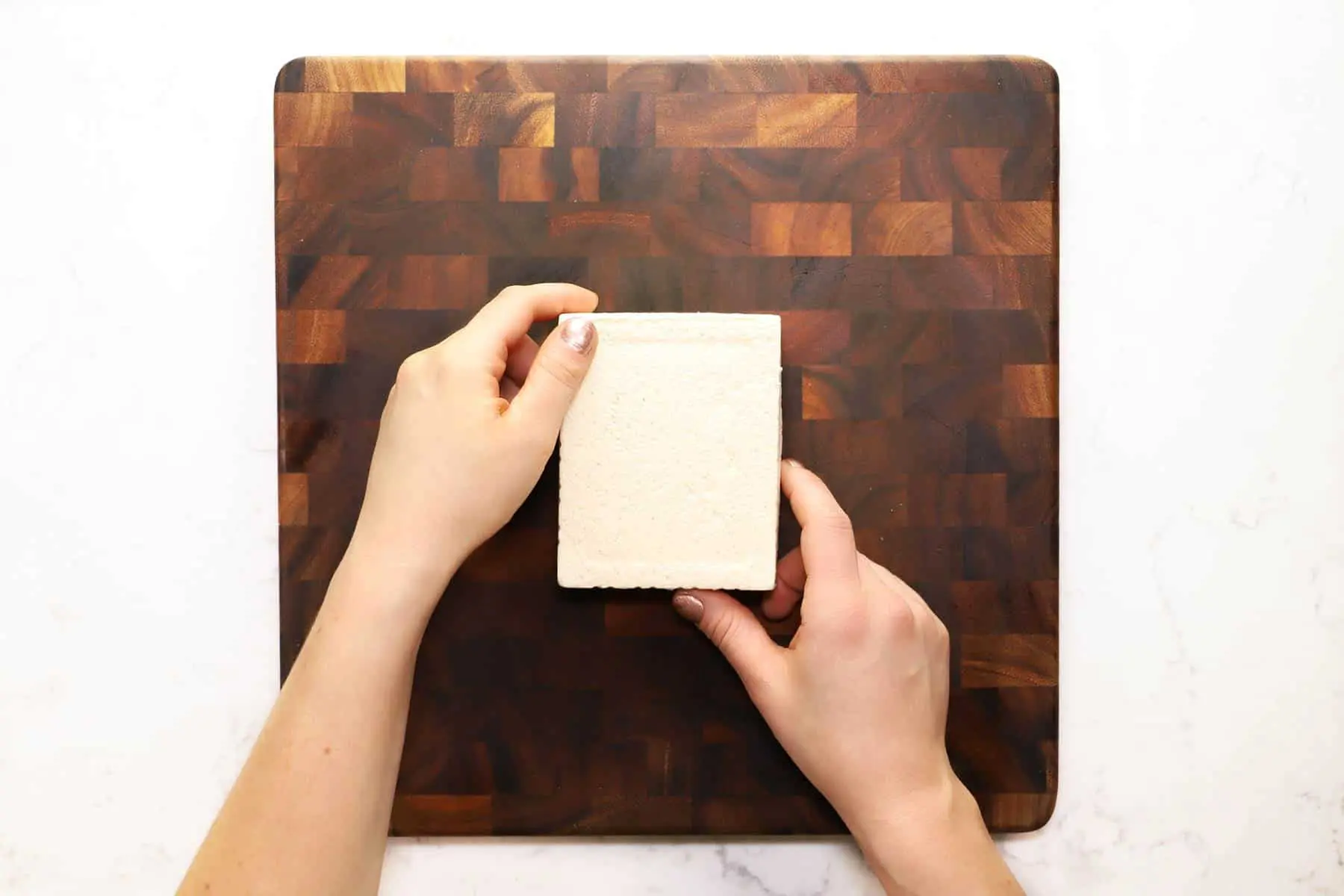 ---
How to Make Taco Seasoning
This recipe calls for taco seasoning. Whether you forgot to get a taco seasoning packet at the store or you're watching your sodium, taco seasoning is really easy to make at home. Checkout this quick and easy taco seasoning recipe.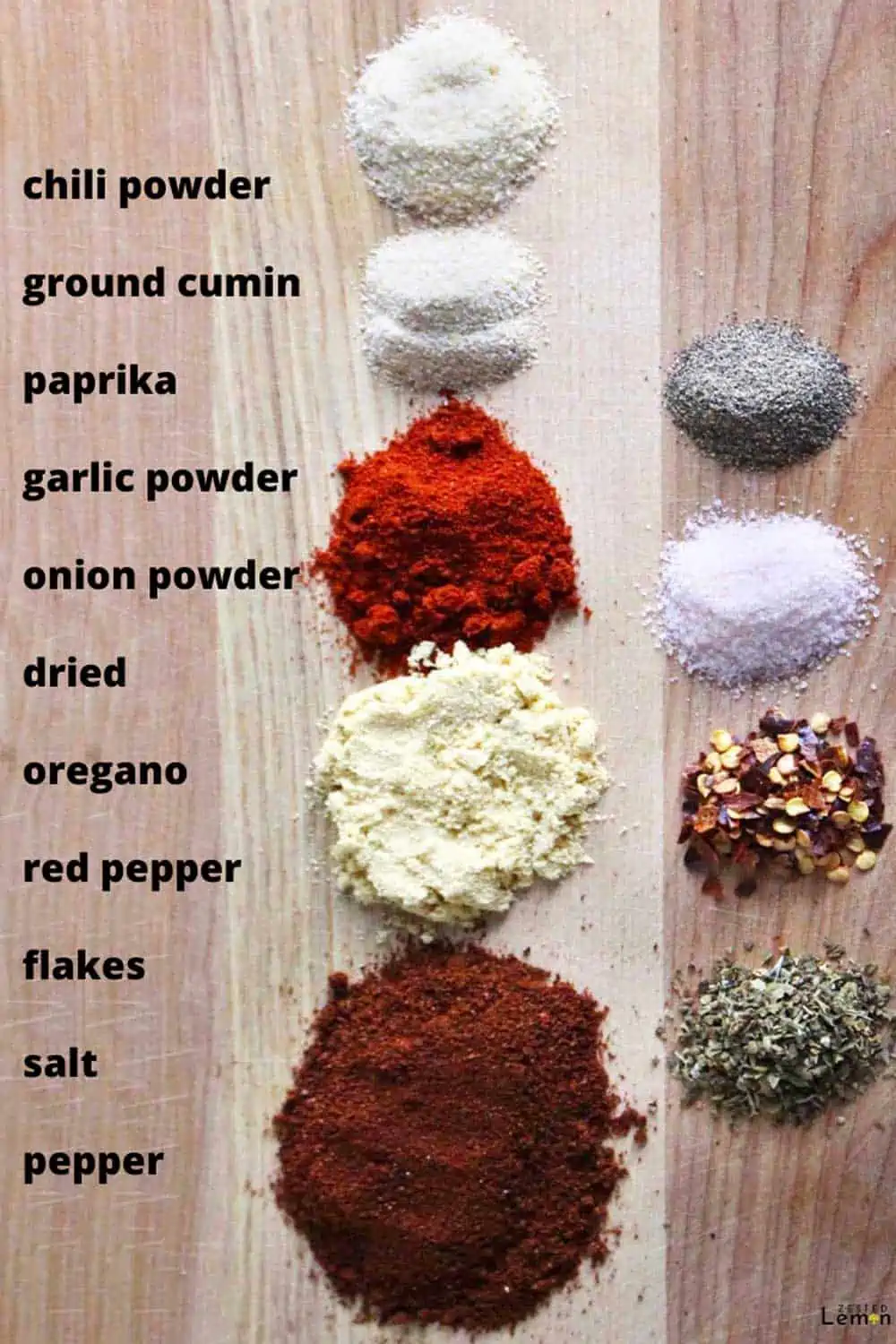 ---
Recipe Tips for Tofu Tacos
Use extra-firm tofu.
Extra-firm tofu is key for this recipe! It is easier to cook, especially when frying. It also contains less moisture and takes much less time to press which leads me to my next tip!
Use this shortcut to press your tofu.
Generally, you wrap a full block of tofu in towels and press it for a long time. There's a way around this though. Use extra-firm tofu. Then cut the tofu into cubes before your press it. Then put the cubes between several layers of paper towels and put a pan on top of it for 5 minutes or so. Then give the tofu cubes one last pat down with paper towels and viola! You're good to go!
Test the oil to make sure it is hot enough.
Step 4 of the recipe is to fry the tofu cubes in a large pan with oil. You should hear a sizzle right when the tofu is added to the pan. If you don't hear a sizzle, your tofu won't crisp up. To avoid this be sure to test the hot oil with one piece of tofu to make sure it sizzles… just to play it safe.
Save time with a mini food processor.
Sometimes I'm in a hurry and don't want to spend 3 or 4 minutes cutting up the peppers and jalapeños. So, I just pop them in my mini food processor, pushed the pulse button 4 or 5 times, and voila! Chopped peppers and jalapeños in 5 seconds. A lot of people shy away from using appliances because they don't want to clean them (I TOTALLY get that) but a little food processor takes all of 20 seconds to wash out. I love mine and highly recommend it!
Choose your heat level.
You can control the level of heat with the jalapeños. The ribbing (thin white sections on the inside of jalapeño) and the seeds of jalapeño pack some serious heat. If you like your food spicy, keep the ribbing and seeds in the jalapeños. If you aren't really into spice, simply remove and discard the ribbing and the seeds.
How to know if tofu is done.
Not sure if the tofu is done? Test it out (careful, it's hot)! If it is nice and crispy, remove the tofu from the pan and you're done! If it isn't as crispy as you'd like, let the tofu cook for a little longer. Simple as that!
---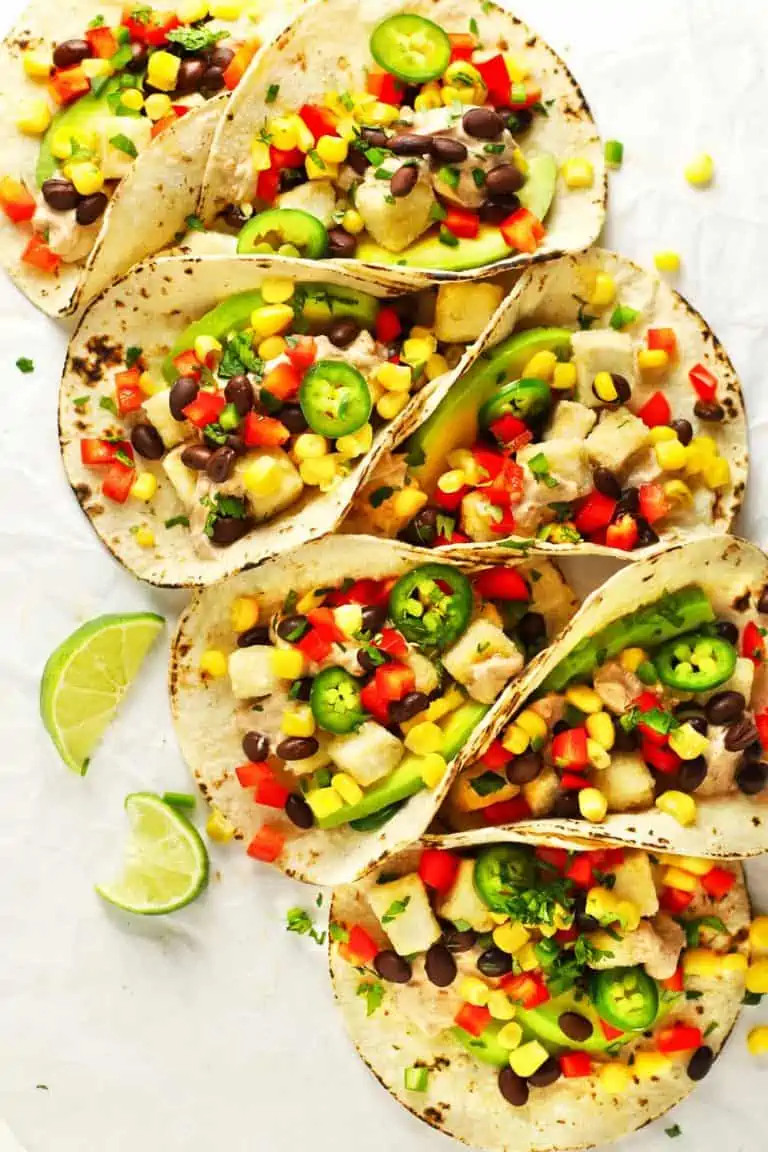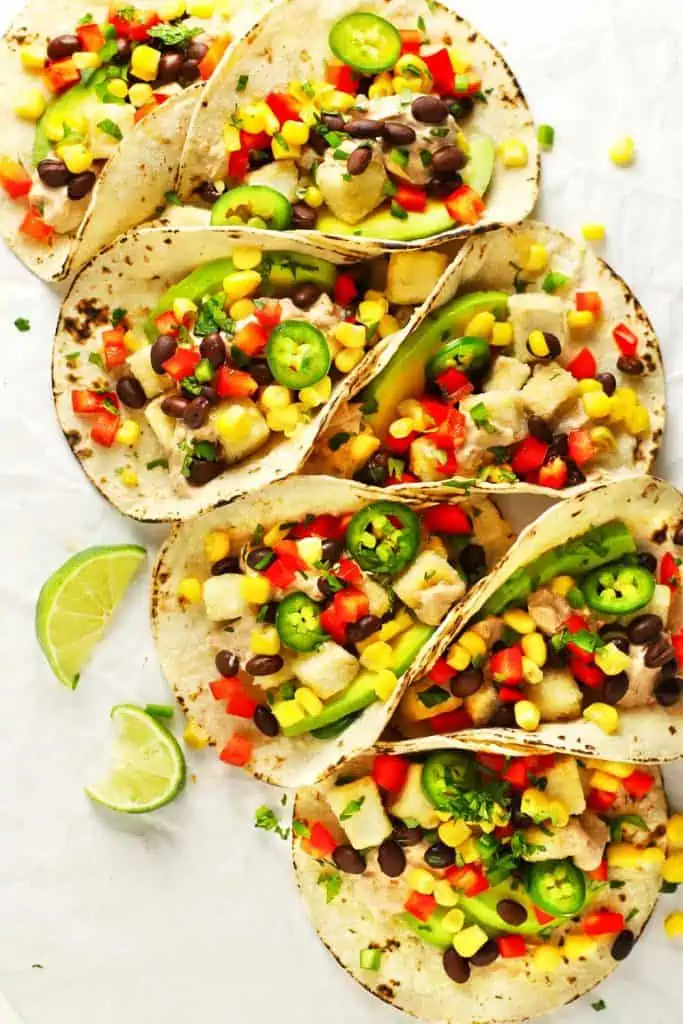 ---
Other Tofu Recipes
Like tofu recipes? You could try Crispy Tofu Summer Rolls dipped in Spicy Peanut Sauce or my One-Pot Coconut Curry Tofu and Veggies. They are both healthy and delish!
---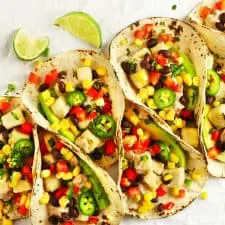 Spicy Tofu Tacos
Pin Recipe
Print Recipe
Rate Recipe
This quick and easy Spicy Tofu Taco recipe has crispy tofu, creamy avocado, fresh salsa and zesty sauce wrapped in a warm tortilla. 
Ingredients
For the crispy tofu:
1

package extra firm tofu

,

14 oz

3

–4 Tbsp. cornstarch

Oil for frying

,

see note 1
For the sauce:
1/2

cup

Greek yogurt

1

Tbsp.

taco seasoning

, store-bought or homemade

1 1/2

tsp.

lime juice

,

or to taste

2

Tbsp.

milk or water

,

optional
For the tacos:
1 15

oz.

can black beans

,

drained and rinsed

1 15

oz.

can corn

,

drained and rinsed

1

bell pepper

,

diced

2

jalapenos

,

diced

1

tsp.

salt

,

or to taste

1

Tbsp.

lime juice

,

optional

1

avocado

,

cubed or sliced

12-16

small corn tortillas
Instructions
For the Crispy Tofu:
Cut Tofu: Drain the tofu and pat dry with paper towels for easier handling. Cut the tofu into 1/2″ cubes. 

Dry & Press Tofu: Put the tofu cubes between layers of folded paper towels (at least 4 layers on top and under tofu). Then put a heavy pan (or something similar) on top of the tofu to press it for at least 5 minutes. 

Heat Pan & Coat Tofu: Generously coat the bottom of a large pan with oil and put it over medium/high heat (see note 2). Pat down the tofu one last time with a paper towel. Put the tofu and cornstarch in a Ziploc baggie. Seal the baggie and gently shake to coat the tofu (see note 3). 

Fry Tofu: Put the tofu in the hot oil. It should sizzle right away. Don't overcrowd the pan. Fry in batches if needed. Fry for about 4-6 minutes or until slightly golden brown while flipping the cubes every couple minutes with a spatula to ensure all sides become crispy. Remove the tofu from the pan and place on paper towels to remove excess oil. Use in tacos immediately.  
For the Tacos:
Make Sauce: Stir together all sauce ingredients until well combined. Set aside. 

Make Salsa: In a medium/large bowl, combine the black beans, corn, bell pepper, jalapeño, salt and lime juice (optional). Set aside. 

Assemble: Put crispy tofu cubes, the sauce, a spoonful or two of salsa and a couple slices of avocado in a tortilla. Serve with lime wedges and a sprinkle of cilantro (optional). Enjoy!
Notes
Note 1: Use oil with a high smoke point such as vegetable oil, canola oil or coconut oil.  Note 2: It is important to heat the oil before coating the tofu because you want to fry the tofu immediately after you coat it with the cornstarch.   Note 3: If you do not have a baggie, put the tofu and cornstarch in a bowl and gently toss with your hands to coat.
Nutrition
Serving:
1
taco
|
Calories:
270
kcal
|
Carbohydrates:
53
g
|
Protein:
7
g
|
Fat:
4
g
|
Cholesterol:
1
mg
|
Sodium:
537
mg
|
Fiber:
5
g
|
Sugar:
33
g
Have you tried this recipe?
Let me know what you think! Rate this recipe and leave a comment below.