This Lemon Asparagus Risotto is a deliciously creamy one-pot recipe. We answer all your risotto questions and have a how-to video to make cooking easy!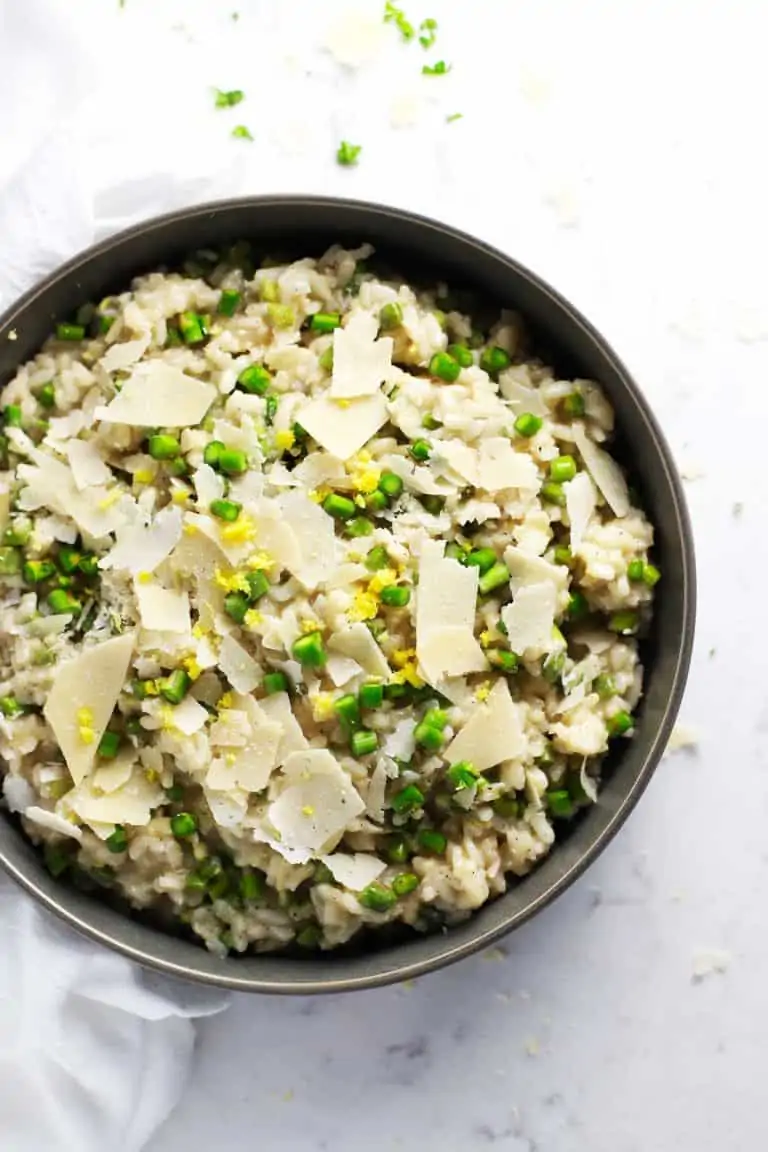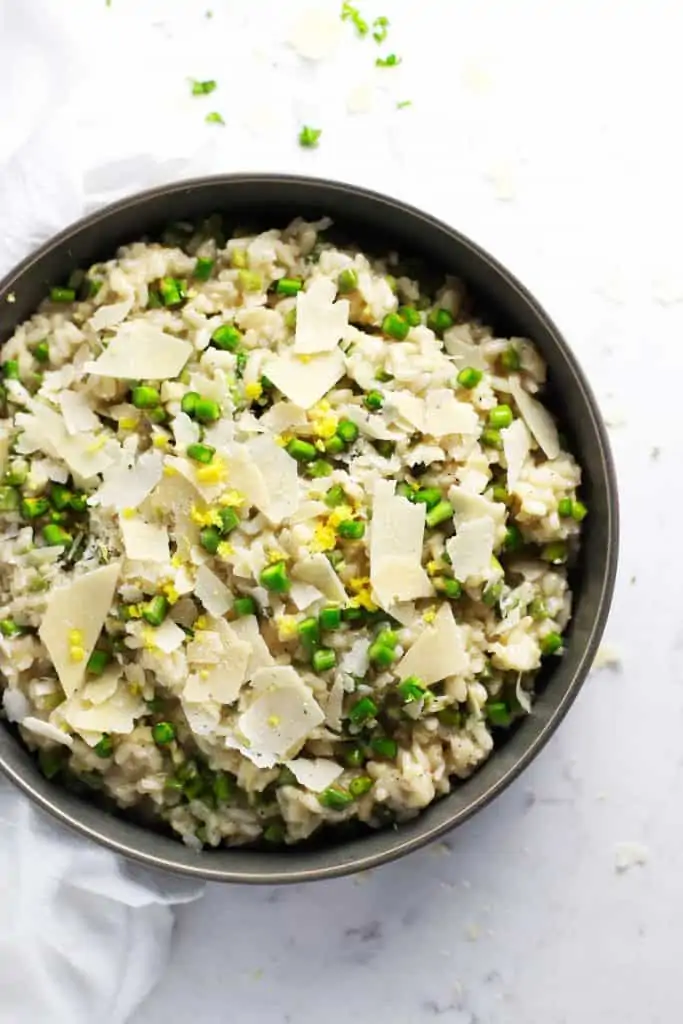 ---
Quick Risotto Ingredient Tips

Which rice do you use for risotto?
Risotto is technically a rice dish but a specific type of rice is needed to get that creamy delicious consistency of risotto. Here are a few options.
Arborio Rice – This is the most popular and widely available variety of rice used to make risotto. I personally use Arborio rice because it is the easiest to find at most (if not all) grocery stores.
Vialone Nano Rice – This variety is grown in Italy and is unique in that it requires no chemicals be used in producing the rice. It makes a creamier risotto but is more expensive (in my experience) and much harder to find.
Carnaroli Rice – Carnaroli makes the creamiest risotto but again isn't as widely available as Arborio rice.
Can you make risotto without wine?
Yes, of course! The alcohol does cook out when making the risotto but if you don't have white wine or don't feel comfortable using wine in a recipe, no problem! You have a few options.
Skip It: Simply omit the white wine entirely and proceed with the recipe. The wine adds flavor and a little acidity but you will still end up with a delicious risotto without it!
Find an Alcoholic Substitute

red wine
sherry
beer

Find an Alcohol-Free Substitute

1/4 cup apple juice + 1 tsp. vinegar
1/4 cup white grape juice + 1 tsp. vinegar
2 Tbsp. white wine vinegar + 2 Tbsp. water
2 Tbsp. apple cider vinegar + 2 Tbsp. water
Why using an onion and not shallots?
Shallots are within the onion family and are popularly used in risotto recipes. However, this recipe calls for a good old fashioned onion because that is what I had in my pantry and I'm all about making things easy. In this recipe, the purpose of shallots and onions is to add flavor and both get the job done. If you want to use shallots, use 2-3 in place of the 1 onion called for in the recipe.
Here is a quick lemon zest hint.
This recipe calls for both lemon zest and lemon juice. Zest the lemon first and juice the lemon second. Trying to zest a juiced lemon is like trying to ride a bike with flat tires.
Also, I know lemon zest can seem like an easy ingredient to skip over but lemon zest brings a magical bright flavor to food that no other ingredient can. It is one of my favorite things to add to food to give it a little something special… hence the name Zested Lemon. 🙂
The Secret Ingredient
Canned coconut milk (full-fat) is the secret ingredient I use for risotto. Stir in 1/4 a cup or so right after cooking and right before serving (step 6). It adds a delicious rich creaminess to the risotto. Although coconut milk is an optional ingredient, I highly recommend it if you have it!
NOTE: It is normal for the coconut milk to have separated in the can. Just give it a quick stir before adding it to your risotto.
This asparagus trick saves time and dishes.
Generally, if you want to add vegetables to risotto, you have to cook them separately and add them to the risotto after it is cooked. That can seem like too much extra effort sometimes. However, this recipe uses a little trick of mine to save time and dishes but still adds in a ton of healthy veg!
Cut the asparagus into 1/4 inch pieces so they look like little asparagus coins (see 0:02 of video below). When adding the last 1/2 cup or so of stock (step 5) to the pan, add the asparagus as well. This allows the asparagus to cook quickly and evenly directly in the risotto without getting mushy or losing its bright green color. How's that for an easy one pan meal!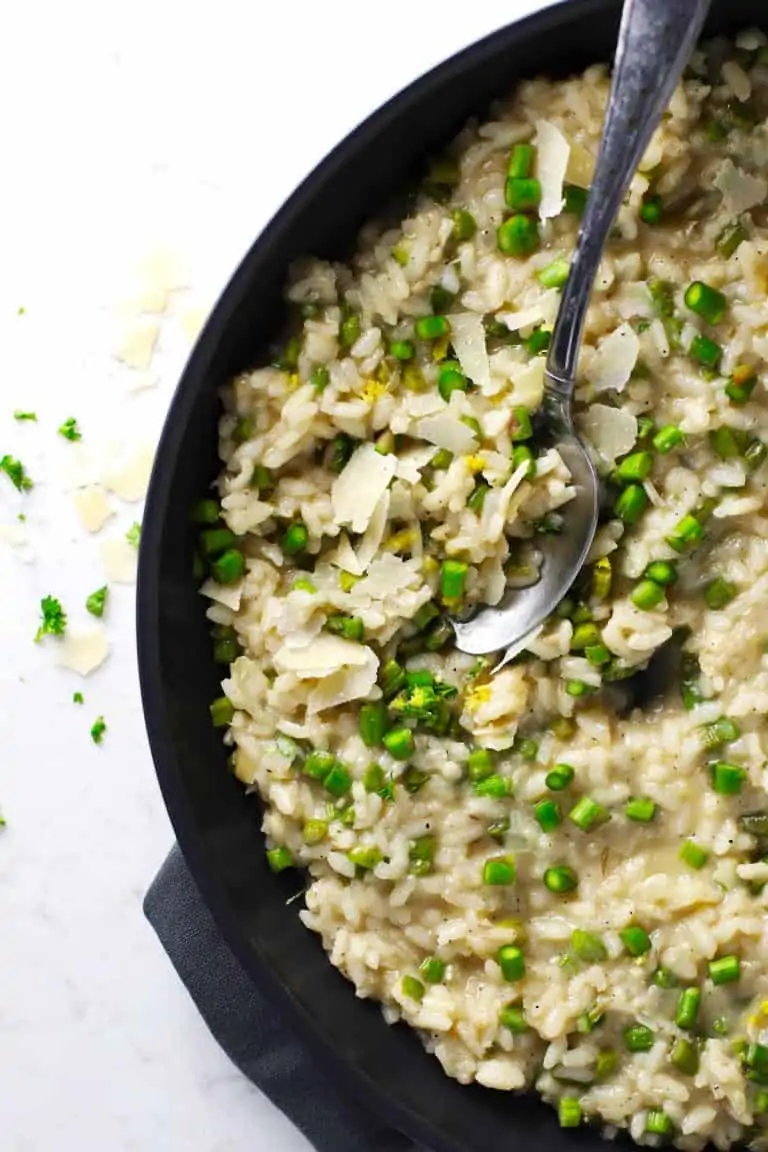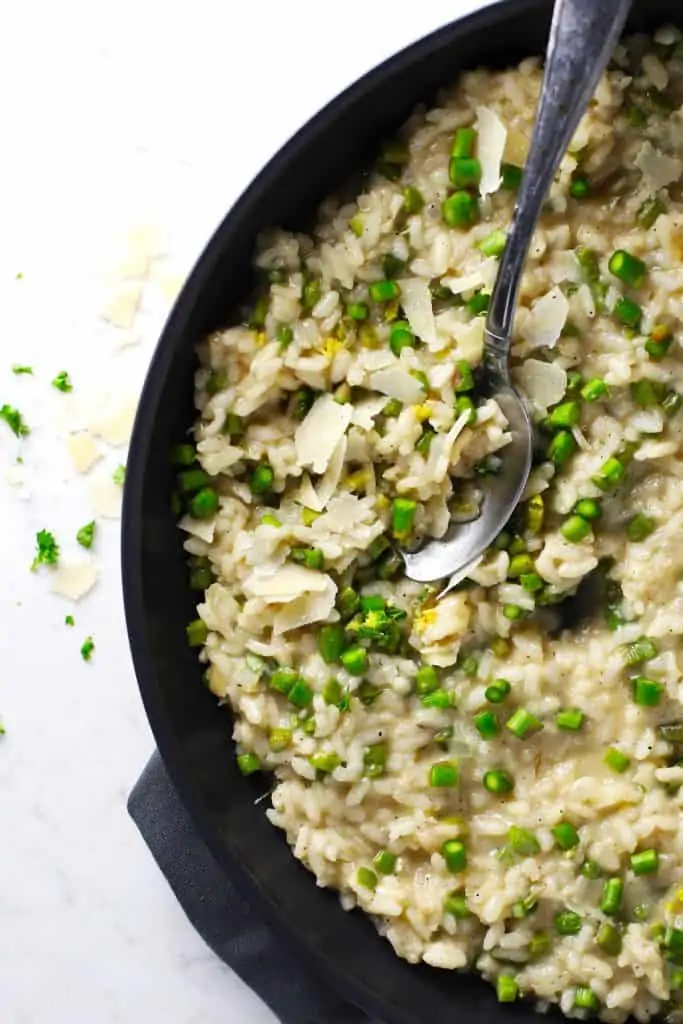 ---
Your Risotto Questions Answered
Why do you add liquid slowly to risotto?
If you put in all the liquid at once, you would essentially end up with normal rice. Adding the liquid slowly and stirring causes the rice/risotto to generate starch which is what makes the risotto creamy.
What if my risotto is still hard?
If your risotto is still hard or crunchy, it is not done yet and needs to absorb more liquid. Add liquid/stock until the risotto is firm and no longer hard. Too much liquid = mushy risotto. Not enough liquid = hard risotto. Just grab a fork and test as you go! Ah, the perks of cooking!
How do you know when risotto is done?
The risotto should be firm but not mushy. Mushy risotto means it is overcooked and hard risotto means it is undercooked. Just taste it as you go! It should also be creamy but not thick and sticky. If you run your spatula or wooden spoon through the center of the risotto it should slowly flow back to fill the void created with the spoon.
Can you make risotto in advance?
The short answer is yes. How to go about making it in advanced kind of depends on what you are going to use it for (in my personal opinion).
Completely cooking the risotto ahead of time, putting it in the fridge and reheating it can lead to slightly mushy/overdone risotto. Personally, I think this is totally fine if you're eating risotto for a quick weeknight dinner or bringing it to work for lunch. It is still incredibly delicious.
If you want to make risotto ahead of time for something more formal like a dinner party, you can use the partial cooking method. However, this method is a little tedious, tricky and really doesn't save that much time. Personally, if I were serving risotto at a dinner party I would just invite my guests into the kitchen, pour some wine and make it from start to finish right before serving. You could even have a few snacks/appetizers for your guests to munch on while you make the risotto. However, you're the chef! So, it is entirely up to you!
Step 1 – Make Ahead: Complete steps 1-4 of the recipe but only use 2.5 cups of stock in step 4. Save the remaining stock to finish off the risotto right before serving. Let the risotto cool to room temperature before storing in a sealed container in the fridge. This can be done up to 2-3 days ahead of time.
Step 2 – Finish & Serve: Remove the risotto from the fridge and let is come to room temperature. In a large pan, bring 1 cup of the stock to a simmer. Add the partially cooked risotto to the pan and reduce the heat to medium. Stir consistently until the stock has been absorbed. Complete steps 5-7 of the recipe and serve!
Will risotto keep in the fridge?
Yes! However, as stated above putting it in the fridge and reheating can cause it to become a little mushy. I don't mind all. In fact, I purposely make risotto to have leftovers because I think the leftovers are so good.
Can risotto be reheated?
Yes!
Microwave – Add a splash of milk, broth, water or wine to the risotto to keep it from getting too dry or sticky when reheating. Put it in the microwave for 1 minute + 30 second intervals, stirring in between each interval until the risotto is warm enough for your liking.
Stove – Put the risotto in a large pan over medium heat with a splash (or two) of milk, broth water or wine. Stir consistently until the risotto has reach your desired temperature. Stir in a couple cubes of butter if desired to a little extra creamy richness.
---
Other Recipes You Might Like
---
How to Make Lemon Asparagus Risotto
---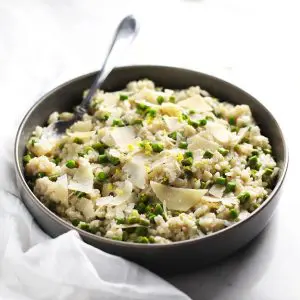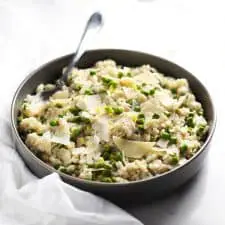 Lemon Asparagus Risotto
Pin Recipe
Print Recipe
Rate Recipe
This Lemon Asparagus Risotto is a deliciously creamy one-pot recipe.
Ingredients
1

Tbsp.

olive oil

1

onion

,

chopped

4

cloves

garlic

,

chopped

1

cup

arborio rice

1/4

cup

white wine

4

cups

chicken stock

1

lb.

asparagus

,

cut into 1/4 pieces*

2

Tbsp

butter

1/4-1/2

cup

parmesan cheese

1/2

lemon zest

,

about 1 tsp.

1/2

lemon juice

,

about 1.5 Tbsp.

1

tsp.

salt

1/2

tsp.

pepper

1/4

cup

canned coconut milk

,

optional
Instructions
Cook Onion: In a large/deep pan over medium heat, add the olive oil and onion. Saute for 3-4 minutes or until the onion has softened and become translucent. 

Add Garlic & Arborio Rice: Add the chopped garlic and arborio rice to the pan and saute for 1 minute.

Add Wine: Add the white wine to the pan and cook until the wine has been absorbed.

Add Stock: Increase the heat to medium/high. Add about 1/2 cup of the chicken stock and stir until absorbed. Repeat this process until you only have 1/2 cup of stock left.

Add Stock & Asparagus: Add the asparagus when adding the last 1/2 cup of stock. Stir until absorbed. Once all the stock has been absorbed, remove from heat.

Add Remaining Ingredients: Add parmesan cheese, lemon zest, lemon juice, butter, salt, pepper and coconut milk (optional). Still until well combined.

Serve: Serve immediately. Top with additional parmesan and lemon zest if desired. 
Notes
*See :03 of how-to video above for visual instructions for cutting the asparagus.
Nutrition
Serving:
1.5
cups
|
Calories:
308
kcal
|
Carbohydrates:
39
g
|
Protein:
10
g
|
Fat:
12
g
|
Cholesterol:
18
mg
|
Sodium:
653
mg
|
Fiber:
3
g
|
Sugar:
5
g
Have you tried this recipe?
Let me know what you think! Rate this recipe and leave a comment below.