Lemon Poppy Seed Overnight Oats
This Lemon Poppy Seed Overnight Oats recipe is a deliciously healthy on-the-go breakfast that can be made the night before in 5 minutes or less!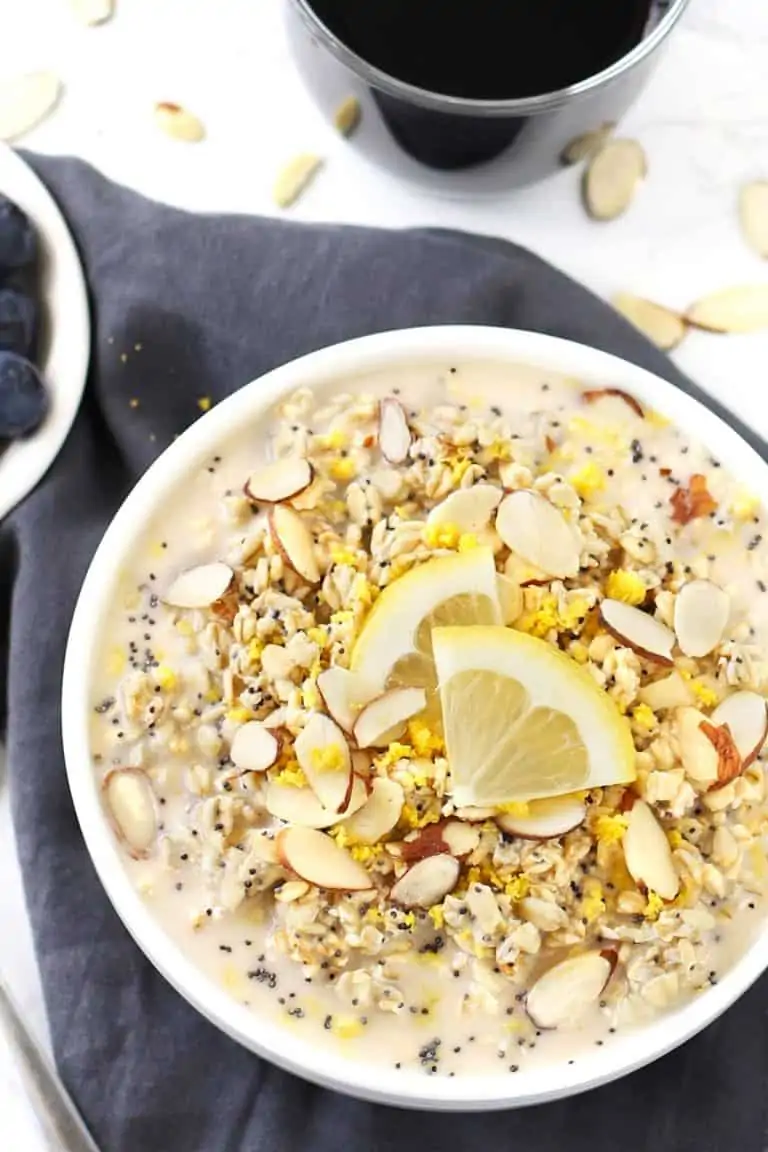 ---
The Gist of the Recipe
What does it taste like? This recipe has the warm comforting texture of oatmeal but tastes like a lemon poppy seed muffin. It is topped with almonds for a nice added crunch and fresh lemon zest that is absolute magic.
What is it good for? This recipe is perfect for meal prep and breakfast on-the-go. Make it the night before or a big batch at the start of the week to have breakfast ready for busy weekday mornings.
My favorite thing about this recipe. Without a doubt, the fresh lemon zest is my favorite thing about this oatmeal recipe. It adds such a unique bright fresh flavor that is to die for. My second favorite thing is that it only takes 5 minutes to put together and can be done the night or even days ahead of time. I love having my breakfast ready to rock n' roll in the morning because I'm not a morning person.
---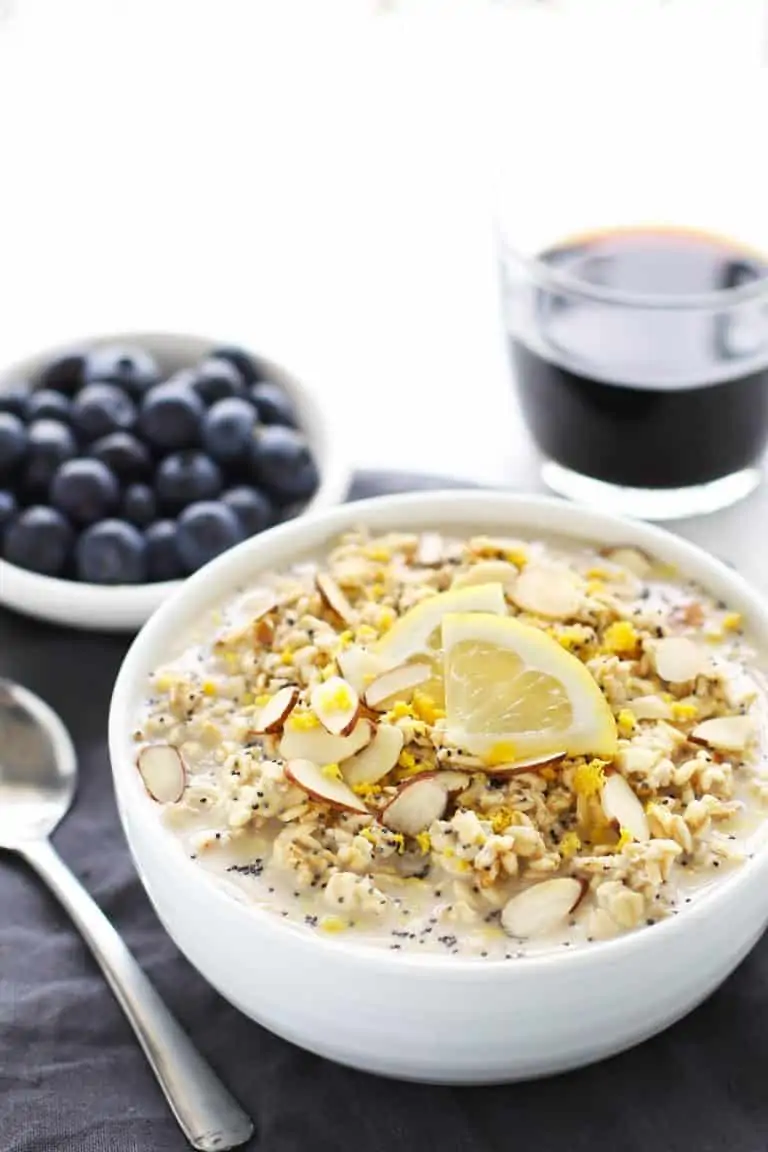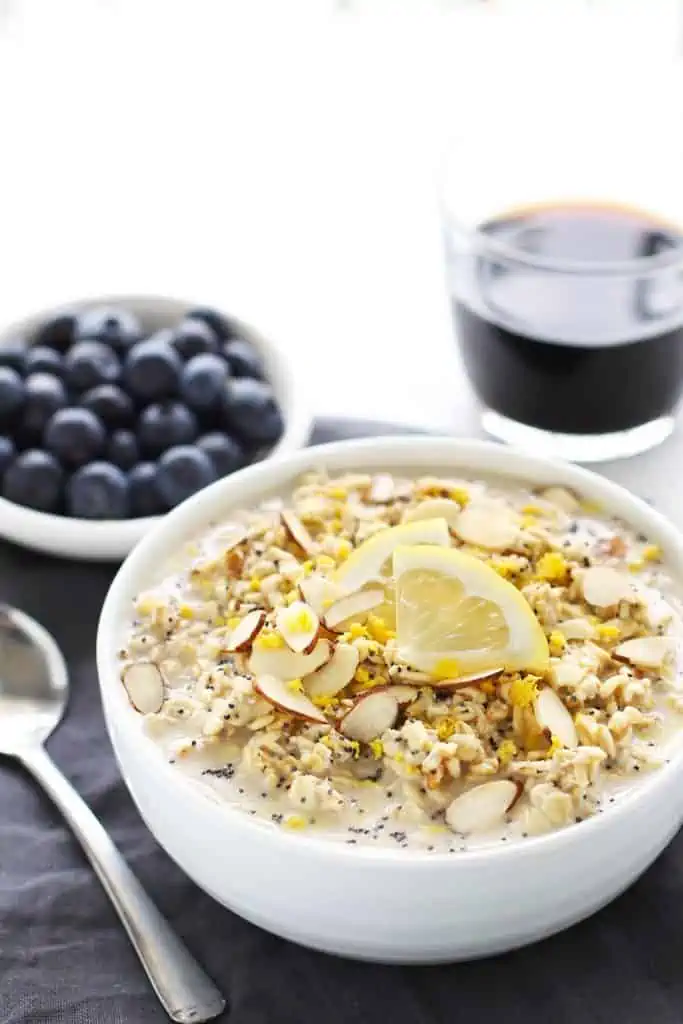 ---
Your Overnight Oats Questions Answered
What kind of oats are used for overnight oats?
I have outlined the pros and cons of the general oat varieties below for reference but I recommend using Rolled Oats or Old Fashioned Oats for this recipe.
Instant/Quick Cooking Oats: Instant/Quick Cooking Oats absorb liquid the quickest of all the oats but have the potential to become too soft and mushy when making overnight oats.
Rolled Oats/Old Fashioned Oats: Rolled Oats/Old Fashioned Oats are my personal favorite for overnight oatmeal and what I recommend for this recipe. The absorb liquid overnight but still maintain the creamy yet hearty texture of oatmeal.
Steel Cut Oats: I generally don't recommend using steel cut oats for overnight oatmeal. They are too firm and don't absorb enough liquid which leads to soupy oatmeal that is far too crunchy and chewy. Steel cut oats are best used when making oatmeal on the stove with heat.
Are overnight oats healthy?
These are! Overnight oats give you a good dose of protein and fiber to keep you full and regular! This recipe specifically uses fresh ingredients, natural sweetener, seeds and nuts to create a delicious yet nutritious breakfast in under 5 minutes.
Do overnight oats have to be in a Mason jar?
Despite what Pinterest tells you, overnight oats do not need to be made in a mason jar. You can definitely use mason jars if that is your jam but other containers work just as well. I personally use deli containers like the ones below to make overnight oats because they are easy to organize, stackable, transparent and the perfect size for a bowl of overnight oats.
Sidebar – A few years ago I got rid of all my mismatched Tupperware and replaced them with deli containers. Honestly, one of the best kitchen decisions I've ever made and has made my life so much easier.
I don't want to get carried away talking about my love for deli containers and all the reasons they are awesome. If you're sick of digging through mismatched food containers, read about my life-changing Tupperware update. It was so helpful for me and hey! It might be helpful to you too!
Do you eat overnight oats hot or cold?
Both! Personally, I eat overnight oats hot and cold depending on the day. It is entirely personal preference. If you want to warm up your overnight oats, just pop them in the microwave for 30 second intervals until the desired temperature is reached.
What is lemon zest and how do I get it?
Lemon zest comes from the outer most rind of the lemon. So basically the bright yellow part of the peel. You use a microplane/citrus grater (it looks like a mini cheese grater) and run the lemon up and down the microplane to create small shavings from the bright yellow outer layer of the peel. Those bright yellow shavings are called lemon zest and lemon zest is awesome.
Does the lemon zest really make a difference? Can I skip it?
You are the head chef of your kitchen. So, you can absolutely skip it if you want, BUT… (there is always a but isn't there?!) Yes, fresh lemon zest makes all the difference! I HIGHLY recommend you follow the recipe and top your oats with fresh lemon zest the first time you make these oats because it is pure magic. You won't regret it. There is something about the bright fresh flavor of lemon zest that cannot be replicated. It is probably one of my favorite ingredients, especially at the moment!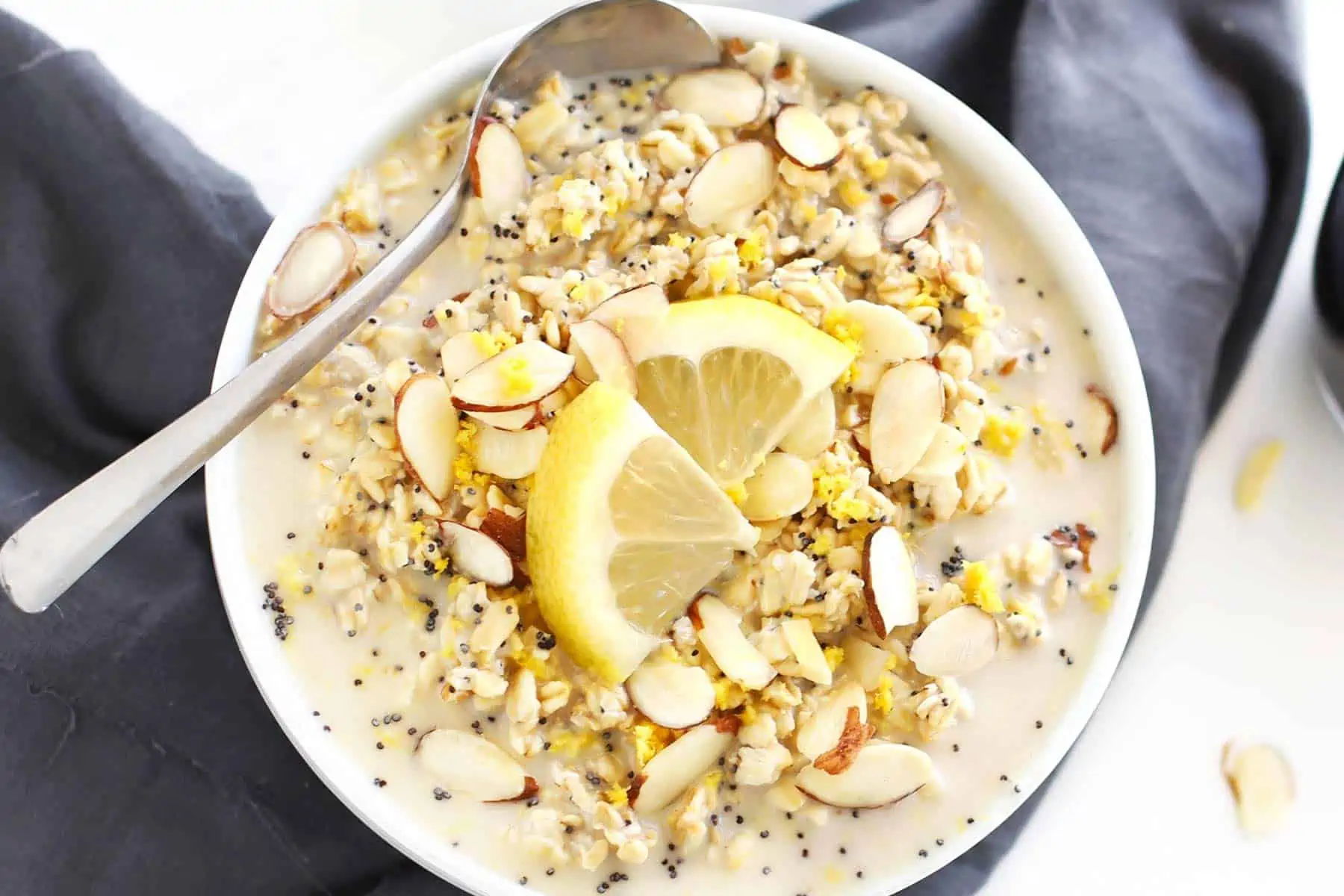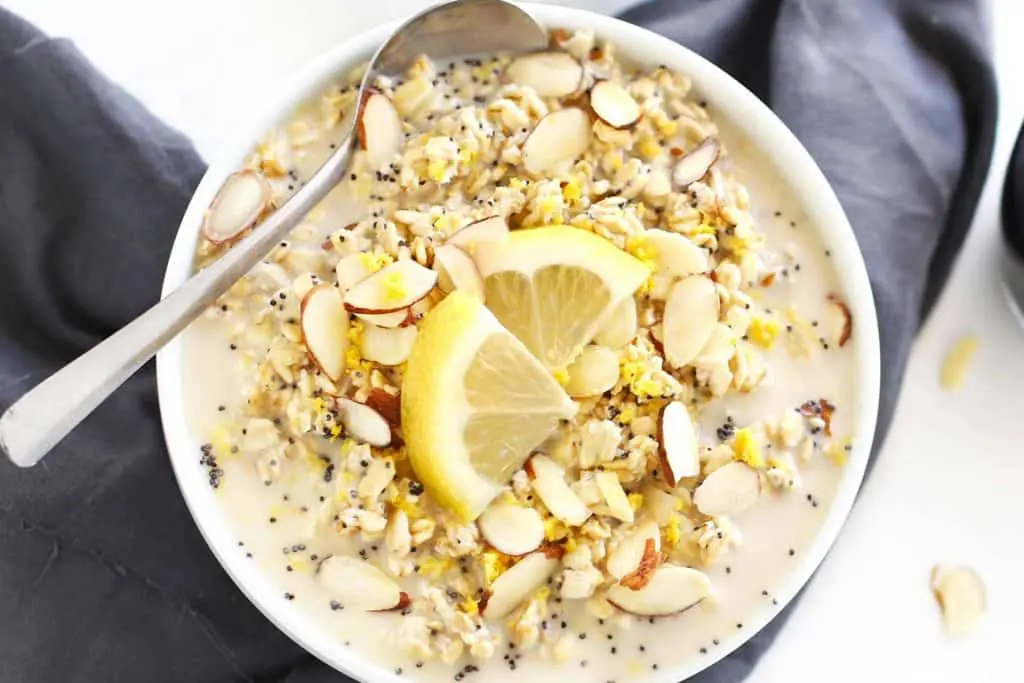 ---
Other Healthy Breakfast Ideas
---
How to Make Lemon Poppy Seed Overnight Oats
---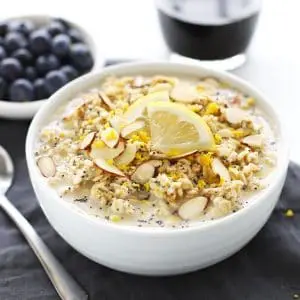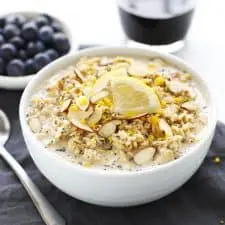 Lemon Poppy Seed Overnight Oats
Pin Recipe
Print Recipe
Rate Recipe
This Lemon Poppy Seed Overnight Oats recipe is a deliciously healthy on-the-go breakfast that can be made the night before in 5 minutes or less!
Ingredients
Oatmeal Ingredients:
1/2

cup

rolled oats

3/4

cup

almond milk

,

or other kind of milk

1/8

tsp.

vanilla

2

tsp.

honey

1/2

tsp.

poppy seeds

1-2

tsp.

lemon juice*

Tiny pinch of salt
Toppings:
Fresh lemon zest

,

1/4 of a lemon

Sliced almonds

,

optional**
Instructions
Combine: Combine all the oatmeal ingredients in a small bowl or container. Cover and put in the fridge for at least 4 hours or overnight. 

Top & Enjoy: Stir the oatmeal and enjoy hot or cold. To warm, microwave the oatmeal in 30 second intervals until the desired temperature is reached. Top with almonds and fresh lemon zest. 
Notes
*This amount is based on personal preference. For a mild lemony flavor, only use 1 tsp. of lemon juice. For a little zesty lemon flavor, add up to 2 tsp. of lemon juice. 
**Feel free to use a different seed/nut or granola in place of sliced almonds for crunch. Fresh fruit also makes a good topping. Blueberries are my personal favorite for this particular overnight oats recipe. 
Nutrition
Serving:
1.5
cups
|
Calories:
255
kcal
|
Carbohydrates:
39
g
|
Protein:
8
g
|
Fat:
8
g
|
Sodium:
286
mg
|
Fiber:
6
g
|
Sugar:
9
g
Have you tried this recipe?
Let me know what you think! Rate this recipe and leave a comment below.