Tofu has gotten a bad rap as being a spongy and tasteless food that is difficult to prepare. However, I'm here to tell you all these things are false! Want proof? My meat-eating, outdoorsy husband once claimed that tofu "wasn't for him" and that he would never like it. So, one day I secretly made him a grain bowl with crispy tofu. When he asked what was for dinner, I told him we were having chicken but clearly I was lying.
Anyway, he scarfed down that grain bowl like there was no tomorrow. I'm assuming he knew he wasn't eating chicken… because c'mon. What kind of chicken comes in perfectly sized cubes like that? He did, however, love the crispy tofu. When I revealed to him that he'd been hoodwinked, he stared at me with a confused look on his face as if his whole life had been a lie and then simply said, "Cool. I really like this meal. Please make it again.". If that isn't proof ladies and gents, I don't know what is!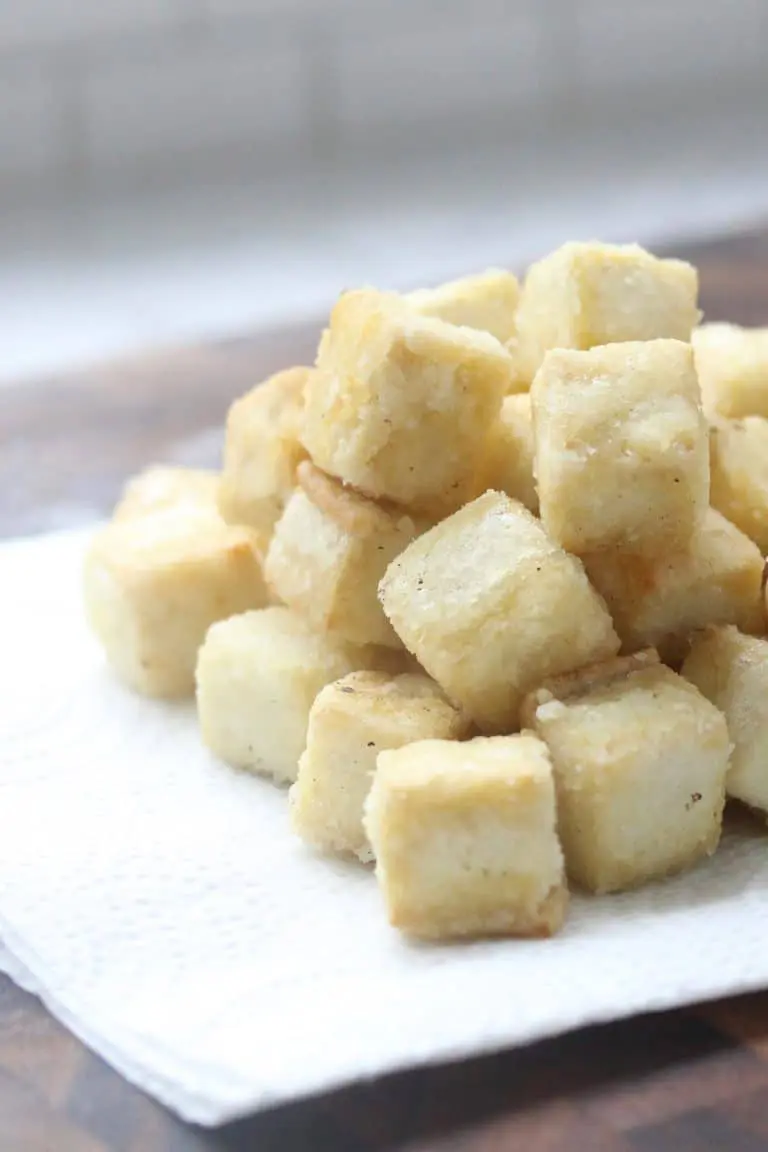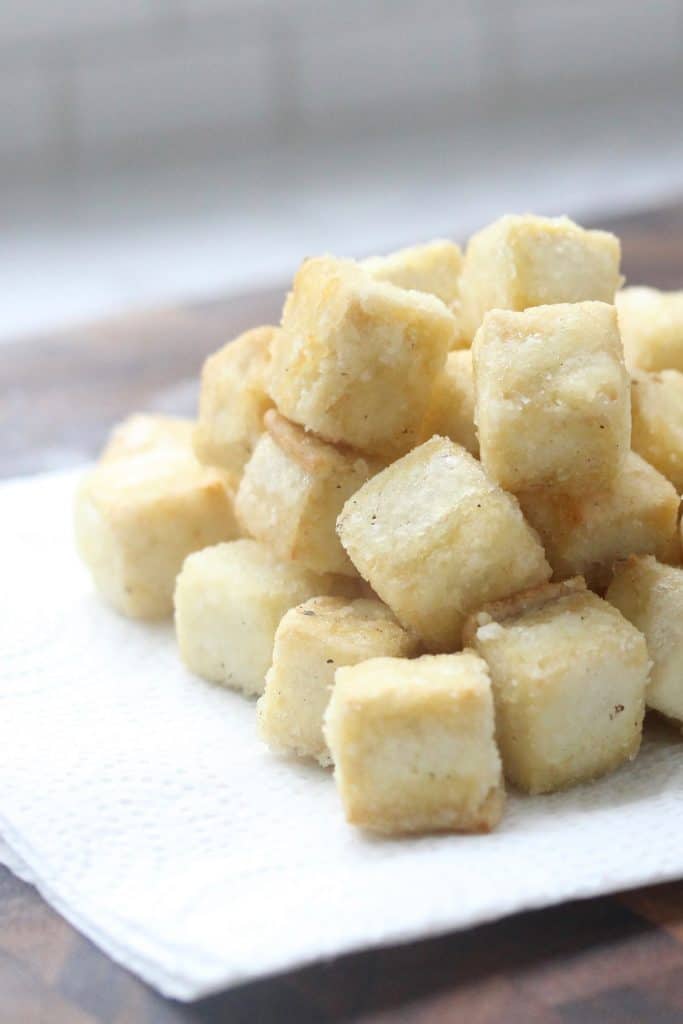 ---
Tofu Recipes
We have a bunch of tofu recipes to choose from and you can use this deliciously crispy tofu in any one of them! Checkout our Coconut Curry Tofu and Veggies or Spicy Tofu Tacos (one of our most popular taco recipes)!
---
Helpful Notes
What does it mean to press tofu? Tofu retains a lot of moisture. To press tofu means is just a fancy term for putting something heavy on your tofu to remove that excess moisture. Think of it like a really firm sponge.
Do I really have to press tofu for 1-4 hours? In my opinion, no. Others may tell you to press tofu for several hours but who has time for that?! Instead, using extra firm tofu and pressing it for 5-10 minutes does the trick!
How do I know if the oil is hot enough? Test the oil to make sure it is hot enough by dropping a single piece of tofu in the oil. It should sizzle. If it does not sizzle, wait a little longer for the oil to heat up.
How do I know if the tofu is done? The tofu will turn a very light gold/tan color when they are done. They will not turn that deep golden color that you see with fried chicken. If the tofu is cooked too long, it will become hard and crunchy versus crispy.
---
How to Make Crispy Tofu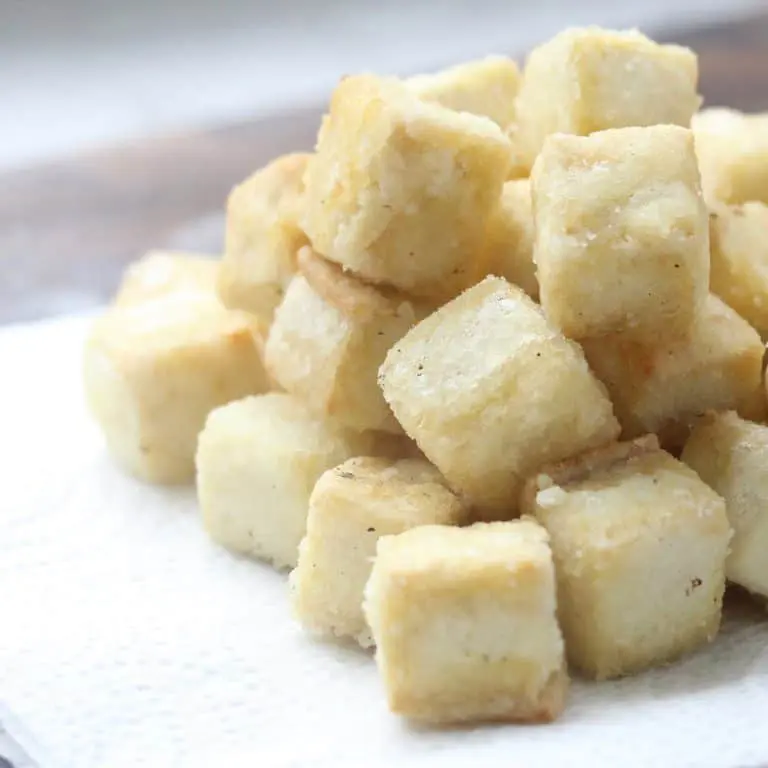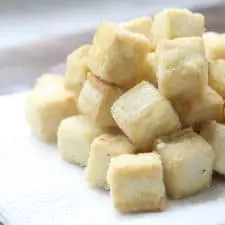 Crispy Tofu
Pin Recipe
Print Recipe
Rate Recipe
How to make crispy tofu in less time!
Ingredients
12

oz.

extra firm tofu

1/4

cup

corn starch

1/3

cup

oil for frying

, (see note 1)

salt
Instructions
Drain & Dry Tofu: Cut a slit in the tofu packaging and drain any liquid. Remove the tofu from the packaging and pat dry with paper towels.

Wrap Tofu: Put the tofu on a cutting board with folded paper towels (at least 4 layers each) both underneath the tofu and on top of the tofu.

Press Tofu: Put something heavy like a pot or pan on top of the tofu to remove excess moisture to "press" it. You can also put objects in the pan to make it heavier and help press the tofu. I usually just put a cast iron skillet on my tofu and call it a day. Let the tofu "press" for at least 5-10 minutes.

Cube Tofu: Remove the pan and paper towels from around the tofu. Cut the tofu into ½" cubes. Put oil in a large pan over medium high heat. It is important to heat the oil before coating the tofu.

Coat Tofu: Pat down the tofu one last time with a paper towel and put the cubed tofu in a ziploc baggie with the cornstarch. Seal the baggie and gently shake it to coat the tofu with the cornstarch. If you do not have a baggie, put the tofu and cornstarch on a bowl and gently toss the tofu with your hands to coat it. NOTE: Make sure to coat the tofu with the cornstarch IMMEDIATELY before frying.

Fry Tofu: When the oil is hot enough, place half of the tofu in the pan (you can fry all the tofu at once but some of the cubes may stick together if there isn't enough room). Let the tofu cook for about three minutes before flipping them over with the spatula. Cook the tofu for an additional 3-4 minutes while using the spatula to move the cubes around to make sure all sides become crispy. Remove the tofu from the pan and place on paper towels to remove excess oil. Repeat with the second half of the tofu. Season the crispy tofu with a couple pinches of salt (or to taste) and serve immediately!
Notes
Note 1 – Oil: Oils with high smoke points such as 

canola oil, vegetable oil and sunflower oil work best. 
Nutrition
Serving:
0.25
of recipe
|
Calories:
242
kcal
|
Carbohydrates:
9
g
|
Protein:
6
g
|
Fat:
20
g
|
Sodium:
62
mg
|
Fiber:
1
g
|
Sugar:
1
g
Have you tried this recipe?
Let me know what you think! Rate this recipe and leave a comment below.