Black Bean Veggie Burger With Chipotle Aioli
I'm so excited about this recipe I can hardly stand it. This Black Bean Veggie Burger is so good, you need to try it whether you're vegetarian or not.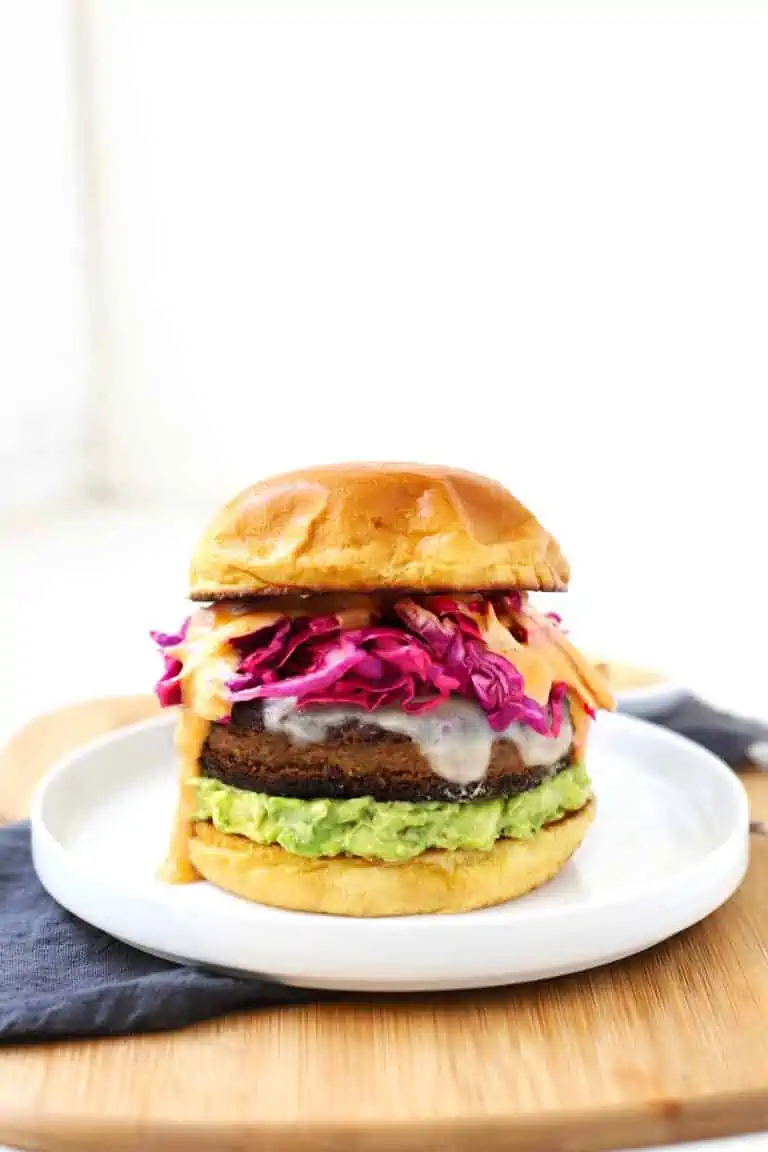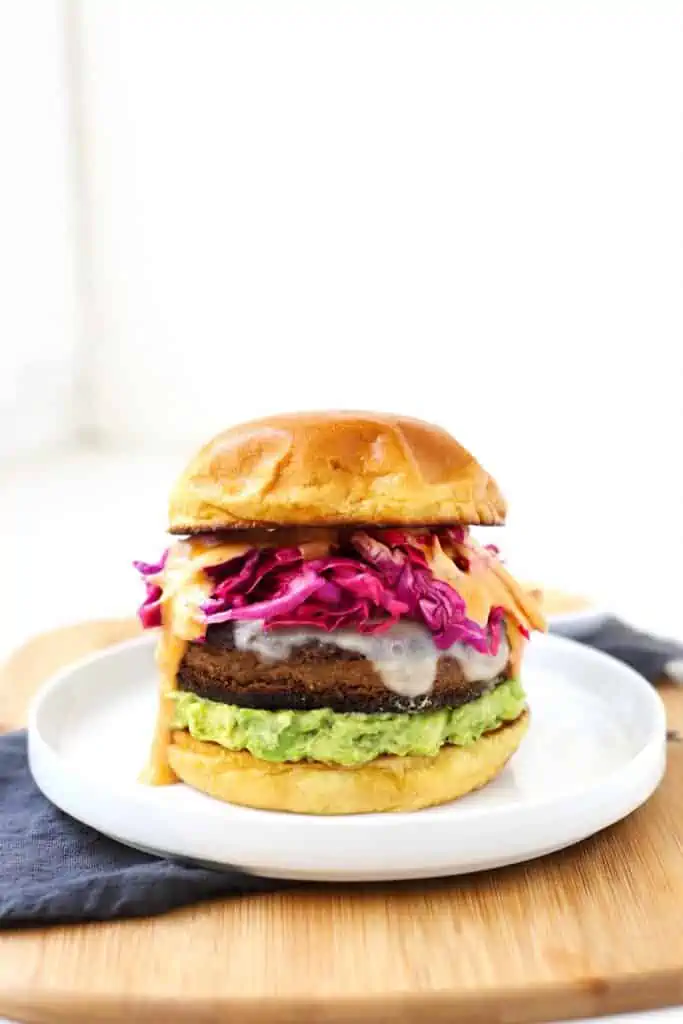 ---
The Quick and Dirty of Why You Should Make These Burgers
They taste amazing.
They are full of healthy and nutritional ingredients.
They can be made ahead of time.
They can easily be made in bulk and stored in the freezer for up to six months.
---
What do they taste like?
I can't even put into words how much I love these black bean burgers. I am personally a meat eater but I would choose these vegetarian burgers over a beef burger any day.
Please hear my loud and clear when I say you do not need to be a vegetarian to love this recipe!
I'm about the make a very bold state. This recipe one of my favorite recipes of all time. Seriously. Of ALL time!
The burgers are hearty and flavorful with an awesomely crispy crust. The chipotle aioli is rich, creamy and slightly spicy. Together, they make such an awesome combo but it doesn't stop there.
Add in a soft brioche bun, creamy avocado and shredded cabbage with a little lime. That is when some serious burger magic happens.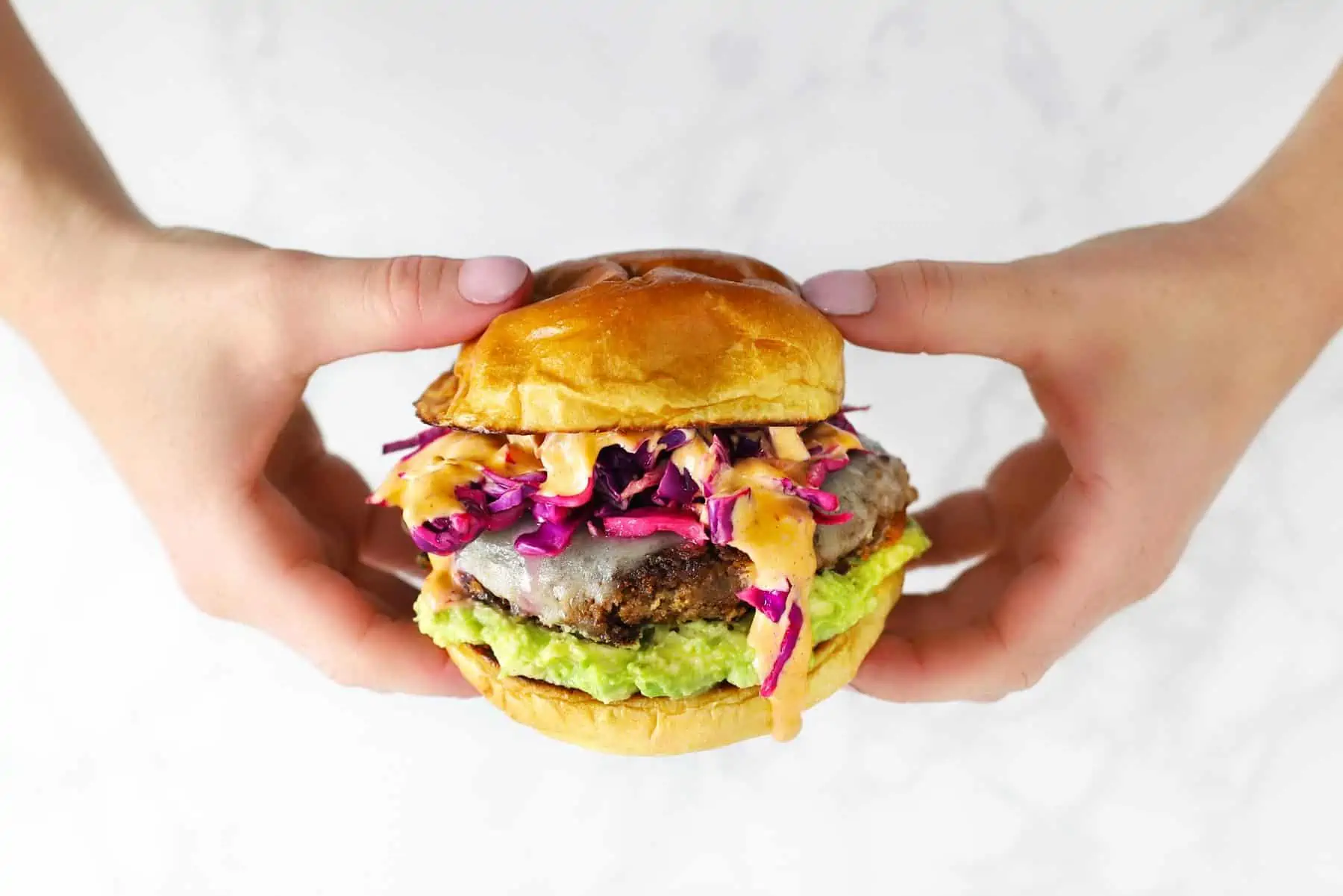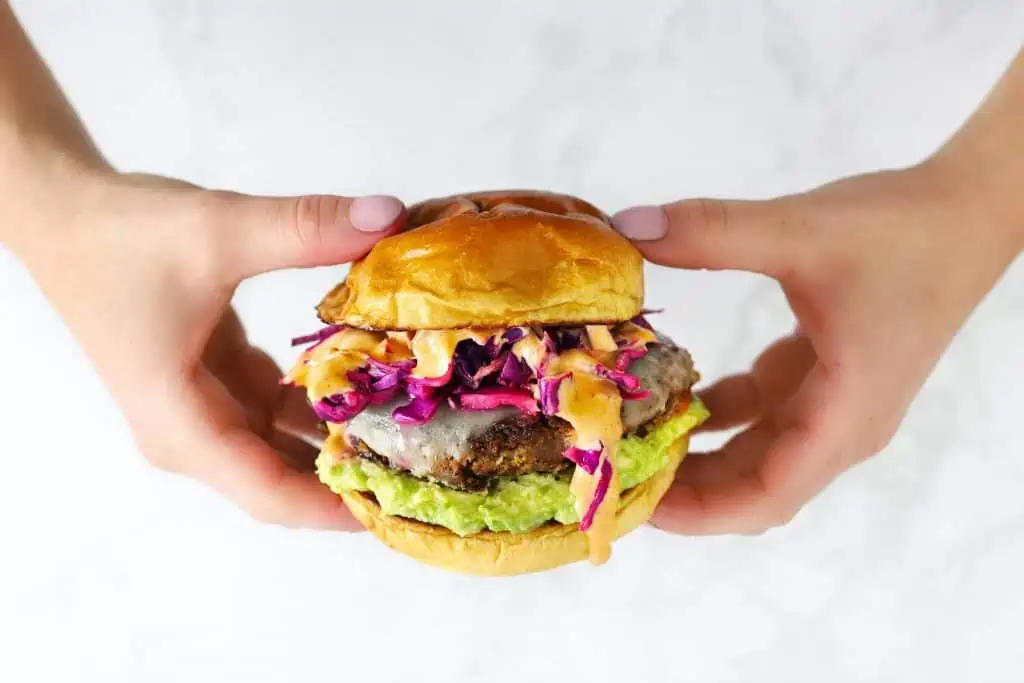 ---
Ingredients – Helpful Tips
Black Bean Burgers
Canned Black Beans: Rinse and drain the black beans very well. The drier the black beans are, the better the burgers will stick together.
Shelled Edamame: If this ingredient is unfamiliar, don't sweat it. You can find shelled edamame in the freezer section of almost every grocery store. It is also referred to as Mukimame which is technically the correct term but I take the easy route and still call it shelled edamame.
Panko Breadcrumbs: This recipe calls for Panko breadcrumbs (Japanese breadcrumbs). Don't worry! It is very common and I've never had an issue finding it. Panko has larger, lighter, crisper crumbs than standard breadcrumbs which helps bind the burgers without making them too dry or grainy. If you're in a pinch, you can use regular breadcrumbs but there's a chance the burgers might be the tiniest bit grainy.
Chipotle Aioli
Chipotle Peppers in Adobo Sauce: Many years ago I used to think this ingredient was such a pain. I have no idea why I ever thought that because it is the simplest ingredient to buy, store and use. It comes in a small can which I love because I hate wasting unused ingredients. Chipotle peppers are found in nearly every grocery store.
Mayonnaise: If you're looking for a lighter option, simply opt for reduced-fat or light mayonnaise.
Tools To Make Chipotle Aioli: This aioli takes less than 5 minutes to make. You basically blend all the ingredients together and BOOM! Done! This recipe makes about a half cup of aioli. Because the actual volume is relatively small, I recommend using a smaller blending device like a personal blender/bullet, mini food processor or an immersion blender (my personal favorite).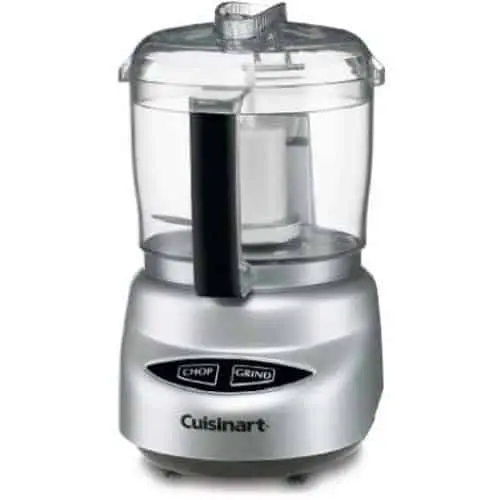 What do you put on a black bean burger?
Here are my recommendations. Add them to your burger and it'll knock your socks off.
White Cheddar Cheese: Other cheese work well too. Add cheese to the burgers in Step 5 (also noted in the recipe) so it melts nicely over the black bean burger patty.
Brioche Buns: Coat the inside surfaces with a little oil or butter and toast them for a minute or until they're golden brown. Toasted brioche buns are light and soft with a crispy crust. The perfect bun for this recipe.
Red Cabbage + Lime Juice: "Limed Cabbage" is one of my favorite toppings. I put it on everything. Thinly slice the red cabbage, add a little lime juice and that's it! You can do this immediately before serving or up to a couple days ahead of time which is what I do. The lime juice makes the texture and flavor of the cabbage AMAZING.
Avocado: Avocado made the list because… well it's avocado. Either add slices to your burger or mash it up and use it as a spread on your burger. Both are delish!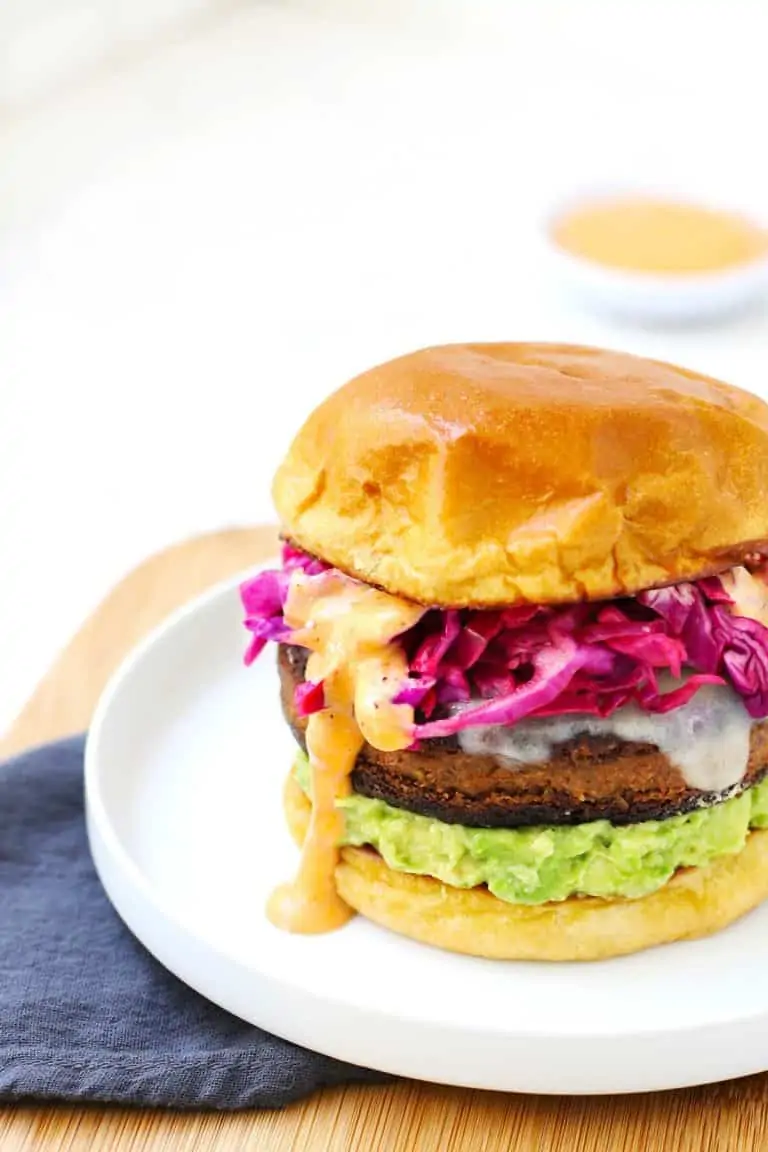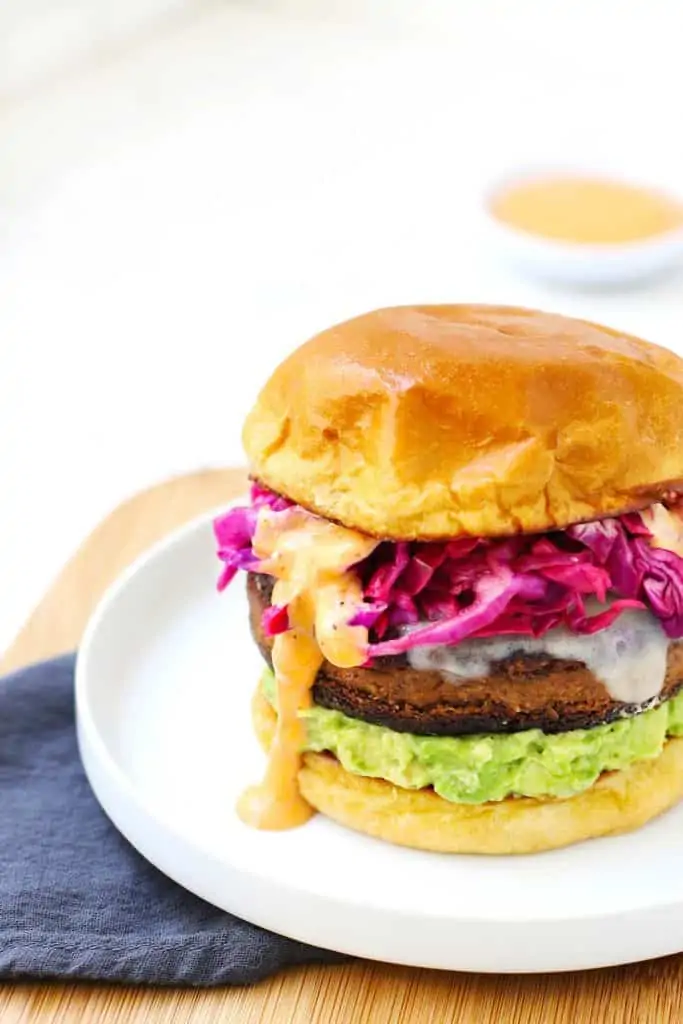 ---
Your Questions Answered
Are these veggie burgers vegetarian? Vegan?
The burgers and the aioli are both vegetarian but not vegan. However, it is pretty easy to make both vegan.
For the aioli, swap out traditional mayonnaise with vegan mayonnaise.
For the burgers replace the egg with a "flax egg". To make a flax egg, mix 1 tablespoon of ground flax seed with 3 tablespoons are very hot water. Set it aside for a couple minutes to let it thicken. If it doesn't thicken, heat it in the microwave + stir until it does thicken to the consistency of an egg white. Let it cool and add it to the recipe in place of the egg.
Are black bean veggie burgers filling?
Yes! Coincidently, I have a funny story about this exact topic.
A few weeks ago I fed Hot Tom one of these black bean burgers for dinner. He was being a smartass and asked, "So… am I going to be hungry in like an hour?" I rolled my eyes and responded with some sarcastic remark.
Anyway, fast forward 30 minutes and Hot Tom was shocked at how full he was from just one black bean burger whereas he normally eats two beef burgers in one sitting. I love when stuff like this happens. 🙂
How do you keep black bean burgers from falling apart?
The right ingredients and the right cooking strategy will keep your black bean burgers together.
This recipe specifically uses edamame, egg and Panko breadcrumbs help bind the burgers together.
This recipe also uses a Mold + Freeze + Sear cooking strategy.
Mold: Putting the burgers into a mold makes them the perfect shape (see below for more info on molds).
Freeze: Freezing the burgers while in their molds ensures they stay in that perfect shape.
Sear: Searing the frozen burgers in a hot pan with a little oil creates a nice crust on both sides of the burger which almost acts as a skin or container and prevents the burger from falling apart.
What is a burger mold? Why do I need one? Where do I get one?
In general, I'd call myself a kitchen minimalist. I like to use tools and equipment I already have and have very few "specialty" tools. However, a this is one of those rare cases where I will make an exception because using a burger mold works so well and is SO helpful.
A burger mold is the same concept as a popsicle mold. You put the black bean mixture into the mold and BOOM! You have a perfectly shaped burger.
I highly recommend using a mold when making black bean burgers because they need a little more help keeping their shape than traditional beef burgers.
Silicone molds are my top recommendation because they are a BREEZE to use and are very affordable. I have a large silicone mold and a small silicone mold from Amazon and I love them both.
The large mold makes about 4 very large burgers (I usually can't eat a whole one myself). The small mold makes about 6 medium sized burgers.
Checkout the video below for a more info and other options.
Why are my veggie burgers mushy?
There are two main causes for soggy and mushy black bean burgers.
Too much moisture. Drain the black beans and edamame really well before putting them in the food processor. If you want to go the extra mile, dab them with a couple paper towels to remove even more moisture. The drier they are, the less likely you'll end up with soggy and mushy burgers.
The oil isn't hot enough when cooking (step 5 of recipe). You should hear a nice sizzle when you drop the frozen burger patties in the hot oil. This means the burger is being seared. If there isn't a sizzle, the oil is not hot enough and will make your burgers soggy and mushy. Remove the burger from the pan and bump up the heat until it is hot enough.
Can you make black bean burgers ahead of time?
Yes! I actually recommend it! Uncooked burger patties stay good in the freezer for up to six months which makes them the PERFECT recipe to make ahead of time. I usually make a huge batch of them and keep a stock pile in my freezer.
As an added bonus, there is no need to thaw the burgers when you want to eat one because they go from the freezer right to the pan to cook. So easy and convenient!
How do you store leftover burgers?
Store uncooked burgers in a sealed container or baggie in the freezer. Store cooked burgers in a sealed container in the fridge.
How long do black bean burgers last in fridge?
I'd say about two days. If you're like me and like to live on the edge, you could push it a little longer.
---
Other Awesome Recipes That Are Also Vegetarian
---
How to Make the Best Black Bean Burger
---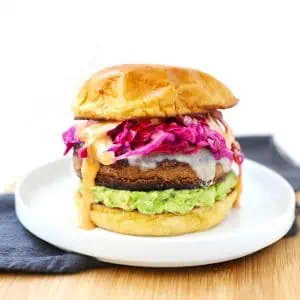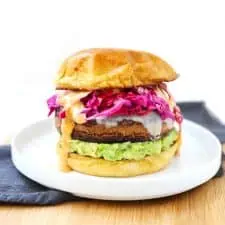 Black Bean Veggie Burgers With Chipotle Aioli
Pin Recipe
Print Recipe
Rate Recipe
This black bean veggie burger is crispy, crunchy, creamy, spicy, zesty and everything that is good! Vegetarian or not, you need this burger in your life!
Ingredients
Chipotle Aioli Ingredients:
1

large chipotle pepper in adobo sauce

1/2

cup

mayonnaise

1

clove

of garlic

1

tsp.

lime juice

1/8

tsp

salt

1/8

tsp.

pepper
Black Bean Burger Ingredients:
1

can black beans

,

15 oz

1/2

cup

shelled edamame

1/2

yellow onion

2

cloves

of garlic

3/4

cup

Panko breadcrumbs

1

egg

1

Tbsp.

soy sauce

1 1/2

tsp.

paprika

1

tsp.

chili powder

1/2

tsp.

cumin

1/4

tsp.

cayenne pepper

1/2

tsp.

salt

1/2

tsp.

pepper

1/4

cup

flour

oil for pan frying

,

olive oil, coconut oil, etc.
Recommended Buns & Toppings:
6

slices

white cheddar cheese

,

or whatever kind you prefer

6

brioche buns

1 1/2

cups

red cabbage

,

thinly sliced

1

Tbsp.

lime juice

1

avocado
Instructions
Chipotle Aioli Instructions:
Blend: Using a small blender, immersion blender or mini food processor, blend together all chipotle aioli ingredients until well combined and smooth. Store in a sealed container in the fridge until needed.  

Black Bean Burger Instructions: 

Prep Ingredients: Rinse and drain the black beans really well. The drier the beans, the better. Peel the onion and cut into chunks. Peel the garlic cloves. 

Mix: Put all the Black Bean Burger Ingredients, except the flour and oil, into a food processor. Pulse until well combined but not totally smooth and pureed (see :42 of video). 

Mold & Freeze: Put the black bean mixture into molds. Watch How to Mold the Perfect Black Bean Burger for further instructions. Alternative Method – If you don't mind getting a little messy, make patties with your hands and place them on a cookie sheet. Freeze for at least 2 hours but ideally 4+ hours. The burgers are easiest to cook when frozen solid. 

Pre-heat & Coat: Generously coat the bottom of a large skillet with oil and put over medium-high heat. While the skillet is preheating, remove the black bean burger patties from the freezer and lightly coat with flour* (see :53 of video). 

Cook: Once the skillet and oil are hot enough, drop the patties into the skillet**(see very important note below). Cook for 4-5 minutes. Try not to move the patties while they are cooking. Then flip the patties, add a slice of cheese to each patty (optional), cover and cook for an additional 4-5 minutes. 

Assemble & Eat: Once the patties are done cooking, they're ready to be assembled with your favorite toppings and eaten! I highly recommend you give my recommended toppings a try. Together they create a delicious masterpiece! 

Leftovers: Store leftover cooked burgers in the fridge. Store leftover uncooked burgers in the freezer. 
Recommended Buns & Toppings Instructions:
Brioche Buns: Coat the inside surfaces of the buns with a little olive oil or butter and toast until warm and golden brown. 

Red Cabbage: If you use just one of these topping recommendations, it should be this one. Thinly slice the red cabbage and toss it in the lime juice. This can be done right before eating or up to a day or two before. 

Avocado: Add either sliced avocado or mashed avocado to the burgers. I've done it both ways and like them equally. 
Notes
*If the flour doesn't stick to the patties because they are too cold/frozen, simply rub a few drops of water on each side of the patty before coating in flour.
**IMPORTANT

: You should hear sizzling and see bubbling when you put the patties in the oil (see :57 of video). This means the oil is hot enough and will create a wonderful crust (see 1:00 of video) that keeps that the patties in true burger form and prevents them from getting mushy and sloppy. If there isn't a sizzle, immediately remove the burger from the skillet and wait for the oil to get hotter. 
Nutrition information is for 1 burger patty out of 6 total burger patties. Does not include aioli, bun or toppings. 
Nutrition
Serving:
1
burger
|
Calories:
288
kcal
|
Carbohydrates:
26
g
|
Protein:
9
g
|
Fat:
17
g
|
Cholesterol:
35
mg
|
Sodium:
849
mg
|
Fiber:
7
g
|
Sugar:
2
g
Have you tried this recipe?
Let me know what you think! Rate this recipe and leave a comment below.