Cold Thai Noodle Salad with Peanut Dressing
This Cold Thai Noodle Salad with Peanut Dressing has hearty noodles with tons of fresh veggies covered in a delicious peanut dressing and topped with crunchy peanuts.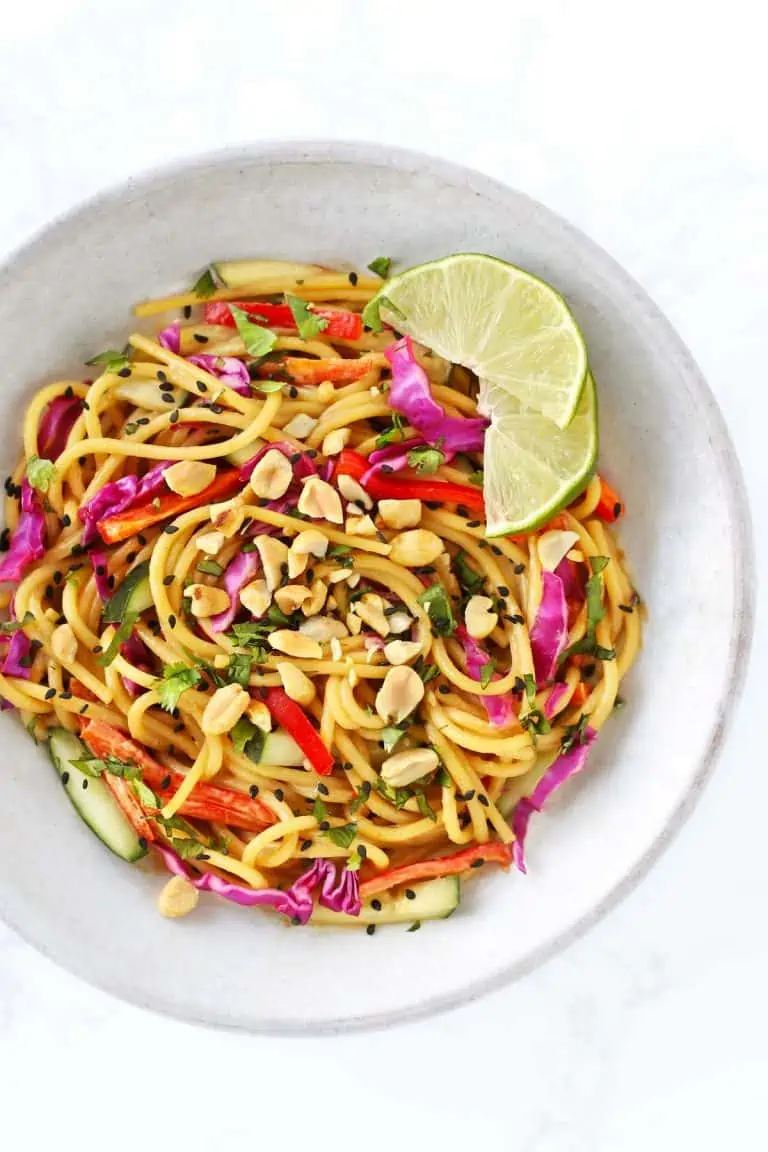 ---
Quick Overview of Recipe
What does it taste like?
These noodles are so good. I mean who doesn't like slurping up a bowl of delicious saucy noodles?! Speaking of saucy, the peanut dressing tastes like… well peanut butter but it also has Asian flavors in it like sesame oil, soy sauce and ground ginger. It is deliciously rich and creamy with a little bit of heat (which you can adjust to your preferred heat level).
The veggies add crunch and freshness. The citrus from the lime juice and cabbage is the perfect balance to the other flavors. I love this recipe so much. It reminds me of my favorite peanut noodles from an Asian restaurant near my house only better!
What do I like most about this recipe?
It tastes amazing.
It is quick and easy to make (20 minutes).
It keeps really well in the fridge and the leftovers are A-MAZ-ING.
It doesn't need to be reheated. So, I can literally grab it out of the fridge and eat it where ever and whenever I want.
What is my best tip for this noodle salad recipe?
I have two tips because I feel like being a rule breaker today… and because I couldn't decide on one.
DO NOT overcook your noodles. I'm going to apologize in advanced because I repeat this several times throughout this post but it's the difference between soggy noodle salad and a noodle salad that is so good, you can't keep your paws of it.
Add honey roasted chopped peanuts as a topping to the noodle salad. Although any peanuts work, honey roasted really give it some extra magic!
Is this recipe vegetarian?
Yes!
Is this recipe vegan?
No, but it is very easy to make vegan. Simply substitute the honey in the Peanut Dressing with vegan honey or maple syrup.
---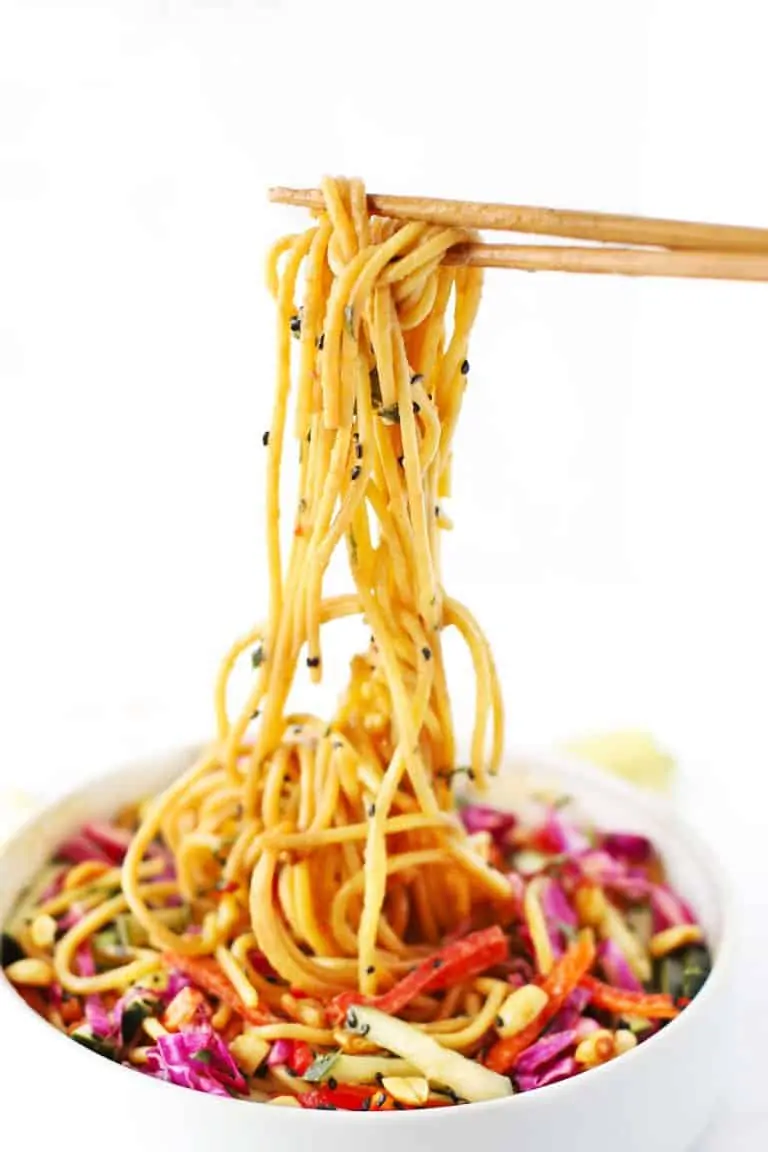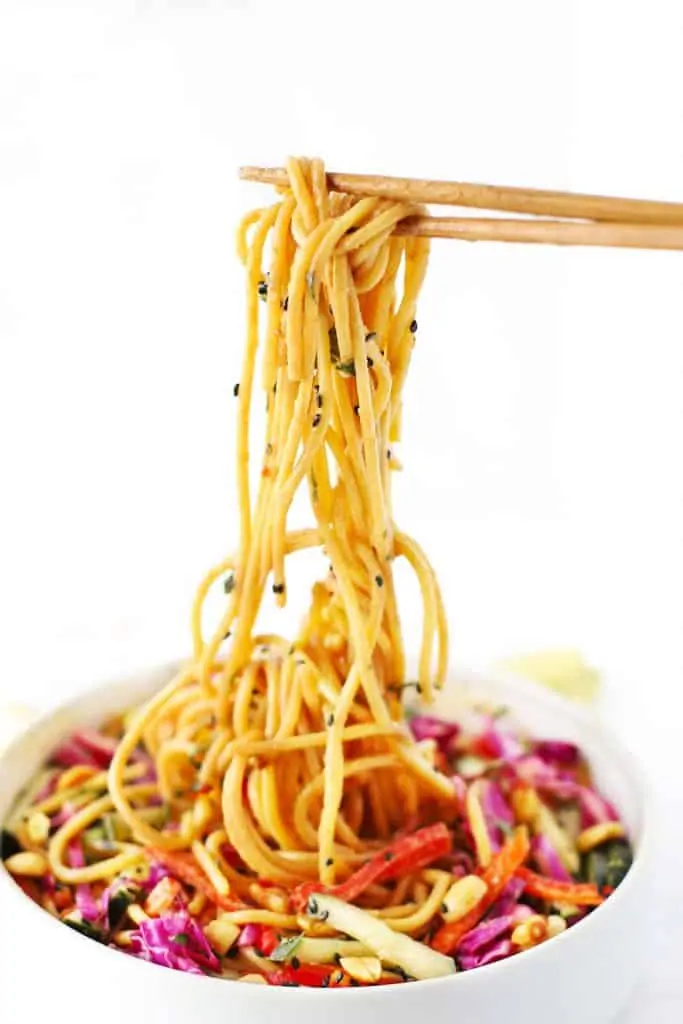 ---
Thai Noodle Salad Q & A
Why are my noodles soggy?
There are a few things that can lead to soggy noodles. The most likely cause is simply overcooking them. You want to cook the noodles al dente which basically means they are still firm (but not hard) when you bite into them.
A few other quick tips for good pasta.
Use a large pot. Pasta releases starch. When cooking pasta in a small amount of water in a small pot, there is a higher concentration of starch in the pot which can cause your pasta to become sticky and soggy. So use a big pot!
Salt the water when boiling your pasta. I'm not talking about a couple pinches. I mean add a small palmful of salt to a large pot of water (or 1-2 Tablespoons for every six quarts of water if you prefer exact measurements). You don't have to worry about consuming too much salt because most of the salt will go down the drain when you drain the pasta.
Stir periodically. Stirring every couple minutes or so makes sure the pasta doesn't stick together or stick to the bottom of the pot.
How do you keep leftover noodle salad from getting sticky and mushy?
I have a little trick for this recipe that works wonders. Drizzle a little olive oil (maybe a couple teaspoons or so) over your noodles after you've cooked and drained them. Toss the noodles with your hands so they are evenly coated with the olive oil. Then add the peanut dressing.
The olive oil acts as a barrier between the noodles and the peanut dressing. This barrier keeps the noodles from absorbing too much of the peanut dressing which causes leftovers to become soggy or sticky.
What are the best noodles to use?
I've used several kinds of noodles for this recipe and all work fine. However, for the best texture and the best leftovers, use good old fashioned spaghetti noodles.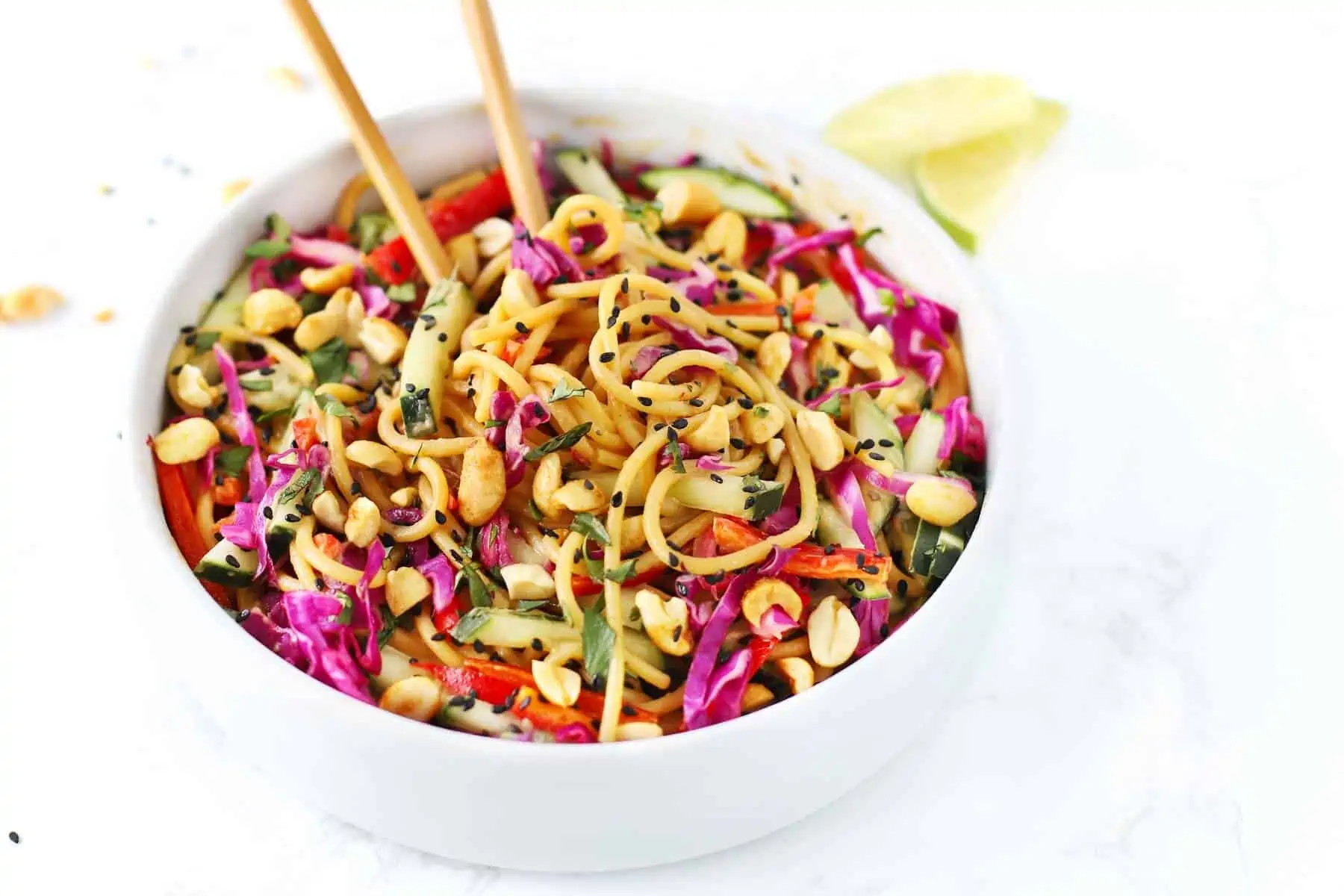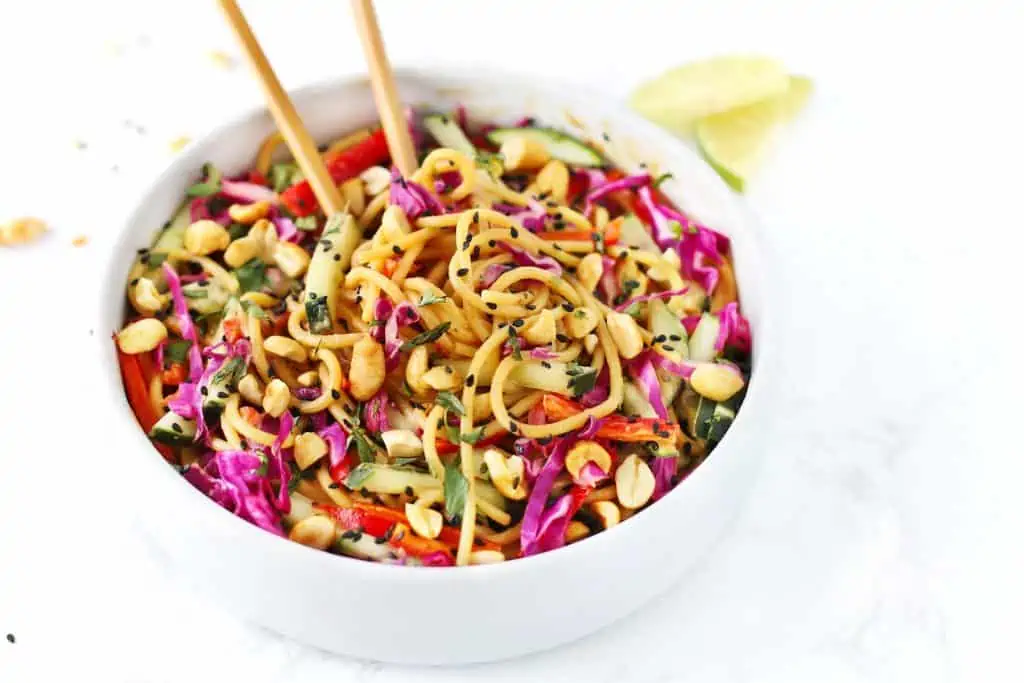 Can you make noodle salad ahead of time?
You sure can! In fact, noodle salad makes AWESOME leftovers and is great for meal prep. The key is to use the olive oil trick. See the How do you keep leftover noodle salad from getting sticky and mushy? section above.
Also, this noodle salad is easy to bring to picnics, parties or barbecues because you can make it ahead of time AND it doesn't need to be heated. It can go from fridge right to buffet table! Easy, eh?
What to add to Thai noodle salad?
If you looking to amp up this noodle salad a little bit, try adding some protein. So far, I've tried adding sliced chicken breast, shrimp and crispy tofu to this noodle salad. All were awesome! I bet shelled edamame would be good too!
---
3 Other Recipes You Might Like!
Easy Peanut Sauce – This Cold Thai Noodle Salad recipe and the two recipes below all use this peanut sauce recipe. It takes 5 minutes to makes and stores well in the fridge. I almost always have a bottle of this goodness on hand because it is so tasty and an easy addition to meals!
Crispy Tofu Summer Rolls – These summer rolls are so much fun to make and eat! The crispy tofu makes them hearty enough to eat for lunch. If you want to make them super quick and easy, skip the tofu and only add the veggies. They are absolutely delicious either way (especially when dipped in peanut sauce)!
Beef satay and grilled vegetables dipped in peanut sauce is a fun and different idea for grilling season. I made this recipe for Father's Day one year and it was an absolute hit! The best part is you can prep everything ahead of time. Then when showtime rolls around, just toss everything on the grill!
---
How to Make Cold Thai Noodle Salad
---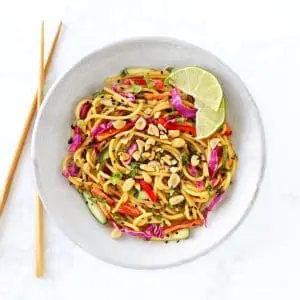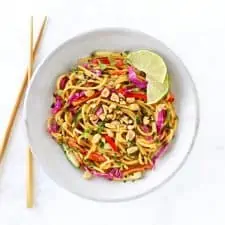 Cold Thai Noodle Salad with Peanut Dressing
Pin Recipe
Print Recipe
Rate Recipe
This Cold Thai Noodle Salad with Peanut Dressing has hearty noodles with tons of fresh veggies covered in a delicious peanut dressing and topped with crunchy peanuts. The leftovers are also amazing making this recipe the perfect meal prep option. No reheating required! 
Ingredients
Peanut Dressing Ingredients*:
1/2

cup

peanut butter

1/4

cup

soy sauce

2

Tbsp.

rice vinegar

2

Tbsp.

honey

1

Tbsp.

sesame oil

1/2-1

tsp.

red pepper flakes

,

or to taste**

1

tsp.

ground ginger

Up to 1/3 cup water***
Noodle Salad Ingredients:
6

oz.

spaghetti noodles

1/2

cup

Peanut Dressing

,

from above

1

cucumber

1

red bell pepper

1

cup

cilantro

,

loosely packed

1 1/2

cups

shredded red cabbage

1-2

tsp.

lime juice
Optional Toppings:
sesame seeds

chopped peanuts

lime wedges
Instructions
Peanut Dressing Instructions:
Combine: In a small bowl, whisk together all the peanut sauce ingredients (see water note below***). If the sauce looks mealy or separated, that means you're about halfway there. Just keep whisking until smooth!
Noodle Salad Instructions:
Cook Noodles: Cook the spaghetti noodles until they are al dente which means they are still slightly firm (but not hard) when bitten. Run the noodles under cool water and drain them well. Then drizzle the noodles with a tiny bit of olive oil and toss with your hands to coat (optional)****.

Prep Ingredients: Cut the cucumber and red bell pepper into small cubes or matchsticks. Roughly chop the cilantro. Drizzle the shredded cabbage with the lime juice. Set aside.

Toss Noodles: Toss the cooled spaghetti noodles with the peanut dressing. 

Add Fresh Ingredients: Add the cucumber, bell pepper, cilantro and cabbage to the noodles. Toss again until combined. 

Add Toppings: Top with sesame seeds and chopped peanuts. Garnish with lime wedges. 
Notes
*This recipe will likely make more 

Peanut Dressing 

than needed for the noodle salad. The actual amount of dressing used is based on personal preference. Because this dressing is a crowd favorite, the recipe makes more than may be needed because many like to use extra! If you don't think you'll want extra and don't want leftovers, cut the recipe in half for the Peanut Dressing Ingredients only. 
**Red pepper flakes add spice to the Peanut Dressing. For medium spice level use 1 teaspoon. For a mild spice level use 1/2 teaspoon. For minimal spice level use a pinch or omit altogether.
***The thickness of the sauce and amount of water needed to thin out the sauce depends greatly on the kind of peanut butter used. For example, natural peanut butters are thinner than traditional peanut butters. Thicker peanut butter needs more water. Thinner peanut butter needs less water. Start by adding a couple tablespoons of water and add more slowly until the desired consistency is reached. 
****Coating the spaghetti noodles with a tiny bit of olive oil before tossing them in the peanut sauce keeps the noodles from getting sticky and mushy. The olive oil acts as a barrier between the noodles and sauce so the noodles don't soak up too much of the sauce which causes the noodles to get sticky, thick and mushy. Adding a little olive oil is particularly helpful for meal prep and making sure leftovers are delicious. 
Nutrition
Serving:
1.5
cups
|
Calories:
485
kcal
|
Carbohydrates:
55
g
|
Protein:
18
g
|
Fat:
24
g
|
Sodium:
988
mg
|
Fiber:
7
g
|
Sugar:
14
g
Have you tried this recipe?
Let me know what you think! Rate this recipe and leave a comment below.