Mashed potatoes are delicious and satisfying while spinach is packed with nutrition. This recipe combines the two for the best of both worlds!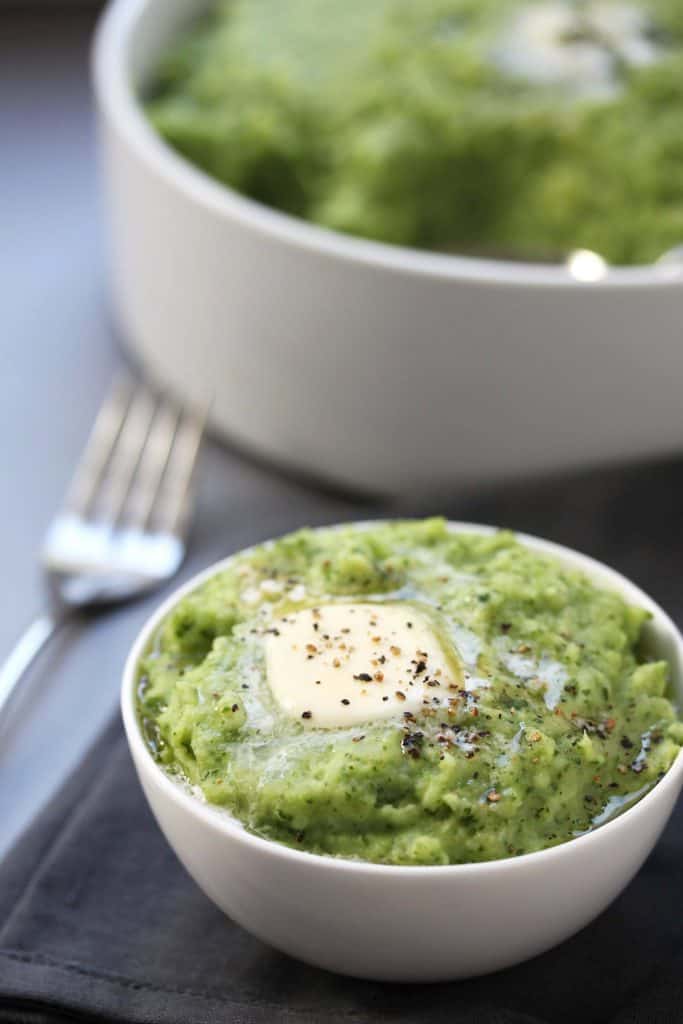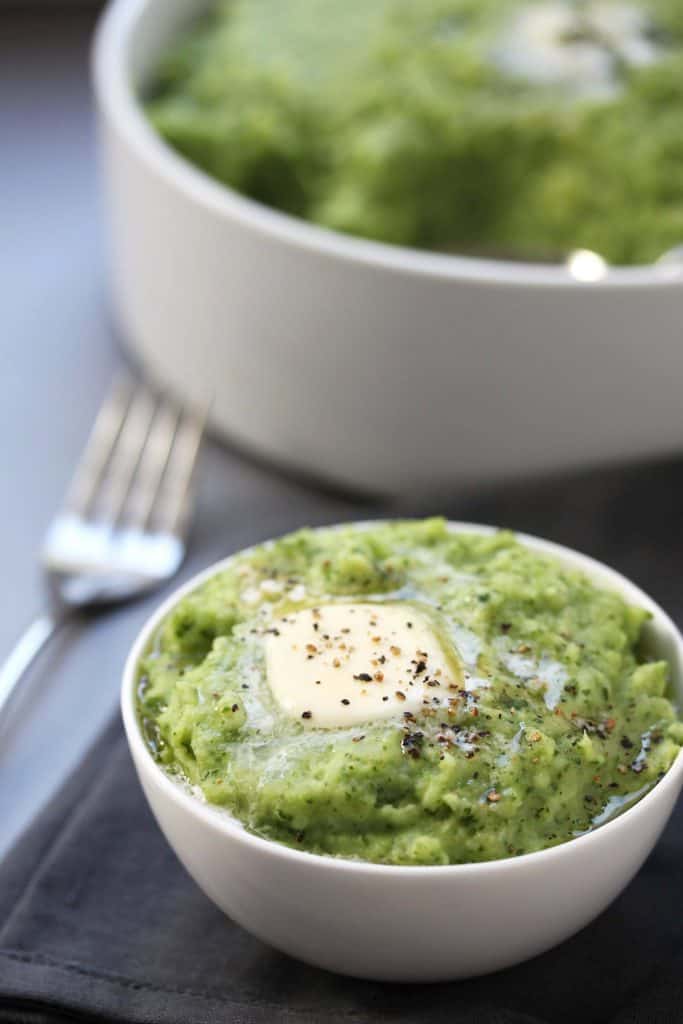 ---
Why Start With Cold Water
Better texture and better flavor. The gradual increase in water temperature cooks the potatoes more evenly. If you put potatoes in already boiling water, when the outside of the potatoes are cooked, the insides will be undercooked and slightly bitter.
Why Salt the Water
Short answer, they taste WAY better. Long answer, potatoes absorb water when boiled. So, when water is salted the potatoes absorb salt as well enhancing the delicious flavor of the potatoes. There are other claims that salted water impacts texture, cooking times, etc. but per my experience the only noticeable and significant difference is the enhanced flavor.
Why Add Spinach
It is a sneaky and creative way to get in more greens. Every serving of potatoes contains a full cup of fresh spinach! Looking for other ways to get in more spinach? Try this Hidden Spinach Everything Sauce!

How to Make Ahead
Because this recipe contains fresh spinach, I recommend eating it right after it is prepared. However, if you want to make it ahead there is a slight loophole. Make the mashed potatoes ahead of time (steps 2-5). The right before serving add the spinach (steps 1 and 6).
How To Avoid Gummy Potatoes
If mashed potatoes become sticky or gummy, they've likely been over-mashed. Long story short, potatoes contain a lot of starch. The more the potatoes are mashed, the more starch is released which can turn them to glue. Avoid mashing potatoes with an electric mixer, food processor or an aggressively strong arm. Try mashing using one of the tools listed below!
Which Tools to Use for Mashing
A Potato Masher is affordable, lightweight and easy to store. However, a masher doesn't give you perfectly smooth mashed potatoes. There will be some lumps.
A Potato Ricer is the quickest and easiest way to get perfectly smooth and fluffy mashed potatoes. You just put the cooked potatoes through the ricer just like squeezing play-doh into shapes. However, it is a specialty kitchen tool that may not get used much unless you make a lot of mashed potatoes. It is also bulky and takes up a bit of storage space.
A Colander is another way to get smooth and fluffy potatoes. It is the same concept as a potato ricer but requires a little more arm strength. You just put the cooked potatoes in the colander and push the potatoes through the small holes in the colander with a spatula or spoon. Although this method takes a little more time and muscle, it doesn't require a special tool. So, money and storage space are saved!
---
See How We Make Spinach Mashed Potatoes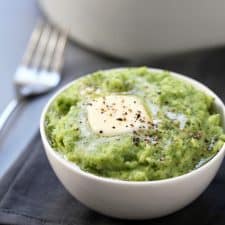 Spinach Mashed Potatoes
Pin Recipe
Print Recipe
Rate Recipe
Mashed potatoes are delicious and satisfying while spinach is packed with nutrition. This recipe combines the two for the best of both worlds!
Ingredients
8

cups

fresh spinach

,

8 oz.

3

lbs.

russet potatoes

1

cup

milk

3

Tbsp.

butter

1

cup

plain Greek yogurt

1.5

tsp.

salt
Instructions
Prep Spinach: Put the spinach in a food processor and pulse until the spinach is minced (very small pieces). Set aside.

Prep Potatoes: Peel potatoes and cut into large cubes. Put the cubed potatoes in a large pot and cover with cold water. Add a small handful of salt (a couple tablespoons) to the pot.

Boil Potatoes: Bring the pot to a boil  and cook until the potatoes are fork tender (about 15-20 minutes). Keep an eye on the pot to make sure it doesn't boil over. If it does, no big deal. Just turn down the heat slightly and give them a stir.

Strain & Add Ingredients: Once the potatoes are cooked through, CAREFULLY drain the potatoes.

Mash (if using potato masher):Return to potatoes to the pot over low heat. Add the milk, butter, Greek yogurt and 1.5 teaspoons of salt to the potatoes. Using a potato masher, mash the potatoes until you reach your desired consistency (smooth or chunky) and the ingredients are well combined. OR Mash (if using potato ricer or colander): To mash them, put the potatoes through a potato ricer or colander back into the pot over low heat. Then add the milk, butter, Greek yogurt and 1.5 teaspoons of salt to the potatoes. Stir until well combined.

Add Spinach: Add the minced spinach to the pot and stir until well combined. Serve immediately and enjoy!
Nutrition
Serving:
1
/8 recipe
|
Calories:
214
kcal
|
Carbohydrates:
34
g
|
Protein:
8
g
|
Fat:
6
g
|
Saturated Fat:
4
g
|
Cholesterol:
16
mg
|
Sodium:
452
mg
|
Potassium:
952
mg
|
Fiber:
3
g
|
Sugar:
4
g
|
Vitamin A:
3001
IU
|
Vitamin C:
18
mg
|
Calcium:
115
mg
|
Iron:
2
mg
Have you tried this recipe?
Let me know what you think! Rate this recipe and leave a comment below.