I didn't know nachos could be so… beautiful! The amount of color in these Mediterranean Sweet Potato Nachos alone makes this dish a real crowd pleaser. This flavor makes them a favorite!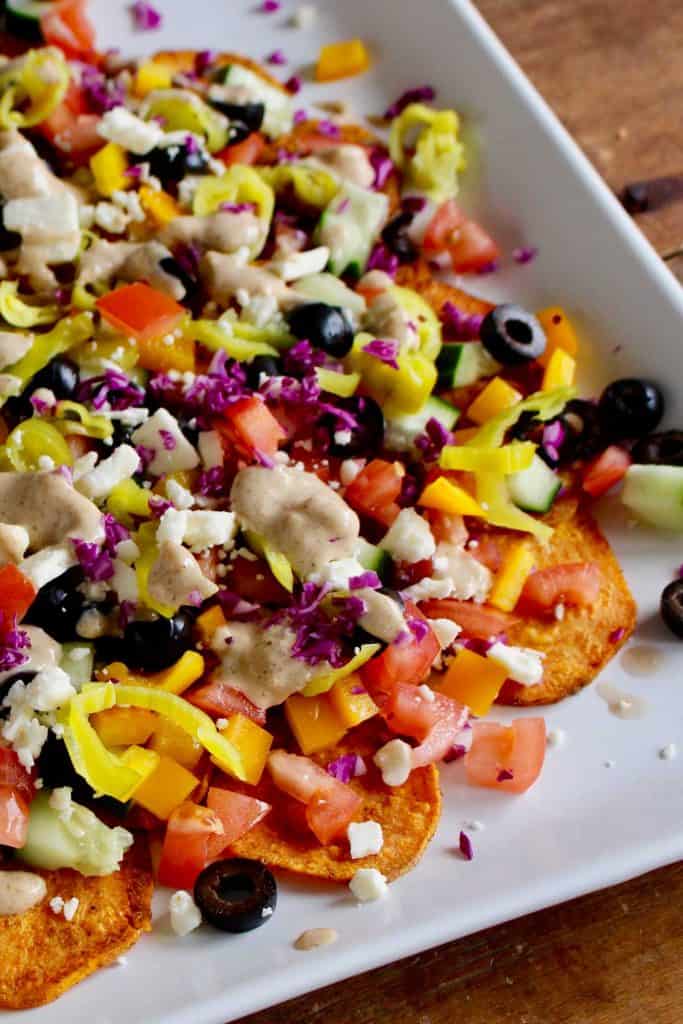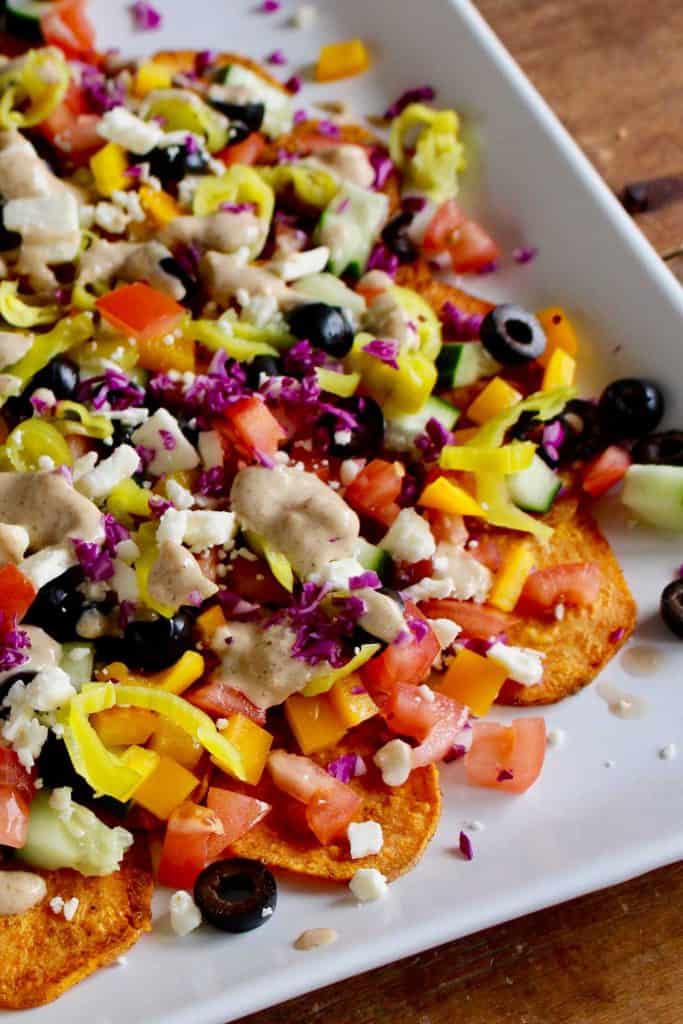 ---
Helpful Notes
Flavors & Ingredients: Every last bite is sweet, savory and spicy all wrapped in one! Some of the sweet potato chips are crispy while others are slightly more flexible creating mini sweet potato taco shells which are fun and tasty! Each little sweet potato shell was the perfect bite of everything good and saucy.
The Sauce: I added a Spicy Cajun Aioli type sauce to the nachos because everything is better with a sauce or a dip! Also, these nachos are so healthy (basically all fruits and veggies!) I needed to add just a splash of indulgence.
Time Saver: I used my mini food processor to chop some of the toppings in this recipe to save time… and I because I LOVE using this thing! It is small enough to store and move around easily. It is also very easy to clean which is a BIG DEAL in my book!
---
Tools to Make Sweet Potato Chips
Knife & Cutting Board: Using a knife and cutting board is easy because it doesn't require any extra equipment but it will take more time. Also, take extra care to avoid any injuries!
Mandolin Slicer: A mandolin slicer will be your second fasted option but is an extra piece of equipment to buy and store. Also, be careful when using a mandolin and ALWAYS use a safety glove or a safety guard. Mandolins are extremely dangerous if used without proper safety measures. Trust me. I had a mandolin injury once. Eight stitches and seven years later, I still don't have feeling in my right ring finger!
Food Processor: A food processor with a slicing blade is the quickest option by far. It takes seconds to slice up all your sweet potato chips. The downside is it is another big thing to buy and store.
---
---
Other Sweet Potato Recipes
---