Mediterranean Sweet Potato Nachos
I didn't know nachos could be so… beautiful! The amount of color in these Mediterranean Sweet Potato Nachos alone makes this dish a real crowd pleaser. This flavor makes them a favorite!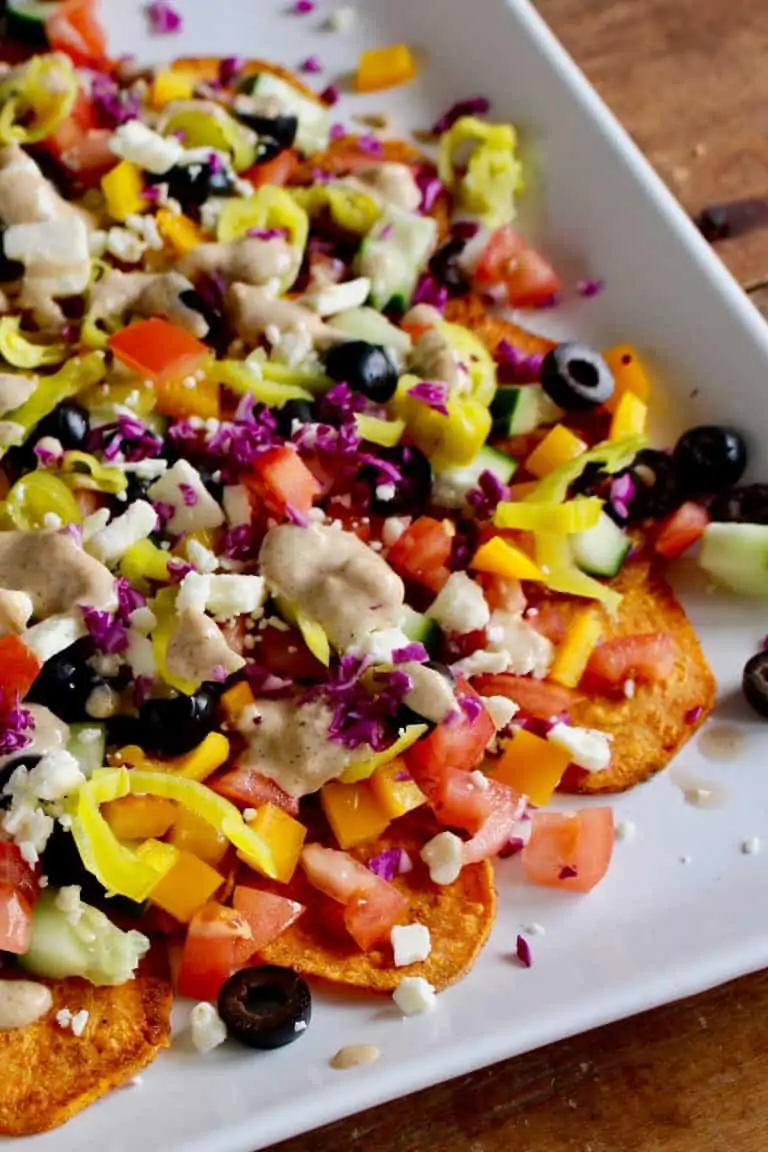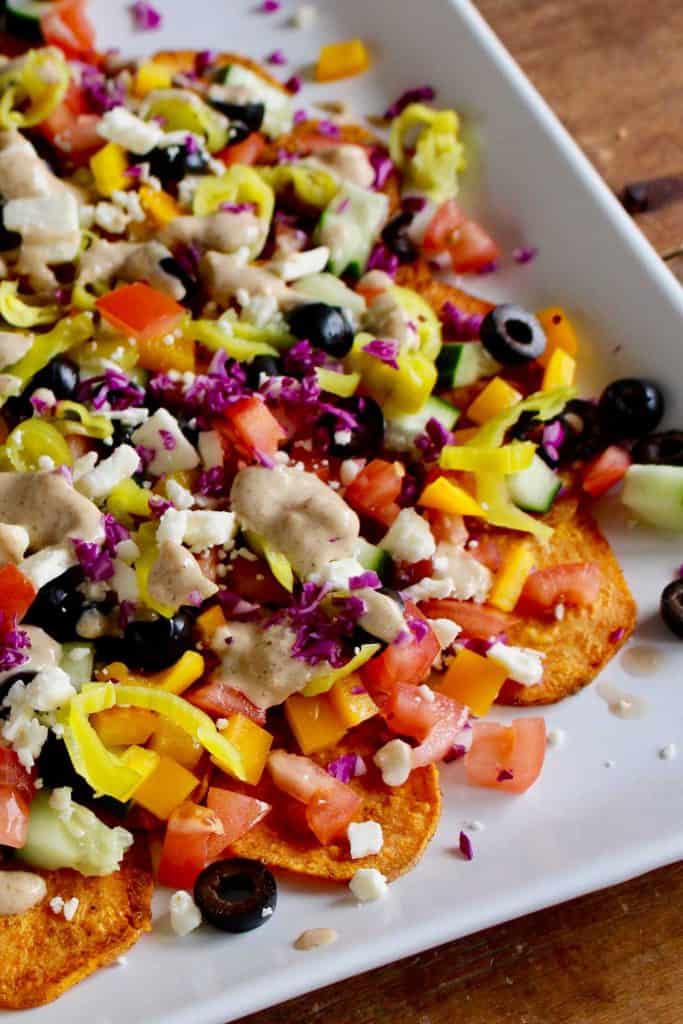 ---
Helpful Notes
Flavors & Ingredients: Every last bite is sweet, savory and spicy all wrapped in one! Some of the sweet potato chips are crispy while others are slightly more flexible creating mini sweet potato taco shells which are fun and tasty! Each little sweet potato shell was the perfect bite of everything good and saucy.
The Sauce: I added a Spicy Cajun Aioli type sauce to the nachos because everything is better with a sauce or a dip! Also, these nachos are so healthy (basically all fruits and veggies!) I needed to add just a splash of indulgence.
Cajun Seasoning: Feel free to use store-bought or homemade Cajun seasoning!
Time Saver: I used my mini food processor to chop some of the toppings in this recipe to save time… and I because I LOVE using this thing! It is small enough to store and move around easily. It is also very easy to clean which is a BIG DEAL in my book!
---
Tools to Make Sweet Potato Chips
Knife & Cutting Board: Using a knife and cutting board is easy because it doesn't require any extra equipment but it will take more time. Also, take extra care to avoid any injuries!
Mandolin Slicer: A mandolin slicer will be your second fasted option but is an extra piece of equipment to buy and store. Also, be careful when using a mandolin and ALWAYS use a safety glove or a safety guard. Mandolins are extremely dangerous if used without proper safety measures. Trust me. I had a mandolin injury once. Eight stitches and seven years later, I still don't have feeling in my right ring finger!
Food Processor: A food processor with a slicing blade is the quickest option by far. It takes seconds to slice up all your sweet potato chips. The downside is it is another big thing to buy and store.
---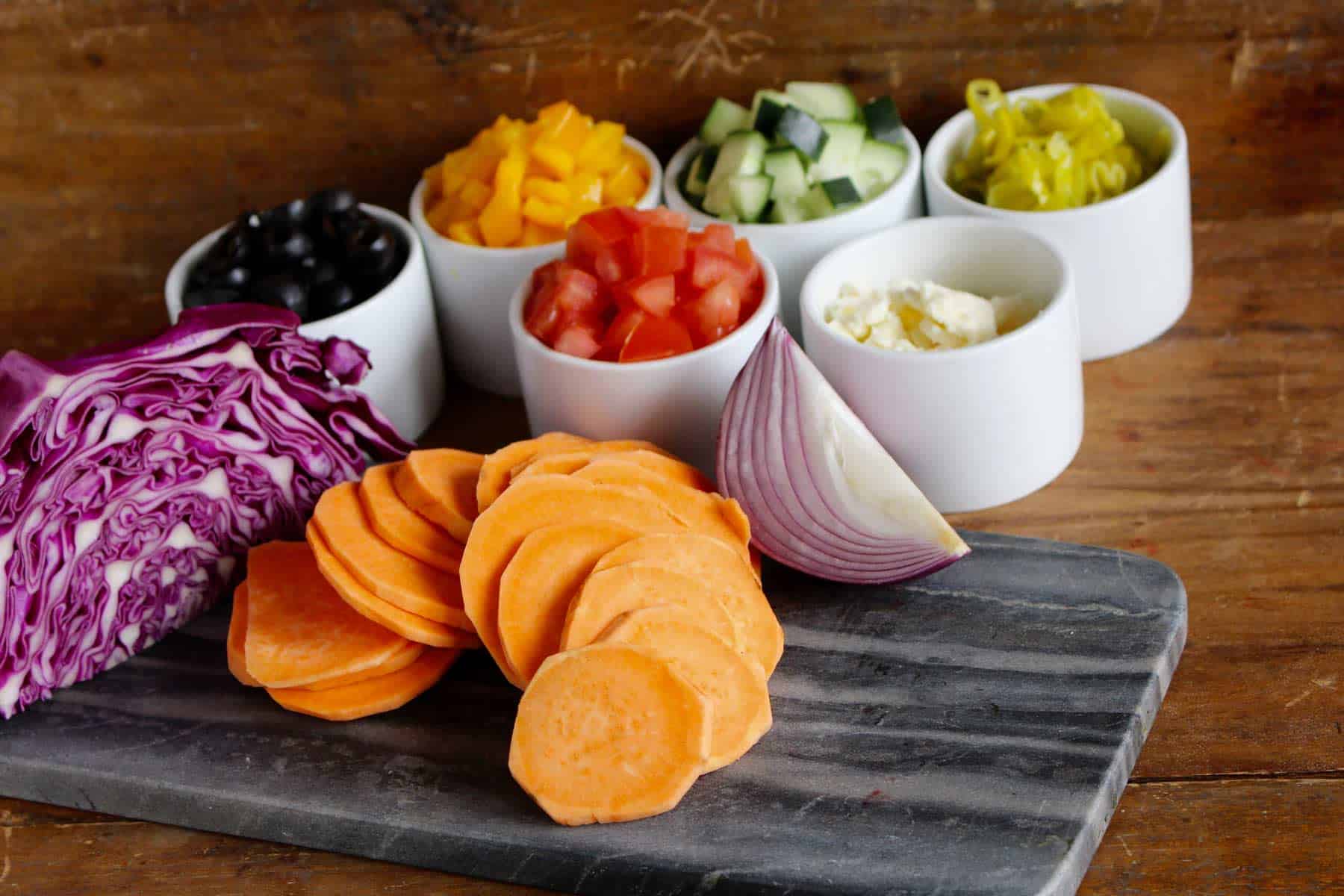 ---
Other Sweet Potato Recipes
---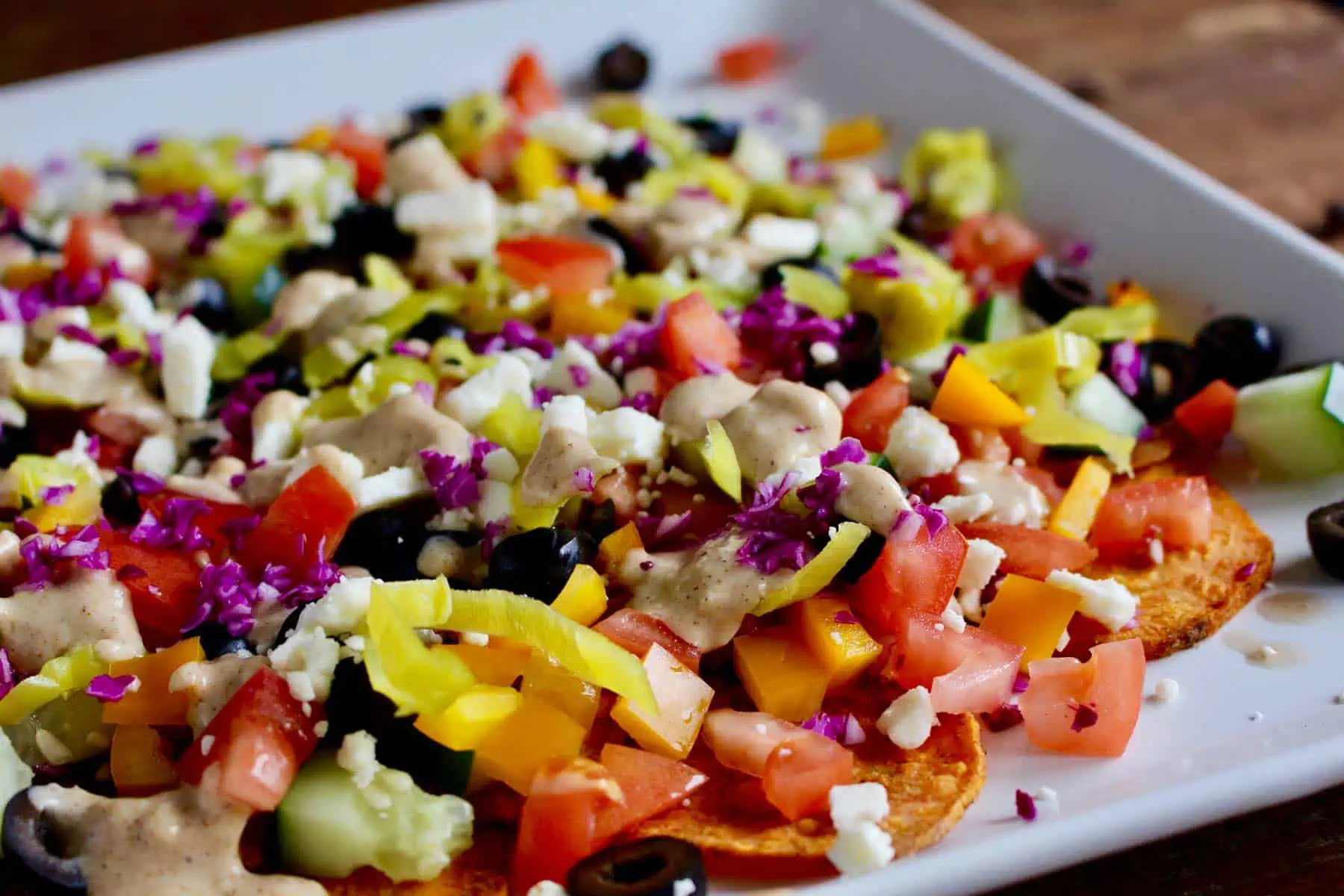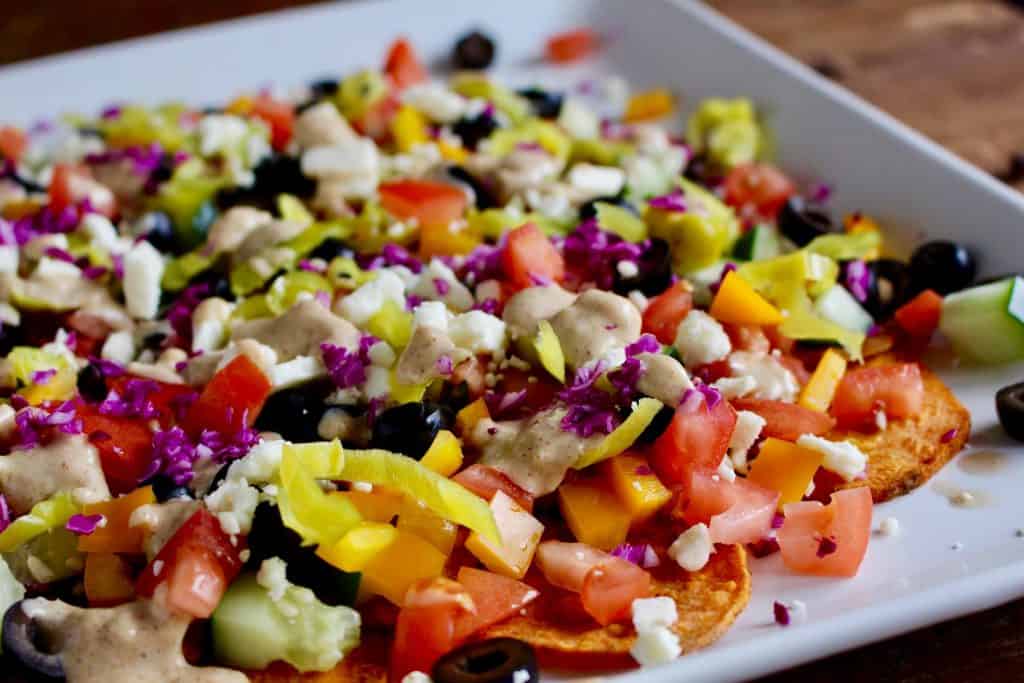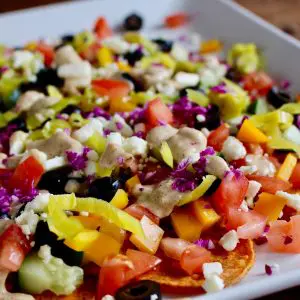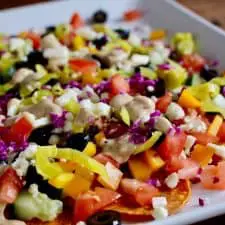 Mediterranean Sweet Potato Nachos
Pin Recipe
Print Recipe
Rate Recipe
The amount of color in these Mediterranean Sweet Potato Nachos alone makes this dish a real crowd pleaser. This flavor makes them a favorite!
Ingredients
For the Sweet Potatoes (see note 1):
3

large sweet potatoes

1

Tbsp

cajun seasoning

olive oil
For the Toppings:
1

small cucumber

1

tomato

1

bell pepper

1

cup

sliced olives

1/2

cup

sliced pepperocini peppers

1/4

red onion

1

cup

red cabbage
For the Spicy Cajun Aioli (see note 2):
1/2

cup

mayo

3-4

cloves

of garlic

juice from 1/2 lemon

,

roughly 1 Tbsp

1/2

cup

milk

1

Tbsp.

cajun seasoning

, homemade or store-bought
Instructions
Slice Sweet Potatoes: Slice the sweet potatoes into very thin slices to make your sweet potato chips. You can use a knife, a mandolin or a food processor with a slicing attachment to do this. Those tools can be real time savers!

Coat Sweet Potatoes: Coat the sweet potato slices with olive oil and 1 Tbsp of Cajun seasoning. I usually do this directly on my cutting board to avoid dirtying up another dish but tossing the sliced sweet potatoes in a large bowl to coat them is a less messy approach!

Bake Sweet Potatoes: Lay the sweet potato slices in a single layer on cookie sheets and bake in a 425 degree preheated oven for 15 minutes, flipping them over halfway through. Keep an eye on them because they may require more or less time depending on how thin your slices are!

Prep the Toppings: Dice the tomato, cucumber and bell pepper into. Cut the olives and pepperocinis into slices (or just buy them pre-sliced like I did!). Next I put the red cabbage and red onion into my mini food processor and pulsed it a few times because I wanted to save myself a little time. However, chopping the cabbage and red onion by hand will work too! Set all toppings aside.

Make Sauce: Mince the garlic cloves. Then mix all sauce ingredients in a small bowl until combined. You can make this sauce ahead of time and keep it in the fridge! It actually tastes better with time because all the ingredients really blend together. Set sauce aside.

Assemble: Once the sweet potato chips are done cooking (the should be slightly golden on the edges and have an almost bubbled or dried appearance on the surface) remove them from the oven and put them on a large serving platter. Then top the sweet potatoes with all the toppings and a drizzle of the Spicy Cajun Aioli. There will probably be leftover sauce unless you like your nachos REALLY saucy!
Notes
Read this recipe all the way through first! It will save you time.
Note 1: If you want to simplify this recipe even more, buy sweet potato chips instead of making your own! If you buy sweet potato chips, you can skip steps 1-3.
Note 2: This is a large batch of the sauce. So, you may have leftovers! It is a delicious spread on sandwiches and dip for French fries!
Nutrition
Serving:
0.25
recipe
|
Calories:
470
kcal
|
Carbohydrates:
49
g
|
Protein:
7
g
|
Fat:
29
g
|
Cholesterol:
15
mg
|
Sodium:
825
mg
|
Fiber:
11
g
|
Sugar:
15
g
Have you tried this recipe?
Let me know what you think! Rate this recipe and leave a comment below.