Healthy Sweet Potato Casserole with Maple Meringue
This Healthy Sweet Potato Casserole is a lightened up version of a classic favorite that tastes as good as the original (if not better). It is naturally sweetened and topped with a light and fluffy Maple Meringue.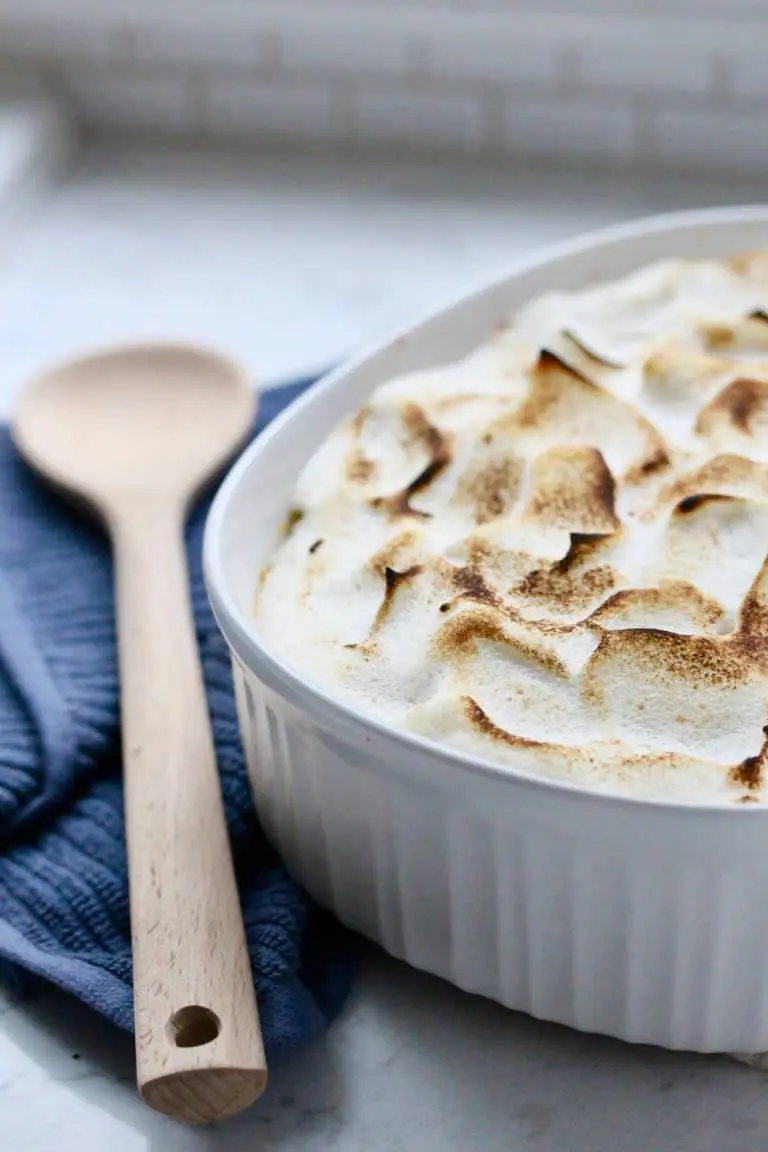 ---
Thanksgiving is the Best
Thanksgiving is my favorite holiday! Every year my dearest mother gives out food assignments to my siblings and I to bring to Thanksgiving. This year I was assigned the sweet potatoes which is one of my personal favorites. So, in the spirit of the holidays, I thought I'd share the recipe!
---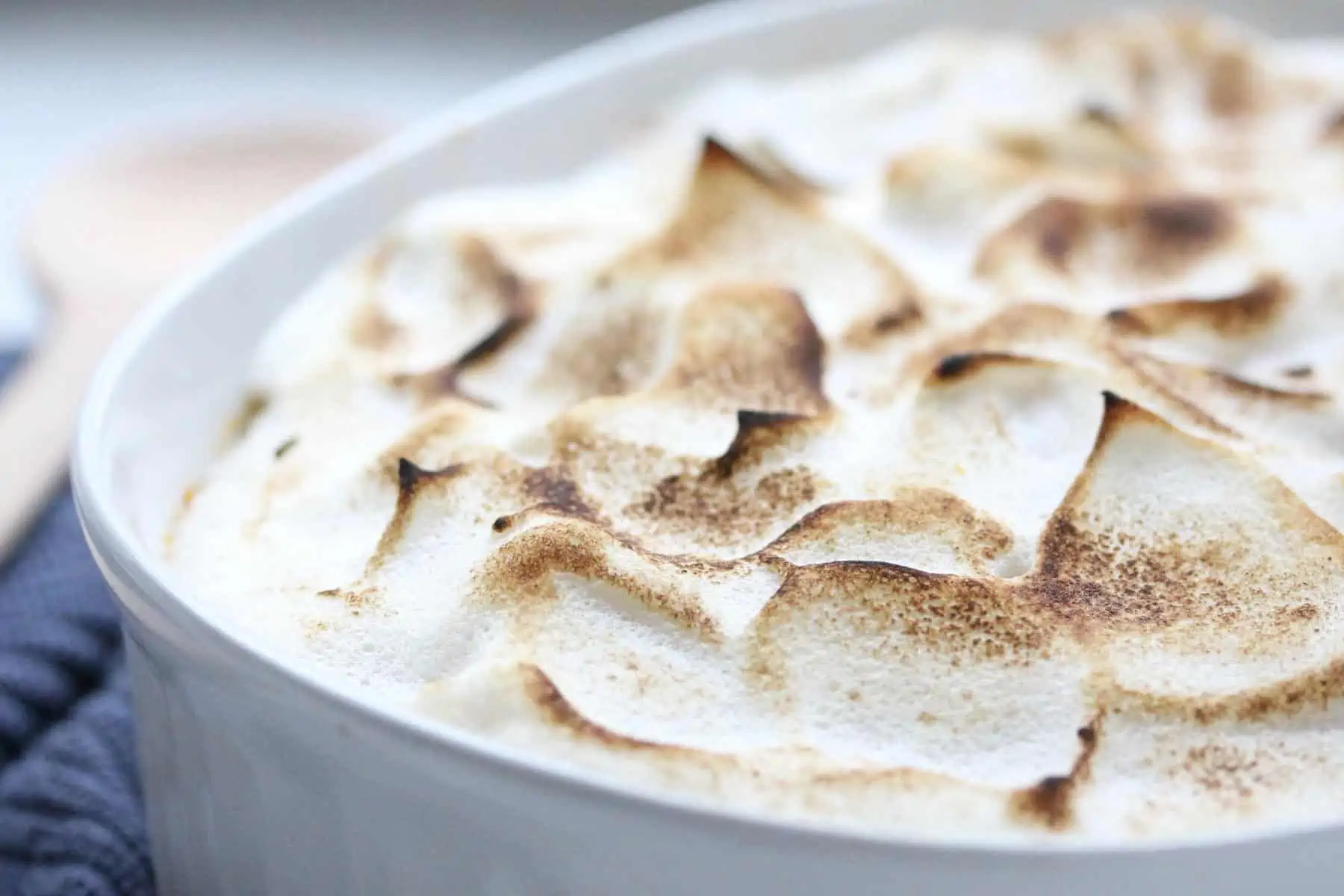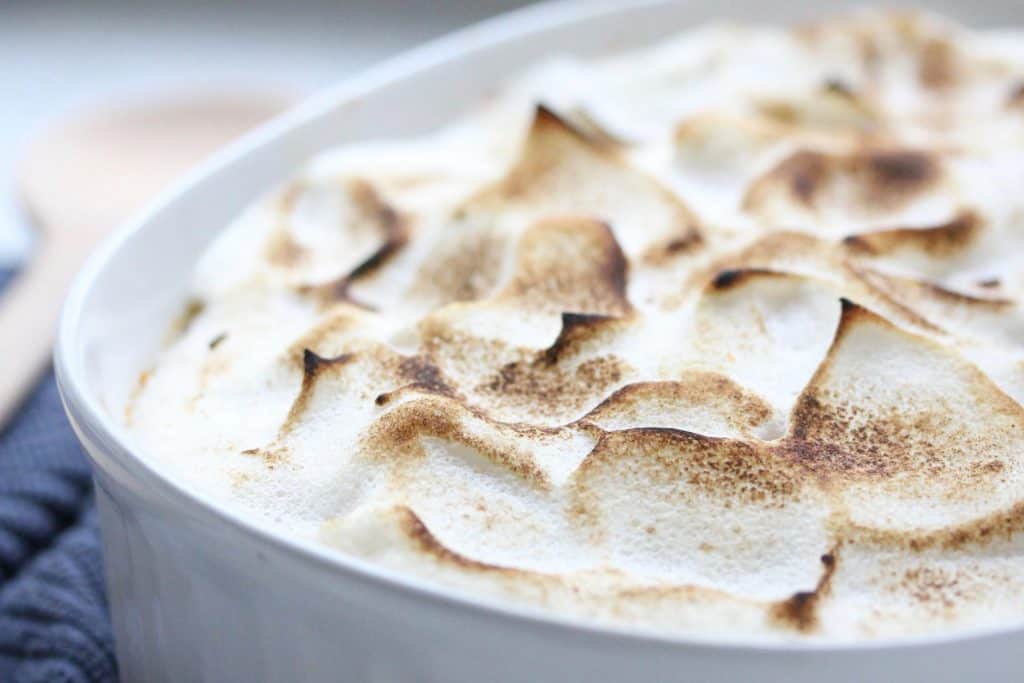 ---
Helpful Hints for Healthy Sweet Potato Casserole
Low and Slow is the Way to Go: Ha! See what I did there? Cooking the sweet potatoes low and slow is what makes this casserole amazing and healthy without sacrificing any flavor. Low and slow allows the sugars in the sweet potatoes to breakdown which naturally makes them extra sweet and SO GOOD. Whenever I have the time, I always cook my sweet potatoes low and slow because they taste just that much better.
How to Make Maple Meringue: For starters it is pretty easy to make. The Maple Meringue is light, fluffy and sweet. Don't let it intimidate you because it is actually very easy to make. All you need is a few egg whites, maple syrup and a hand mixer (or a whisk and a really strong arm). Boom! Maple Meringue!
Tools to Make the Maple Meringue
To make the meringue, you will need to whip eggs whites until they've at least tripled in volume and are a airy and fluffy. You have three tool options to choose from.
Good Old Fashioned Whisk – This option is simple but your arm will feel like it's going to fall off by the end. I don't recommend this tool unless you have multiple whiskers ready to take turns or someone with a strong arm and outstanding whisking endurance! 🙂
Electric Hand Mixer – This is the option I generally recommend because it is an affordable tool that gets the job done in no time. It is also compact and easy to store.
Stand Mixer – This is the by far the easiest but by far the most expensive option. If you own a stand mixer, by all means use that beautiful piece of kitchen equipment. You can basically set it and forget it while the mixer creates the beautiful fluffy meringue for you. However, it is a spendy piece of equipment.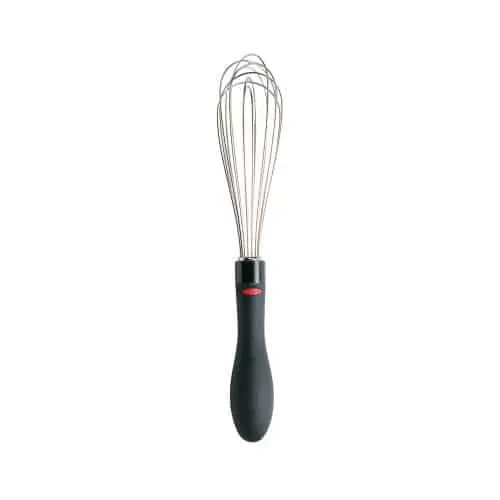 Use Marshmallows When They Call to You: Also, if you're a diehard marshmallow topping fan, feel free to substitute the Maple Meringue for marshmallows. A little toasted marshmallow never hurt anyone. It is Thanksgiving after all!
How to Make It Ahead: As you all know Thanksgiving can be chaotic to say the least. Whether you're cooking an entire Thanksgiving meal or trying to attend multiple Thanksgiving celebrations in one day, make ahead dishes are KEY. Most of this casserole can be made a day or two ahead of time. Simply complete steps 1-3 and keep the casserole in the fridge. Then all you have to do is bake the casserole to warm in through and top it with the Maple Meringue!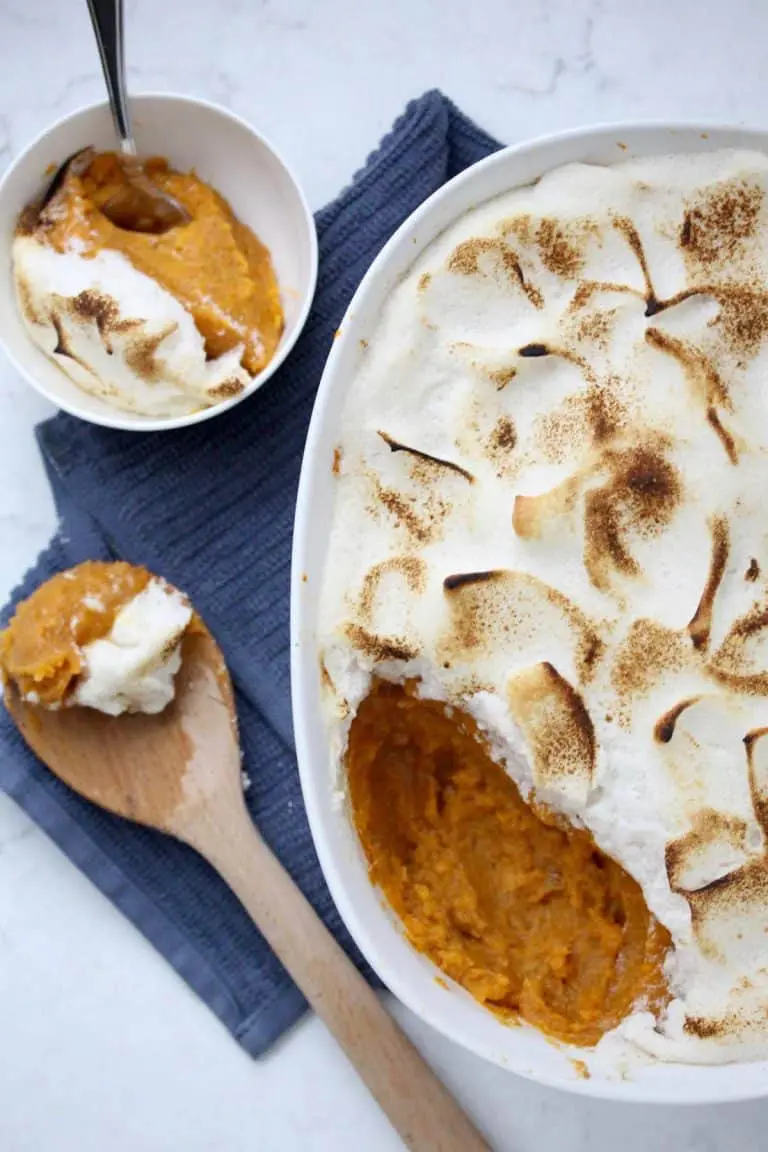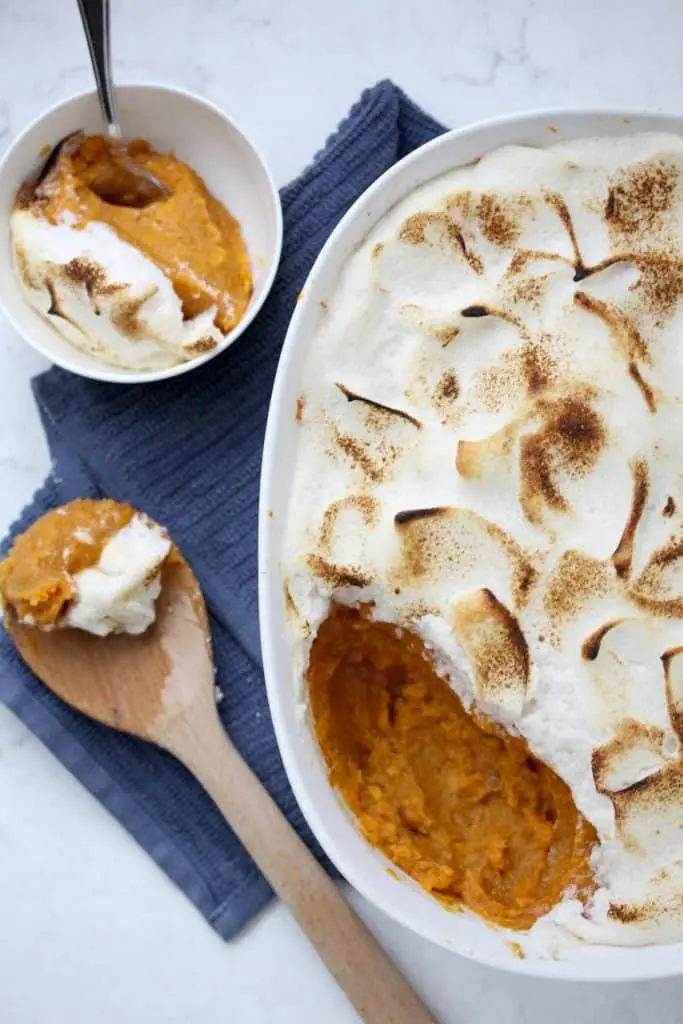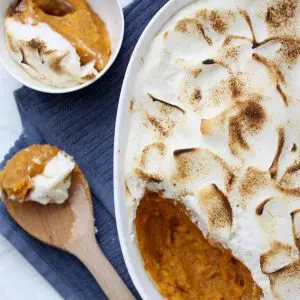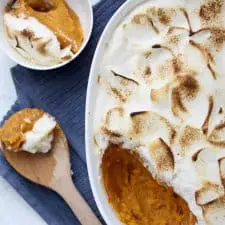 Healthy Sweet Potato Casserole with Maple Meringue
Pin Recipe
Print Recipe
Rate Recipe
A lightened up version of a classic favorite without sacrificing any flavor!
Ingredients
For the Casserole:
olive oil

1

cup

almond milk

4

tbsp

butter

1/4

cup

maple syrup

1

tsp

vanilla extract

1.5

tsp

cinnamon

1

tsp

salt
For the Meringue:
4

egg whites

1

pinch

salt

2

tbsp

maple syrup
Instructions
Cook Potatoes: Preheat the oven to 300 degrees. Coat whole sweet potatoes with a little olive oil and put them on sheet pan. Put them in the preheated oven for 2.5 hours, flipping them halfway through (see note 1).

Scoop Potatoes: Once the potatoes are done cooking, let them cool for 10-15 minutes. Cut the sweet potatoes in half and scoop the insides out into a large bowl (careful they will be hot!). Dispose of the skins.

Combine Casserole Ingredients: Add the almond milk, butter, salt, cinnamon, vanilla and maple syrup to the bowl of sweet potatoes. Mash until all the ingredients are combined and the mixture is the desired consistency. Transfer the sweet potato mixture into a casserole dish that can be put in the oven.

Bake Casserole: Preheat the oven to 350 degrees. Cover the casserole dish with tinfoil and bake for 30 minutes.

Make Meringue: While the casserole is baking, put the egg whites and a pinch of salt into a medium/large sized bowl. Use an electric mixer on high to beat the egg whites until they have tripled in volume and form stiff peaks. The mixture should be white and glossy. Then slowly add the maple syrup and continue to beat the egg whites until all ingredients are well combined and the mixture is nice and fluffy. Viola! You have maple meringue.

Top the Casserole: Once the casserole is done baking, remove the tinfoil and spread the maple meringue over the casserole. Then put the casserole under the broiler in the oven for 2 minutes or until golden brown. Keep an eye on it because the meringue can go from beautifully golden to burnt very quickly!Serve immediately and enjoy!
Notes
Cooking the potatoes low and slow helps breakdown the natural sugars in the potatoes. This makes the potatoes naturally very sweet, not needing additional sugar. 
Nutrition
Serving:
0.5
cup
|
Calories:
74
kcal
|
Carbohydrates:
7
g
|
Protein:
1
g
|
Fat:
4
g
|
Cholesterol:
10
mg
|
Sodium:
275
mg
|
Fiber:
1
g
|
Sugar:
6
g
Have you tried this recipe?
Let me know what you think! Rate this recipe and leave a comment below.