Apple Whiskey Pulled Pork Sliders & Bourbon Cheese Sauce
Summer is almost here! Can I get an Amen?! BBQs and summer holidays like Memorial Day, Father's Day and the 4th of July are right around the corner. What better way to celebrate than with whiskey sliders?!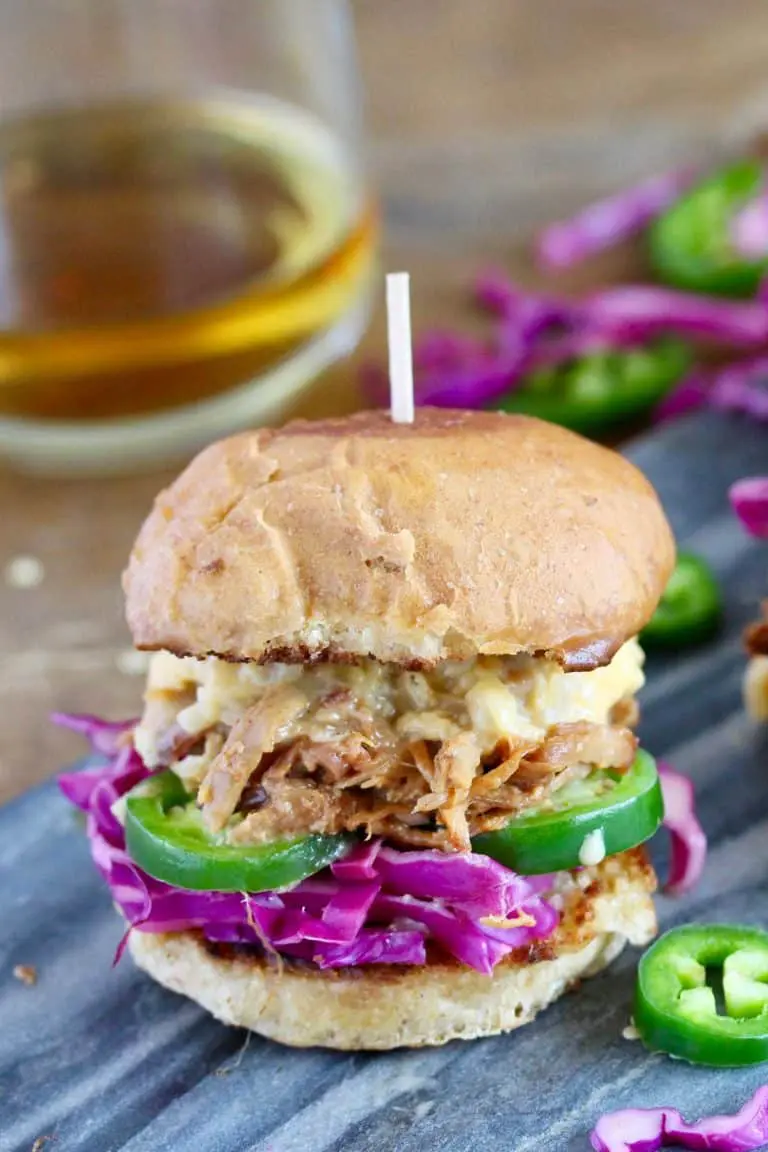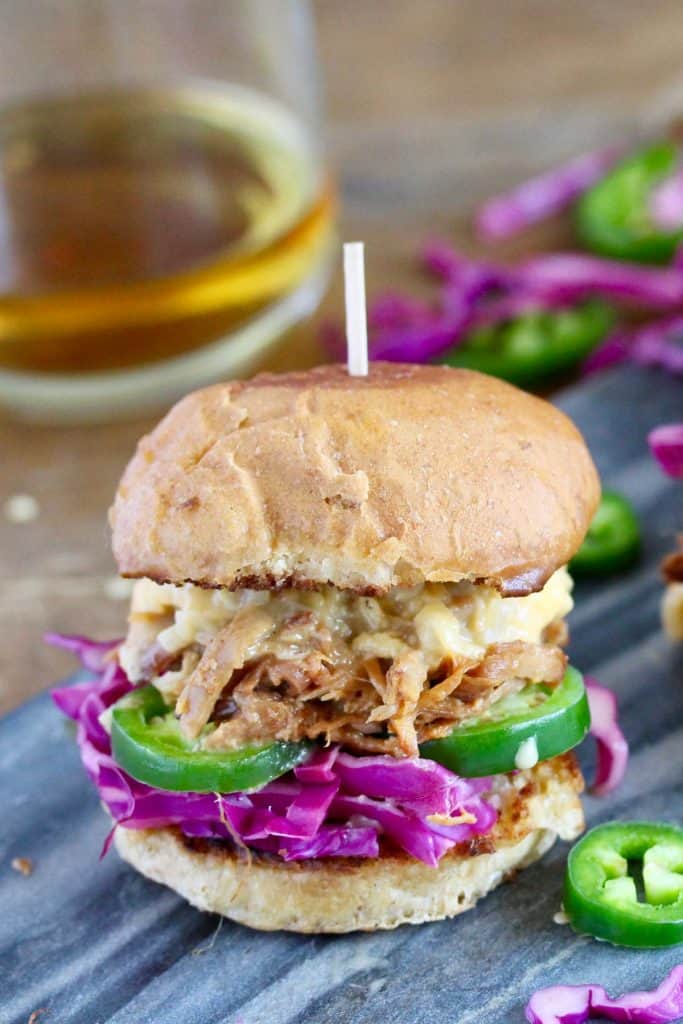 ---
A Funny Story About Apple Whiskey Pulled Pork Sliders
When I was originally testing this recipe, my husband, Hot Tom, eagerly volunteered to be a taste tester. As he was scarfing down these sliders, he said to me, "Not to toot your horn… because what kind of food tester would I be? But I think this is the best thing you've ever made.". Bold. Very Bold.
Anyway, fast forward a few years and Tom requested I make these whiskey sliders for his 30th birthday party. Long story short, I made 17 pounds of pulled pork and we went through all 17 pounds. There were 23 people at the party. Haha! For those not up on their pulled pork to person ratios, that is an obscene amount of pulled pork for that amount of people. I guess it is safe to say we enjoyed ourselves.
I've also made whiskey pulled pork sliders for Father's Day, the 4th of July and various other celebrations. These whiskey sliders have become quite popular to say the least.
---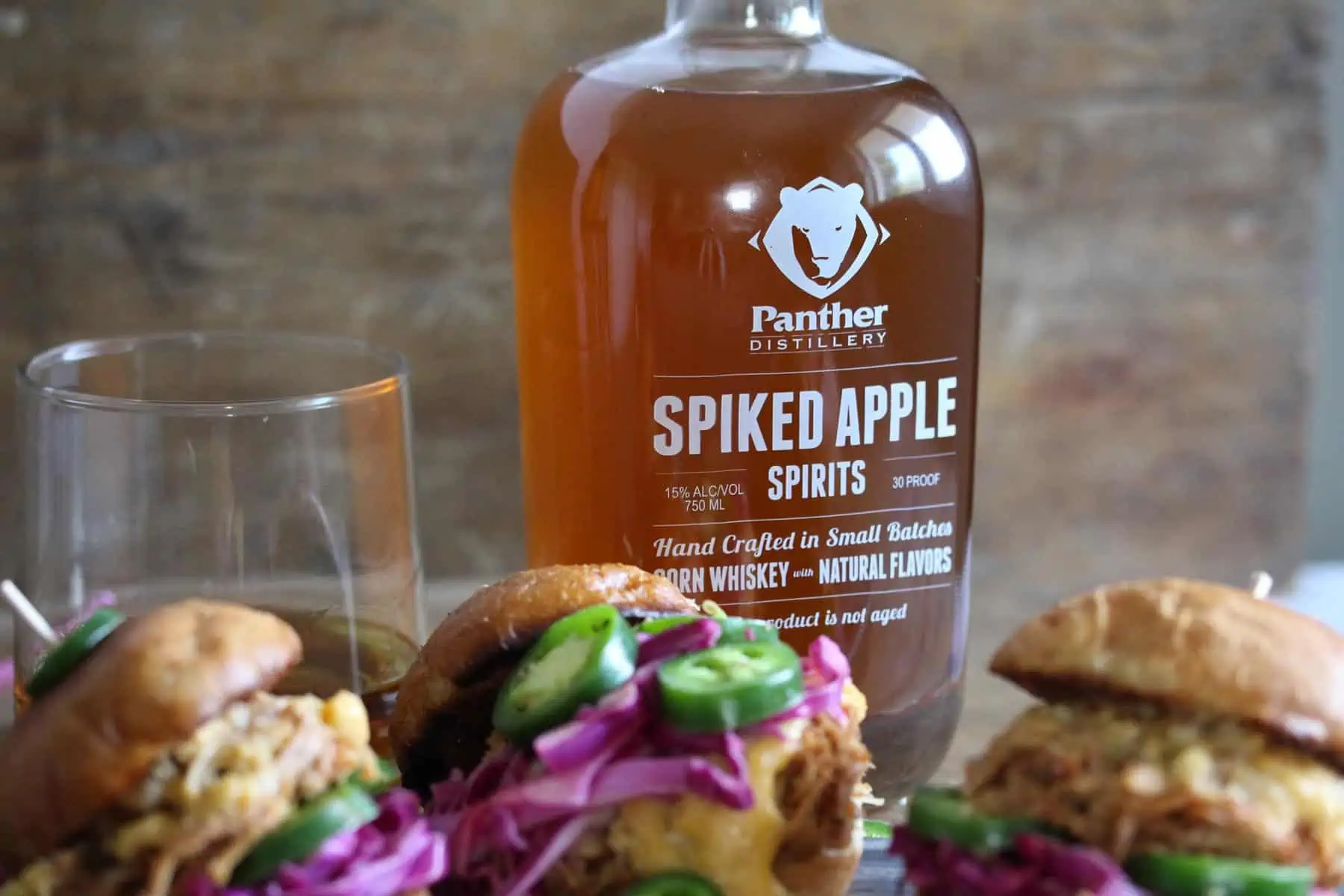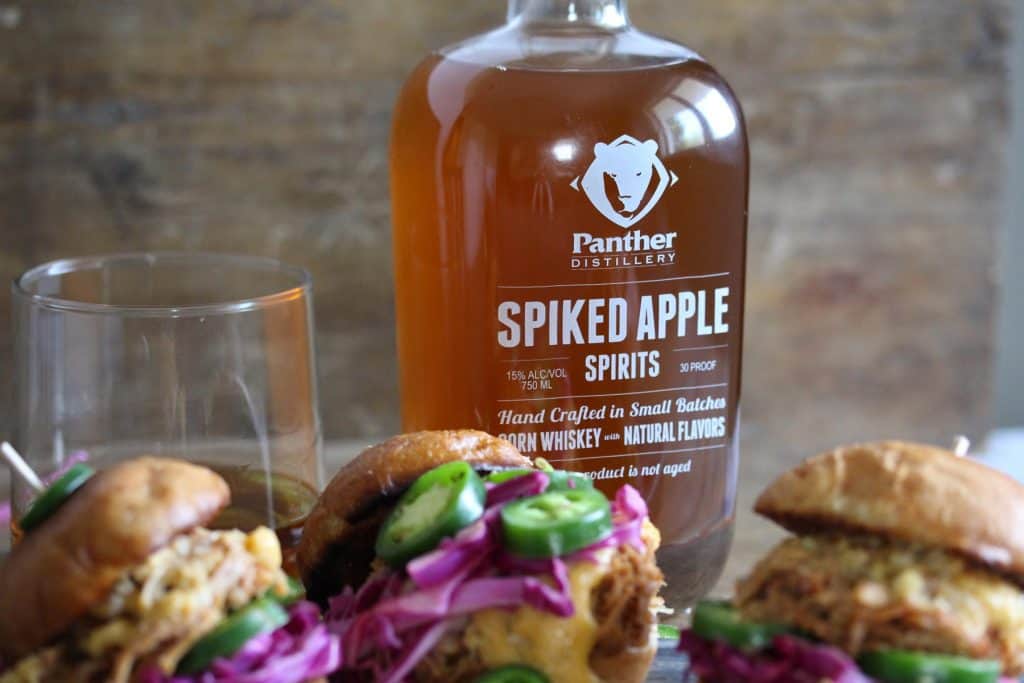 ---
Helpful Notes & Tips About the Recipe
Ingredients & Flavors
Don't worry these sliders won't get ya tipsy… we will leave that job to our cocktails (JK!…sorta)! This recipe brings out the delicious flavors of the whiskey without the bite of the alcohol. The pulled pork is tender and flavorful with a hint of sweet apple from being cooked low and slow. Then we have the bourbon cheese sauce that is poured over the pork… Oh. My. God. Becky.
I don't even know how to go about describing this liquid gold. In short, butter, onions, garlic, heavy cream, cheese and bourbon create the best sauce known to mankind. Lastly, finishing off the slider with lime cabbage and jalapeño rings brings this recipe to gold medal status. The fresh crunch, zesty flavor and hint of heat perfectly compliment the pork and cheese sauce. This sandwich has it all my friends!
Pre-Shredded vs. Block Cheese
Pre-shredded cheese has a coating applied to it to prevent the shreds from clumping up and sticking together. That coating makes this cheese sauce too thick. If possible, I recommend buying a block of cheese and shredding it yourself for the cheese sauce. If you are using pre-shredded cheese, start with half the quantity listed in the recipe and go from there.
This Bourbon Cheese Sauce is Magic!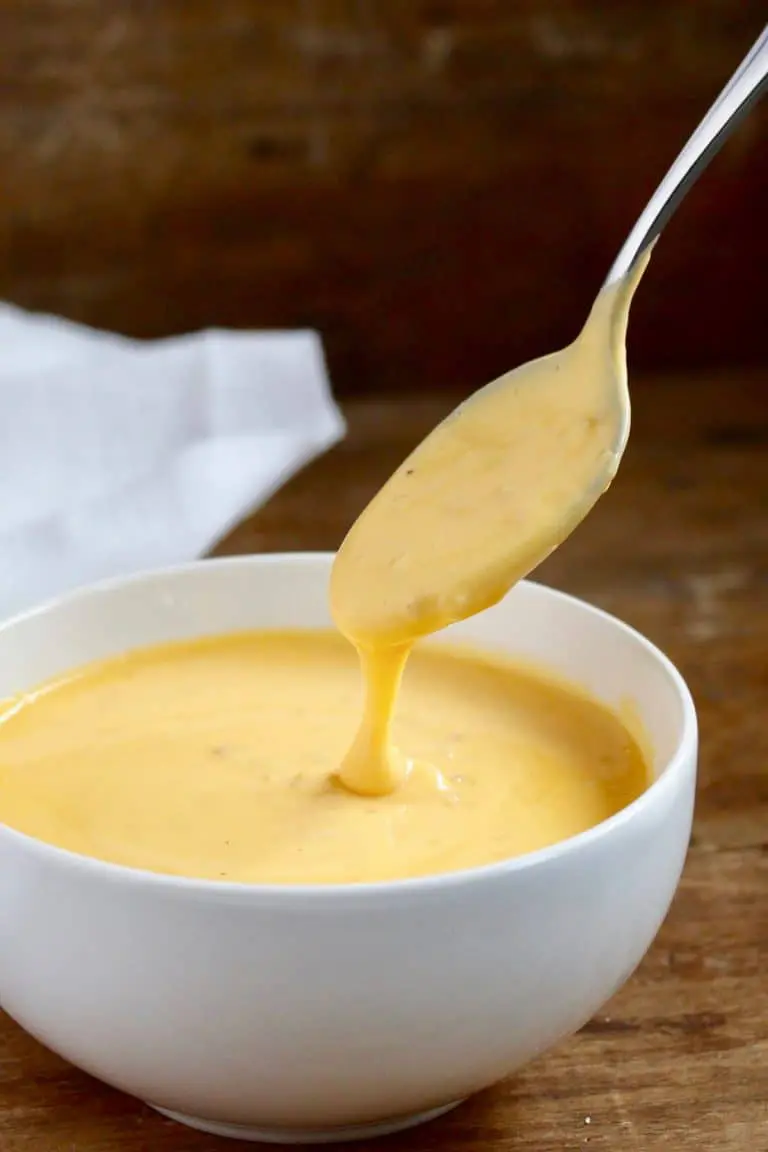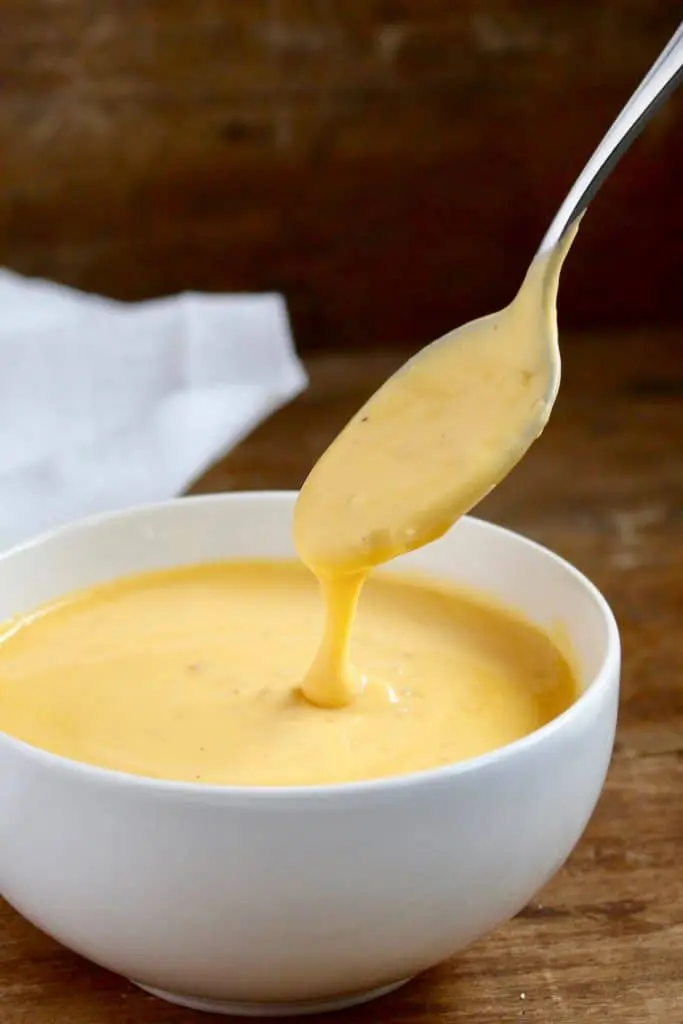 Helpful Notes & Tips (cont.)
About the Whiskey Used
This recipe features whiskey from a local distillery right here in Minnesota, Panther Distillery. I'm a big supporter of local and small businesses, especially if they sell a killer product. Panther Distillery definitely checks all of those boxes! They handcraft all their spirits using only fresh , locally grown ingredients (jackpot!). Husband Tom likes their Pike Street Bourbon but their Spiked Apple Spirits is my personal favorite. It tastes like fresh crisp apples, cinnamon and a good time.
Whiskey Substitutions
Substitute Panther's Spiked Apple Whiskey (used for the pulled pork) with any other apple infused whiskey that is around 30 proof. The Pike Street Bourbon (used for the bourbon cheese sauce) can be substituted with another good quality bourbon.
Alcohol-Free Substitutions
You can substitute the Spiked Apple Spirits with apple juice or apple cider when making the pulled pork. When making the cheese sauce, simply omit the whiskey entirely for an alcohol-free version. So substitutions necessary!
Make Ahead
The pulled pork is made in the crockpot. So, you basically set it and forget. It doesn't get much simpler than that! Make the pulled pork ahead of time and keep it in the fridge. Reheat it in the slow cooker an hour or so before you are ready to eat. If you need to keep the cheese sauce warm for an extended period of time just throw it in a mini crock pot.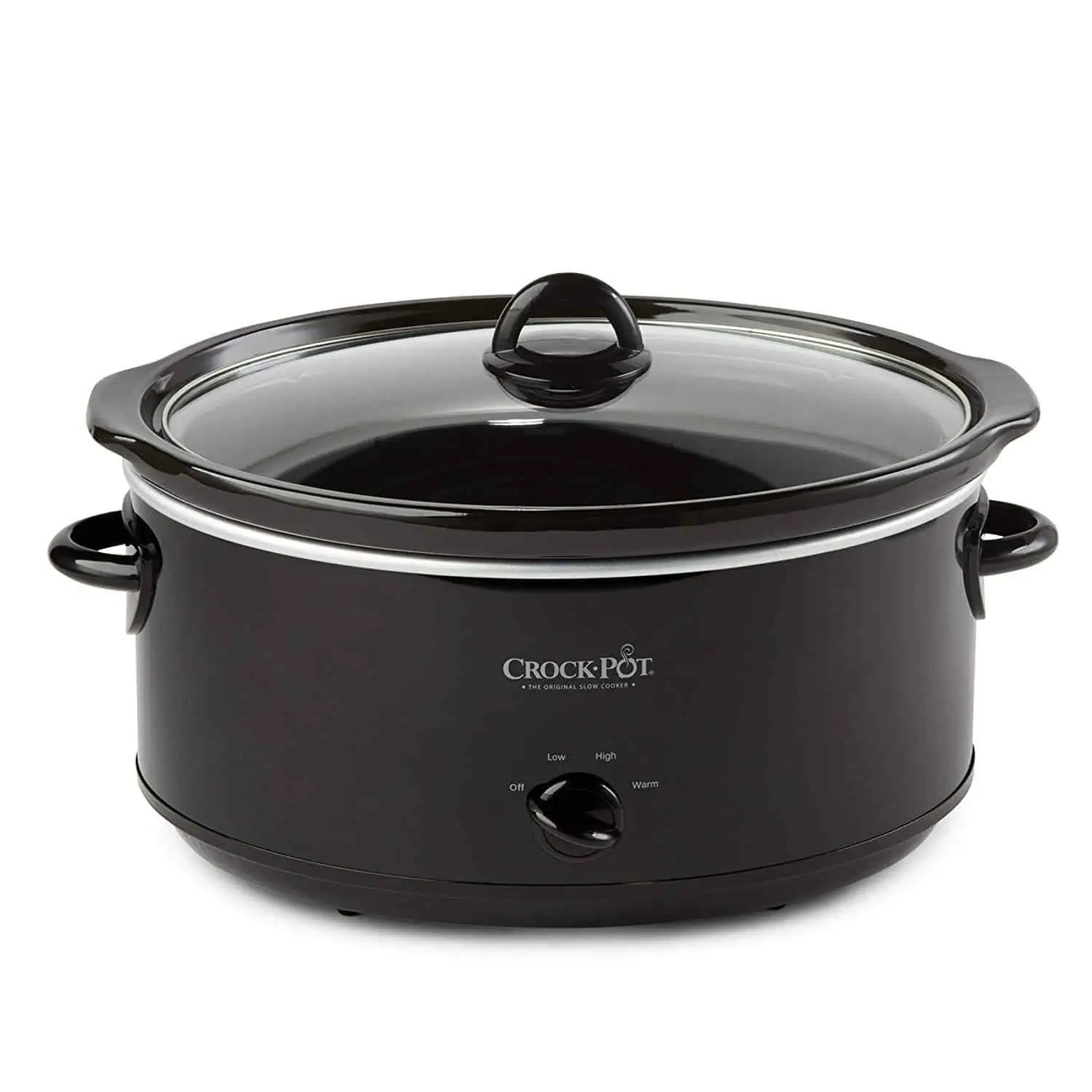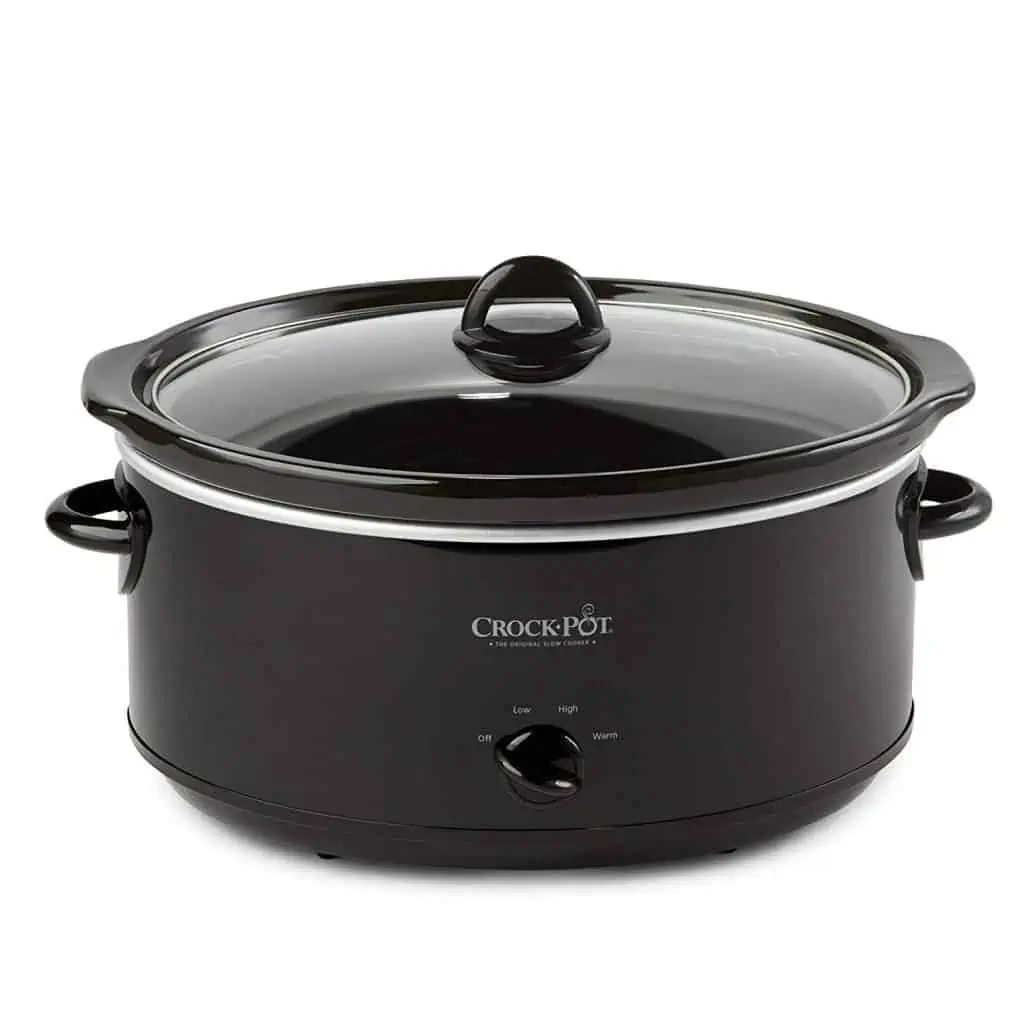 Keep It Easy
I frequently make these sliders for birthdays, bbq and other events. To make it easy, I keep the pulled pork in a crockpot and put the cheese sauce in a mini crockpot along side a tray with the buns and toppings. That way the food stays warm and people can assemble their own whiskey pulled pork sliders!
---
Other Slow Cooker Recipes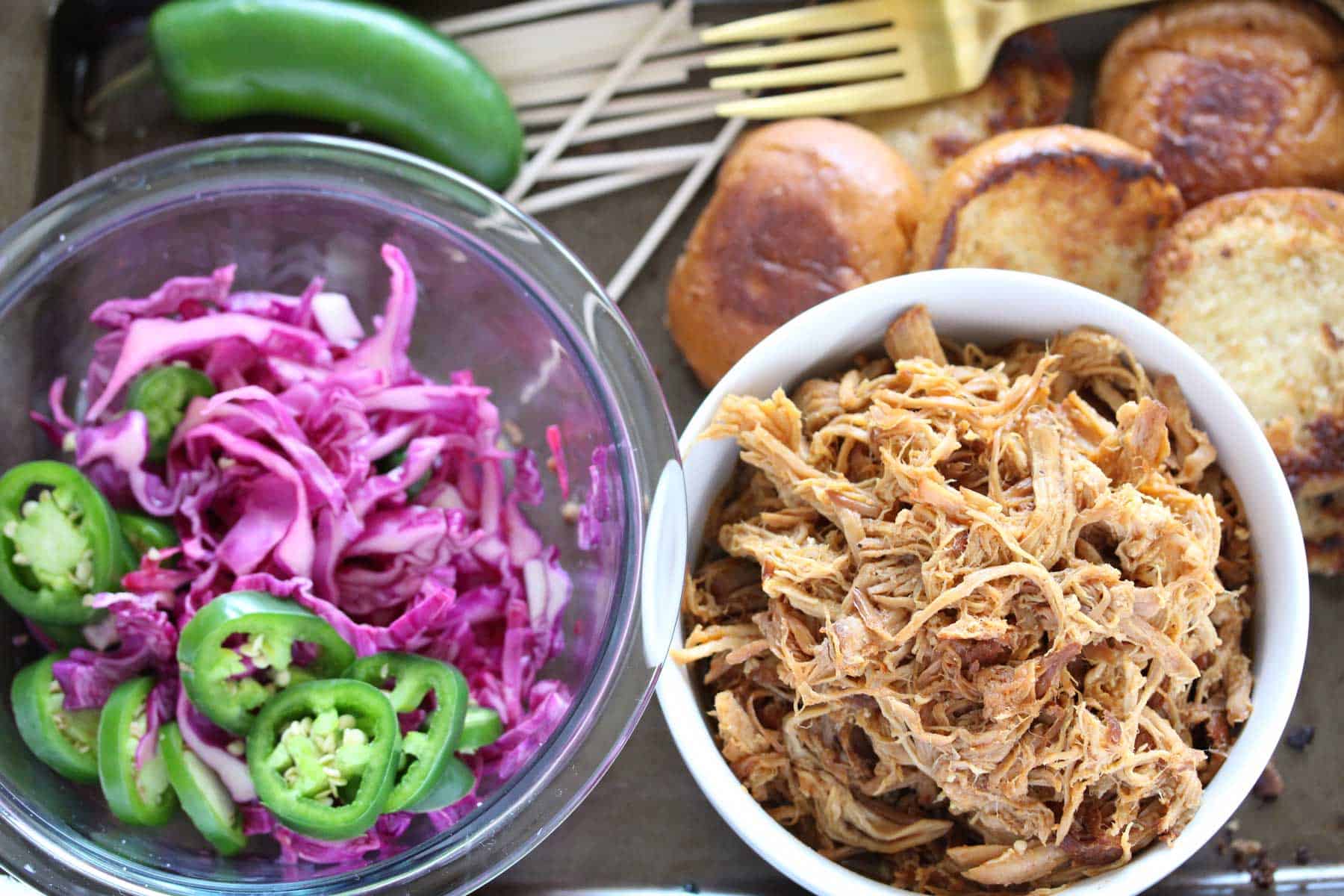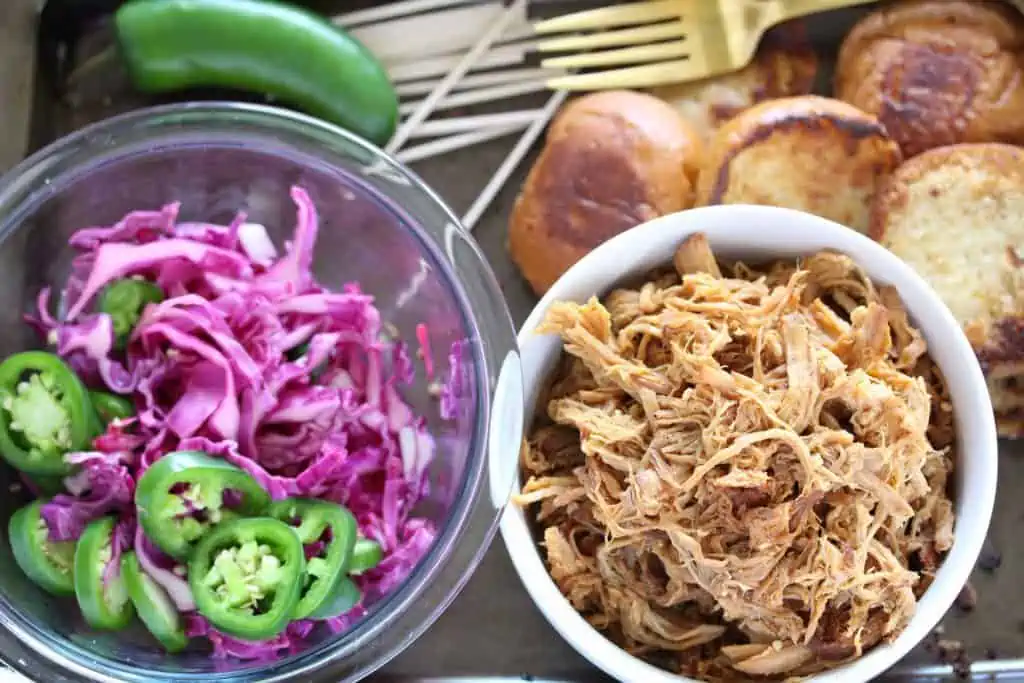 ---
Side & Drink Ideas for Parties!
---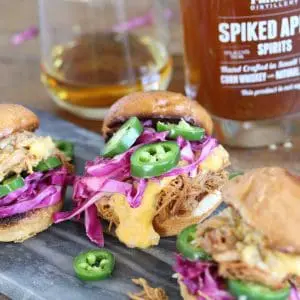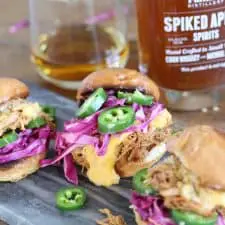 Sweet Apple Whiskey Pulled Pork Sliders with Bourbon Cheese Sauce
Pin Recipe
Print Recipe
Rate Recipe
Sweet Apple Whiskey Pulled Pork Sliders with Bourbon Cheese Sauce are topped with zesty crunchy cabbage and spicy jalapeño.
Ingredients
Slider Ingredients:
2.5-3

lb

pork roast

1/3

cup

honey

1

cup

Panther Distillery Spiked Apple Whiskey – 30 proof

, (see note 1)

1

cup

beef broth

1

Tbsp.

paprika

1-2

tsp.

salt

1

tsp.

garlic powder

1/2

tsp.

black pepper
Buns & Toppings Ingredients:
4 1/2

cups

thinly sliced red cabbage

,

1/2-2/3 head of cabbage

3

Tbsp.

lime juice

2-3

tsp.

salt

6-8

jalapeños

18

slider buns
Sauce Ingredients:
1

Tbsp.

butter

1

shallot

3

cloves

garlic

10

Tbsp.

Panther Distillery Pike Street Bourbon – 92 proof

, (see note 1)

1

cup

heavy cream

4

cups

cheddar cheese

, freshly shredded (see note 2)

1/2

tsp.

salt
Instructions
Pulled Pork Instructions:
Prep: In a small bowl combine paprika, garlic powder, salt and pepper. Rub the spice mixture all over the pork roast. Whisk together the honey, Spiked Apple Whiskey and beef broth directly in the crock pot. Then place the pork roast in the crock pot, careful not to wash off the spice rub.

Cook: Cover the crock pot and cook on low for 6-7 hours.

Shred: Remove the pork roast from the crock pot and shred with two forks. Put the shredded pork back into the crock pot and let it cook on low for an additional hour to soak up all the delicious flavors.
Toppings & Buns Instructions:
Prep: Thinly slice the red cabbage if you haven't already done so and put in a bowl. Coat the cabbage with the 3 Tbsp. of lime juice and 2-3 tsp. of salt and let marinate while preparing the rest of the meal. Slice the jalapeños and set aside. Toast slider buns if desired (in the toaster, on the grill, on the stove, or in the oven) and set aside.
Bourbon Cheese Sauce Instructions:
Prep Ingredients: Grate cheddar cheese (if not already shredded) and set aside. Mince the shallot and garlic cloves.

Cook and Reduce: Melt the butter in a deep sauce pan over medium low heat. Once the butter has melted, add the shallots and cook for 2 minutes while stirring. Then add the garlic and cook for an additional 1-2 minutes while stirring. Add 1/2 cup of bourbon to the pan. There should be an instant sizzle and steam rising from the pan. Increase the heat to medium. Then let the mixture reduce for 3-5 minutes (keep stirring!). This means the volume of the liquid will decrease. This mixture should be bubbling.

Add Cream and Cheese: Once the mixture has reduced, add the heavy cream to the pan while constantly whisking the mixture. Bring the mixture to a boil. Then reduce the heat to medium/low and start adding the shredded cheddar cheese 1 cup at a time, stirring the mixture until the cheese is melted.

Add Whiskey Topper: Once all the cheese has been added and melted, stir 2 Tbsp. of bourbon into the cheese sauce and serve immediately.
Bring It All Together:
Assemble and Feast: Put the pulled pork on the slider bun and spoon a little of the slow cooker sauce over the pork. Add a spoonful or two of the bourbon cheese sauce over the pulled pork. Then top with the lime cabbage and jalapeño slices. Enjoy my friends!
Notes
Note 1 – Whiskey Su: Another good quality apple infused whiskey (30 proof) can be substituted for Panther's Spiked Apple Whiskey. Another quality bourbon can be substituted for Pike Street Bourbon. Note 2 – Important: If possible, buy a brick of cheese and shred it yourself with a cheese grater or cut it into very small pieces. Pre-shredded cheese from the store has a coating that prevents the cheese from sticking together that causes the cheese sauce to thicken up much faster than freshly grated cheese. If you are using pre-shredded cheese, either use 1/2 the cheese or add more cream to help thin it out.
Nutrition
Serving:
1
slider
|
Calories:
404
kcal
|
Carbohydrates:
25
g
|
Protein:
24
g
|
Fat:
18
g
|
Cholesterol:
86
mg
|
Sodium:
626
mg
|
Fiber:
2
g
|
Sugar:
9
g
Have you tried this recipe?
Let me know what you think! Rate this recipe and leave a comment below.