Chocolate Hazelnut Strawberry Smoothie
This Chocolate Hazelnut Strawberry Smoothie is perfect for busy mornings because it only requires three ingredients and three minutes to make!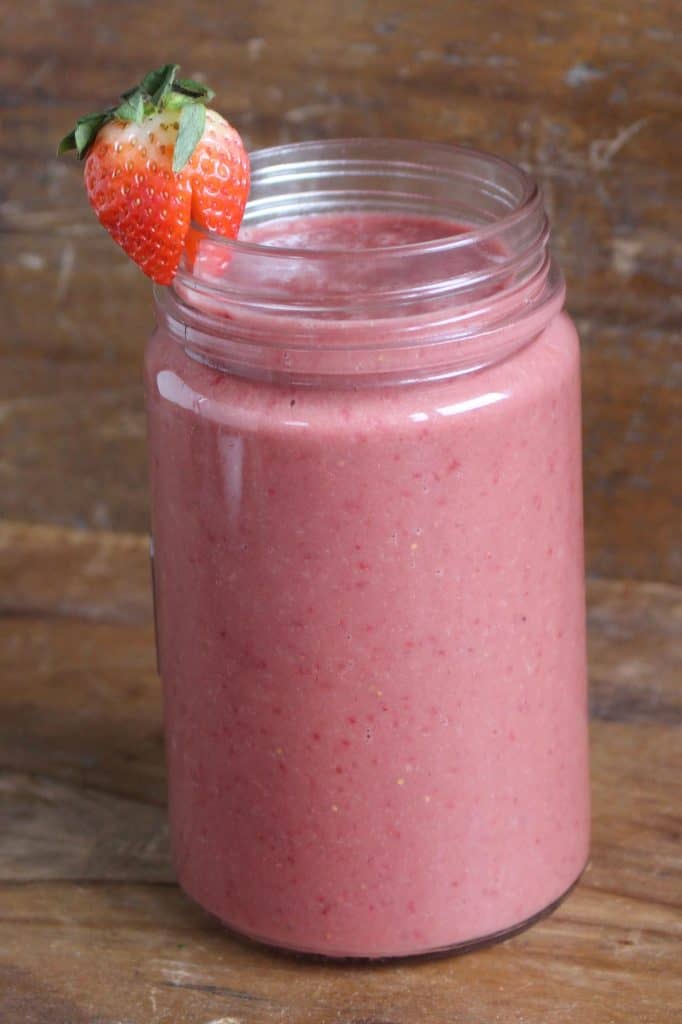 ---
Which one are you?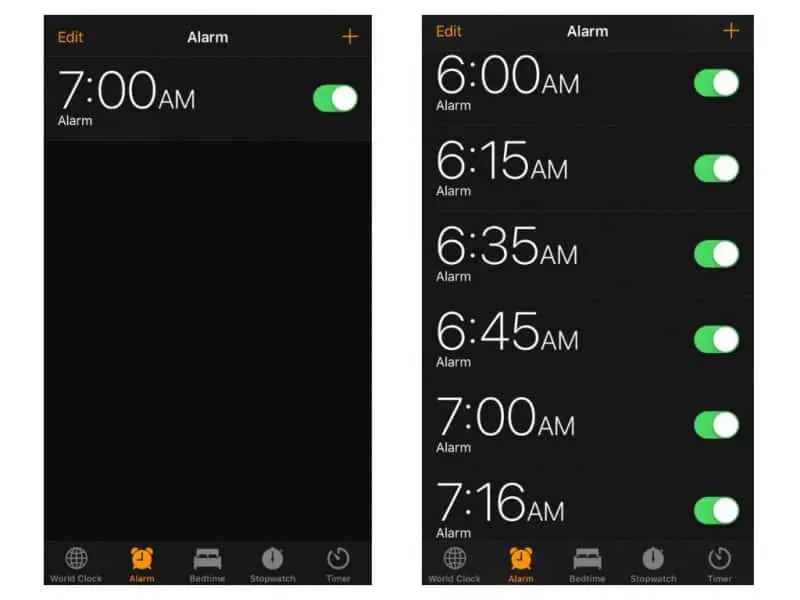 Are you an A or a B? I'm 100% B. I envy those who naturally wake up at the crack of dawn ready to take on the day. I fantasize about having a calm and quiet morning where I can actually sit down to enjoy my breakfast. Instead I'm usually awoken by my sixth alarm (because I slept through the first five) with sheer panic pulsing through my veins because I'm at risk of being late to work. This is followed by me sprinting (literally) throughout the house to quickly let the dogs out, slap on a little makeup, get dressed and grab something to eat… because food.
Needless to say, I need something fast in the mornings…really fast. Like 'put something in my hand as I run out the front door with one shoe on' fast. I chuckle when I see Quick Breakfast Ideas or 5 Minute Breakfasts because they are never as quick as I need them to be! Then I always get the 'just wake up 15 minutes earlier' speech from people who clearly don't understand that their proposed strategy just does not work. Does anyone else share my struggle?
The Solution
Anyway, here is where my smoothies come into the picture as the perfect solution to my morning breakfast needs! There are a few reasons why this smoothie is different and quicker than others.
It requires three ingredients. Yes, only three and they are EASY ingredients.
This smoothie does not separate. I had some leftover in the fridge all day until my husband found it and obviously downed it in like 2 seconds.
You can dump all the ingredients into a blender or blender cup (like I use) the night before. So, when the morning rush is in full force, all you have to do it pull it out of the fridge blend it for 15 seconds and breakfast is served. Now that is a fast breakfast.
Blending Tools
Any blending tool will work for this recipe whether it is a bullet blender, immersion blender or regular blender. I personally, like to use a bullet/personal blender because I can blend the smoothie and drink it from the same container. Faster and less dishes! My second choice would be to use an immersion blender simple because it is little and takes two seconds to clean. My last choice is a large blender because it is bulky and a pain to clean. They all work though and is entirely personal preference!
Consistency of Chocolate Hazelnut Strawberry Smoothie
This particular recipe is somewhere between a juice and a super thick smoothie you might get from Starbucks or Jamba Juice. You could add ice to it to thicken it up if you want but I actually prefer it to be a little thinner because 1) I don't have to burst a blood vessel trying to suck it through the straw, 2) the flavor doesn't get diluted and 3) ice can be really hard on your blender… and I LOVE my blender. So, I like to be kind to it. 🙂
---
Other Sweet & Easy Breakfast Recipes
---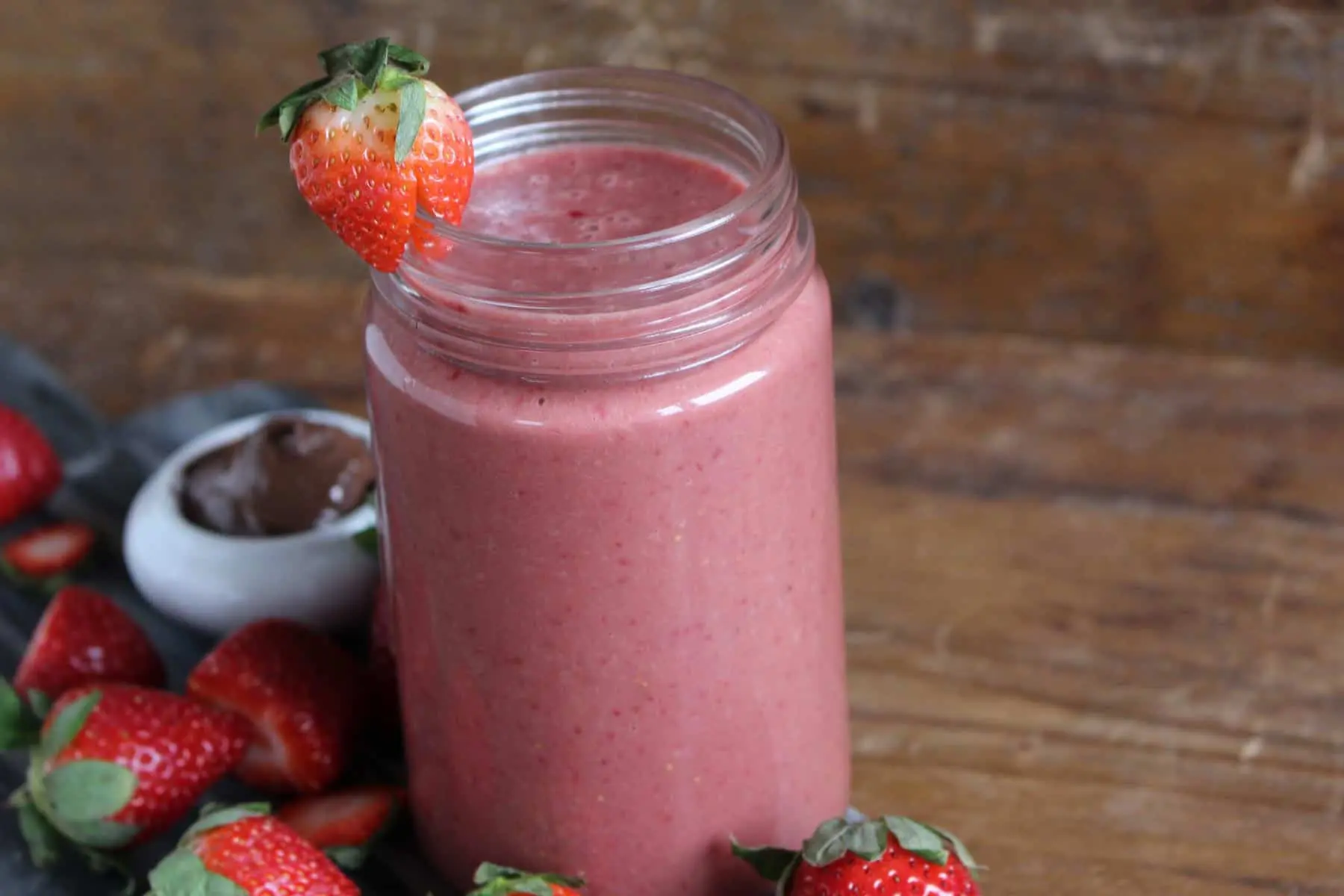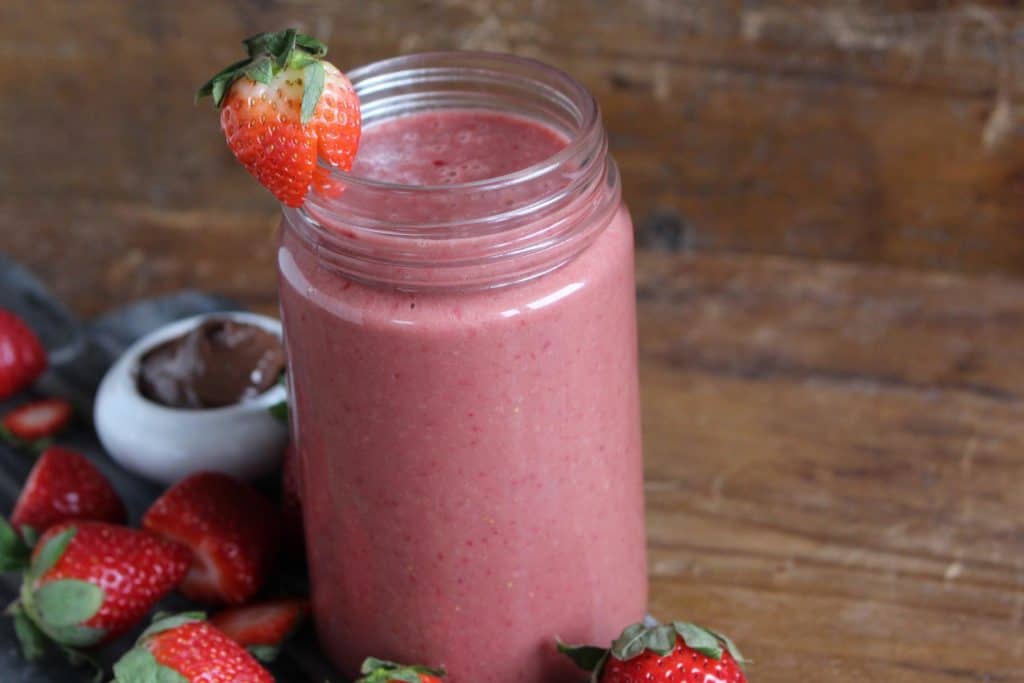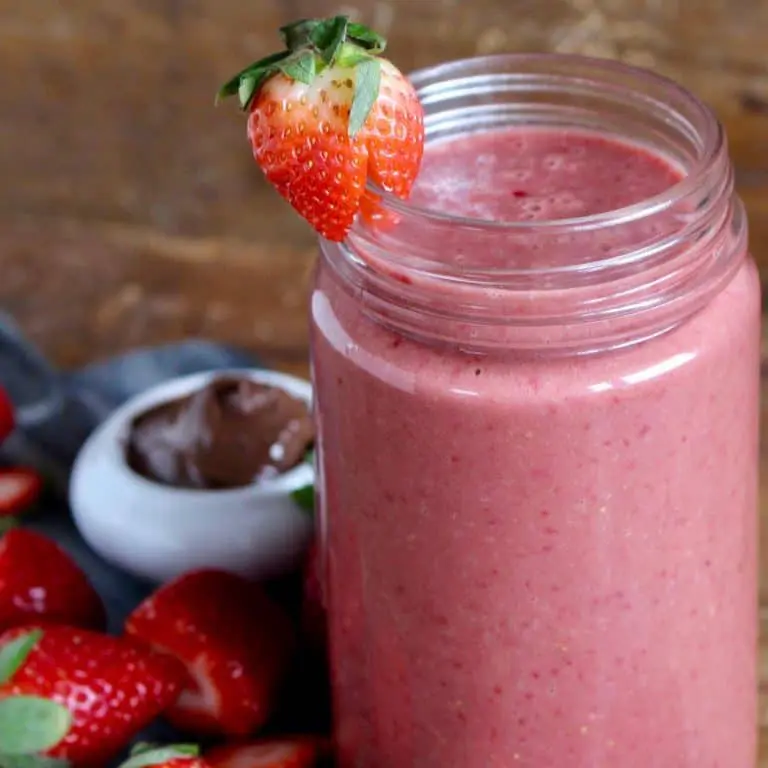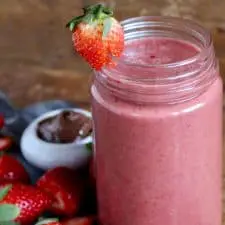 Chocolate Hazelnut Strawberry Smoothie
Pin Recipe
Print Recipe
Rate Recipe
This Chocolate Hazelnut Strawberry Smoothie is perfect for busy mornings because it only requires three ingredients and three minutes to make!
Ingredients
10

strawberries

2

Tbsp

Nutella/hazelnut spread

1/4

cup

almond milk
Instructions
Cut the stems off of the strawberries.

Put all ingredients into a blender and blend until smooth.
Notes
Serve immediately or refrigerate to enjoy later!
Nutrition
Serving:
1
smoothie
|
Calories:
247
kcal
|
Carbohydrates:
32
g
|
Protein:
3
g
|
Fat:
12
g
|
Sodium:
98
mg
|
Fiber:
4
g
|
Sugar:
26
g
Have you tried this recipe?
Let me know what you think! Rate this recipe and leave a comment below.