Beef Satay and Grilled Vegetables with Peanut Sauce
Fire up those grills for some delicious eats because it's summa time! These drool worthy beef satay skewers and grilled veggies are perfect for parties, BBQs, or an easy weeknight meal. Oh and that peanut sauce is to die for!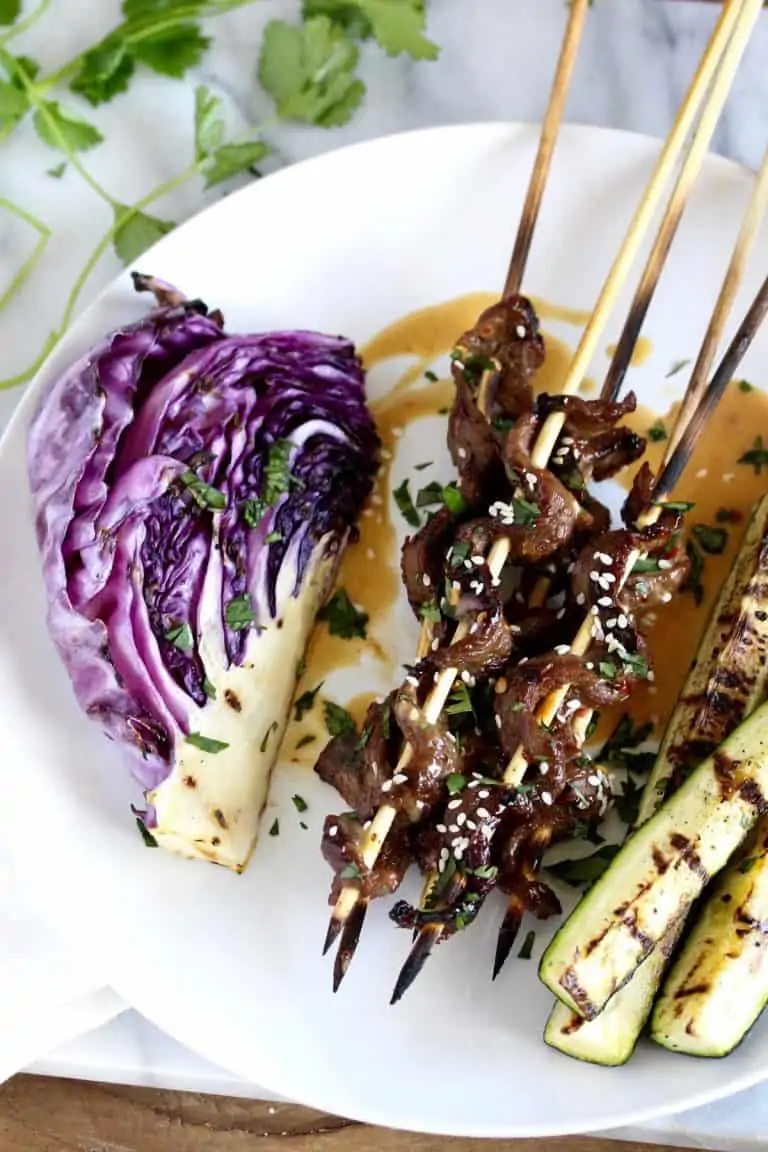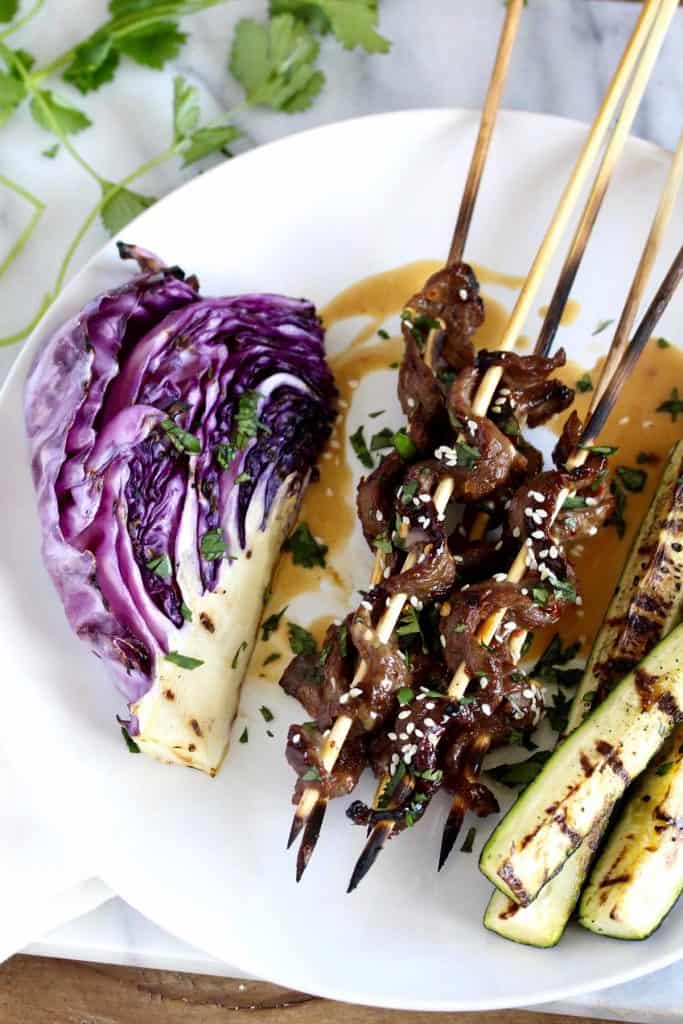 ---
Father's Day
The sun has decided to show its bright warm face and the temps have been in the upper 80s this week! That means grilling season is here (not that freezing weather ever stopped a Minnesotan from grilling)!
This past year my dad helped Tom and I renovated our entire house top to bottom. We tore down walls, ripped up floors and replaced pretty much every surface. For months my dad was at our house working with us every day after work and every weekend. We call him "the machine" because his work ethic is one like I've never seen before in my life.
Anyway, the beautiful house Tom and I now call home was only possible because of the guidance, time and skill my dad put into. So, I thought it was only appropriate to host Father's Day this year in our newly renovated home!
---
Other Father's Day Recipes
Pineapple Jalapeño Shrimp Skewers are a good grill-able option if you're looking to do a cookout and enjoy some sunshine. If you really want to pull out the stops, my Whisky Pulled Pork Sliders with Bourbon Cheese Sauce is one of my most popular recipes of all time and just seems like a perfect Father's Day recipe!
---
Beef Satay Recipe – Behind the Scenes
If you've ever wondered what behind the scenes looks like… it's my husband, hot Tom, and pups doing obnoxious things like this and waiting for me to be done shooting so they can get their hands/paws on some tasty eats!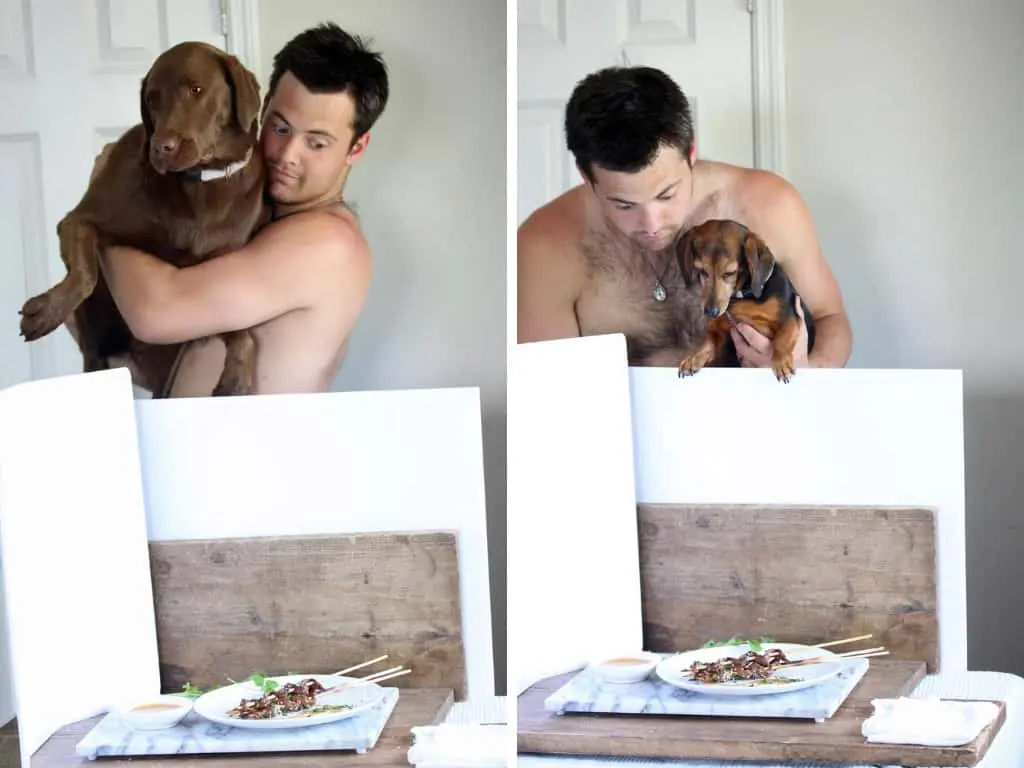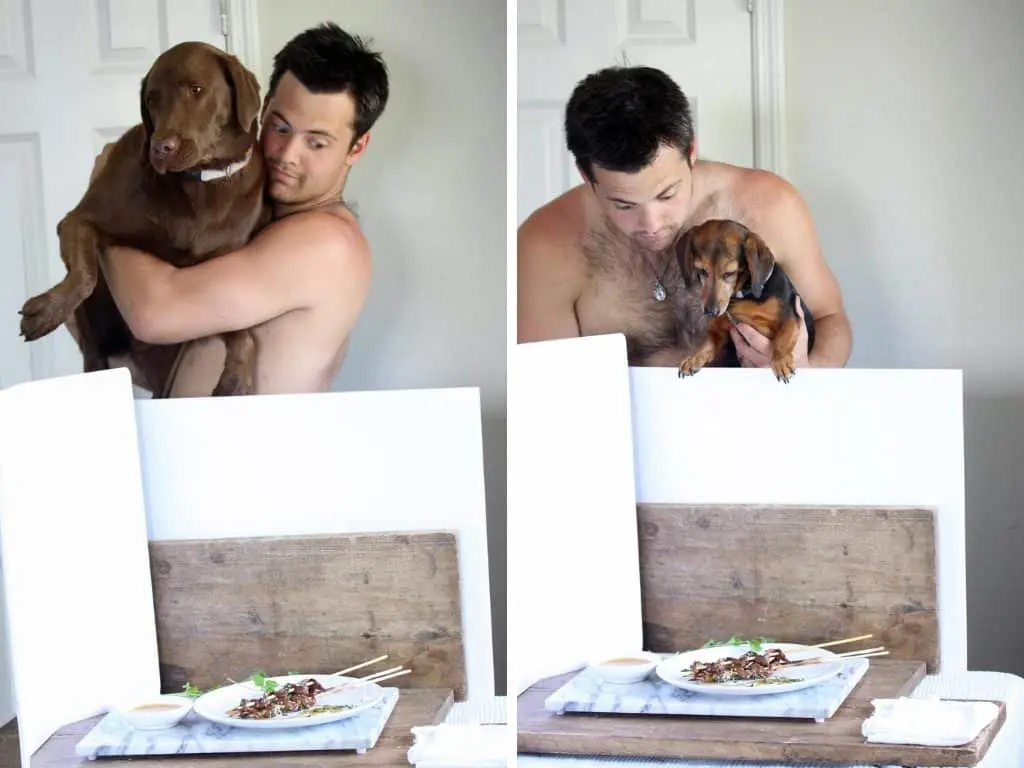 ---
Spend Time With Loved Ones, Not in the Kitchen
Our family originally started with six and has grown to 11 with significant others and the first grandchild (my angel of a nephew), Jack. Needless to say, it can be a challenge to round up the entire family with busy schedules. So when we are able to spend time together we make it count!
Grillable Meal: The last thing I want to do is be running around the kitchen trying to put together a nice family meal and wasting time that should be spend with my family. The solution? A grill-able meal that can be prepped ahead of time. Enter beef satay, grilled vegetables and peanut sauce!
Make Everything Ahead: The goal is to have the entire meal prepped and ready to go so all you have to do when the fam arrives is throw everything on the grill. Oh and clean up is an absolute breeze!
Something Tasty, Different & Special: Another reason I picked this recipe is because it is so tasty. I wanted to give my dad a meal that was a little different than traditional grilled steaks or burgers just to make it special. This meal does the trick! I could eat 20 of the beef skewers and drink the peanut sauce it's so good.
---
My Game Plan
Night Before

Prep flank steak and marinade (15 minutes)
Make peanut sauce (5 minutes)

1-2 Hours Before the Fam Arrives

Soak skewers in water
Prep veggies ( 5 minutes)
Put flank steak on skewers (10 minutes)

After Fam Arrives
---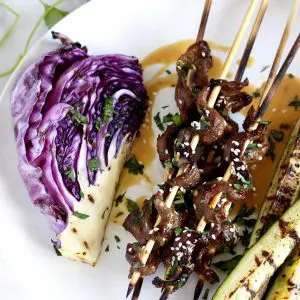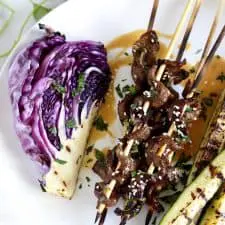 Beef Satay and Grilled Vegetables with Peanut Sauce
Pin Recipe
Print Recipe
Rate Recipe
This recipe is a great meal with flavor packed beef satay skewers, smoky veggies and creamy peanut sauce.
Ingredients
Beef Satay & Grilled Veggies Ingredients:
1

lb.

flank steak

1

head red cabbage

2-3

zucchini

1/3

cup

brown sugar

1/3

cup

soy sauce

3

Tbsp.

rice vinegar

1.5

Tbsp.

sesame oil

3/4

tsp.

ground ginger

1.5

tsp.

red pepper flakes

, or to taste

olive oil

sesame seeds

, optional

fresh cilantro

, optional
Peanut Sauce Ingredients:
1/2

cup

peanut butter

1/4

cup

soy sauce

2

Tbsp

rice vinegar

1

Tbsp

sesame oil

2

Tbsp

honey

1

tsp

red pepper flakes

1

tsp

ground ginger

1/3

cup

water
Instructions
Cut Meat: Cut the flank steak into ¼" thick strips against the grain. OPTIONAL STEP: To tenderize the meat a little more, gently pound out the strips with a meat mallet or the back of a small pan. Put the strips in a large zip lock baggie.

Marinade: In a small bowl, whisk together the brown sugar, soy sauce, rice vinegar, sesame oil, ginger and red pepper flakes. Pour the mixture into the zip lock baggie with the flank steak strips. Make sure all the strips get coated with the marinade and put the sealed baggie in the fridge to marinate for 1-24 hours (overnight is ideal!).

Make Peanut Sauce: Put all peanut sauce ingredients in a small/medium bowl. Whisk until well combined and the sauce is smooth. Serve immediately or store in a sealed container in the fridge until needed (see note 1).

Soak Skewers: If you are using wood skewers, soak them in water for at least 30 minutes to keep them from burning on the grill.

Prep Veggies: Cut the head of cabbage into wedges (at least 8). Cut the zucchini length wise into quarters. Season the veggies with a couple pinches of salt and coat with olive oil.

Prep Skewers: After the meat is done marinating, place the steak strips on the skewers in a repeating "S" shape. See note 2 and note 3.

Grill: Heat up the grill to 550 degrees. Grill the zucchini for 3-4 minutes on each side (7-8 minutes total). Grill the cabbage for 3 minutes on each side (6 minutes total). Grill the skewers for 2 minutes of each side (4-5 minutes total). Garnish the beef satay skewers with sesame seeds and fresh cilantro if desired. Enjoy!
Notes
Note 1 – Thickening Peanut Sauce: 
The sauce will thicken in the fridge due to the cool temperature. Simply pop it in the microwave for 15-20 seconds at a time (stirring in between) until the sauce becomes the desired consistency.
Note 2 – Skewers: You will need 20-25 skewers. Metal and wood skewers both work. 
Note 3 – 
Soak Skewers:
If you are using wood skewers, soak them in water for at least 30 minutes to keep them from burning on the grill.
Nutrition
Serving:
4
skewers
|
Calories:
444
kcal
|
Carbohydrates:
37
g
|
Protein:
27
g
|
Fat:
23
g
|
Cholesterol:
45
mg
|
Sodium:
1472
mg
|
Fiber:
6
g
|
Sugar:
27
g
Have you tried this recipe?
Let me know what you think! Rate this recipe and leave a comment below.