Ceviche is fresh, satisfying AND HEALTHY! It is zesty and the fish is perfectly tender. The avocado adds a bit of rich creaminess that really puts it over the top.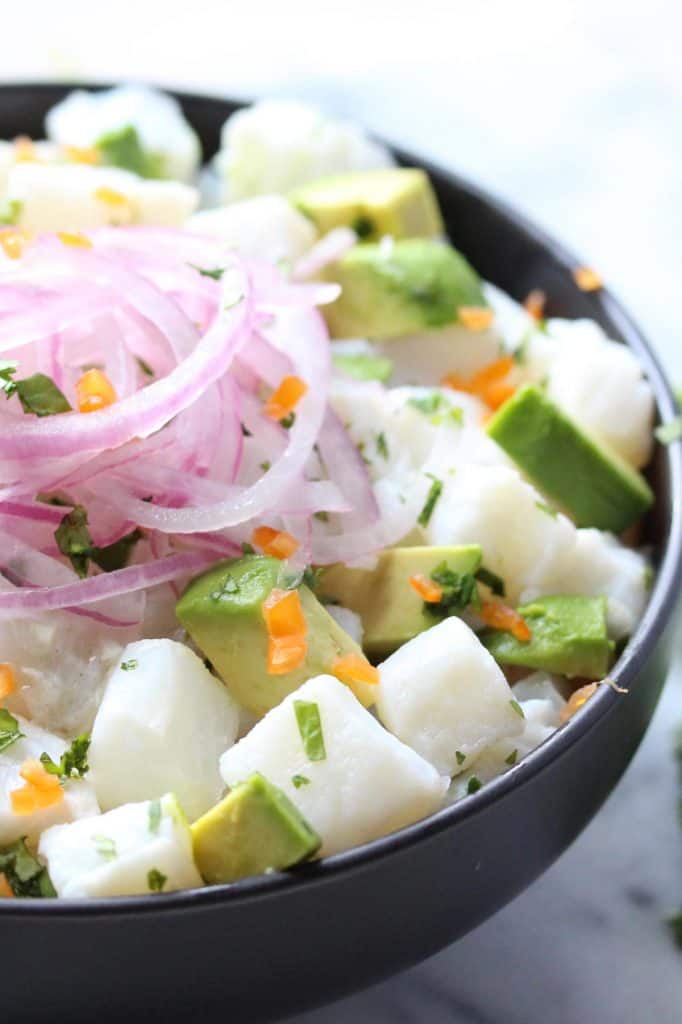 ---
Inspiration for Fresh Ceviche Recipe
They brought me a live fish in a plastic grocery bag. It was the best fish I've ever eaten.
The plate of ceviche below is the best ceviche I have ever had in my life and is what inspired me to make my own. It was 2012 and I was studying in Peru. I had just met with a bunch of Peruvian med students and toured a local hospital as part of my studies. Afterwards a couple of the local students suggested we go to this local restaurant and get their ceviche.
We sat down for lunch, ordered a couple beers and ceviche. A few minutes later the waiter walked over to me with a plastic grocery bag full of water. I peaked inside the bag and sure enough there was a live fish swimming about. The waiter asked me if the fish was ok. I was a little unsure of what was going on. So, I just smiled and nodded enthusiastically.
Less than 15 minutes later that fish was served to me on a plate. It doesn't get any fresher than that. Every single bite of that ceviche was so fresh and tender, it practically melted in my mouth. The ceviche was served with sweet potato and corn which is a Peruvian tradition.
The meal was OUTSTANDING, the beer was cold and I l talked and laughed for hours with a bunch of other students from around the world whom I'd just met. What I wouldn't do to go back and relive that meal over and over again!
This is a perfect example of how food can bring people together and add a little magic to life.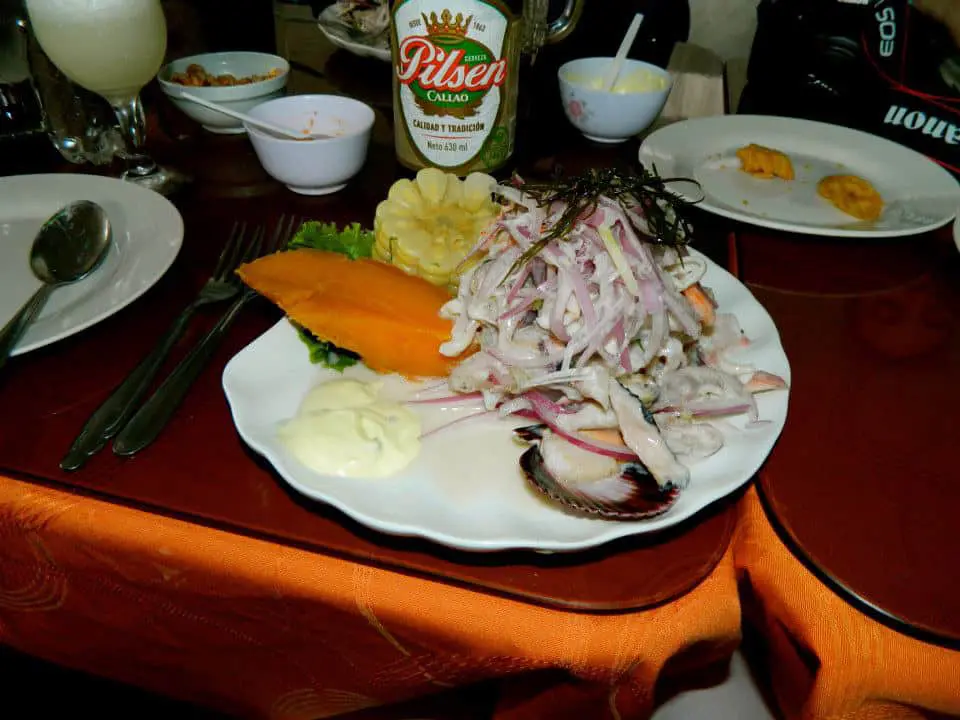 ---
What is ceviche?
Ceviche is basically raw seafood that is "cooked" in lime or lemon juice (sometimes orange juice). The acid from the juice actually cooks the seafood without heat and does so surprisingly fast! Don't let this recipe intimidate you! It is truly VERY easy.
What kind of fish to use?
Because heat is not used in the cooking process, it is very important to use high quality fresh fish. I generally get it from the seafood counter at my local grocery store. Generally, the people working there are very knowledgable and can answer any questions. This recipe calls for white fish (halibut, cod, seabags, etc.). Make sure the fish is already skinned and deboned (unless you know how and want to do you it yourself).
Why soak the red onion in water?
The red onion is sliced very thinly and soaked in cold water to reduce the harshness of the onion without removing the flavor. I am personally very sensitive to red onion and rarely use it but the way it is used in this recipe is absolutely delicious and does not overpower the recipe at all.
Ceviche can be an appetizer or entree.
Ceviche is very light. So, if you want to beef it up a little bit to make it an entree you could serve it Peruvian style with a side of corn and sweet potato. You can add a side of rice. You could also add more fresh veggies like bell peppers and serve it with tortilla chips. Personally, I like to eat it as is because it is so darn delicious on its own!
---
Other Recipes to Try
---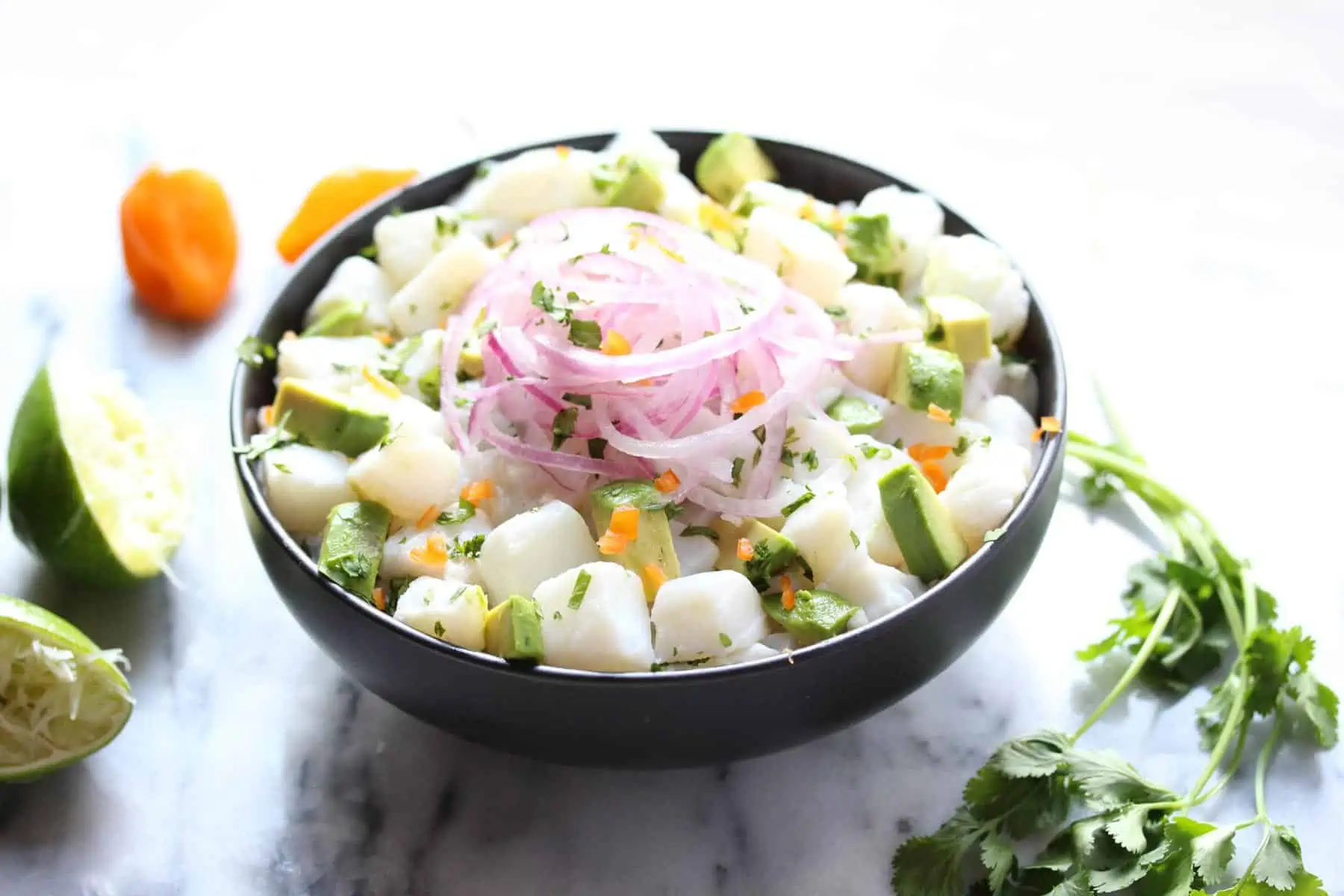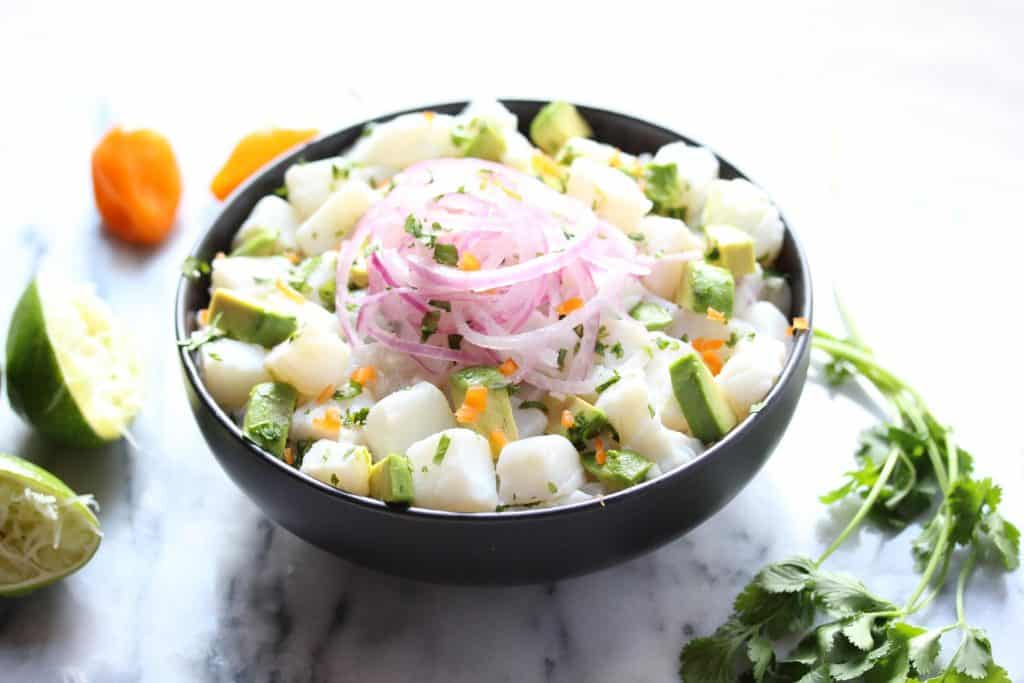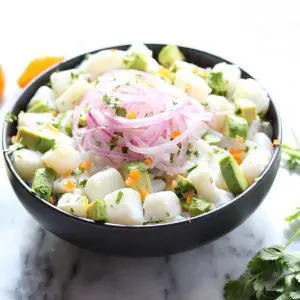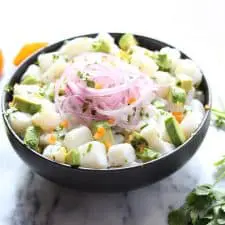 Fresh Ceviche
Pin Recipe
Print Recipe
Rate Recipe
Fresh ceviche is easy to make and full of tangy flavor complete with creamy avocado.
Ingredients
1/2

red onion

1.5

lbs

fresh white fish (cod, seabass, halibut)

, (see note 2)

1

cup

fresh lime juice

,

(abour 7-9 limes)

3

cloves

of garlic

2

habenero peppers

1/3

cup

fresh cilantro

, lightly packed

1

avocado

1

teaspoon

salt
Instructions
Prep Onion: Slice the red onion as thin as possible. Then soak the sliced red onion in a bowl of cold water while you prepare the rest of the recipe. This reduces the harshness of the red onion without removing the flavor.

Slice, Dice and Squeeze: Cut the fish into cubes and put in a large bowl. Sprinkle the salt over the cubed fish. Mince garlic and habenero peppers and add to the bowl. Gently stir the fish, garlic and peppers to combine. Squeeze juice out of lime if haven't done so already. Strain the lime juice (optional) to remove any pulp. Add the lime juice to the bowl. Make sure as much of the fish is covered by the lime juice. Strain the sliced onions and add them to the bowl.

"Cook" Fish: Cover the bowl of cubed fish and place in the fridge for 15 minutes. Then gently stir the cubed fish mixture and return to the fridge for an additional 10-15 minutes.

Prep Toppings: About 10-15 minutes before serving, cut the avocado into cubes and roughly chop the fresh cilantro.

Assemble and Serve: Once the ceviche is done "cooking" remove it from the fridge. Add the avocado and fresh cilantro to the bowl and gently stir to combine all ingredients. Serve immediately! Eat the ceviche as is or serve with tortilla chips for a little crunch!
Notes
Note 1: This recipe serves 6-8 as an appetizer. Note 2: Make sure you get fish that is already skinned and deboned. Filets work very well.
Nutrition
Serving:
1
cup
|
Calories:
164
kcal
|
Carbohydrates:
8
g
|
Protein:
21
g
|
Fat:
6
g
|
Cholesterol:
49
mg
|
Sodium:
453
mg
|
Fiber:
3
g
|
Sugar:
2
g
Have you tried this recipe?
Let me know what you think! Rate this recipe and leave a comment below.