Holiday Traditions and Party Ideas
Below are some of the holiday traditions and party ideas I do with my family and friends. Hopefully they'll inspire you to come up with your own! Or just start using one of the ideas in this list at your own gatherings!
---
1. Talk About the Person Next to You
My little sister, Taylor, came up with this one a few years back. When everyone sits down to dinner, flip a coin. Heads means you have to talk about the person to your right. Tails means you have to talk about the person to your left.
Then you go around the table and each person says something nice about the person next to them and why they're thankful for them. It may sound simple and potentially boring but it is not! The first time we did this it was epic. There was laughter. There were tears. There was hugging. It was awesome. So simple yet so special!
This activity usually works best if it is a surprise. So, people don't get flustered or plan ahead. The things people come up with on the spot are incredible!
---
This is one of my favorite traditions! My grandmother-in-law, Mickey, is from Japan. So, yes, Hot Tom is 25% Japanese which is where he gets his beautiful dark eyes and gorgeous locks (seriously he has the best hair).
Anyway, our Thanksgiving appetizers include homemade sushi, the best teriyaki wings I've ever had and… CREAM CHEESE WONTONS! Grandma Mickey is always recruiting people to help fold wontons. It is so much fun and easier than you probably think! I have a whole post on How to Make Cream Cheese Wontons.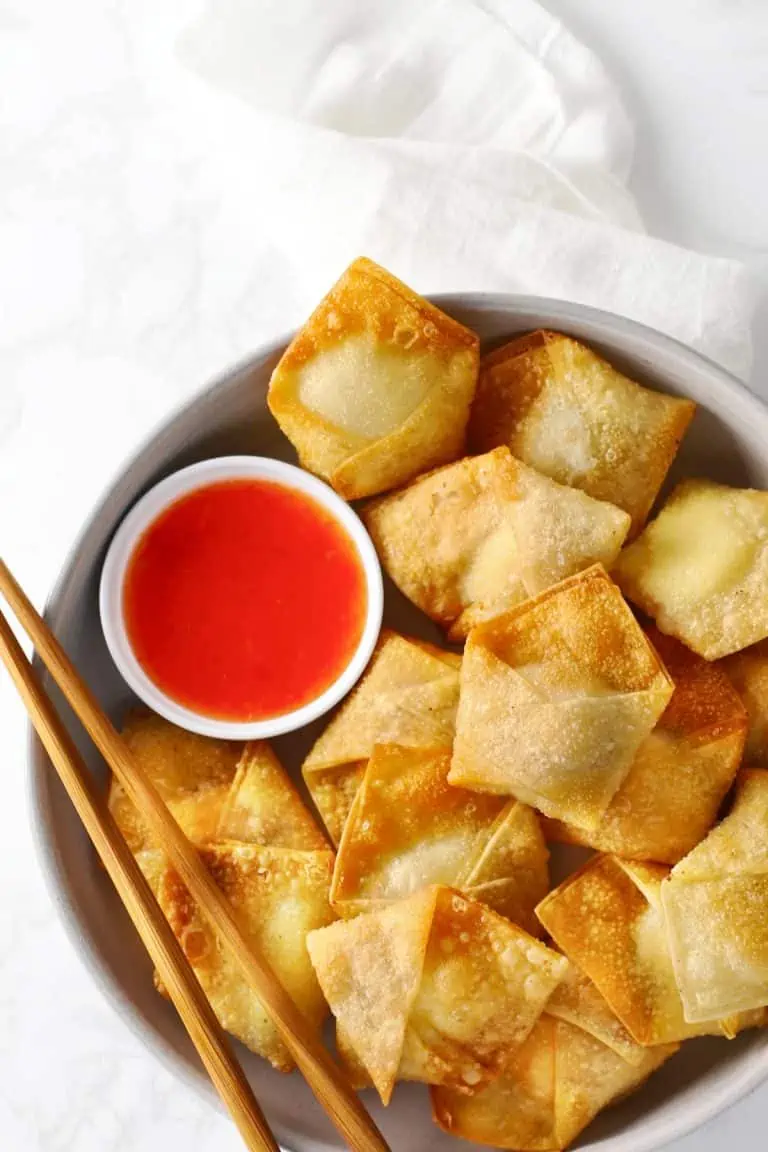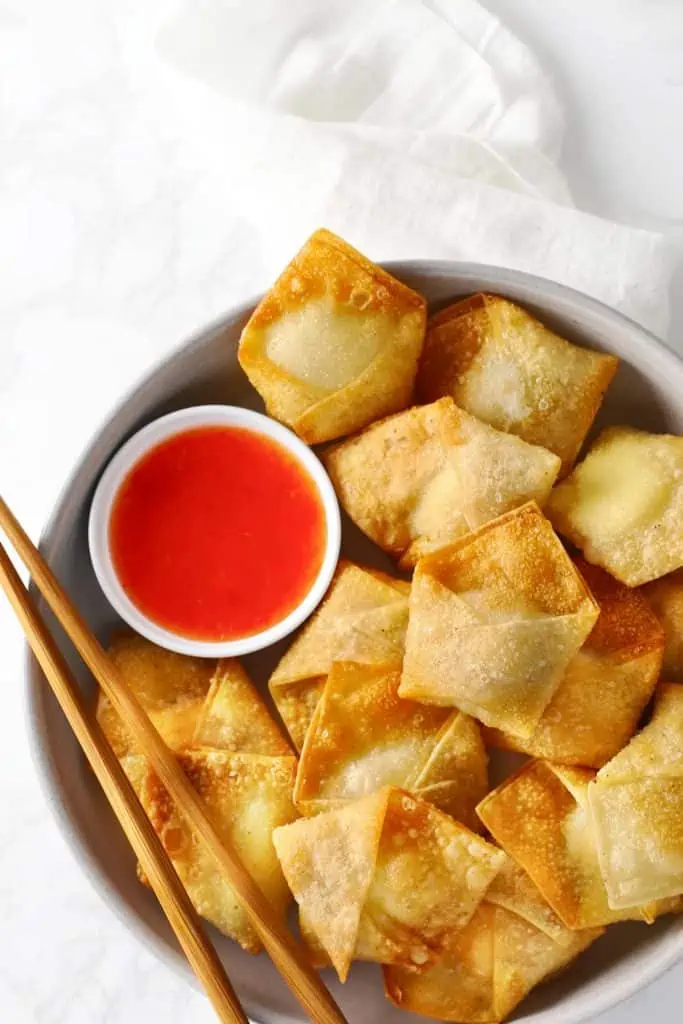 ---
3. Play Charades
Charades has been a longstanding tradition with this group of friends. We play it at pretty much every event. Friendsgiving is no exception!
You split into two teams. We always play boys versus girls. It is a never-ending rivalry. You can get an actual charades board game or just make up your own like we do. I HIGHLY recommend it because it is so funny.
The first time we ever played charades was over 10 years ago at my friend Jon's cabin. We were playing around the campfire and my friend, Josh, had to act out Get Your Eagle On (it's from an old Nelly song). Little did we know at the time it would become a cornerstone to our charades tradition because every single time we play someone writes down Get Your Eagle On. It is the best thing ever.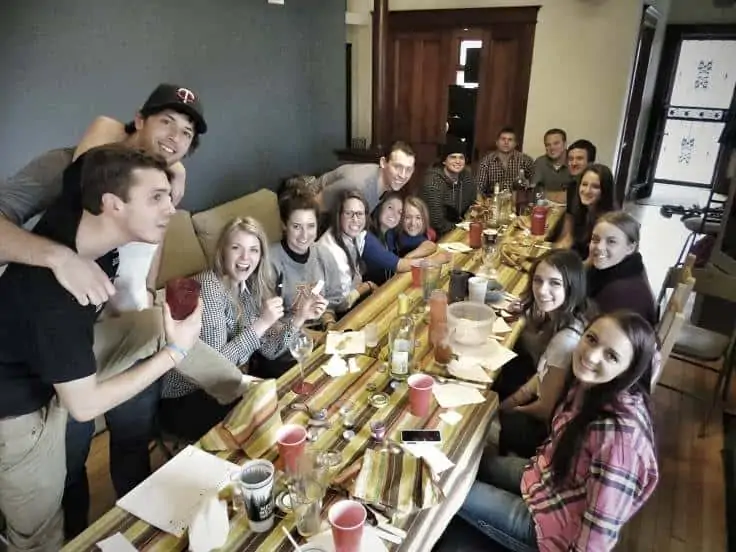 How to Play: Have everyone write down things for the other team to act out on small pieces of paper. Each team then puts all their pieces of paper into a hat or bowl and gives it to the other team to pick from and vice versa. Then it is time to play! The teams take turns picking paper out of the hat and acting it out while their team guesses. If they guess correctly within 60 seconds that team gets a point.
---
4. Play the Gambling Dice Game
At most family gatherings on my mom's side, there is usually some form of gambling involved. The Dice Game is what we play most frequently. I still remember way back in the day when all us cousins (there are a lot of us!) were just little kids. We'd constantly ask our parents for more $1 bills to play the dice game. We got into the gambling game young!
Anyway, everyone throws in $1 (or more if you want to raise the stakes). Each board has the numbers 1-12.
You rolls the dice and any combination of numbers that equals the sum of your roll can be flipped down. Repeat this process until you roll a number in which you don't have any numbers left on the board to flip down that equals to sum of that number. The total of numbers not flipped down is your final score. The person with the LOWEST score after everyone plays, wins the pot!
---
5. Setup Your Own Photo Booth
This one of the best/funniest ideas of all time. You have to give this one a go at your next party or gathering. People love taking pictures of themselves in costumes… especially after a few cocktails. As the night goes on, the pictures just keep getting better and better.
My friend Laura came up with this idea several years ago and let me tell you. She is an absolute GENIUS. Every time we do this at a party, we spend hours the next day going through the photos and laughing until we can't breathe.
What You'll Need:
iPhone
iPhone tripod attachment (or duct tape honestly)
Get a tripod, phone attachment and remote all in one for less than $25!
Not Required by High Recommended:
string (to attach to the remote so it doesn't immediately get lost!)
backdrop or decorations
unusual props
funny costumes
How-to Setup the Photo Booth:
Make sure whichever iPhone you're using is charged up. The last thing you want is for the camera/phone to run out of juice.
Attach the iPhone to the tripod and make sure the photo area is in the frame.
Connect the bluetooth remote to the iPhone.
Setup the iPhone by going into Settings > Display & Brightness > Auto-Lock > select Never. This allows people to just grab the remote and start snapping away without having to unlock the phone repeatedly.
Say cheese!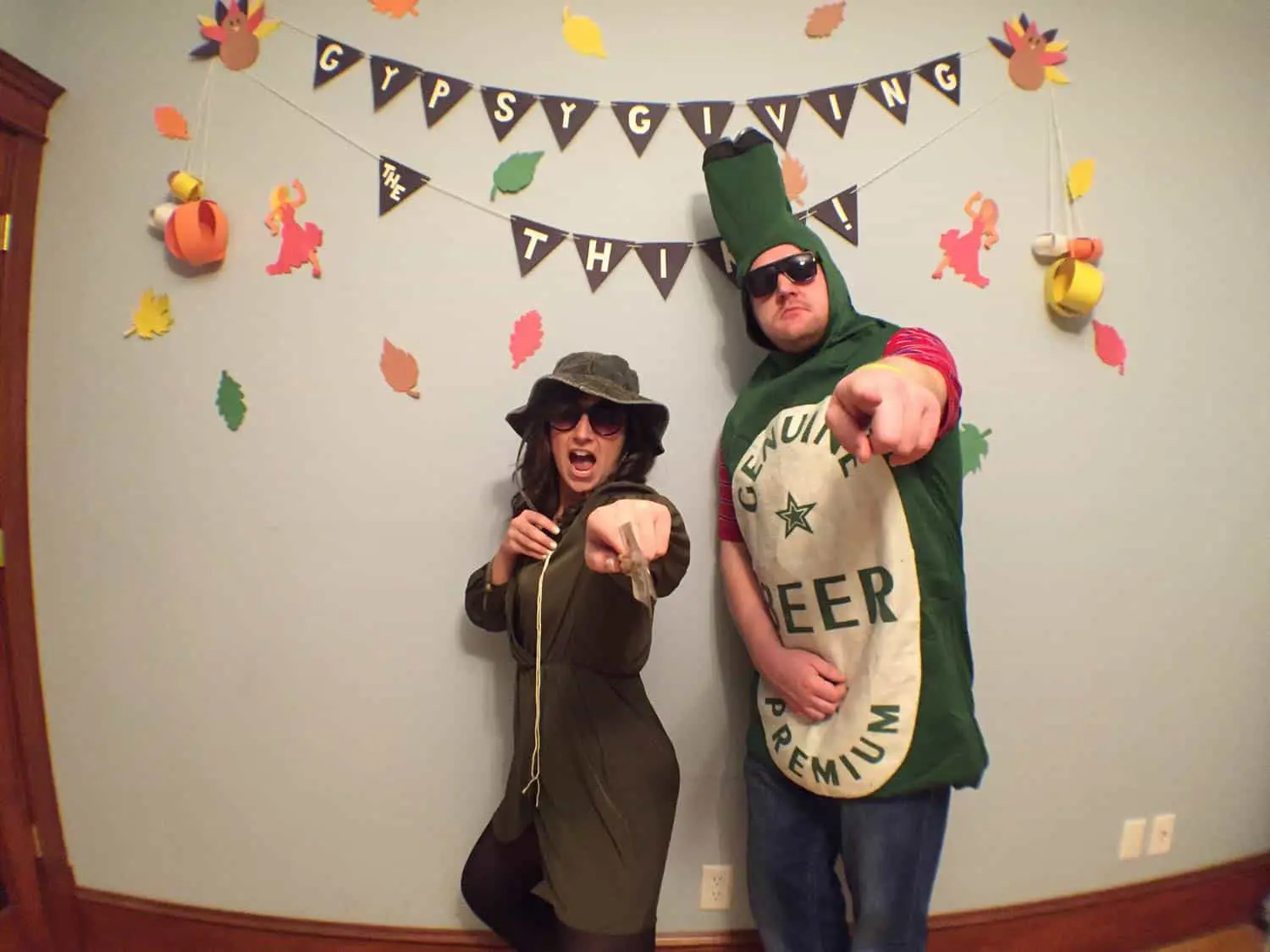 ---
6. Instead of a Cookie Exchange, Do a Snack Exchange
I'm sure most of you are familiar with cookie exchanges. It is basically where everyone brings a big batch of their favorite cookie. Then everyone exchanges cookies so you go home with a bunch of different kinds of cookies.
Don't get me wrong! I love me some cookies but going home with dozens of cookies is a lot of cookies. So, instead of everyone bringing a batch of their favorite cookie, have them bring their favorite snack to share.
Then everyone goes home with a whole bunch of new fun delicious snacks to try. It is genius! Everyone loves snacks!
---
Happy Holidays!