Raspberry Lemon Mini Cheesecakes
This raspberry lemon mini cheesecake recipe is the easiest way to make cheesecake ever. No need for a special pan or water bath and they turn out perfect every time! Most importantly they are absolutely delicious.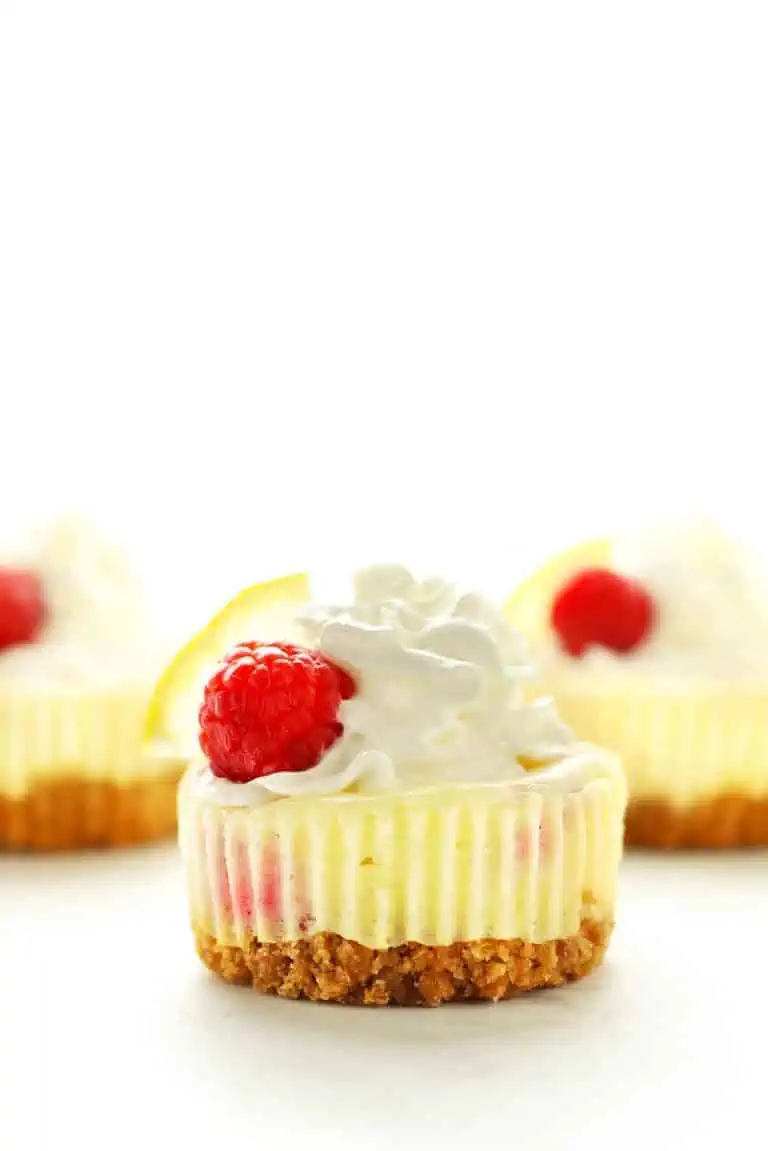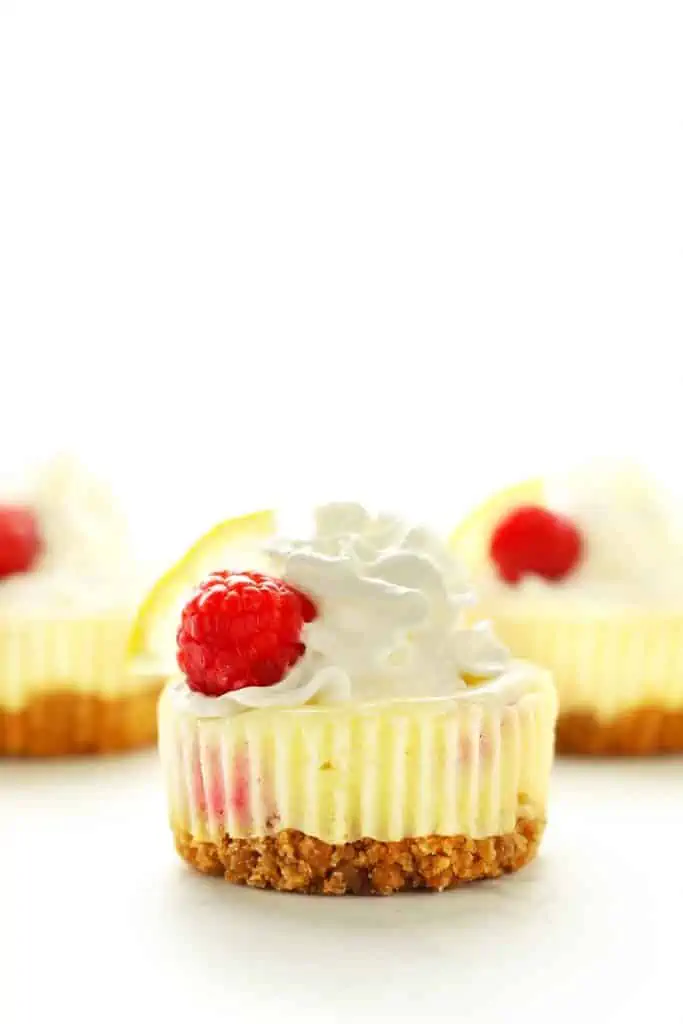 ---
Recipe Highlights
Why you should make this recipe: It is incredibly simple and turns out perfect every time. You don't need a special springform pan. Just a standard muffin tin. You can make these cute little cheesecakes ahead of time and store them in the freezer until showtime. They taste AMAZING.
What it tastes like: It tastes like the smooth creamy cheesecake we all love but with fresh little bursts of raspberries and a hint of bright lemon zest flavor. Also, the crust is AWESOME yet so easy. Hot Tom said it's the best crust he's every had on cheesecake because it tasted just a perfectly crispy cookie and not the least bit soggy.
Dedication: This recipe is dedicated to my husband, Hot Tom. Raspberry cheesecake is his favorite food. So much so that many years ago I gave him a giant raspberry cheesecake for Christmas and he ate the whole thing in a shockingly small amount of time.
---
How to Make Mini Cheesecakes
---
Recipe Q&A
Can these mini cheesecakes be made ahead of time?
Absolutely! In fact, I recommend it to make life easier. If you're making the cheesecakes the day before, keep them in a sealed container in the fridge. If making them 2+ days ahead of time, I recommend keeping the cheesecakes in the freezer in a sealed container until the night before. Then just transfer them to the fridge.
Can you freeze cheesecake?
Yes! After you've completed all steps of the recipe, put the cheesecakes in the freezer while still in the muffin tin. This ensures they keep their shape. Once they've frozen solid, feel free to take them out of the muffin tin and put them in a baggie or container for more efficient storage.
When you want to eat them, simply pop them in the fridge until they've thawed. You could also eat them right out of the freezer! They taste kind of like a cheesecake creamsicle.
How long is cheesecake good for?
I'd say cheesecake is good for about 5 days in the fridge if wrapped or kept in a sealed container. Frozen cheesecake is best if eaten within 6 months.
How to tell if cheesecake is done?
These cheesecakes are pretty darn predictable because they are mini and made in a standard sized muffin tin. So, your cook time should fall within 16-18 minutes if the recipe is followed as written. The trick is to avoid opening the oven while they are baking. Also, the cheesecakes should have a little giggle in the middle when they are done. Once cooled and refrigerated, they will set and turn into the cheesecake texture we all love.
Do you need a springform pan?
Not for this recipe! Most full-sized cheesecakes require a springform pan. However, for these cute little mini cheesecakes a standard muffin tin and muffin liners is all you need!
---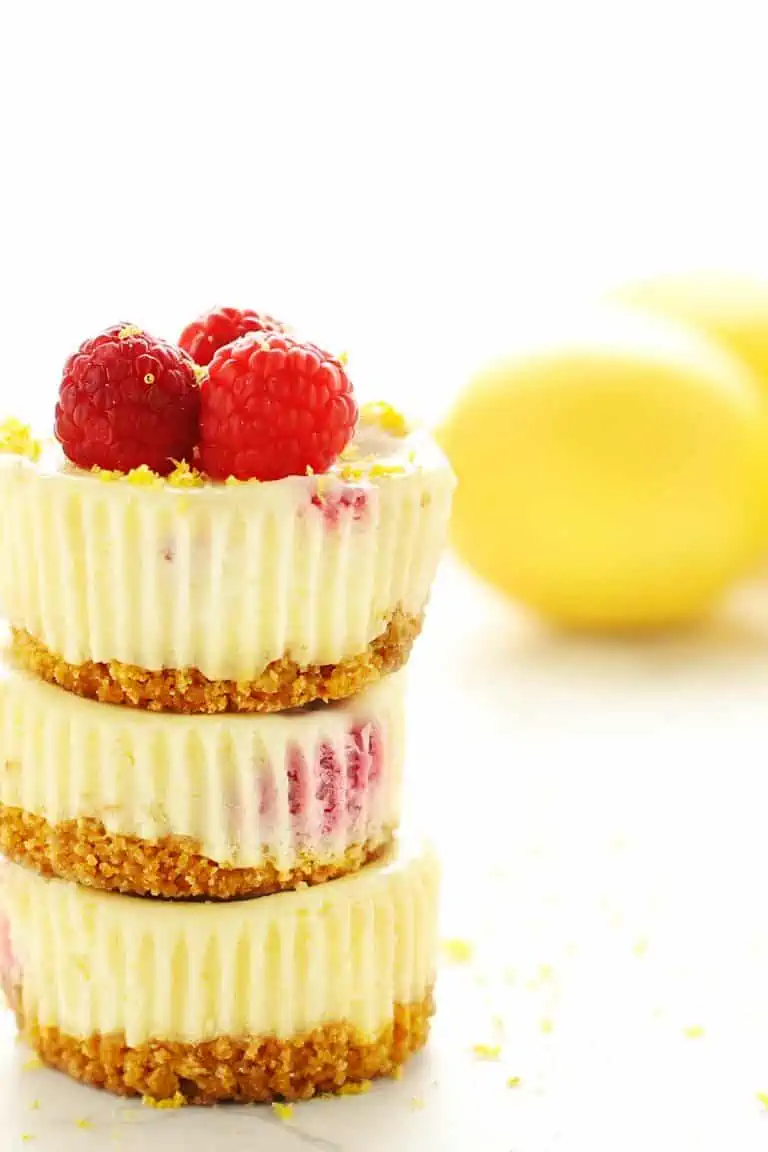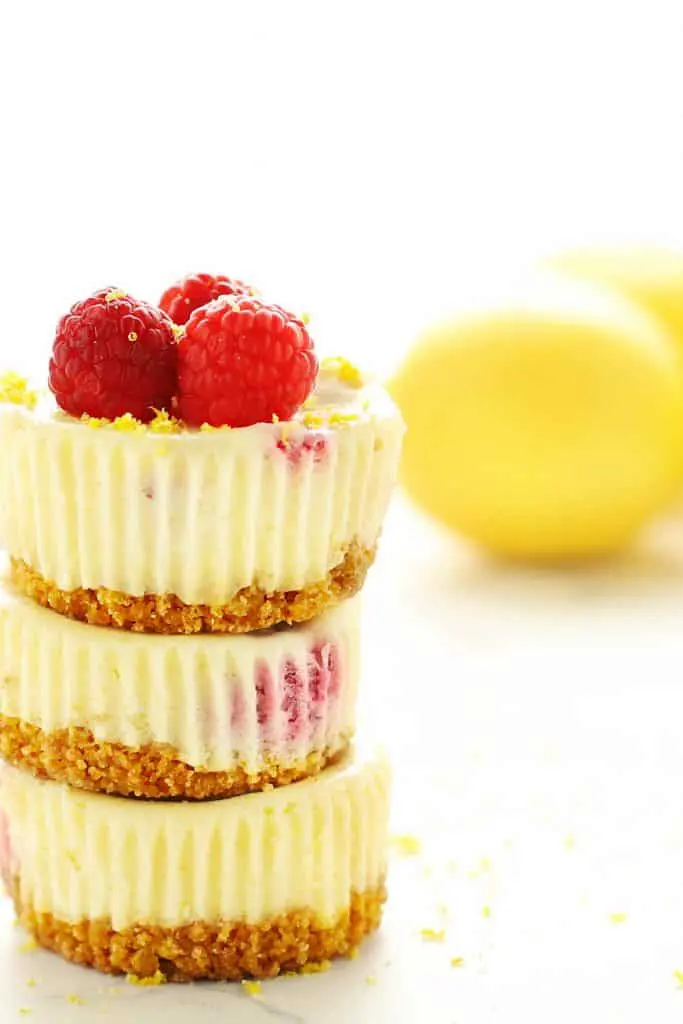 Tips for Making Cheesecake
Use muffin liners: Muffin liners are essential to the success of this recipe. Liners make it easy to pop the cheesecakes out of the muffin tin without destroying them.
Use room temperature ingredients: Ingredients mixed right from the fridge will result in a lumpy cheesecake. Room temperature ingredients are key for a that smooth velvety cheesecake texture. Let all the ingredients sit at room temperature for at least an hour before making the cheesecake.
Don't over-beat the filling: Use a hand mixer the beat/mix the filling but only mix until the filling becomes smooth. Once smooth, stop mixing the filling. Overmixing can incorporate too much air into the filling making the cheesecake too soft.
Resist the urge to open the oven: If you want your cute little cheesecakes to turnout, put them in a preheated and oven and don't open the oven door for 16 minutes. Resist the urge to open the door to check on them!
Cool completely: Let your mini cheesecakes cool at room temperature for an hour. Then put them in the fridge for 2 hours. The gradual cooling will ensure the cheesecakes set properly and are perfectly smooth and creamy.
Freeze to maintain the perfect shape: Here's a little trick. Throw the cheesecakes in the freezer for a couple hours. Once frozen remove the liners and they maintain their perfect round shape and cute little ridges from the liners.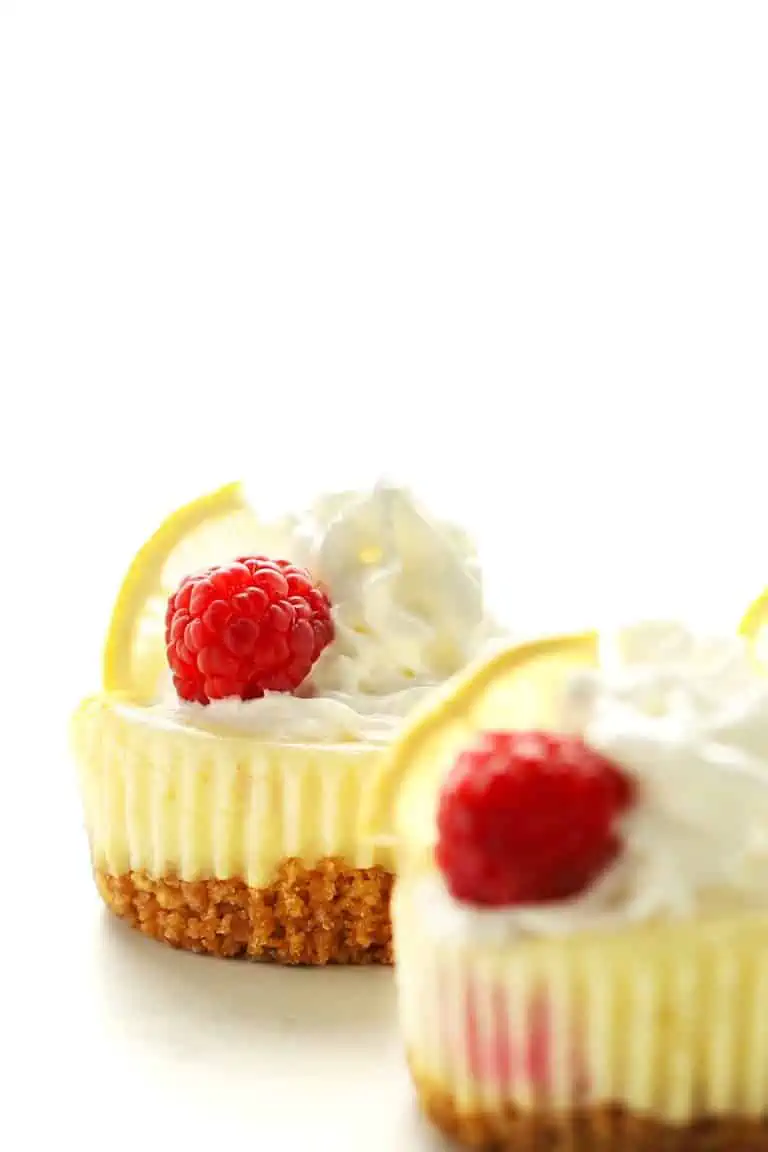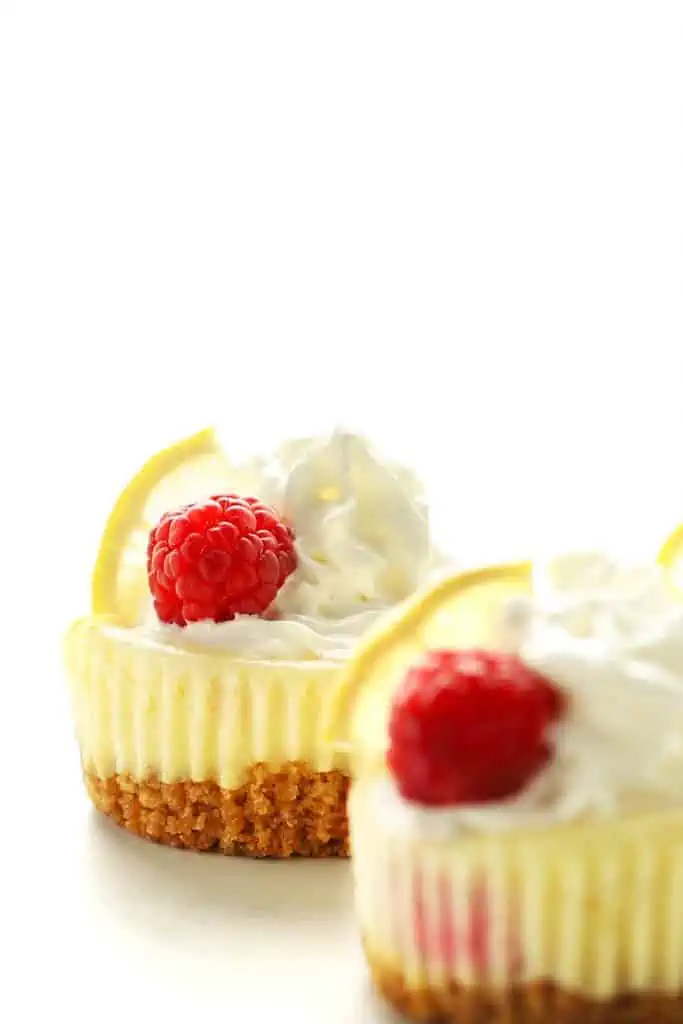 ---
Other Easy Dessert Ideas
---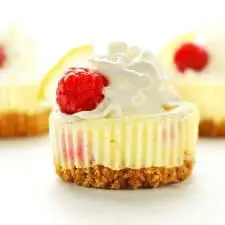 Raspberry Lemon Mini Cheesecakes
Pin Recipe
Print Recipe
Rate Recipe
The mini cheesecakes are smooth and creamy with fresh little bursts of raspberries and a hint of bright lemon zest on a perfectly crispy graham cracker crust.
Ingredients
For the crust:
1

cup

graham cracker crumbs

,

6-7 crackers

1

Tbsp.

sugar

4

Tbsp.

butter

,

melted
For the cheesecake:
8

oz

plain cream cheese

,

softened

1/3

cup

granulated sugar

1/2

tsp.

vanilla extract

1/2

Tbsp.

lemon juice

1

egg

1/2-3/4

cup

raspberries
Optional Toppings:
whipped cream

raspberries

lemon zest
Instructions
For the crust: 
Preheat: Preheat oven to 350°. Put muffin liners in a muffin tin.

Combine: Put all crust ingredients in a bowl. Stir until combined and the mixture is crumbly. Evenly distribute the crust mixture to the liners (about a heaping tablespoon per liner). Use your fingers or a kitchen tool (I used a small measuring cup) to press the curst into the bottom of the liners. 

Bake: Put in the preheated oven for 5 minutes. 
For the cheesecake: 
Combine 1-4: In a large bowl, beat the cream cheese, sugar, vanilla and lemon juice with a hand mixer until well combined and smooth.

Add Egg: Add the egg to the batter and beat on low speed until just combined.

Add Raspberries: Add 1/2-3/4 cup (depending how much you like raspberries!) of raspberries to the bowl and gently fold them into the batter.

Bake: Divide the batter equally to each liner/crust. Bake in the preheated oven at 350° for 16-18 minutes.*** They are done when they are still have a little jiggle in the middle but aren't soupy.

Cool & Refrigerate: Once done baking, let cool at room temperature for 30-60 minutes. Then place in the fridge for at least 2 hours.

Serve: Serve chilled. Top with raspberries, lemon zest and whipped cream (optional). Store in the fridge, covered, for up to 5 days or in the freezer for up to 6 months. 
Notes
*You can either buy graham cracker crumbs or make your own by putting 6-7 graham crackers in a food processor. 
**Use room temperature ingredients. Take them out of the fridge an hour before making the recipe. 
***Do not open the oven door while the cheesecakes are baking. 
Nutrition
Serving:
1
mini cheesecake
|
Calories:
169
kcal
|
Carbohydrates:
14
g
|
Protein:
2
g
|
Fat:
12
g
|
Cholesterol:
46
mg
|
Sodium:
147
mg
|
Fiber:
1
g
|
Sugar:
10
g
Have you tried this recipe?
Let me know what you think! Rate this recipe and leave a comment below.