Homemade Spicy Garlic Dill Pickles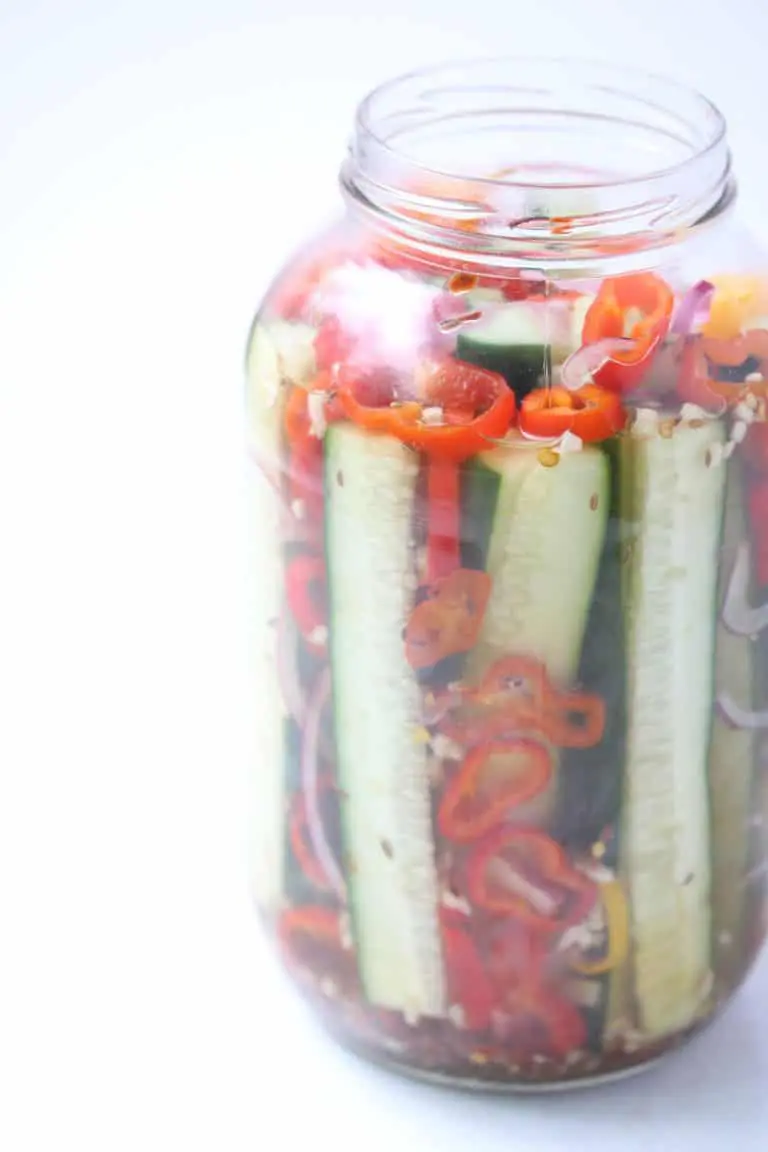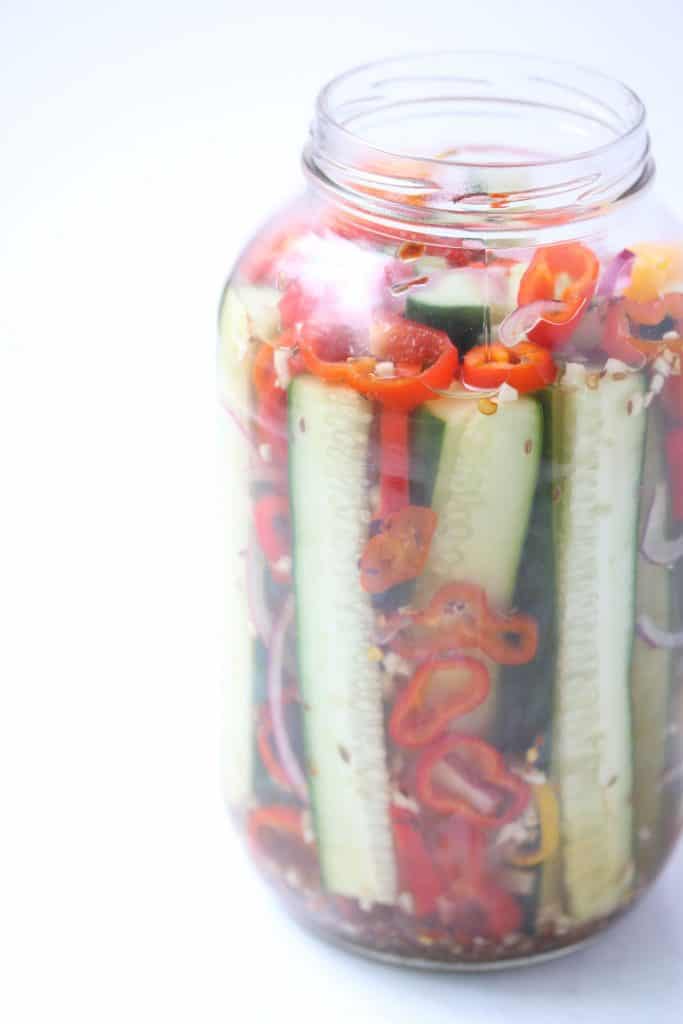 ---
How The Recipe Came to Be
(I love this story)
I moved into my current home last winter. My husband and I renovated it top to bottom which was one hell of a project. Needless to say I didn't have any time to put in my own garden this year. However, I am still benefiting from harvesting season because my neighbors are loading me up with tons a fresh goodies from their gardens! One of my neighbors in the nicest and sweetest man ever. He is in his 90s and I still see him working out in his garden everyday. I swear he is in better shape than I am! #goals
Anyway, he always leaves fresh cucumbers for me on my front step. It makes my day every time! With so many cucumbers, I decided to make my own pickles. I also had some mini bell peppers that I needed to use up. So, I pickled those as well! Easy peasy!
These pickles (and peppers) turned out AMAZING! My husband loves them and I find him putting them on everything; sandwiches, burgers, hot dogs, peanut butter sandwiches, straight from the jar, you name it! They are very flavorful and have a hint of spice which is my favorite part.
---
Add Pickles to These Sandwich Recipes
Pickles and sandwiches are the perfect pair. They're a delicious crunchy addition to Buffalo Chicken Sandwiches, Whiskey Pulled Pork Sliders and my mom's famous Italian Beef on a Hawaiian bun… As I sit here writing this post, I desperately long for an Italian beef sammie with some spicy garlic pickles! Writing a recipe post while hungry is a huge mistake that I make repeatedly. Obviously, I never seem to learn my lesson!
---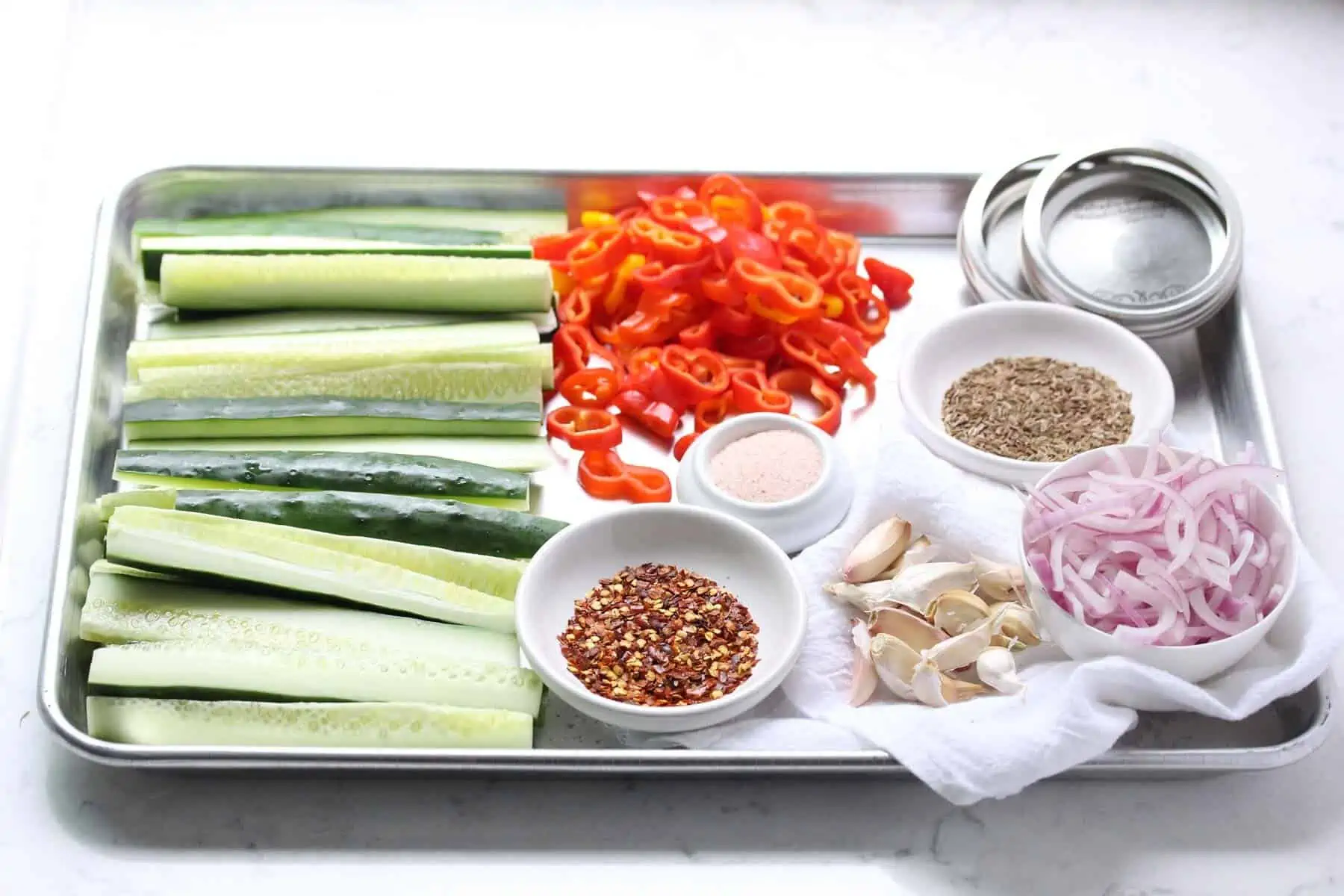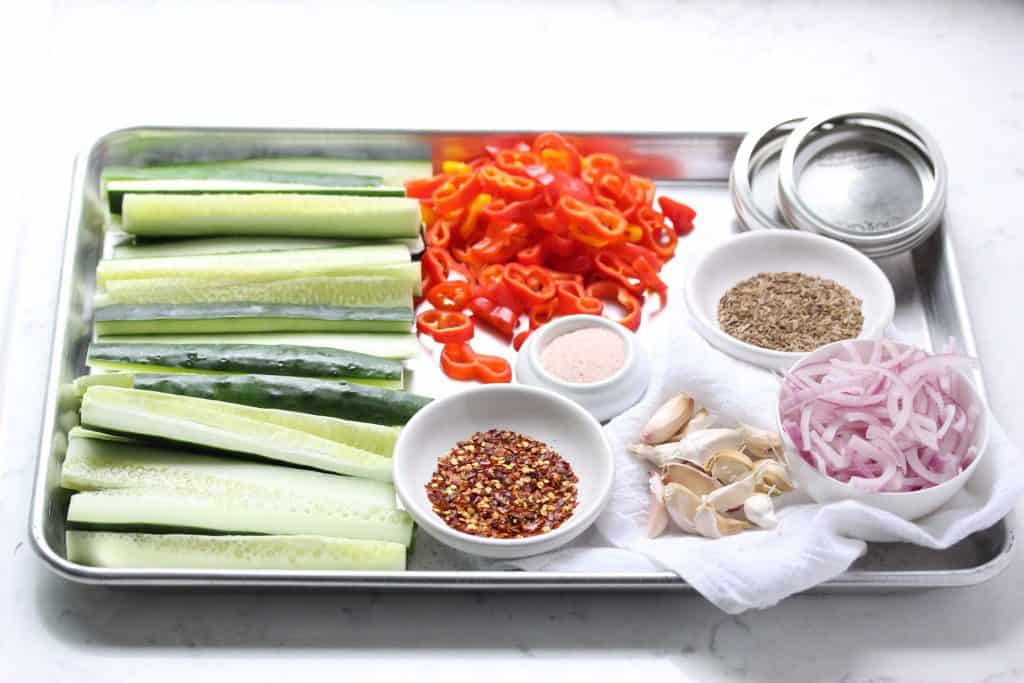 ---
What Homemade Spicy Garlic Dill Pickles Taste Like
What do they taste like? When you bite into the pickle it is wonderfully crunchy. You taste the perfect balance of tang, garlic and dill that is followed by a delightful wave of heat that leaves the slightest tingle on your tongue. The bell pepper rings have the same combination of flavors but are slightly sweeter and even crunchier. They are absolutely divine. I love the pickled bell pepper rings just as much as the actual pickles. Actually, I might like them even more. It is really a close call.
Helpful Notes
Pickles must be refrigerated! These are refrigerator pickles and must be refrigerated. Do not keep them in the pantry as they could spoil.
How to adjust spice/heat? These pickles are not terribly spicy but for those who are very sensitive to spice, simple reduce or even omitting the red pepper flakes. If you like to set your mouth on fire, add more red pepper flakes!
Which size mason jars to use? This recipe fills two 32 oz. (2 pint) jars or one 64 oz. (4 pint) jar.
The best gifts are homemade! These pickles are a great gift idea and will be enjoyed by whoever you give them to!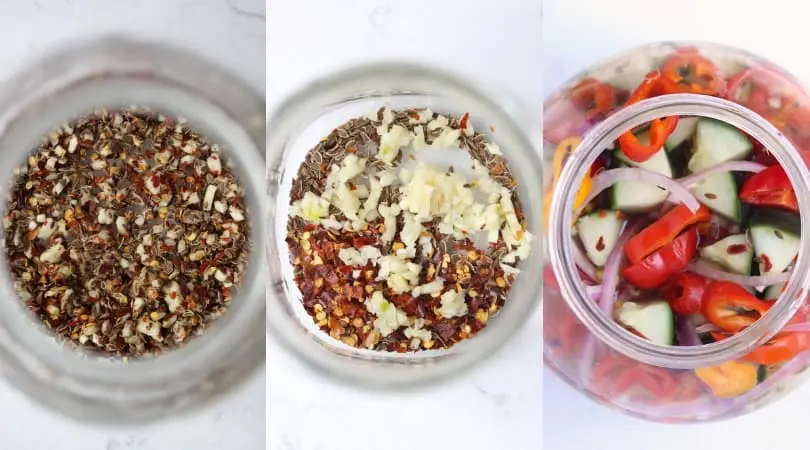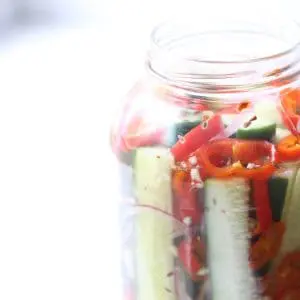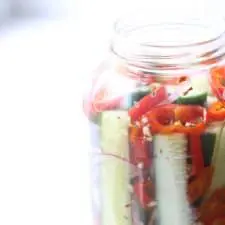 Homemade Spicy Garlic Dill Pickles
Pin Recipe
Print Recipe
Rate Recipe
These Homemade Spicy Garlic Dill Pickles are the best!
Ingredients
3-4

large cucumbers

8-10

mini bell peppers

1/4

red onion

2

cups

water

1

cup

white vinegar

2

Tbsp.

salt

8-10

cloves

garlic

1.5

Tbsp.

dill seeds

1

tsp.

red pepper flakes
Instructions
Make the Brine: Bring the water, vinegar and salt to a rolling boil. Then remove from heat and let the brine cool.

Prepare Ingredients: While the brine is cooling, wash and dry the cucumbers and mini bell peppers. Cut the cucumbers into spears or slice them into coins, whichever you prefer. Slice the mini bell peppers into rings. Thinly slice the red onion (very thinly!). Peel and mince the cloves of garlic or put them through a garlic press.

Fill the Jars: Equally distribute the garlic, dill seeds, red pepper flakes, cucumbers, bell pepper rings and sliced red onion amongst the number of jars you are using. I used one big 2 quart jar which was very easy! Pack the jars as tightly as possible without smooshing the cucumbers.

Add the Brine: Pour the brine over the cucumbers until the cucumbers are covered completely. You may not use all of the brine. Screw the top on the jar tightly and gently shake the jar to combine all the ingredients. Refrigerate the pickles for at least 24-48 hours before giving them a try. They keep in the fridge for up to several weeks. Enjoy!
Notes
Important – Please note this specific recipe and process require the pickles to be refrigerated. Do not keep these pickles in the pantry as they could spoil! Special Equipment: jars with lids (2 and 4 pint jars work best)
Nutrition
Serving:
1
jar
|
Calories:
176
kcal
|
Carbohydrates:
29
g
|
Protein:
7
g
|
Fat:
3
g
|
Sodium:
5802
mg
|
Fiber:
9
g
|
Sugar:
12
g
Have you tried this recipe?
Let me know what you think! Rate this recipe and leave a comment below.