This healthy and flavorful recipe it a great option whether you are meal prepping for a busy week or having friends over for brunch.

---
Zero Leftover Ingredient Strategy
Love making new recipes but hate having miscellaneous leftover ingredients that go unused? This recipe was developed to avoid that using the Zero Leftover Ingredient Strategy. The strategy simply looks at ingredients that are uncommon staples in most kitchens and uses them in the most efficient way possible.
For example, this recipe calls for milk, eggs, yogurt, salt and pepper (common staples) as well as goat cheese, sun-dried tomatoes and frozen chopped spinach (uncommon staples).
Goat cheese is commonly sold in 4 oz. packages, sun-dried tomatoes in 7 oz. jars (about 1 cup) and frozen chopped spinach in 9-10 oz. packages. This recipe calls for exactly half of those commonly sold amounts. To avoid any leftover ingredients, simply double the recipe to make two quiches and put one the freezer for later (freezing and thawing instructions below)!

---
Helpful Notes
Make It Ahead: Quiche can be made ahead of time (it is actually recommended). Once the quiche is done cooking in the oven, let it come to room temperature. Then cover the quiche with plastic wrap  and store it in the fridge. Perfect for meal prep!
How to Reheat (from fridge):

Method 1 – Microwave: Microwave individual slices of quiche in 30 second intervals until warmed through (usually 1-2 intervals).
Method 2 – Oven: Put individual slices or the entire quiche in a 300°F preheated oven until just warmed through (about 15 minutes or so for an entire quiche).

How to Freeze: Simply cover the cooked quiche with plastic wrap and place it in the freezer. Once frozen solid, feel free to stack the quiche with other items for easier storage.
How to Reheat (from freezer): Place the pre-cooked frozen quiche in a 350°F preheated oven for 20-25 minutes or until warmed through.
How to Make It a Meal: The quiche is a filling and satisfying breakfast (or lunch or dinner) all on its own, but a side of fresh fruit or a simple breakfast salad (greens + olive oil + salt/pepper + squeeze of lemon juice) are easy additions.
How to Avoid Soggy Quiche: This recipe calls for frozen chopped spinach. Once the spinach is thawed, remove as much moisture from it as possible. Squeeze it out and dab it with paper towels. The drier, the better! If the spinach has too much moisture, it could cause your quiche to be soggy.
Quiche, Frittata, Tomato, Tomato: Quiche is considered a pie (crust + filling). Since this recipe is a crustless quiche, it would technically be a frittata, but we're REALLY splitting hairs at this point.
---
Other Make-Ahead Breakfast Options
---
How the Tomato Spinach Goat Cheese Quiche is Made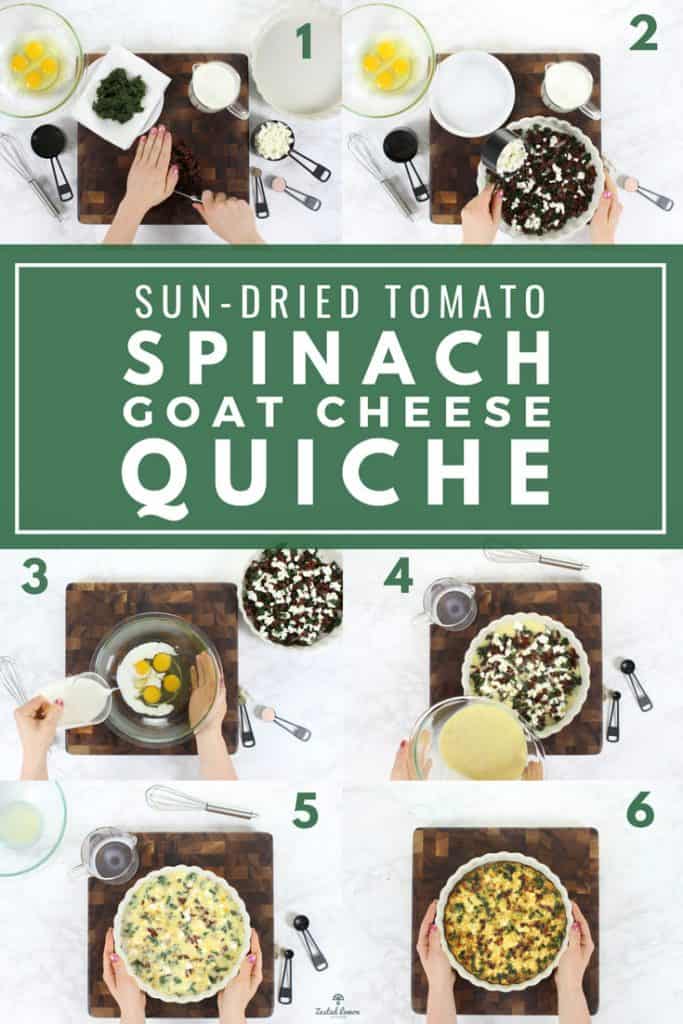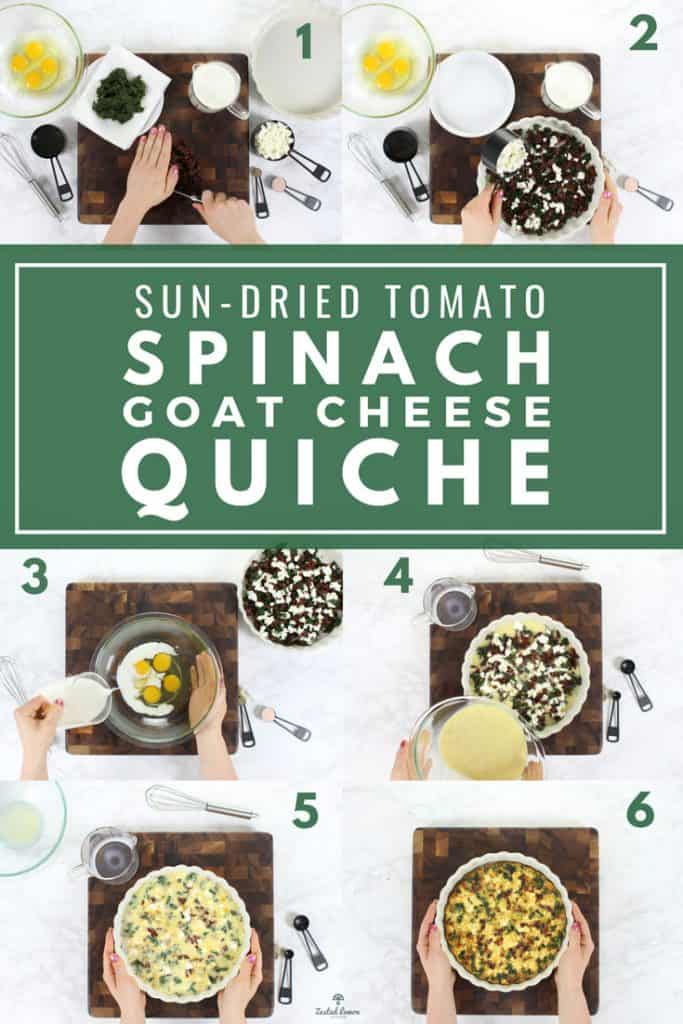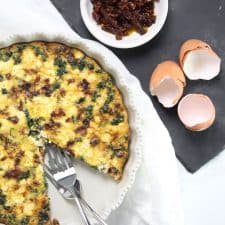 Sun-dried Tomato Spinach Goat Cheese Crustless Quiche
Pin Recipe
Print Recipe
Rate Recipe
This healthy and flavorful recipe it a great option whether you are meal prepping for a busy week or having friends over for brunch.
Ingredients
1/2

cup

jarred sun-dried tomatoes

4

oz.

frozen spinach

, chopped

2

oz.

goat cheese

8

eggs

1/2

cup

milk

, (see note 1)

1/2

cup

plain Greek yogurt

1/2

tsp.

salt

1/4

tsp.

pepper
Instructions
Prep: Preheat the oven to 350°F. Chop the sun-dried tomatoes into small pieces. If they are oily, dab them with a paper towel to remove excess oil. Set aside. Thaw the spinach according to package instructions. Then squeeze out as much moisture as possible and place the spinach between paper towels. Repeat as needed. If the spinach has too much moisture, it could cause the quiche to become soggy. The drier, the better.

Assemble: Coat your pie/quiche pan with cooking spray or a little olive oil. Then evenly distribute the spinach, sun-dried tomatoes and goat cheese in the pie/quiche pan. Set aside.

Whisk Egg Mixture: In a medium bowl whisk together the eggs, milk, Greek yogurt, salt and pepper. Whisk until slightly foamy or a bunch of little bubbles appear (about a minute of intense whisking).

Pour Egg Mixture: Pour the egg mixture into the pie/quiche pan. Gently stir it with a fork to make sure the egg mixture gets evenly distributed throughout the sun-dried tomatoes, spinach and goat cheese.

Bake: Bake in the preheated oven for 35-40 minutes. The easiest way to make sure a quiche is done is to gently insert a knife or toothpick into the center of the quiche. If it comes out clean, the quiche is done! If it does not come out clean, put it back in the oven to cook a bit longer. The center should still have a little jiggle to it.

Cool and Enjoy: Enjoy immediately or let the quiche cool to room temperature before storing in the fridge or freezer to be enjoyed later. Quiche can be served warm or cold.
Notes
Note 1 - Milk: Whole milk will make the richest quiche but 2%, 1% and skim will also work just fine. 
Nutrition
Serving:
1
slice
|
Calories:
161
kcal
|
Carbohydrates:
8
g
|
Protein:
13
g
|
Fat:
9
g
|
Cholesterol:
225
mg
|
Sodium:
329
mg
|
Fiber:
2
g
|
Sugar:
5
g
Have you tried this recipe?
Let me know what you think! Rate this recipe and leave a comment below.