This roasted boneless turkey breast is a delicious no-fuss recipe. The turkey is smeared with honey garlic butter and roasted to golden perfection on a bed of zesty lemons and fresh herbs.
I love this recipe because it is has all the best parts of a whole turkey with a fraction of the time and effort. It can even be prepared up to a couple days ahead of time! Perfect for feeding smaller groups and stress-free holiday celebrations.
The flavor is garlicky and buttery with a hint of sweetness. There is also this bright yet mild lemony flavor and when combined with the fresh earthy herbs, I can almost hear angels singing. When the turkey breast is roasting, the aroma that fills the house is nothing short of divine.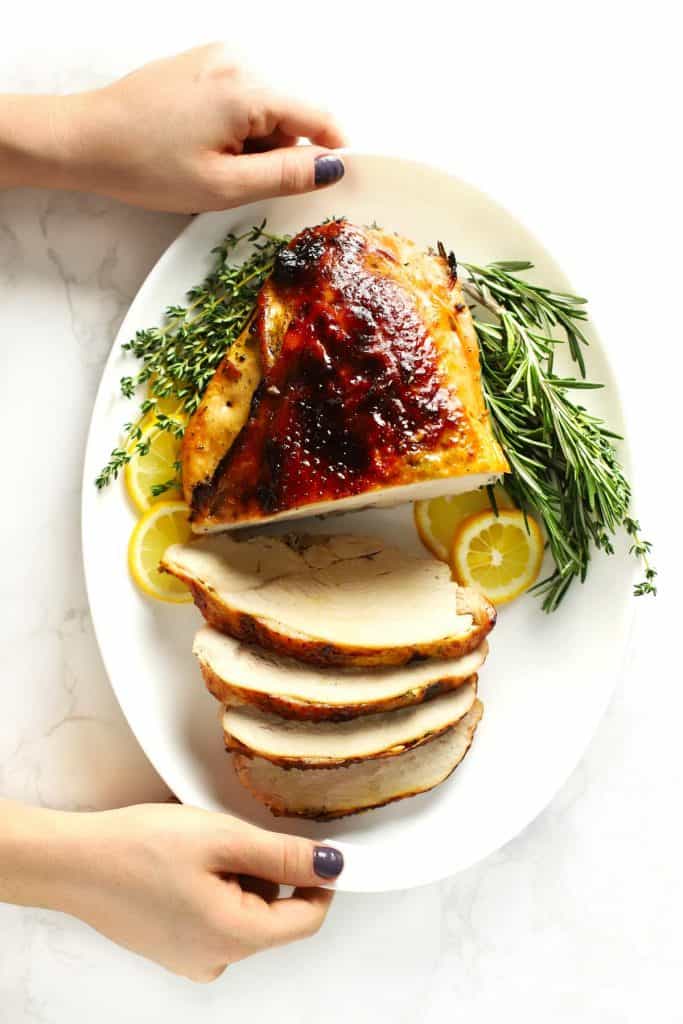 ---
How to Make Roasted Boneless Turkey Breast
(1 minute)
---
What to Serve with Your Turkey
Blueberry Lemon Thyme Sauce – I highly recommend making this to serve as a dipping sauce with your turkey breast. The sweet tanginess perfectly compliments the savory turkey.
Easy Make Ahead Gravy – This recipe takes less than 10 minutes to throw together and doesn't require any pan drippings. It's the easiest tastiest gravy to smother turkey and mashed potatoes in.
Slow Cooker Mashed Potatoes – These mashed potatoes are creamy and delicious. Best part? You can make them ahead of time in a slow cooker. It saves time AND oven space. What more could you want in a recipe?
Loving the idea of make-ahead recipes and a stress-free Thanksgiving? Download a free copy of my ultimate guide to a make-ahead Thanksgiving!
---
Turkey Breast Q&A
Boneless vs Bone-in Turkey Breast
Both boneless and bone-in turkey breasts can be used for this recipe. Follow the recipe as is for boneless. For bone-in breasts, Increase the cook time until you reach an internal temperature of 165 degrees (generally about 30-45 additional minutes).
Both options produce delicious turkey. However, boneless breasts are a slightly easier and cleaner option because there aren't any bones to carve around. You can easily cut the breast in slices and be good to go.
Half Breast vs. Whole Breast
Half Turkey Breast (boneless) is anywhere between 2-3 lbs. and is enough for 3-4 people.
Whole Turkey Breast (boneless) is around 4-5 lbs. and serves 6-8 people.
Where to buy boneless turkey breast?
Check the butcher counter, refrigerated poultry section and the frozen poultry section at your local grocer. Note: Turkey breasts may also be labeled at turkey breast roasts.
Boneless turkey breasts are in almost every grocery store during the holiday season. The rest of the year, most (but not all) grocery stores will have some form of a boneless option (fresh, frozen, half breast, etc.).
Bone-in turkey breasts are easily found year round. If you want a boneless turkey breast, the butcher behind the meat/seafood counter at the grocery store will often remove the bone for you (for free!) in a matter of minutes. Just ask!
How much turkey breast per person?
The amounts listed below may seem like a lot of turkey for each person. However, this is based on uncooked weights. When the turkey is roasted a surprising amount of liquid is released, reducing the overall weight. So, each person isn't eating .75 pounds of turkey. When in doubt, always make extra because who doesn't love leftovers?
Uncooked boneless turkey breast = .75 lbs./person
Uncooked bone-in turkey breast = 1-1.25 lbs./person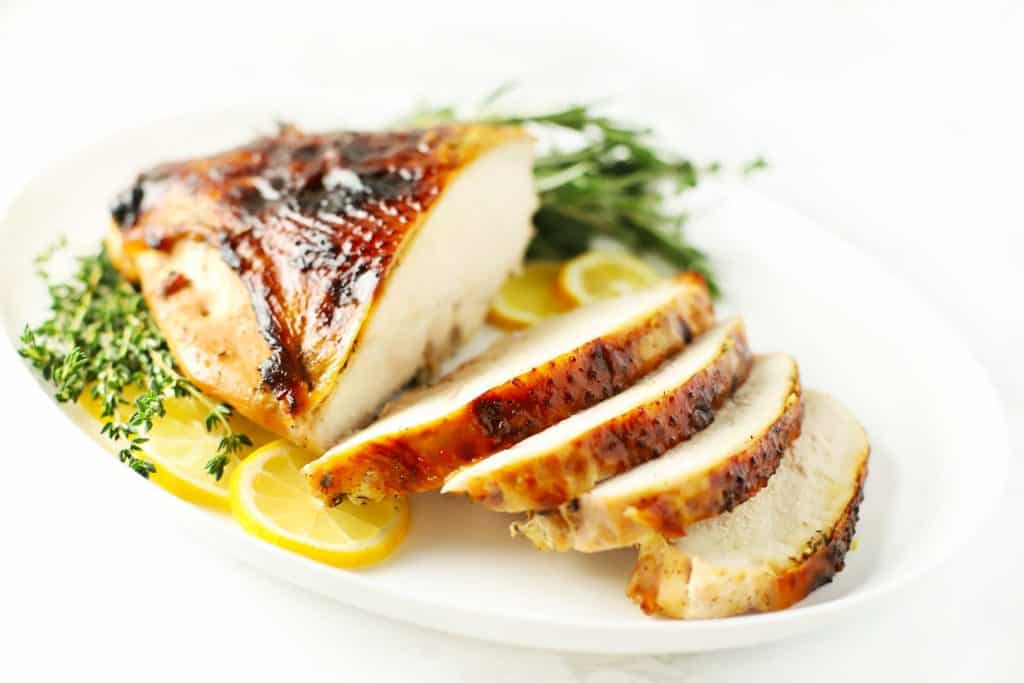 Can you prepare turkey the night before?
Yes! The turkey breast can be entirely prepped (steps 1-4 of recipe) the day before. Cover and put in the fridge. Take the turkey breast out of the fridge and 30-45 minutes prior to roasting to allow it to come to room temperature. Then roast (steps 5-6 of recipe) the turkey breast as outlined in the recipe.
Can you cook a turkey the day before and reheat?
Yes! Just follow the steps below. Roasting the turkey breast ahead of time and reheating the day of might be a good option if it makes you more relaxed. It will still me juicy, flavorful and moist. The only downside about roasting ahead of time is the skin won't be as crispy but not a huge deal in my personal opinion.
Rest: Follow the recipe as written. Once done roasting, let the roast rest for at least 15 minutes but ideally 30 minutes to retain moisture. If you don't let the turkey rest before cutting into it, the juices will spill out and result in dry turkey.
Slice: Cut the turkey into thick slices (about 3/4″ thick). Thin slices will dry out when reheating.
Refrigerate: Place the turkey on a sheet pan and drizzle with a bit of stock or drippings from the baking dish to keep the turkey moist. Press a piece of plastic wrap directly onto the turkey to remove as much air as possible. Cover tightly with a second piece of plastic wrap and refrigerate for up to 2-3 days.
Reheat: Remove the turkey from the fridge and let come to room temperature for 30-45 minutes. Remove the plastic wrap. Drizzle with a little more stock or drippings (if needed) and cover the sheet pan with foil. Put in the oven at 350 for 25-35 minutes or until the internal temperature reaches 165 degrees. Make sure not to heat it too long to avoid dry turkey. Serve immediately!
What to roast turkey breast in?
Use an oven-safe baking dish that the turkey breast fits comfortably in without tons of extra room around it. Often roasting pans are too big for a turkey breast which can cause them to dry out.
How long to cook a turkey breast per pound?
Since all turkey breasts are different, rely on your thermometer to determine doneness. However, for the sake of timing your meal right expect 15-20 minutes per pound.
How to keep turkey breast moist?
There are a million things that impact the moisture level of turkey but here are my easiest/top suggestions.
Buy a fresh turkey breast instead of a frozen one.
Choose the right baking dish. The turkey breast should fit comfortably in the dish but there shouldn't be too much extra space around it.
Rub butter over the breast before roasting (as outlined in this recipe).
Baste every 30 minutes.
Don't overcook the turkey!!! It is done as soon as the thickest part of the breast reaches an internal temperature of 165 degrees. Keep your thermometer handy!
Let the turkey rest for at least 15 minutes before carving. Slice up the turkey too soon and the juices will spill out resulting in dry turkey.
How to baste a turkey breast?
As the turkey breast roasts, it will release juices and the butter will melt. Take some of this liquid and pour it over the entire turkey breast using a spoon or baster. Do this six or seven times every 30 minutes. That is how you baste a turkey breast.
Cooking turkey covered or uncovered?
Both! In this recipe, you will start cooking the turkey breast uncovered so the skin can crisp up and turn a beautiful golden brown color. Once the skin has reached the level of "golden brown" you want, cover the turkey with foil to retain moisture and keep the skin from burning.
What rack position in oven for turkey?
Put the turkey on a lower rack in the oven so the turkey breast itself is in the middle of the oven. If on a middle or upper rack, the skin may burn more quickly.
Is a cooking thermometer necessary?
Yes! I am all about having minimal kitchen tools, finding workarounds and taking shortcuts. So, when I say something is necessary, it is usually pretty necessary. They are cheap and will ensure you end up with perfectly done turkey instead of dry chewy turkey or worse, food poisoning.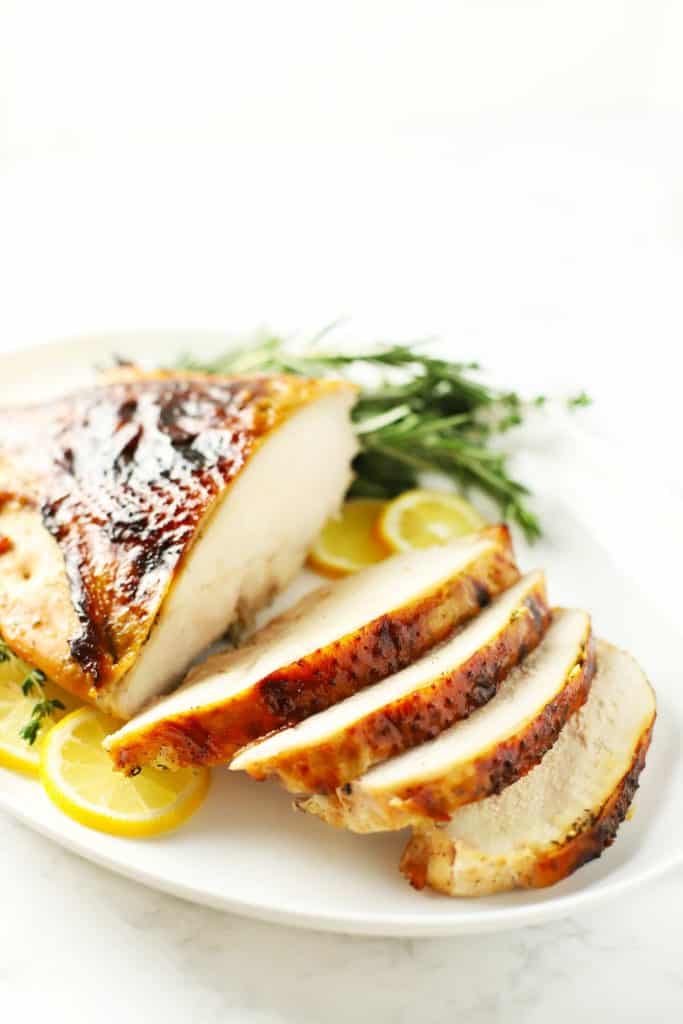 ---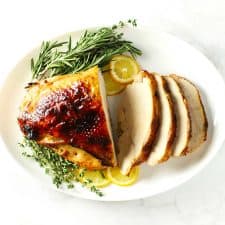 Roasted Boneless Turkey Breast with Honey Garlic Butter
Pin Recipe
Print Recipe
Rate Recipe
This roasted boneless turkey breast is a delicious no-fuss recipe. The turkey is smeared with honey garlic butter and roasted to golden perfection on a bed of zesty lemons and fresh herbs.
Ingredients
Honey Garlic Butter Ingredients:
1/4

cup

butter

,

melted

3

Tbsp.

honey

1

tsp.

fresh rosemary

,

minced

1

tsp.

fresh thyme

,

minced

3

cloves

garlic

,

minced

Zest of 2 lemons
Turkey Breast Ingredients:
4-5

lb.

boneless turkey breast*

1/2

tsp.

salt

,

or to taste

1/4-1/2

tsp.

pepper

,

or to taste

2

lemons

,

sliced (use zested lemons from above)

1

onion

,

sliced

10

cloves

garlic

,

peeled and smashed**

5-6

sprigs fresh thyme

6-8

sprigs fresh rosemary

1/2

cup

white wine

,

optional
Instructions
Make Honey Garlic Butter: In a bowl, whisk together all the Honey Garlic Butter Ingredients until well combined***. Set aside. 

Prep Turkey Breast: Preheat oven to 375°F. Take the turkey breast out of the fridge at least 30-45 minutes prior to roasting. Using your hands, gently separate the skin from the turkey breast. Pat entire breast with paper towels until dry. Season both sides of the turkey breast with salt and pepper both under the skin and on top of the skin. 

Butter Turkey Breast: Spread 1/2 of the butter mixture underneath the skin, 1/4 on the skin and the remaining 1/4 on the underside of the turkey breast. Use toothpicks to secure the skin over the breast.**** 

Prep Remaining Ingredients: Put the sliced lemons, sliced onion, smashed garlic, thyme sprigs, rosemary sprigs and white wine (optional ingredient) in the bottom of a baking dish. Place the turkey breast on top, skin side up. If making ahead, stop here. Cover and put in the fridge until needed. 

Roast: Put the turkey breast in the preheated oven at 375 degrees for about 1 hour 30 minutes, basting every 20-30 minutes. Cover with foil once the skin is golden brown to keep it from burning (I covered my turkey breast at about 60 minutes). Roast until the internal temperature of the thickest part of the breast reaches 165 degrees.***** Check the internal temperature of multiple parts of the breast. 

Let Rest: Once the turkey breast is done roasting, cover it with foil and let it rest at room temperature for at least 15 minutes. Slice and serve with

Blueberry Lemon Thyme Sauce

(optional but recommended). 
Notes
*You can use a boneless or bone-in turkey breast. Boneless turkey breasts are about 4-5 pounds while bone-in turkey breasts are about 6-7 pounds. Bone-in turkey breasts will need a little more cooking time. Be sure to use a thermometer to ensure doneness. 
**To smash garlic, lay the flat side of a knife over a clove of garlic and push down on the knife with your palm or gently smash it with a closed fist. 
***To make the honey garlic butter easier to work with, put it in the fridge for 10 minutes. This will thicken the mixture into a paste-like consistency. 
****Watch video at :44 to see how to secure the skin to the turkey breast with toothpicks. 
*****It is imperative you use a thermometer in several places to determine doneness. 
Nutrition
Calories:
447
kcal
|
Carbohydrates:
15
g
|
Protein:
66
g
|
Fat:
13
g
|
Cholesterol:
184
mg
|
Sodium:
855
mg
|
Fiber:
2
g
|
Sugar:
8
g
Have you tried this recipe?
Let me know what you think! Rate this recipe and leave a comment below.