This simple baked asparagus recipe is a quick and healthy side dish to add to any meal. Top with a squeeze of lemon, chopped nuts or fresh herbs to add a little extra zest, crunch and flavor.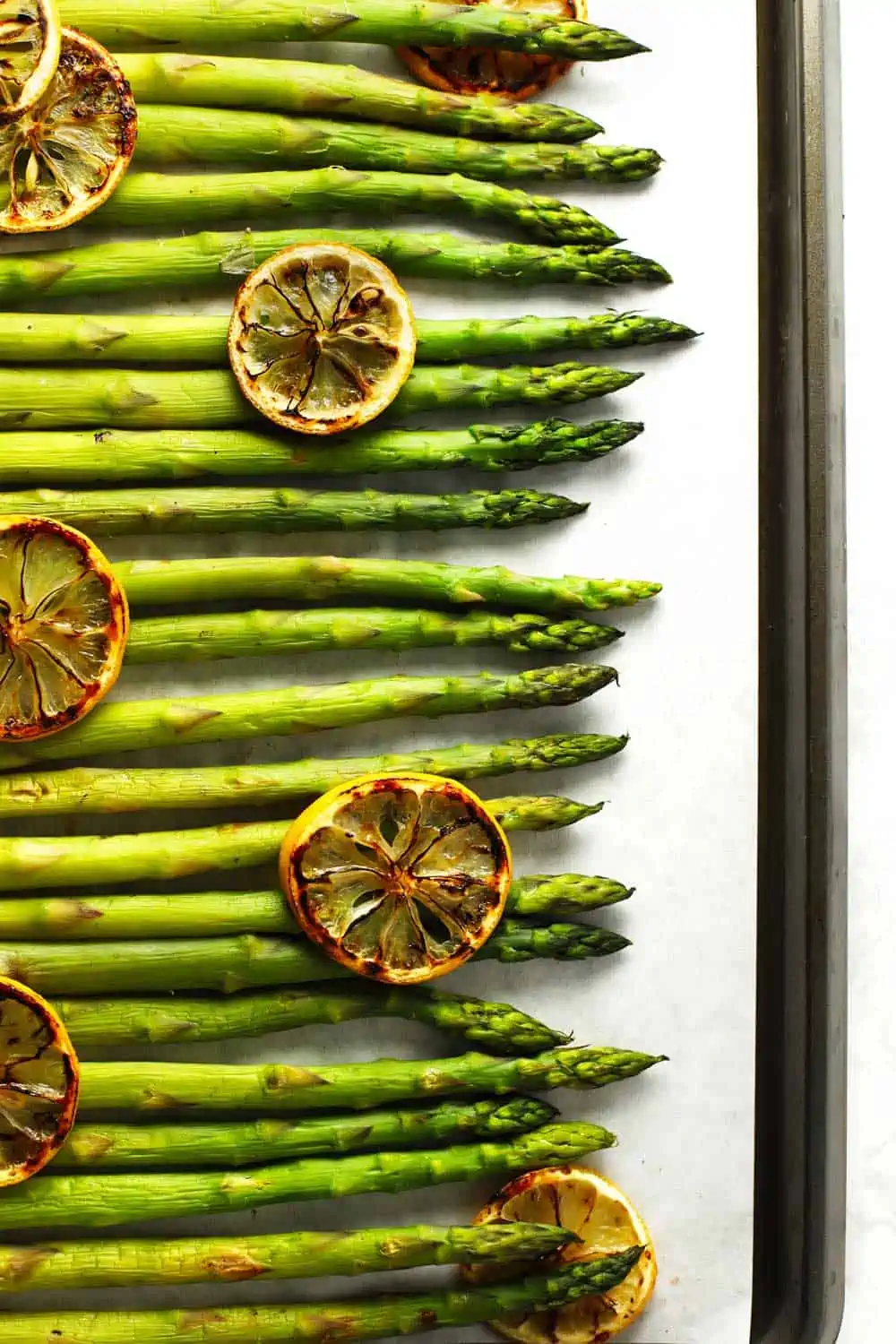 ---
Recipe Q&A
How to store asparagus?
Toss in Fridge Method: If you plan on using the asparagus within a few day, just tossing it in the fridge will do. However, there are a couple ways to keep it fresher for longer if needed.
Wet Paper Towel Method: Keep the rubber band around the asparagus bundle. Wrap the bottom of the bundle of asparagus with a wet paper towel. Put the asparagus in a plastic produce bag or a ziplock baggie but keep the baggie unsealed to allow for some airflow.
Water + Jar Method: Store the asparagus upright in a container, such as a large measuring cup or mason jar, like you would put fresh flowers in a vase. Fill about 1/3 of container with water and put the asparagus in the fridge. This will your asparagus fresh for much longer.
How long does asparagus last?
How long asparagus lasts depends on the quality of the asparagus, freshness when purchased and other variables. However, below are the general freshness periods for each storage method described above.
Toss in Fridge Method: 3-4 days
Wet Paper Towel Method: 5-6 days
Water + Jar Method: up to two weeks
How to tell if asparagus is bad?
It is pretty easy to tell when asparagus has gone bad. Asparagus that is wet or slimy, especially around the tips, is the biggest telltale sign that it has passed its prime. Also, if it has a bad odor or appears to be yellowish or brownish, toss it.
How to trim asparagus?
You may have heard of the Snap Method for trimming asparagus. This is basically where you "trim" each spear of asparagus individually baby holding both ends of the asparagus and bending it until it snaps. You then discard the end.
I'm sharing this method for informational sake but I personally don't use this method and usually don't recommend it. It is tedious and unreliable because half of the time the asparagus snaps in the middle and you end up wasting a lot of perfectly good asparagus.
Instead, I use the 10 Second Method because it's quick and reduces waste. Start by keeping the rubber band on the bunch of asparagus. Then trim all the asparagus spears at once with a knife where the green color starts to fade to white. Those white ends are very tough and usually unpleasant to eat.
If you prefer the Snap Method, you go glen coco! If you prefer the 10 Second Method, awesome! I think it's time to move on. Who would've thought I could write four paragraphs on trimming asparagus! 🙂
How long to bake asparagus?
This depends largely on the size of the asparagus spears and preferred doneness. Asparagus ranges greatly when it comes to size from very thin spears (young asparagus) to thick spears (mature asparagus).
You can use thin or thick BUT if you have a choice, medium-thick spears hold up better in the oven. Thin spears are easy to overcook.
For very thin asparagus start checking them after 7-8 minutes in the oven at 375°F. Start checking thick asparagus after 10-12 minutes at 375°F. You can always cook them longer but you can't take back cooking time once they're overdone.
What to serve with asparagus?
For a complete meal serve asparagus along side a chicken breast or piece of meat. You could cut up the asparagus and toss it in pasta. Eggs and asparagus is also a good match to squeeze in some veggies during breakfast!
Now for the good stuff.
Asparagus and hollandaise is a match made in food heaven. Hollandaise is a rich delicious sauce traditionally made with egg yolks, butter and lemon juice. I have a really easy hollandaise recipe that is made in the blender in under 3 minutes. I also have a healthy hollandaise recipe that tastes pretty darn close to the real deal!
For a fancy meal, make baked lobster tails and mini cheesecakes with your asparagus!
---
Healthy Side Dishes
I love having a few healthy side dishes in my back pocket that I can pull out for quick weeknight dinners. Just pair it with a chicken breast, pasta or steak and BOOM! Dinner is served!
A few of my favorites include lemon garlic green beans, whole roasted cauliflower and roasted Brussel's sprouts with spicy aioli.
---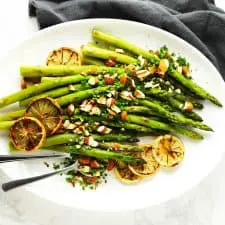 Baked Asparagus
Pin Recipe
Print Recipe
Rate Recipe
This simple baked asparagus recipe is a quick and healthy side dish to add to any meal. 
Ingredients
1

lb.

Asparagus

Cooking spray

1

lemon

1/4

tsp

Salt

,

or to taste

1/4

tsp.

Pepper

,

or to taste
Optional Toppings:
Almonds

,

chopped

Parsley

,

chopped
Instructions
Preheat: Preheat the oven to 375°F. 

Prep Asparagus: Trim the ends of the asparagus. Lay asparagus on a sheet pan in a single layer. Spray all sides of the asparagus with cooking spray. Sprinkle with salt and pepper. Cut 1/2 of the lemon into thin slices and lay the slices under and on top of the asparagus (optional). Squeeze some of the juice from the other half of the lemon over the asparagus. Less is more! You can always add more lemon juice after the asparagus is done cooking.

Cook Asparagus: Put the asparagus in the preheated oven for 12-14 minutes or until you've reached the desire doneness.* 

Serve: Garnish with almonds and parsley (optional). Serve immediately.  
Notes
*Cooking times vary greatly depending on the size of the asparagus and desired doneness. For thin asparagus, start checking them after 7-8 minutes in the oven. For medium to thick asparagus start checking them after 10-12 minutes. 
Nutrition
Serving:
1
portion
|
Calories:
31
kcal
|
Carbohydrates:
7
g
|
Protein:
3
g
|
Fat:
1
g
|
Sodium:
148
mg
|
Fiber:
3
g
|
Sugar:
3
g
Have you tried this recipe?
Let me know what you think! Rate this recipe and leave a comment below.