Pineapple Jalapeño Shrimp Skewers
This sweet, spicy and zesty recipe is the perfect grill-able for parties, bbqs, picnics or just a healthy meal at home. Serve with brown rice and creamy Avocado Sauce for a complete meal!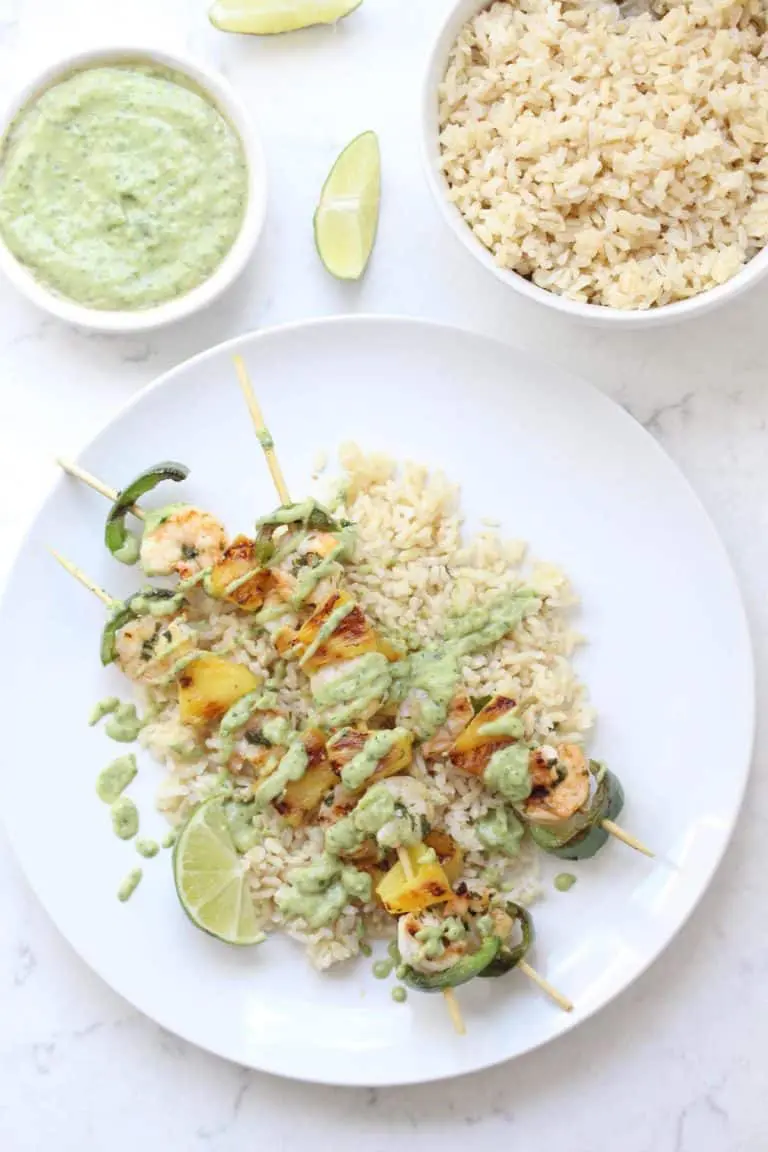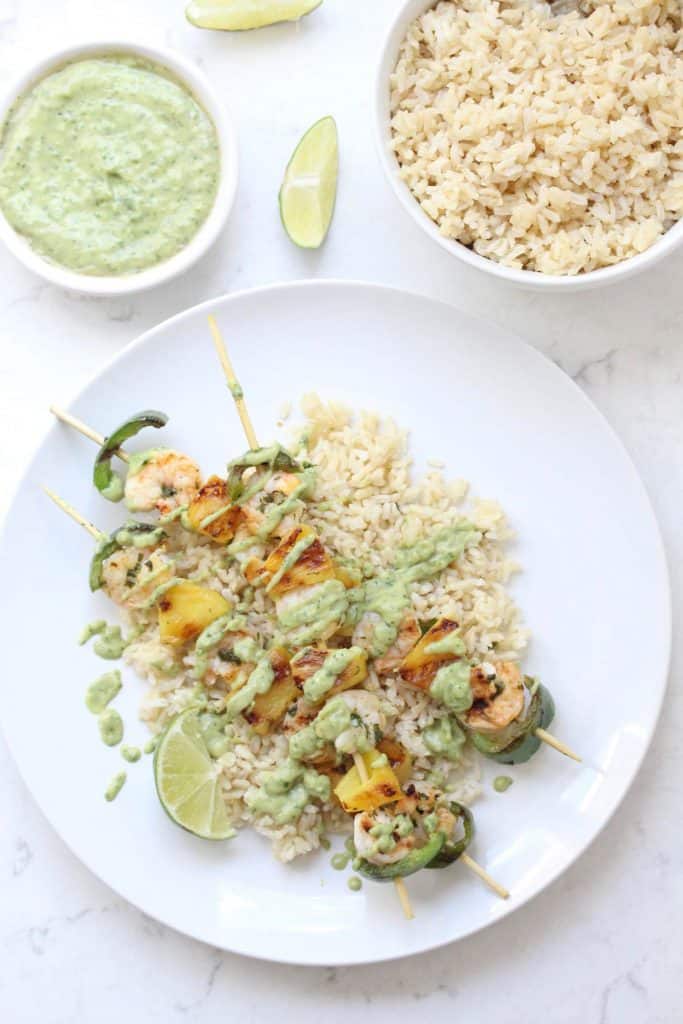 ---
Helpful Notes
Flavor: I LOVE grilled pineapple. It is sweet and juicy with just a hint of smokiness. It reminds of me of summer (especially during the bitter cold Minnesota winters). Since pineapple is boldly sweet, naturally my next ingredient was another bold choice… jalapeños! Here at ZL we like it sweet and we like it spicy… but we aren't done yet. Throw some zesty Cilantro Lime Shrimp into the mix and BOOM! We have a bold flavor trifecta!
Make It a Meal: Serve it with Cilantro Avocado Sauce and rice to make it a full meal. The sauce is really simple. It only requires 5 ingredients and 5 minutes to make. Also, you can make it ahead of time and keep it in the fridge if you want. The creamy avocado sauce drizzled over the skewers brings all the bold flavors together.
Cooking Tips
Cooking Options: These pineapple jalapeño shrimp skewers can be made on the grill or on the stove in a grill pan. If using a grill, cook for about 2 minutes or so on each side. Cook for about 3-4 minutes on each side if using a grill pan on the stove.
They Cook Quick: These skewers cook really quick, especially on a hot grill. They only need a few minutes to cook on each side. If overcooked, the shrimps can become rubbery… and no one wants to chew on rubbery shrimp!
Serve Pineapple Jalapeño Shrimp Skewers With
If you're in the mood to go all out and have a full BBQ spread, serve these skewers with Cilantro Avocado Sauce, Strawberry Basil Fresh Fruit Margaritas and Avocado Black Bean Corn Salad. So much delicious freshness and most of it can be prepped ahead of time! Seriously though, these fresh fruit margs are what legends are made of. If I had to choose between cheese and these margs. I'd choose these margs and that is REALLY saying something.
---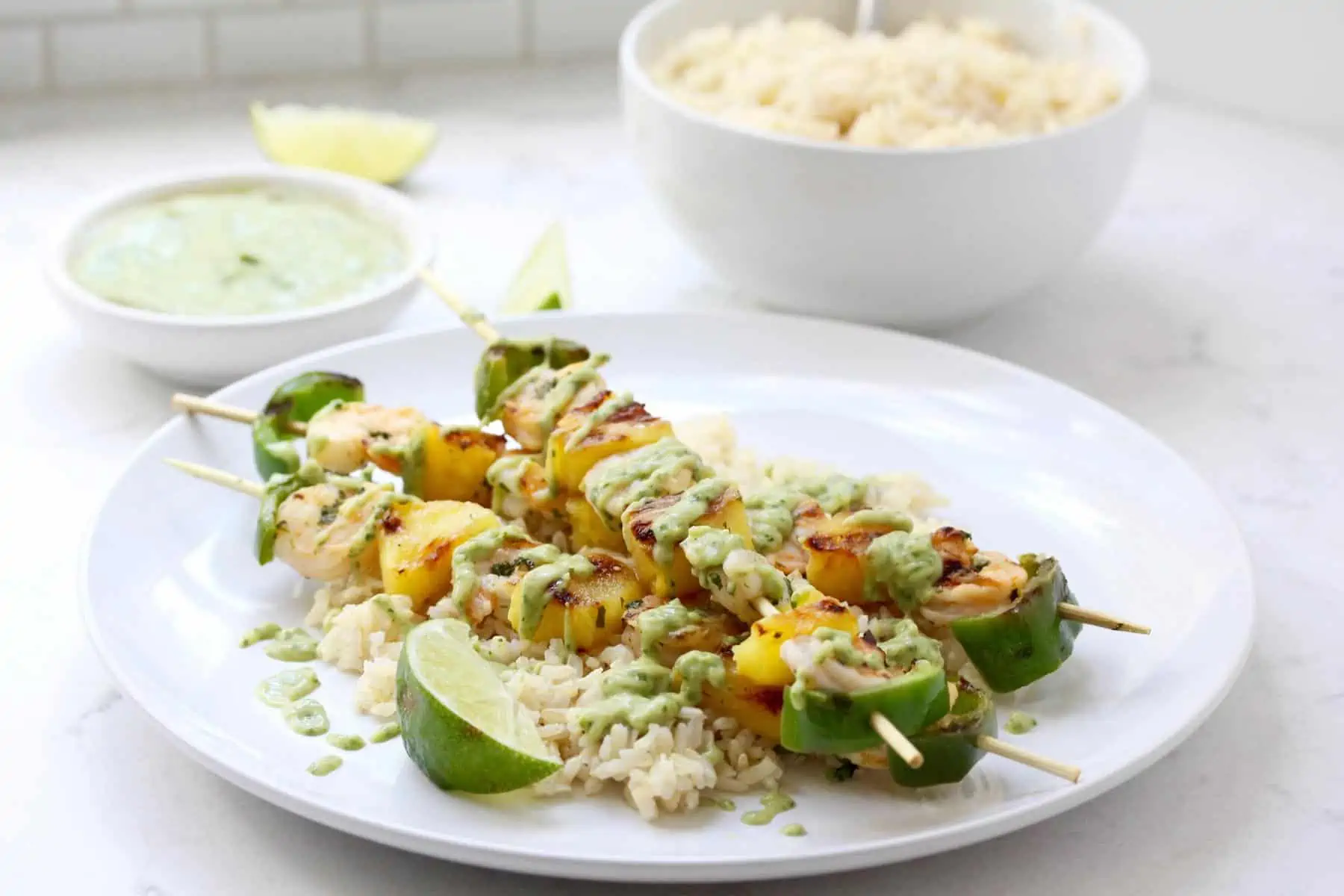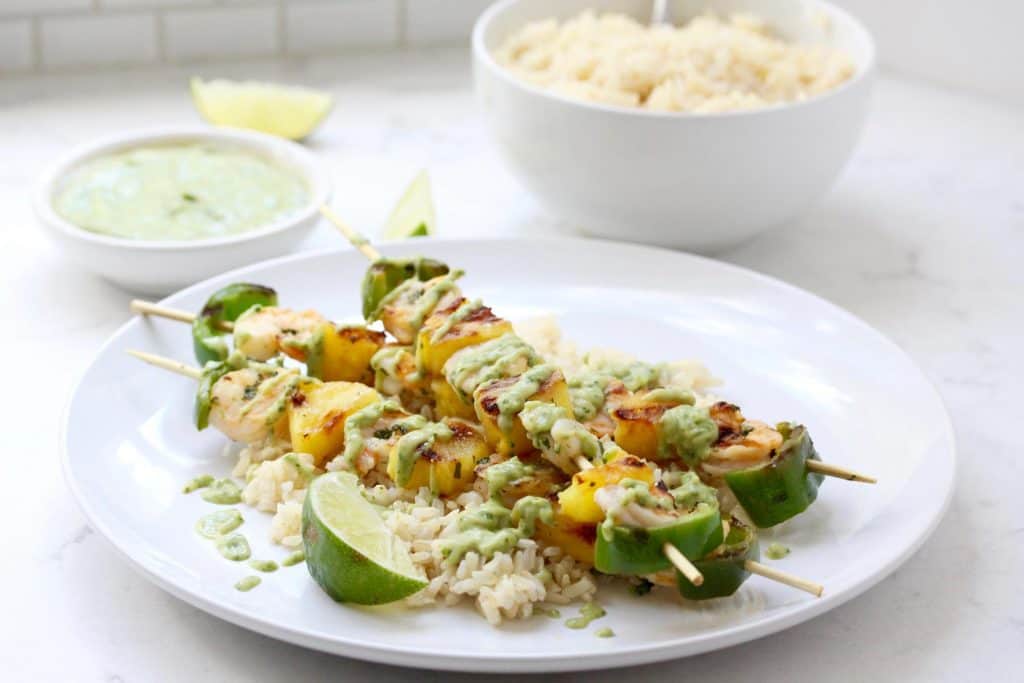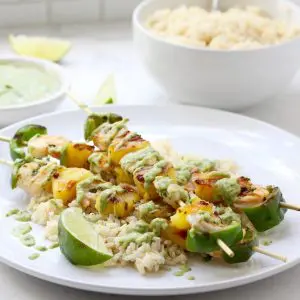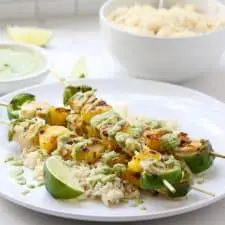 Pineapple Jalapeño Shrimp Skewers
Pin Recipe
Print Recipe
Rate Recipe
These pineapple jalapeño shrimp skewers are perfect for parties, bbqs, picnics or just a healthy meal at home.
Ingredients
1

lb.

raw shrimp

, peeled and deveined

3

jalapeños

2

cups

pineapple

3

Tbsp.

olive oil

2

Tbsp.

lime juice

4

Tbsp.

cilantro chopped

4

cloves

of garlic

salt
Instructions
Prep Ingredients: Cut the pineapple and jalapeño into pieces about the same size and thickness of your shrimp. This will ensure all the ingredients cook evenly and get a nice sear from the grill. Set aside. Remove the tails of the shrimp (if they are still attached) by pinching the base of the tail and gently pulling it off the shrimp. Mince the garlic or put it through a garlic press. Chop the cilantro. Soak wooden skewers in water to prevent them from burning (optional step).

Marinade: To make the shrimp marinade, combine 2 Tbsp. olive oil with the garlic, cilantro, lime juice, and 1/2 tsp. of salt (or to taste) in a small/medium sized bowl. Once the ingredients are well combined, add the shrimp to the bowl and gently toss the shrimp to ensure they are all coated with the marinade. Cover the bowl and put in the fridge to marinade for at least 30 minutes.

Assemble: Toss the pineapple and jalapeño with a Tablespoon of olive oil and a pinch of salt. Then assemble your skewers! I put 2 peices of jalapeño, 3 peices of pineapple and 4 shrimp on each skewer which totaled 12 skewers (3 skewers per person). However, feel free to assemble your skewers however you like!

Cook: These skewers can be cooked on the grill or on the stove in a grill pan. When using a grill pan, preheat the pan over medium heat. Place the skewers on the grill pan and cook for 3-4 minutes on each side. When using an actual grill, the skewers will cook much faster (around 2 minutes per side). Shrimp are very delicate and become rubbery when cooked too long. Keep an eye on them!

EAT: Serve the skewers immediately with Avocado Sauce and a squeeze of fresh lime!
Notes
Serve with brown rice and creamy avocado sauce
 for a complete meal!
Nutrition
Serving:
3
skewers
|
Calories:
265
kcal
|
Carbohydrates:
14
g
|
Protein:
24
g
|
Fat:
13
g
|
Cholesterol:
286
mg
|
Sodium:
897
mg
|
Fiber:
2
g
|
Sugar:
9
g
Have you tried this recipe?
Let me know what you think! Rate this recipe and leave a comment below.