One-Pan Caprese Chicken and Baby Potatoes
This recipe has slightly crispy baby potatoes, warm mozzarella melted over chicken topped with cherry tomatoes, fresh basil, olive oil and balsamic. It is a delicious, satisfying and healthy meal conveniently cooked in one sheet pan for easy prep and even easier cleanup!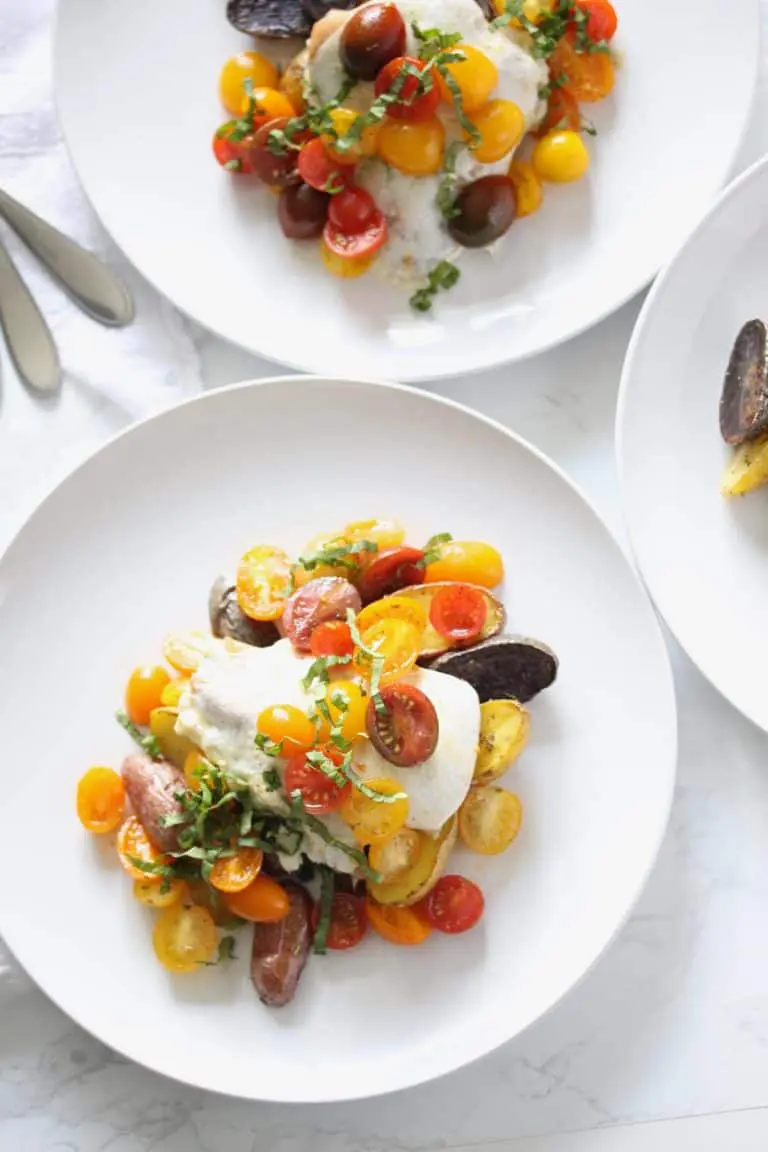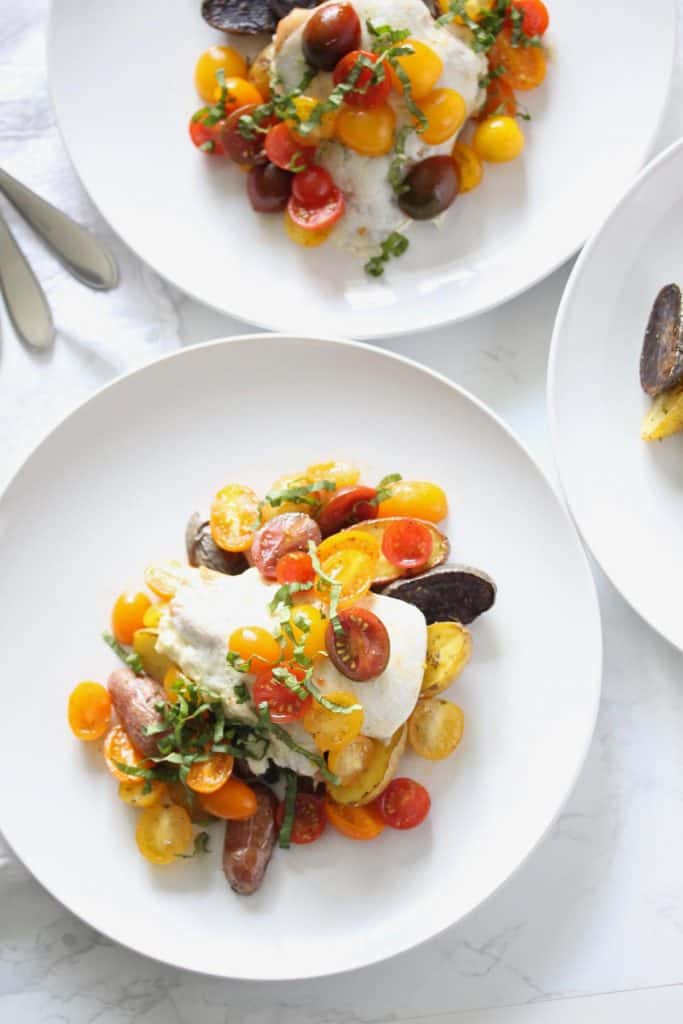 ---
Tomato Recipes
I LOVE tomatoes because they are versatile, fresh, colorful, tasty and darn good for you! Tomatoes have made many appearances in Zested Lemon recipes like Tomato Spinach Goat Cheese Quiche, Roasted Tomato Soup, and Tomato Garlic Shrimp Pasta. Lately Roasted Cherry Tomatoes have been my go-to snack.
---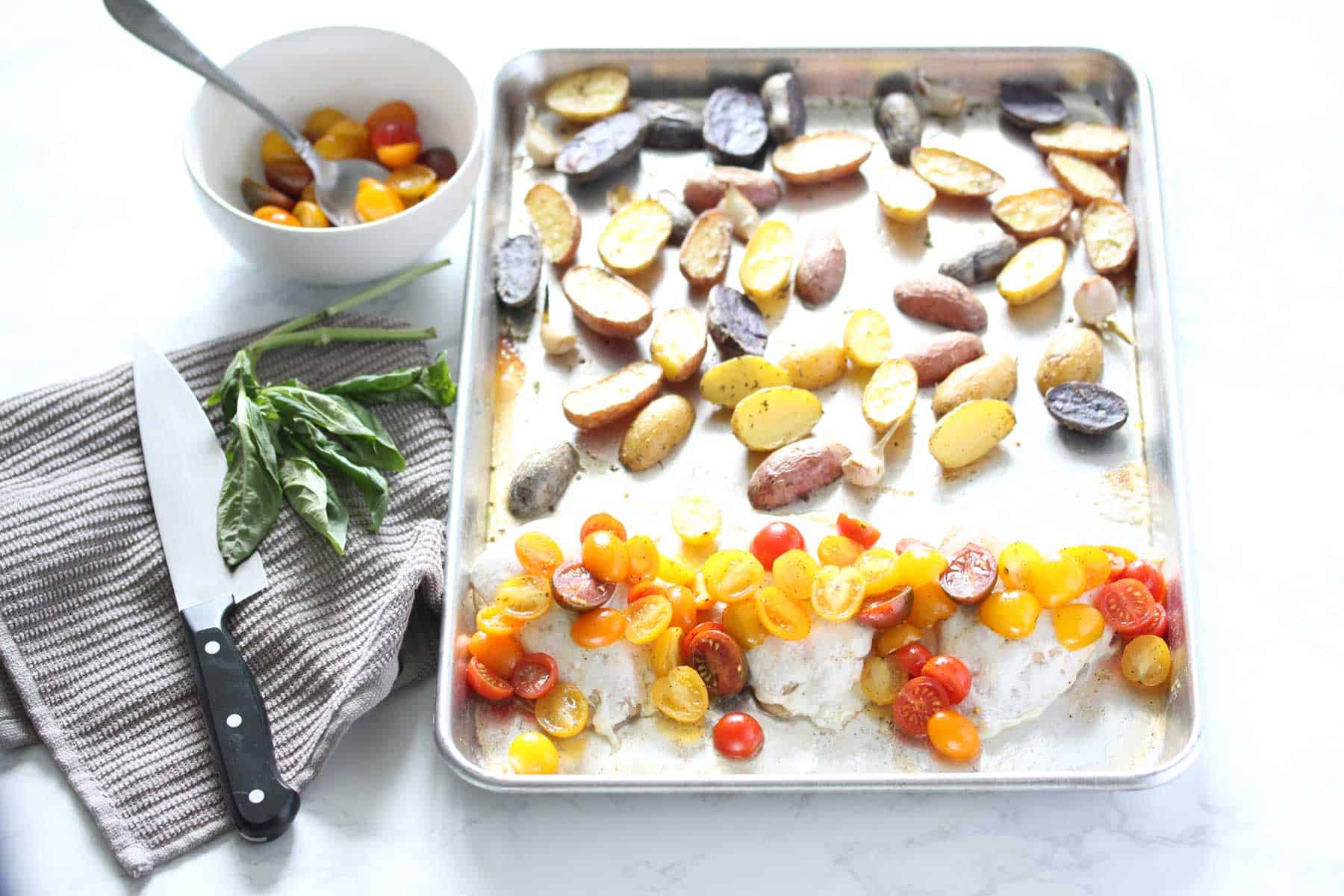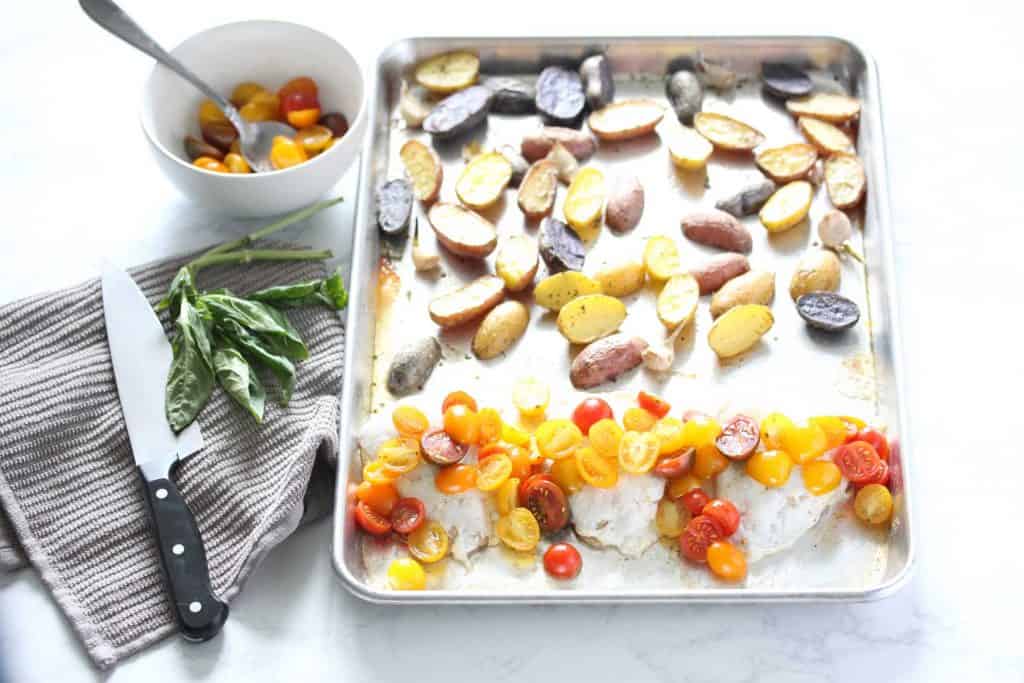 ---
One-Pan/Pot Meals
People go nuts for one-pan meals like one-pot spaghetti, one-pan fajitas and one-pan salmon dinner. What's not to love about a meal that is healthy, satisfying, prepared quickly and done so in the convenience of a single pan or pot?! So, we thought we'd keep the one-pan/pot recipes coming! Also, roasting things in the oven is easy peasy because it takes the guesswork out of trying to determine when foods are done cooking like when cooking on the stove or grill. Just preheat the oven, set the timer and relax until the buzzer goes off. Can I get a fist pump?!
---
Helpful Notes for One-Pan Caprese Chicken
Why three servings? You will also notice this recipe is written to serve three. Most recipes serve 2, 4, 6, 8, etc. but as I was writing this recipe, I decided I wanted to write it exactly how I cook it in my everyday life. When I make meals at home, I like to use all of a an ingredient if possible. . Chicken breasts often come in packages of three. So, I normally cook up all three and pack up leftovers for lunch the next day. I figured if I cook things this way, chances are others probably do as well! However, it is easy to adjust the recipe for the amount of servings you personally need.
Zero Ingredients Leftover
Why do you prefer to use all of a single ingredient? Unless I have a plan or at least a general idea of what I'm going to use leftover ingredients for, I try to avoid miscellaneous leftover ingredients if possible. I find leftover ingredients are more likely to go to waste. Often they get pushed to the back of the fridge to be forgotten about and eventually tossed in the garbage. So rather than half a bell pepper leftover, I usually just cut it up and toss it in whatever I'm cooking!
Leftover Hints and Tips
Best way to store leftovers? Store leftovers in sealed containers in the fridge. Everything else is entirely up to personal preference. However, I generally store the chicken breast and baby potatoes in one microwave-safe container and the fresh tomato mixture in a separate container. That way it is easy to warm up the chicken and potatoes and still have fresh tomatoes to put on top!
2-for-1 Bonus: This is an obvious given but purposely making extras/leftovers means cooking and clean once but eating two or three times! It's a time saver people and makes life easier!
---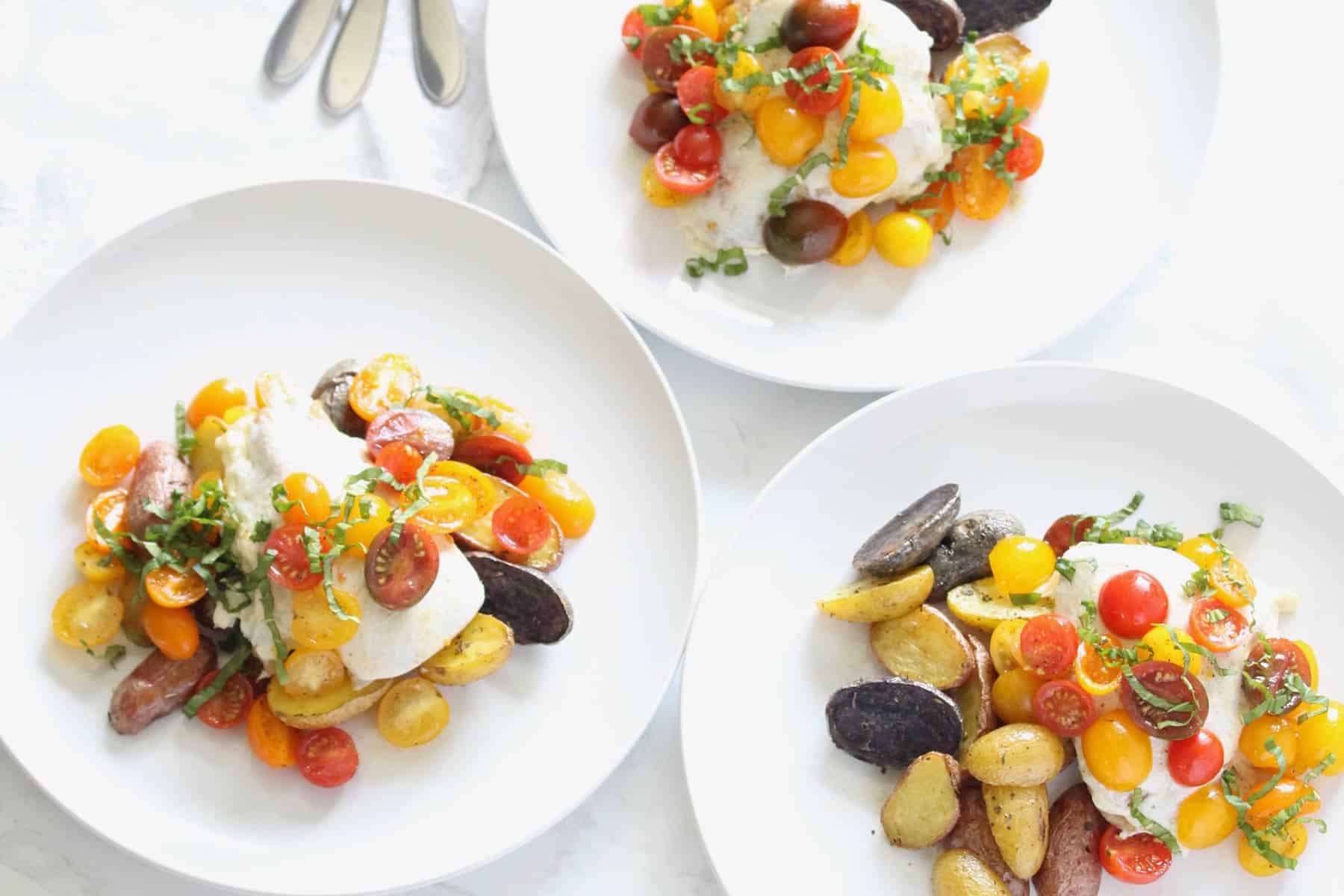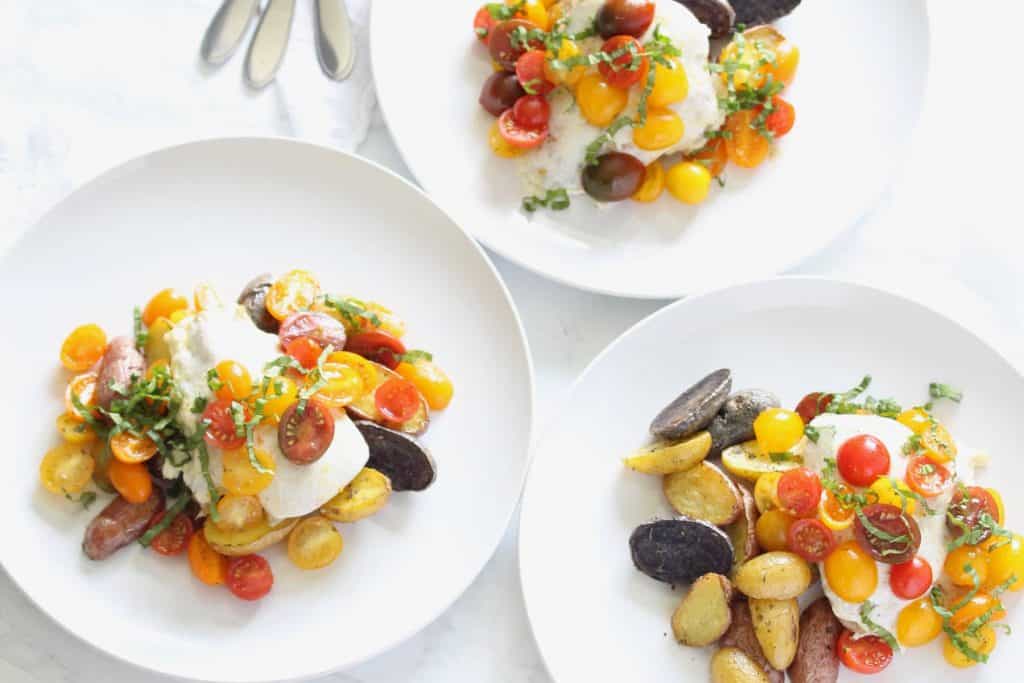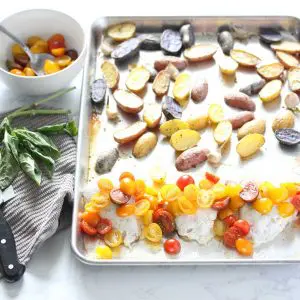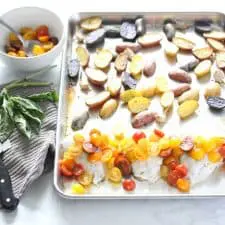 One-Pan Caprese Chicken and Baby Potatoes
Pin Recipe
Print Recipe
Rate Recipe
Prepare a delicious, satisfying and healthy meal in one pan. Easy prep. Easy cleanup. Amazing meal.
Ingredients
3

boneless skinless chicken breasts

, 4-6 ounces each

4

ounces

fresh mozzarella

18

ounces

baby potatoes

, (see note 1)

4-5

garlic cloves

, unpeeled

1/2

tsp.

thyme

1/2

tsp.

oregano

2

cups

cherry tomatoes

6-7

fresh basil leaves

1

tsp.

balsamic vinegar

olive oil

salt

pepper
Instructions
Preheat: Preheat the oven to 400°F.

Prep Fresh Ingredients: Cut the cherry tomatoes in half and place in a medium sized bowl. Add 1/2 Tbsp. of olive oil, 1/2 tsp. of balsamic vinegar, 1/4 tsp. of salt and 1/8 tsp. of ground black pepper to the bowl and use a spoon to gently combine all the ingredients. Set aside. Next, roll up the fresh basil like a cigarette and thinly slice the basil leaves into thin ribbons. Set aside.

Prep Potatoes: Cut the baby potatoes in half or in quarters and place on left side of a baking sheet along with the cloves of garlic, unpeeled. Drizzle them with 1/2-1 Tbsp. of olive oil and sprinkle 1 tsp. of salt, 1/2 tsp. of thyme and 1/2 tsp. oregano. Then gently toss the potatoes with your hands to coat them evenly. Spread the potatoes into a single layer on the left side of the sheet pan. Set aside.

Prep Chicken: Coat the chicken breasts with 1 tsp. of olive and season with 1/2 tsp. of salt and 1/4 tsp. of ground black pepper (or season to personal preference). Place the chicken breasts on the right side of the sheet pan. Thinly slice the fresh mozzarella to melt on top of the chicken. Set the mozzarella aside.

Cook and Melt: Place the sheet pan in the oven for 20 minutes. Then place the fresh mozzarella slices on top of the chicken breasts and return the sheet pan to the oven for an additional 5-7 minutes or until the mozzarella is melted, the chicken is cooked through and the potatoes are slightly crispy around the edges.

Assemble: Portion out the baby potatoes and chicken breasts with melted fresh mozzarella onto three plates. Top the chicken with the tomatoes and a sprinkle of the fresh basil.

Enjoy: Enjoy immediately and store any leftovers in the fridge!
Notes
Note 1: Other varieties of potatoes can be used. Simply cut them into roughly 1/2″ pieces. 
Nutrition
Serving:
1
portion
|
Calories:
409
kcal
|
Carbohydrates:
37
g
|
Protein:
37
g
|
Fat:
12
g
|
Cholesterol:
102
mg
|
Sodium:
400
mg
|
Fiber:
5
g
|
Sugar:
5
g
Have you tried this recipe?
Let me know what you think! Rate this recipe and leave a comment below.