One-Pan Salmon Brussel's Sprouts & Sweet Potatoes
Make a full salmon, sweet potato and Brussel's sprouts meal in the convenience of a single pan. Easy to make. Easier to cleanup. Delicious to eat.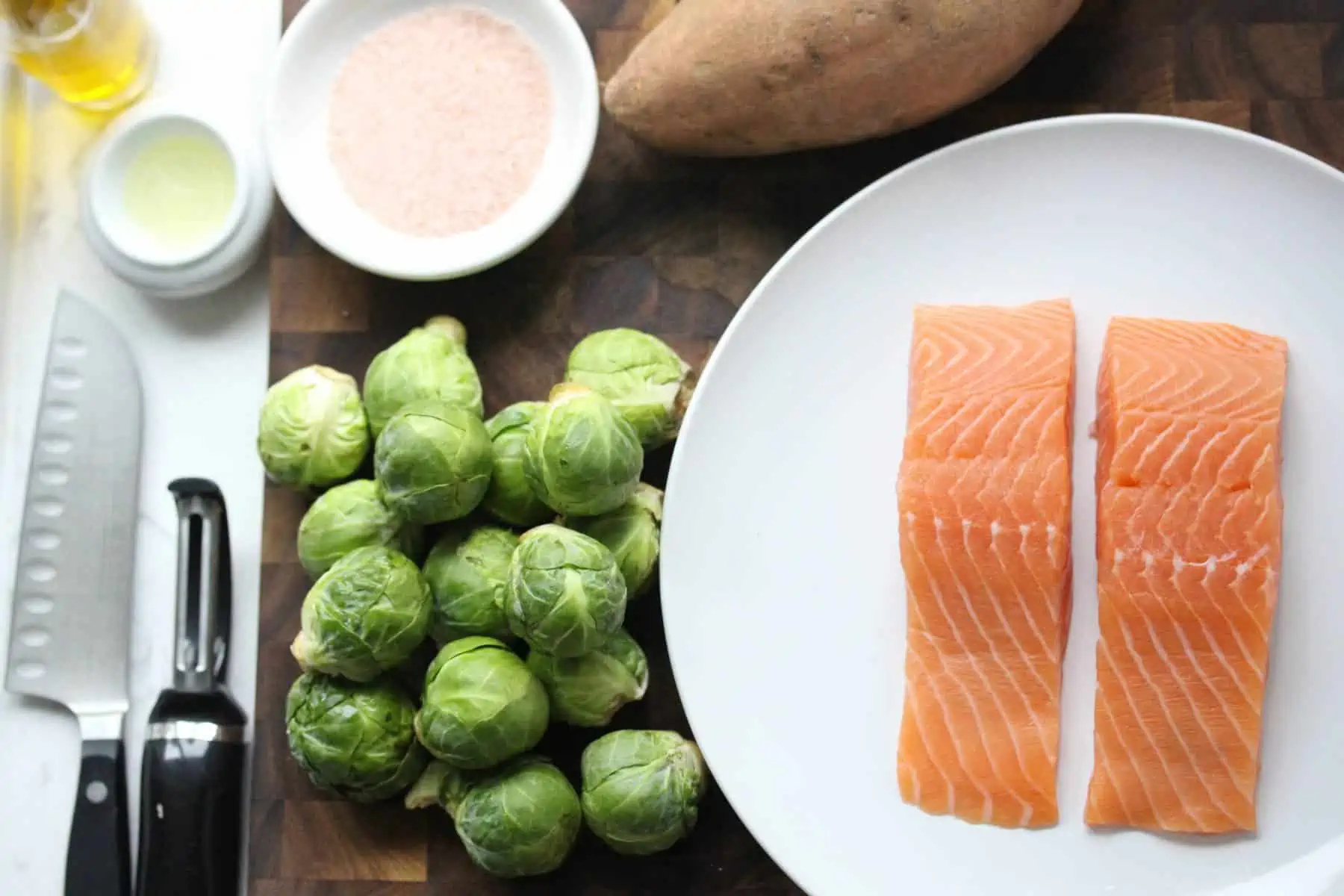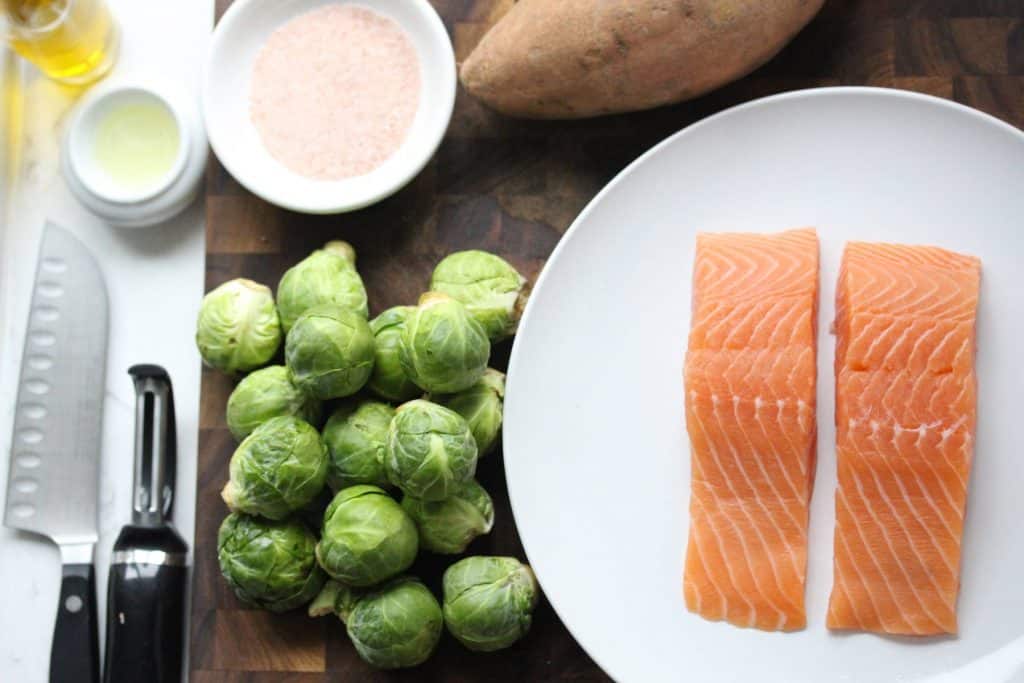 ---
The Problem
After a long day, you collapse on the couch and order takeout for dinner because doing anything sounds like way more effort than it's worth. An hour or so later your food arrives in a grease soaked paper bag. At this point you are ravenous. So, you scarf down one too many egg rolls and a pound of fried rice only to be left with guilt, regret and a stomach ache. Sound familiar? There is a solution.
The Solution – One-Pan Salmon Dinner
I present to you!… One pan (or pot) meals!!! Ok, I realize that sounds really unexciting but one pan meals are AWESOME for busy nights or nights where you don't want to cook, clean, think, etc. This one pan meal in particular is amazing because…
1) It is cooked in the oven on a timer so you don't have to think or stand over the stove checking for doneness.
2) If you line the cookie sheet with tin foil, you literally have NO CLEAN UP. Seriously, after the food is done roasting just roll up the tin foil, toss it in the trash, and enjoy your "clean up free" evening.
3) You will feel good about feeding your body something healthy rather than feeling like a stuffed sausage from eating too much greasy takeout.
The Magic Ingredient
Roasted sweet potatoes, Brussels sprouts and salmon are all quite good on their own but I always like to add something special to each meal to bring it all together and give it a little pizazz whether is be a sauce, a dip or a magic ingredient. The magic ingredient in this recipe is the mascarpone (which is just a fancy name for Italian cream cheese).
I can't take credit for this one though. My friend, Kathy, introduced me to this wonderful little secret. Last year, one of my girlfriends had a bunch of us over for dinner and Kathy brought roasted sweet potatoes with mascarpone. I thought the combination was odd but obviously gave it a go… and BAM! My life changed forever! OK, I'm being slightly dramatic but it was really good. So, moral of the story… even though mascarpone is optional in this recipe I highly recommend you try it!! Cheers!
---
Similar Recipes
---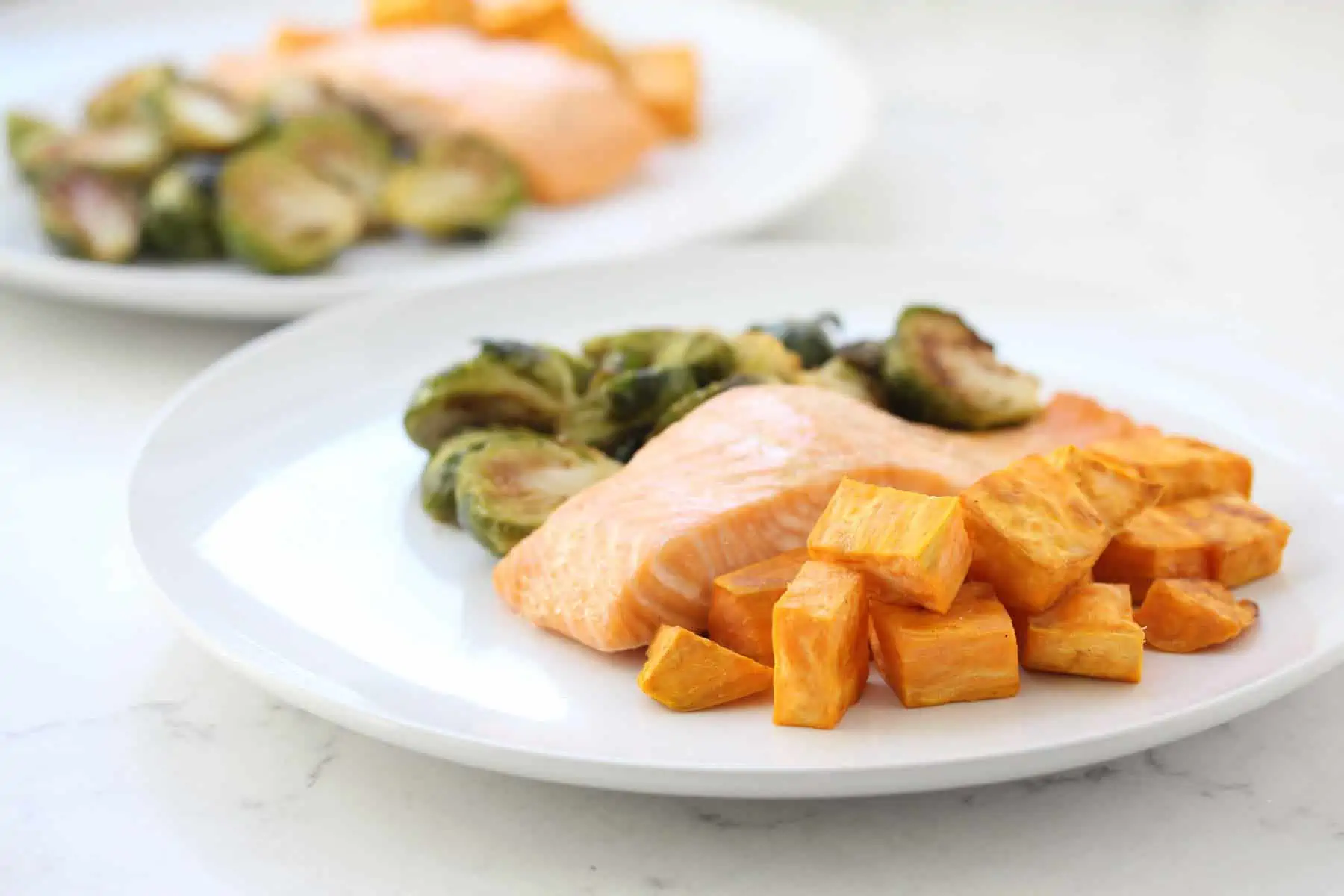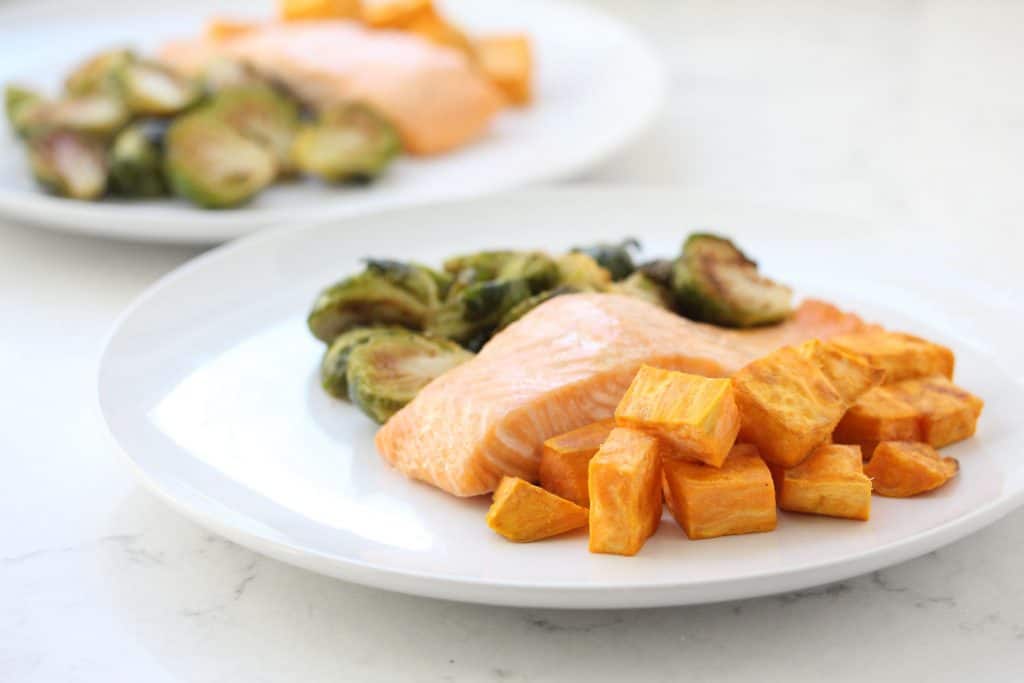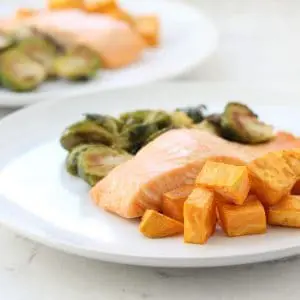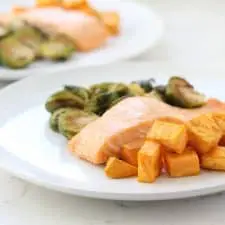 One Pan Dinner – Salmon, Brussels Sprouts and Sweet Potatoes
Pin Recipe
Print Recipe
Rate Recipe
Make a full salmon, sweet potato and Brussel's sprouts meal in the convenience of a single pan. Easy to make. Easier to cleanup. Delicious to eat.
Ingredients
14

oz

salmon

, cut into two filets

1

large sweet potato

, (see note 1)

2

cups

Brussels sprouts

, (see note 1)

1/2

lemon juice

1-2

Tbsp

olive oil

salt

2-3

Tbsp

mascarpone

, (see note 1)
Instructions
Preheat: Preheat the oven to 425 degrees.

Prep Veggies: It is up to you whether you want to peel the potato or not! Cut the sweet potato into 1/2" – 1" cubes. Cut the Brussels sprouts in half. Put the cubed sweet potatoes and Brussels sprouts on a baking sheet in a single layer. Drizzle with olive oil (1-2 Tbsp. should do the trick!) and toss the potatoes and Brussels sprouts a couple times with your hands to make sure they are coated on all sides. Season with a couple pinches of salt and put them in the oven for 10 minutes.

Prep Salmon: While the veggies are cooking, prep the salmon. Again, feel free to leave the skin on or remove it based on your personal preference. Season both sides of the salmon with a couple pinches of salt and a light drizzle of olive oil (about 1 tsp. per filet will work).

Flip & Roast: Take the sweet potatoes and Brussels sprouts out of the oven after 10 minutes and flip them with a spatula (so both sides brown and crisp perfectly). Make a little room for the salmon on the baking sheet and place the salmon on the baking sheet (skin-side down if you decided to keep the skin on). Then squeeze some fresh lemon juice over the salmon and the Brussels sprouts. Don't go too crazy with the lemon juice unless you want your dinner to taste like a Warhead. You can always add more lemon once it is done cooking and you are able to taste it. Put the cookie sheet back into the oven for an additional 10-12 minutes (still at 425 degrees).

Garnish, Serve, Eat: After everything is done cooking, put the salmon, Brussels sprouts and sweet potatoes onto plates. Top the veggies with a spoonful of mascarpone (optional) and the salmon with a slice of lemon (optional). Enjoy!
Notes
Note 1: None of these measurements are exact (measuring cups and scales are things I rarely use in the kitchen). Use your own judgment. If you think you need two sweet potatoes. Go for it! If you REALLY love Brussels sprouts, make a whole bunch (although you may need two sheet pans!). You call the shots (not the recipe)!
Nutrition
Serving:
0.5
recipe
|
Calories:
465
kcal
|
Carbohydrates:
32
g
|
Protein:
40
g
|
Fat:
20
g
|
Cholesterol:
108
mg
|
Sodium:
182
mg
|
Fiber:
7
g
|
Sugar:
7
g
Have you tried this recipe?
Let me know what you think! Rate this recipe and leave a comment below.
Until next time dearest friends!