Air Fryer Spiced Chicken and Vegetables
This Air Fryer Spiced Chicken and Vegetables recipe is an easy weeknight dinner that is so flavorful, juicy and crispy, you won't believe it's healthy!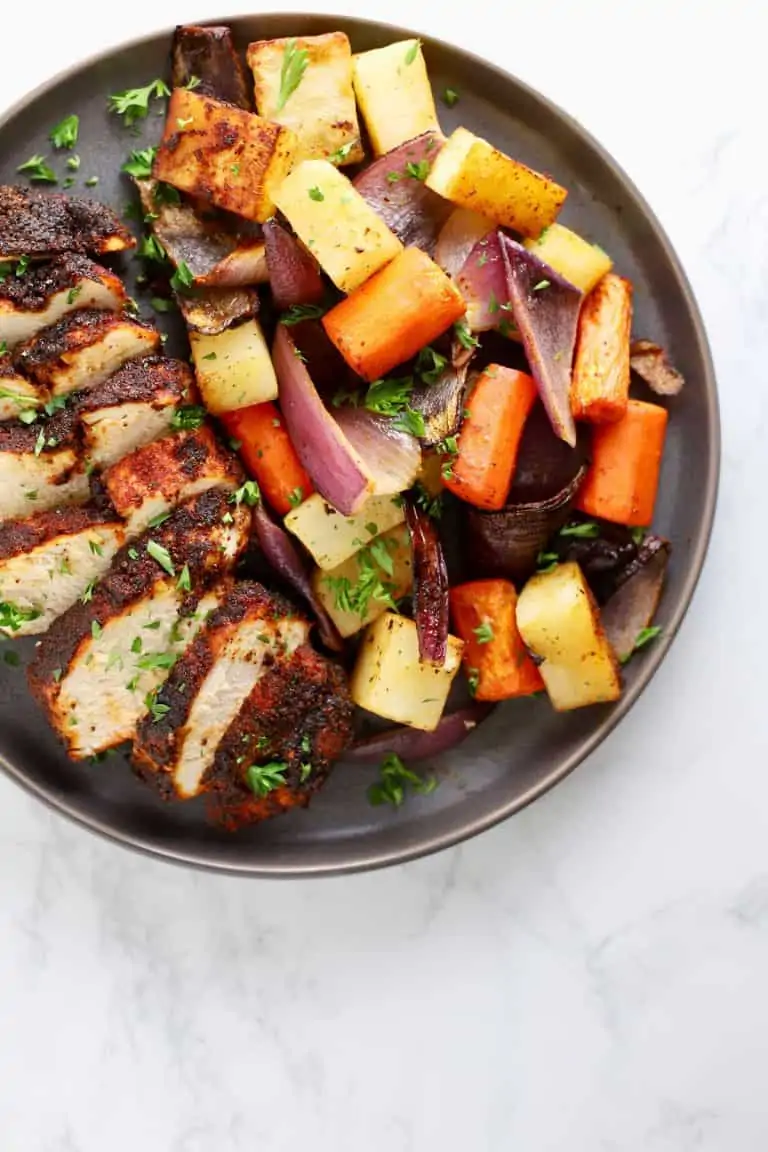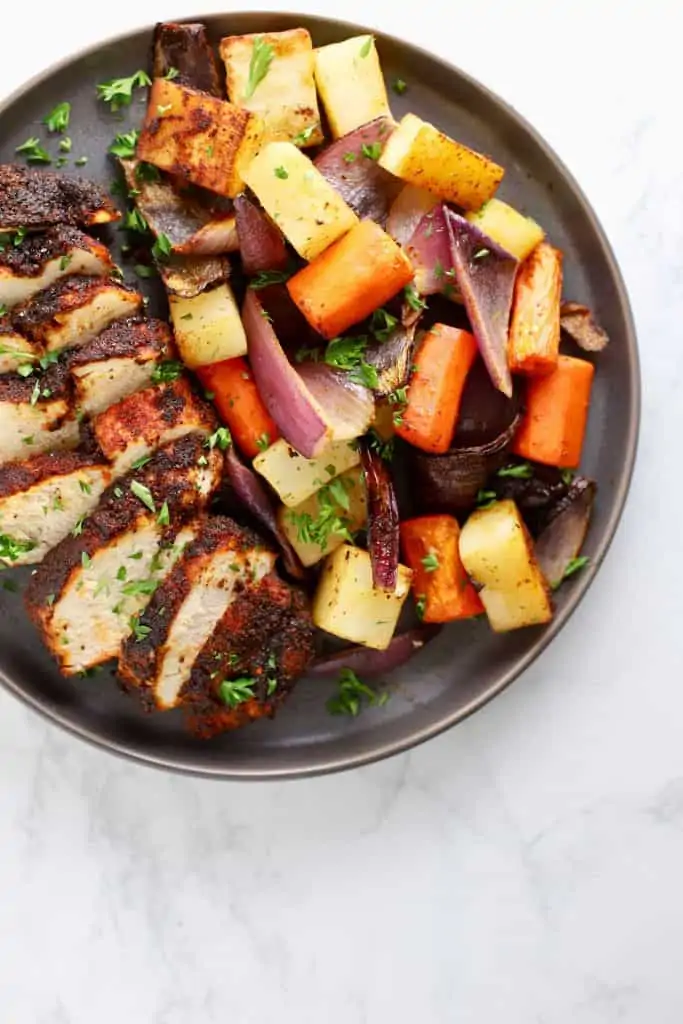 ---
About Air Frying
What is an air fryer? An air fryer is an appliance that mimics fried food using only hot air and little to no oil. So, essentially it is a healthier option for those who like crispy, crunchy, fried goodness.
Is air fried food healthy? Heck yeah! Air frying uses little to no oil!I
Which air fryer to get? I own the Ninja Air Fryer but have also used a Philips Air Fryer. Both worked great! I honestly didn't prefer one over the other. Since performance was similar, I recommend the Ninja Air Fryer as it is significantly more affordable. I also recommend getting an air fryer that has a 3.5 qt basket or larger if you plan on making food for more than one or two people.
Most air fryers do more than air frying. Some have options to roast, reheat, dehydrate, etc. I even saw an instant pot/air fryer all-in-one combo appliance! The options extend far past making healthy fries. Think ravioli, homemade chips, chicken wings, baked goods and so much more. This recipe is a perfect example as it isn't traditionally a deep fried meal but the air fryer gives it a wonderful crispiness and is really quick to make.
Is an air fryer easy to clean? Yes! Most air fryers have a "basket" you pull all the way out of the appliance making it super easy to rinse out. So, far I haven't had any foods bake on or harden on any area of the air fryer. Is rinses out like a dream! Most baskets and miscellaneous accessories are dishwasher safe as well!
How big is an air fryer? I'm not going to lie. This isn't a small appliance. It is about the width of a crockpot but twice as tall. So, consider storage space! If you live near a close friend or family member, you could always switch off buying kitchen appliances/gadgets and just borrow and lend as needed!
---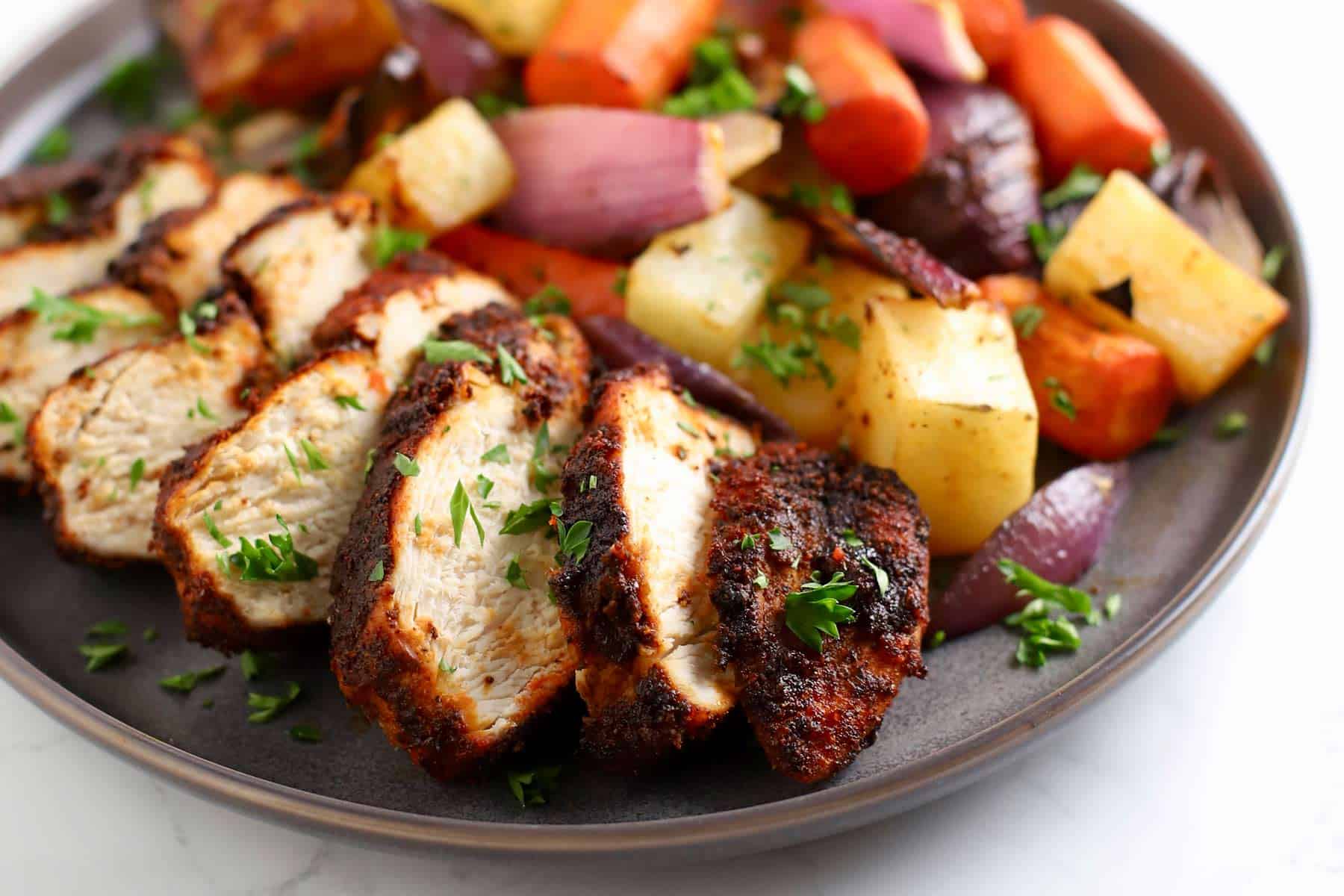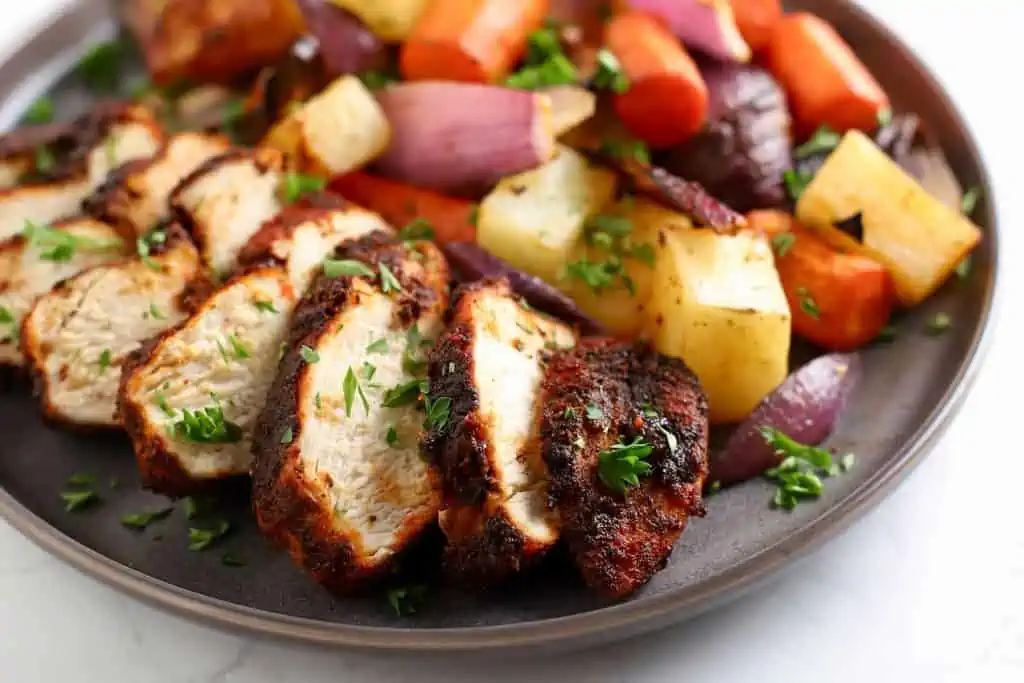 ---
Other Weeknight Meals
If you're looking for other quick weeknight meals give One-Pan Caprese Chicken, One-Pan Honey Garlic Chicken or One-Pan Salmon Dinner a try! Not into sheet pan meals? Try Honey Curry Chicken in the slow cooker. So good!
---
About the Recipe
One-Pan Meal: This recipe makes the entire meal in the air fryer all at the same time. Easy peasy.
Chicken Spice Rub: The chicken is coated in a simple spice rub which creates a crunchy flavorful crust in the air fryer.
Crispy, Not Crunchy: The crispy level of this recipe is somewhere between oven baked and pan fried.
---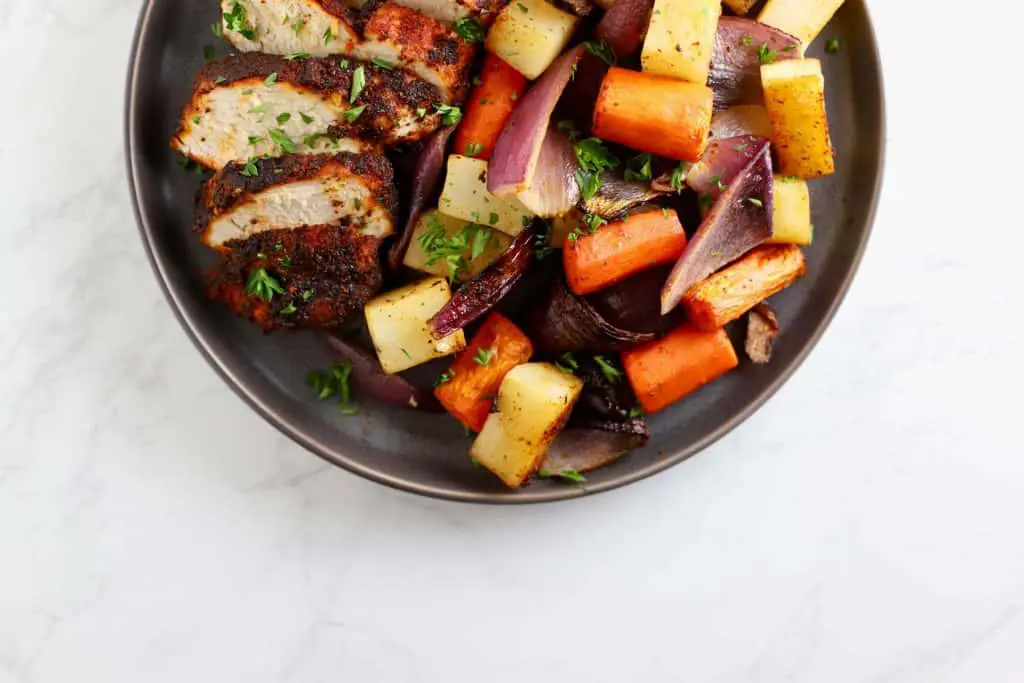 ---
Recipe Hints
Pre-heat Your Air Fryer:Preheating your air fryer for 2-3 minutes helps achieve optimum crispiness.
Flip Your Chicken: Flip the chicken halfway through to make sure both sides get that nice crispy crust from the spice rub!
Shake Your Basket: Once or twice during cooking, pull the basket out of the air fryer and give it a good shake. This helps the veggies crisp more evenly.
---
How We Make Air Fryer Spiced Chicken and Vegetables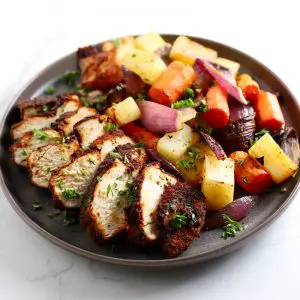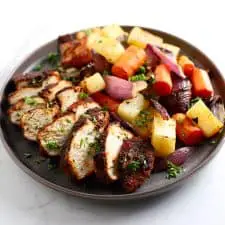 Air Fryer Spiced Chicken and Vegetables
Pin Recipe
Print Recipe
Rate Recipe
This Air Fryer Spiced Chicken and Vegetables recipe is an easy weeknight dinner that is so flavorful, juicy and crispy, you won't believe it's healthy!
Ingredients
Spiced Chicken Ingredients:
2

boneless skinless chicken breasts

1/2

Tbsp.

olive oil

1

tsp.

chili powder

1/2

tsp.

paprika

1/2

tsp.

onion powder

1/2

tsp.

garlic powder

1/2

tsp.

salt

1/2

tsp.

pepper

1/4

tsp.

cumin
Vegetables Ingredients:
1

red onion

1

large potato

2-3

large carrots

1/2

Tbsp.

olive oil

1

pinch

salt
Instructions
Preheat Air Fryer: Set air fryer to "air fry"  and preheat to 325 degrees. 

Prep Chicken: In a small bowl combine all the chicken spices (chili powder, onion powder, garlic powder, salt, pepper, cumin and paprika) to make a spice rub. Coat the chicken breasts with 1/2 Tbsp. olive oil followed by the spice rub. Set aside.

Prep Vegetables: Peel carrots and potato (optional). Cut the carrots into 1/2" – 1" pieces and the potatoes into 1/2" – 1" cubes. Cut the onion in half and removed the outer layer. Then cut each half into fourths. Make sure to separate all the layers of the onion. Put all veggies in a bowl. Coat with 1/2 Tbsp. of olive oil and a pinch of salt. 

Air Fry: Dump the vegetables into the preheated air fryer basket. Place the chicken breasts on top of the vegetables and close the air fryer. Cook for 35 minutes. Halfway through cooking, flip the chicken and give the veggies a good shake. 

Enjoy! Serve immediately and enjoy! Store leftovers in sealed containers in the fridge. 
Notes
Tip: Preheat your air fryer for 2-3 minutes to achieve the crispiest chicken.
Nutrition
Serving:
0.5
recipe
|
Calories:
344
kcal
|
Carbohydrates:
34
g
|
Protein:
28
g
|
Fat:
11
g
|
Cholesterol:
72
mg
|
Sodium:
722
mg
|
Fiber:
6
g
|
Sugar:
6
g
Have you tried this recipe?
Let me know what you think! Rate this recipe and leave a comment below.