This Fresh Taco Salad is a delicious hearty recipe that is full of fresh ingredients and perfect option for meal prep or leftovers. I frequently make this recipe and pack it up for lunches throughout the week.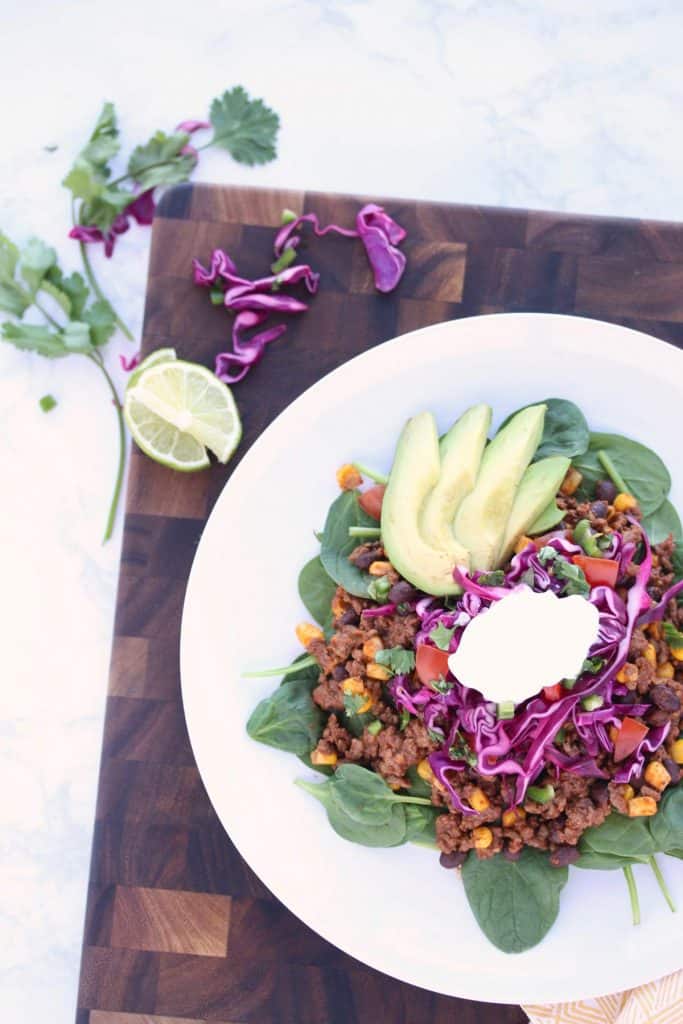 ---
Save Time: A 5-for-1 Recipe
This recipe is from one of my 5-for-1 Cooking Method meal plans. The 5-for-1 Cooking Method is a hybrid meal prep strategy that preps one set of ingredients at the beginning of the week. That set of ingredients is used in different ways to create a variety of meals throughout the week which allows you to spend less time grocery shopping, meal prepping and cooking without having to eat the same boring meal night after night.
If you want to give it a try, input your email below and I'll send a free copy of the 5-for-1 Cooking Method Guide + Free Mini Meal Plan right to your inbox.
---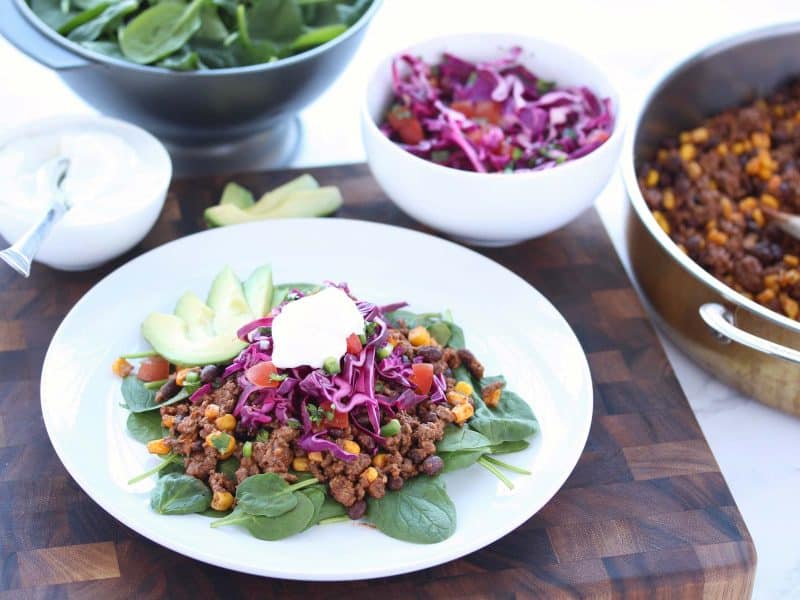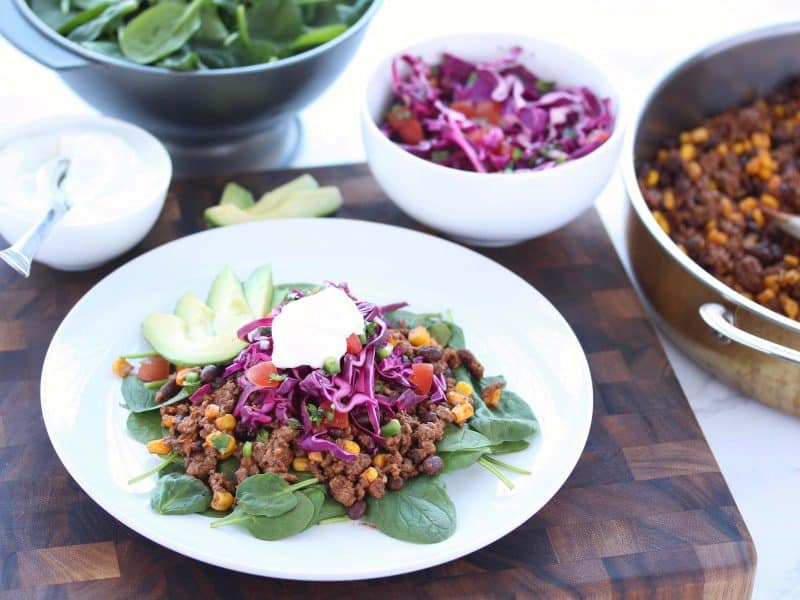 ---
Portion Control Trick – Filler Ingredients
This fresh taco salad recipe also uses the Filler Ingredient Strategy which is a portion control strategy. A Filler Ingredient is a healthy food added to a recipe or another food item. The purpose is to add healthy nutritious bulk to a meal.
This recipe calls for ground beef, but as you all know it can be hard to eat healthy portions of it. After all no one wants a wimpy taco salads. We want a hearty and satisfying meal that'll keep us full and not leave us feeling famished. Ok, famished might be a dramatic choice of words but you get the idea.
To compensate this recipes adds two Filler Ingredients directly to the ground beef; corn and black beans. Adding Filler Ingredients enables you to eat what seems to be a large hearty portion of ground beef when really it is an appropriate/healthy portion.
This strategy really works. I make this recipe for my husband frequently. He has a pretty big appetite and would eat plates for of meat for every meal if it didn't kill him. Anyway, when I make this meal, he will eat 4 oz. of ground beef or LESS! When I tell him afterwards, he doesn't believe me because the Filler Ingredients make it seem like there is so much more beef on his plate.
Still doubtful? Try it for yourself. Get ready to be hoodwinked. 🙂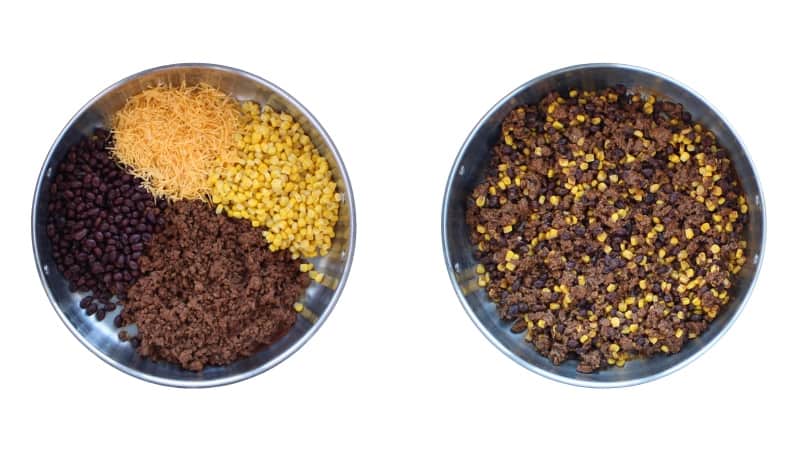 ---
Helpful Info for Fresh Taco Salad
One Recipe Multiple Ways: I love this recipe because it is easy to turn into a new dish with a single ingredient. In the mood for tacos? Great! Just stuff all the healthy and delicious goodness from this recipe into a taco shell. Same goes for nachos. Spread out your favorite tortilla chips on a plate or sheet pan. Add a layer of the cheesy ground beef/bean/corn mixture and top with the fresh ingredients and a dollop of sour cream or Greek yogurt.
Leftover/Meal Prep Approved: This recipe is also awesome for meal prep. I always pack up the leftovers for lunches later in the week. My hubs loves bringing taco salad to work because it is warm, fresh and different from the boring sandwich/brown bag lunch.

---
Other taco recipes… because tacos.
Print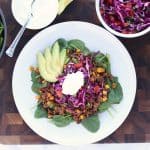 Fresh Taco Salad
---
Prep Time:

20 minutes

Cook Time:

10 minutes

Total Time:

30 minutes

Yield:

4

1

x
Description
This Taco Salad is hearty and full of fresh ingredients.
---
Scale
Ingredients
3

Roma tomatoes

1/4

head purple cabbage

1

jalapeño

1/2 cup

cilantro lightly packed

1 tsp

. lime juice (or to taste)

1/4 tsp

. salt (or to taste)

1

can black beans (

16 oz

)

1

can corn (

16 oz

)

1

lb. ground beef*

1

taco seasoning packet**

1/2 cup

shredded cheddar cheese

8 cups

fresh spinach (

8

handfuls)

1

avocado
sour cream or plain Greek yogurt (optional)
---
Instructions
Prep Fresh Ingredients: Dice the tomatoes. Thinly slice the cabbage. The thinner the slices the better! Remove the seeds from the jalapeno and finely dice the jalapeno. Roughly chop the cilantro. Don't worry about removing all the stems. It is time consuming and the stems taste just as good as the leaves.
Combine Fresh Ingredients: Combine the tomatoes, cabbage, jalapeno, cilantro, lime juice and salt in a bowl. Set aside or store in the fridge until needed.
Drain and Rinse: Drain and rinse the black beans and corn. Set aside.
Cook Beef: Cook the ground beef in a skillet over medium to medium/high heat until cooked through. Add taco seasoning packet and 1/4 cup of water to the ground beef. Stir and cook for an addition 2 minutes.
Mix: Reduce the heat to low. Add the black beans, corn and shredded cheddar cheese to the ground beef. Stir to combine and cook for 2-3 more minutes or until the cheese is melted.
Assemble: Assemble each plate with a couple handfuls of spinach and 3/4 cup of the beef/corn/black bean mixture. Top each plate with about a cup of the fresh ingredient mixture (tomatoes, cabbage, jalapeno, cilantro), 1/4 of an avocado and a couple tablespoons of Greek yogurt or sour cream. Enjoy!
---
Notes
* Feel free to substitute the ground beef with ground turkey or ground chicken.
**Either store-bought taco seasoning or homemade taco seasoning will work!