Healthy Veggie Loaded Turkey Chili
This Healthy Veggie Loaded Turkey Chili recipe stands out because it is packed with fresh and healthy ingredients. All the flavors, colors and textures will have your tastebuds jumping for joy.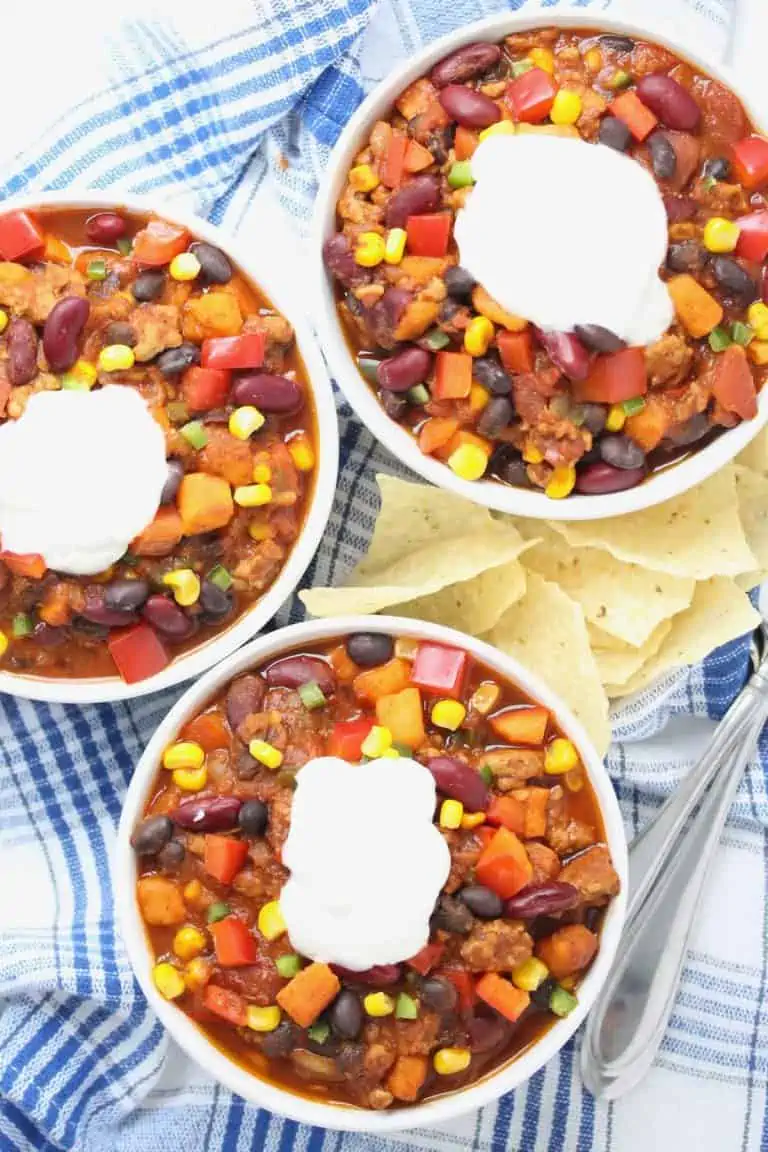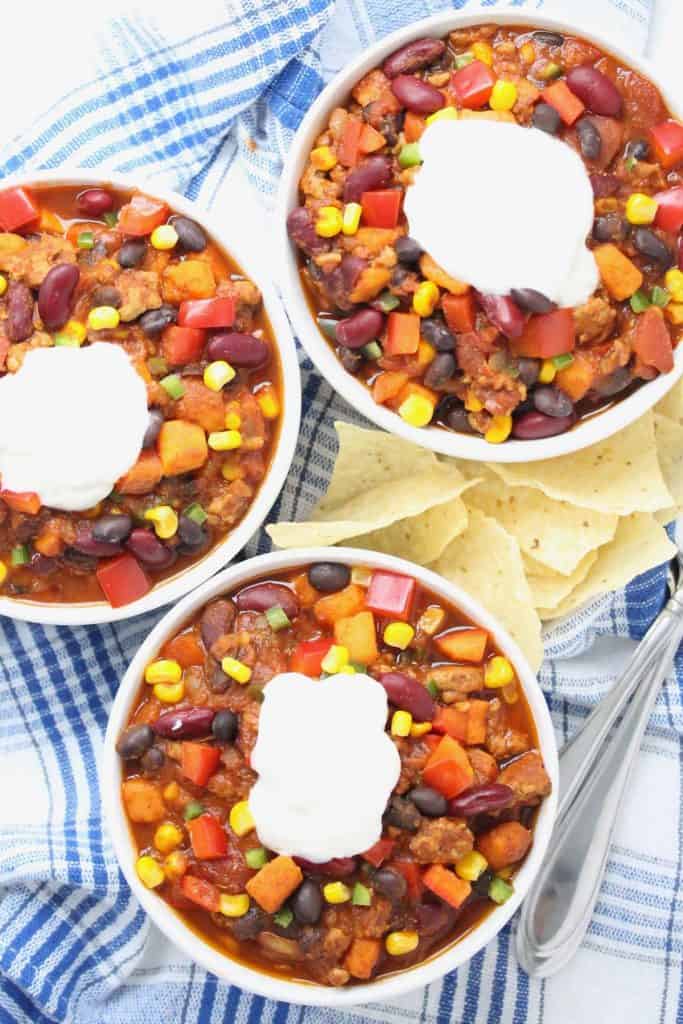 ---
Helpful Hints
The Best of Both Worlds: It is that time of year again. Winter is coming. DUN DUN DUNNNN! Seriously, though we've already had a few snowy days here in Minnesota. The cold air just makes me want to curl up in a blanket with something warm and comforting to eat like warm apple raisin oatmeal, chicken tortilla soup or this veggie loaded chili.
Easy Cleanup + Leftovers: Cleanup is a breeze because the entire recipe is made in one pot. As an added bonus, the leftovers are amazing. This chili is one of those recipes that I will make purposely make extras of so I can eat it whenever I want during the week.
Pots vs. Pans vs. Dutch Ovens? There are a lot of options to choose from when it comes to cookware. The names and categories can get confusing. For this particular recipe, you don't need anything special. In fact, I've used a chef's pan (large very deep pan), a stock pot and a dutch oven to make this recipe. All worked just fine to make this chili on the stove. Personally, I prefer the chef's pan or the dutch oven because they aren't as deep as some stock pots. Sometimes I feel like I'm practically reaching half my arm into the pan to stir something when I use a stock pot!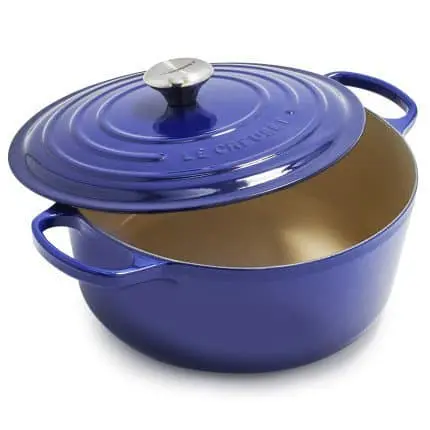 So Many Healthy Ingredients: I rarely put all my ingredients in individual dishes (like the pic below) because who wants to clean more dirty dishes? Not me! However, I had to make an exception because this chili is made of so many colorful and healthy ingredients. I just had to snap a quick pic!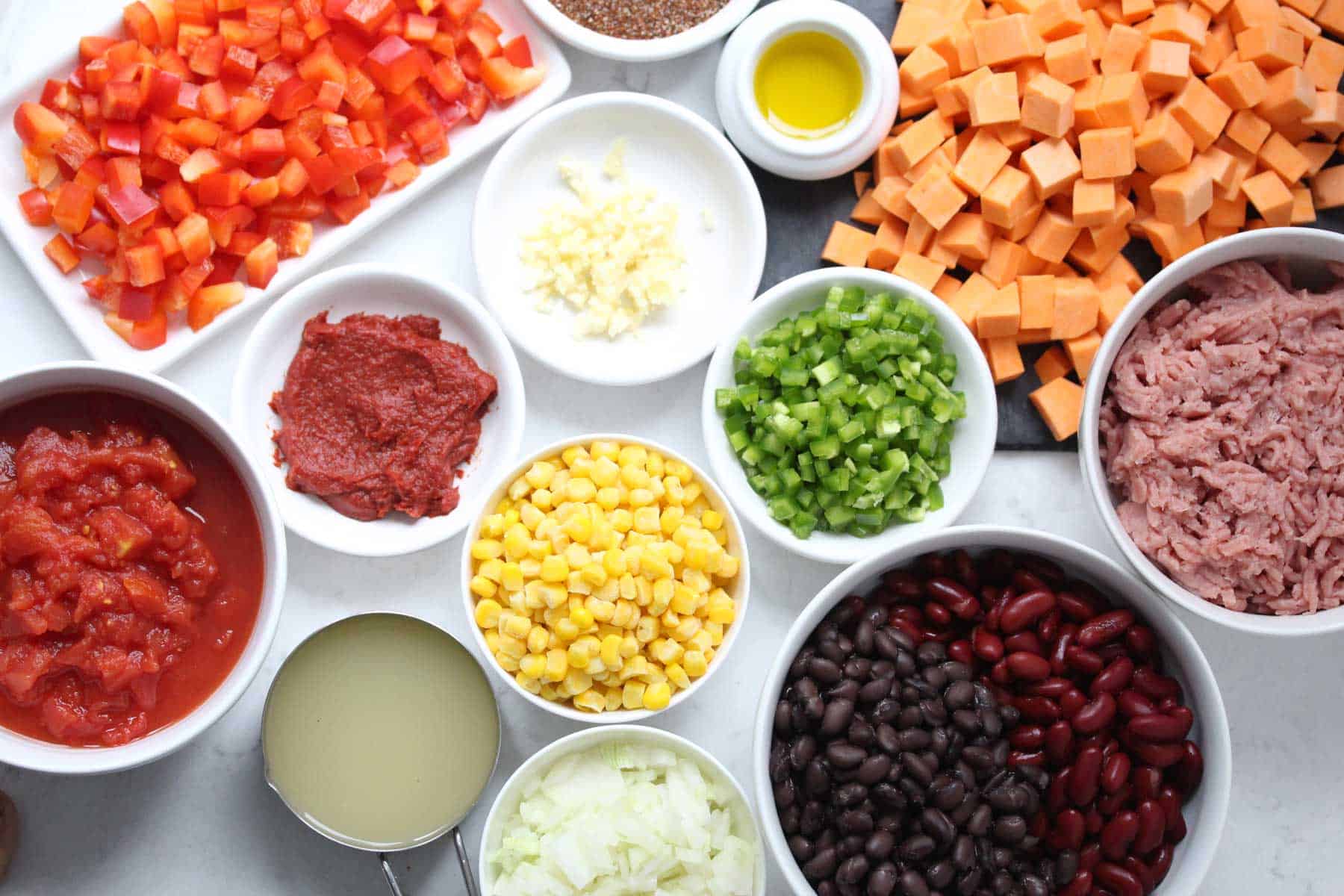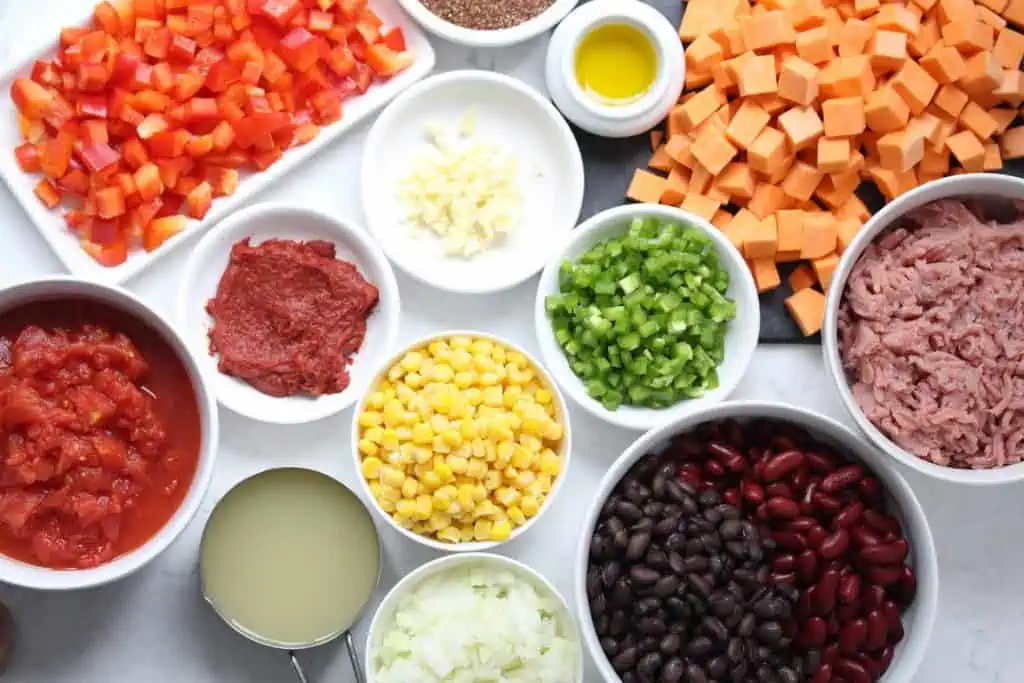 ---
Other Warm Hearty Recipes
There's nothing like enjoying a warm delicious recipes on a cold winter day. This apple raisin oatmeal, chicken tortilla soup and Italian beef are a few of my favorite recipes! Perfect for fall and winter!
---
The Story Behind the Veggie Loaded Turkey Chili
My husband, Tom, was on his way home from work at around 9PM and he called to tell me he was REALLY hungry. Good news, I was also REALLY hungry. Bad news, I didn't have anything planned for dinner yet. So, I quickly rummaged through the kitchen and pulled out some ground turkey and a couple cans of beans. I started making the first thing I thought of which was chili.
I almost always add a bunch of additional fresh ingredients to dishes whether I'm cooking with a recipe or not. Seriously, it always makes meals taste better. I also hate wasting food. So, when I decided to make this chili, I pulled out a bunch of healthy ingredients that I needed to use up, chopped them and tossed them in the chili pot.
After I was done making the chili, I took a quick bite and blurted out, "holy sh*t this is good". Pardon my french but I wasn't expecting the chili I haphazardly threw together would knock my socks off. So, I frantically grabbed a pen and tried to remember everything I had tossed in the pot so that I could share the recipe with you guys!
---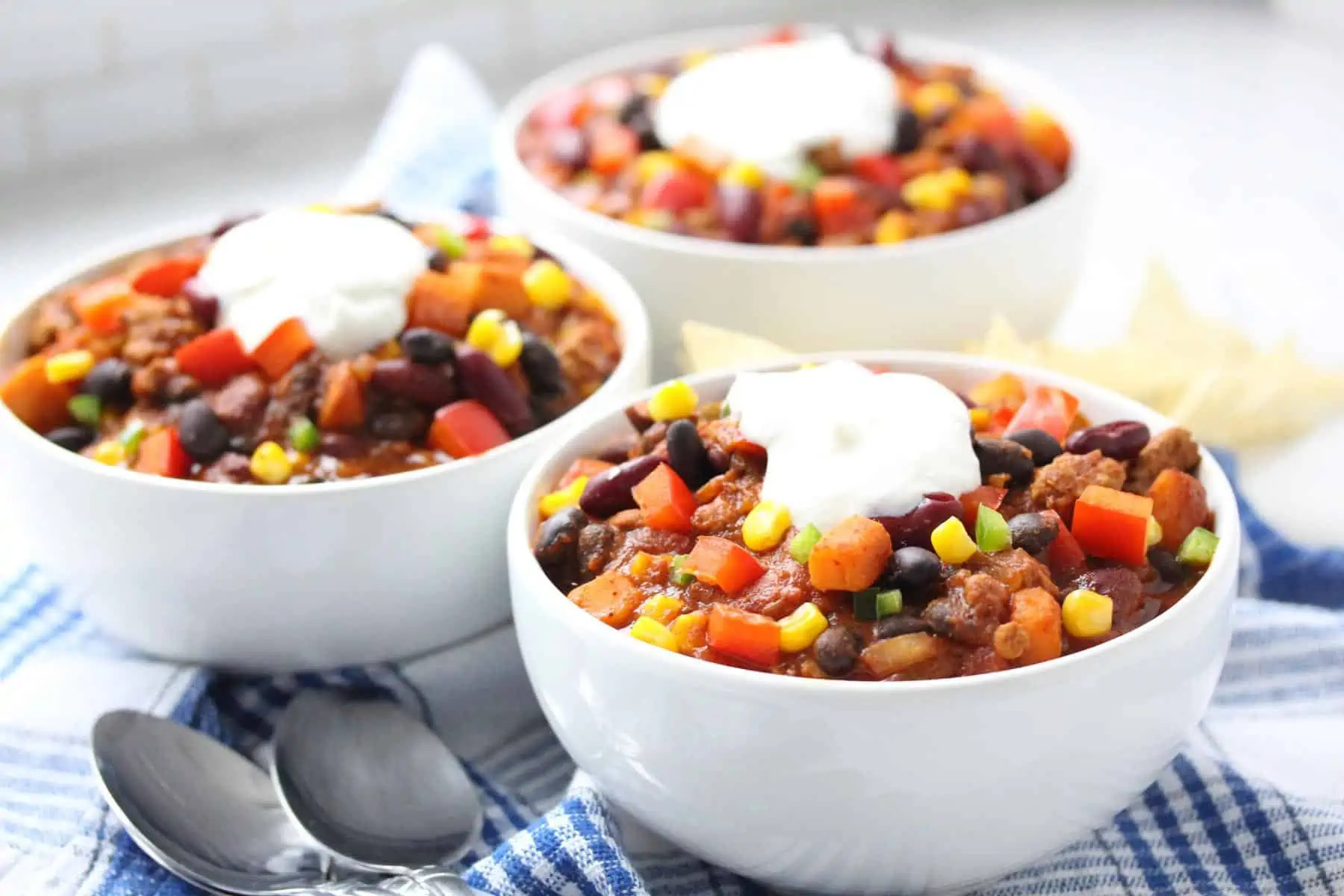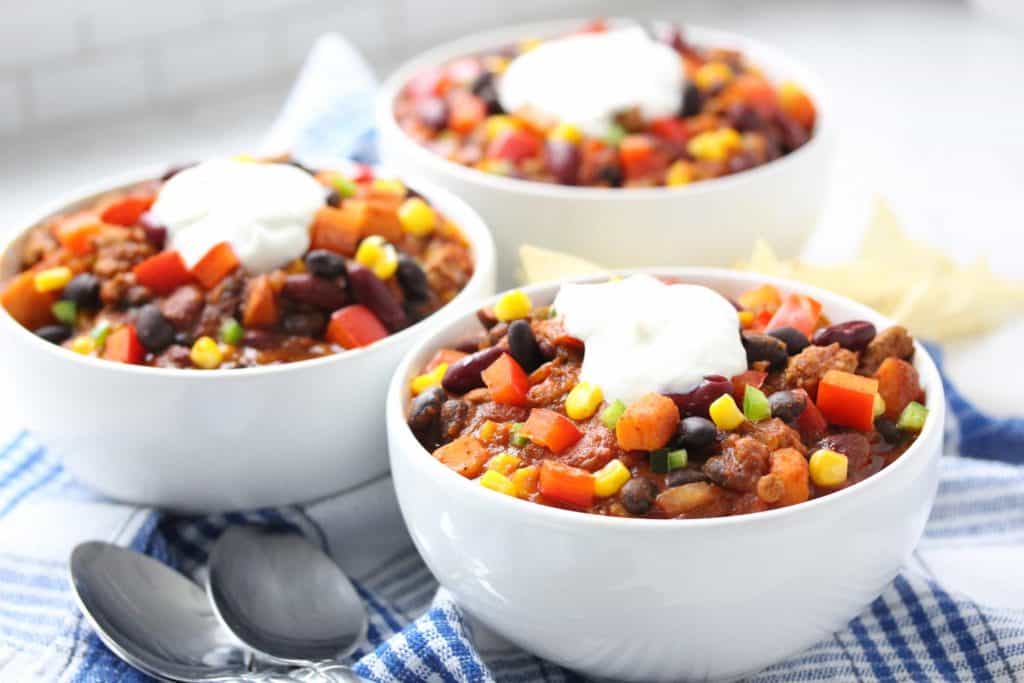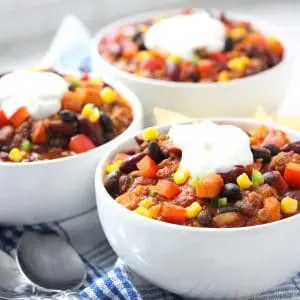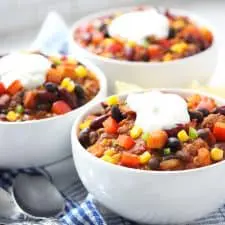 Healthy Veggie Loaded Turkey Chili
Pin Recipe
Print Recipe
Rate Recipe
This Healthy Veggie Loaded Turkey Chili is warm, comforting, delicious and healthy.
Ingredients
1

sweet potato

1

yellow onion

3

cloves

garlic

2

jalapenos

1

red bell pepper

1

15 oz. can

black beans

1

15 oz. can

kidney beans

2

Tbsp.

olive oil

1

lb.

ground turkey

2

Tbsp.

chili powder

2

tsp.

salt

1

tsp.

black pepper

1

tsp.

paprika

1

tsp.

cumin

1

tsp.

garlic powder

1

tsp.

onion powder

1

cup

frozen corn

1

14.5 oz. can

diced tomatoes

1

6 oz. can

tomato paste

2

cups

chicken stock
Toppings (optional):
plain Greek yogurt

shredded cheddar cheese
Instructions
Prep Ingredients: Cut the sweet potato into small cubes. Peel and mince the cloves of garlic. Chop the onion, red bell pepper and jalapeno (don't forget to remove the stems and seeds!). Strain and rinse the black beans and kidney beans. Measure out the seasonings and set aside.

Cook Sweet Potatoes: In a large and deep pan (or pot) over medium to medium-high heat, add 2 Tbsp. of olive oil, sweet potatoes and 2 pinches of salt (roughly 1/2 tsp.). Stir occasionally and cook for about 10 minutes or until the sweet potatoes are cooked through and slightly golden on the outside.

Add Turkey, Onion and Garlic: Reduce the heat to medium – medium/low. Add the ground turkey, onion and garlic to the pan with the sweet potatoes. Cook until turkey is cooked through (about 4-7 minutes).

Add Peppers and Seasoning: Add the jalapeno, red bell pepper, chili powder, salt, black pepper, paprika, cumin, garlic powder and onion power to the pan. Stir to combine all ingredients. Cook for a couple more minutes. It should smell amazing and very fragrant.

Add Remaining Ingredients: Add the black beans, kidney beans, frozen corn, diced tomato, tomato paste and chicken stock to the pan. Stir to combine. Increase the heat to medium – medium high and cook for another 5-10 minutes.

EAT!: Serve immediately and top with shredded cheese and Greek yogurt if desired.
Notes
Store leftovers in a sealed container in the fridge for up to a week. 
Nutrition
Serving:
1.5
cups
|
Calories:
425
kcal
|
Carbohydrates:
56
g
|
Protein:
34
g
|
Fat:
10
g
|
Cholesterol:
46
mg
|
Sodium:
1685
mg
|
Fiber:
15
g
|
Sugar:
12
g
Have you tried this recipe?
Let me know what you think! Rate this recipe and leave a comment below.