How to Make Easy Pumpkin Pie
Make good old fashioned pumpkin pie with this easy recipe. It is a classic Thanksgiving favorite that turns out every time. Add some whipped cream and dessert is served!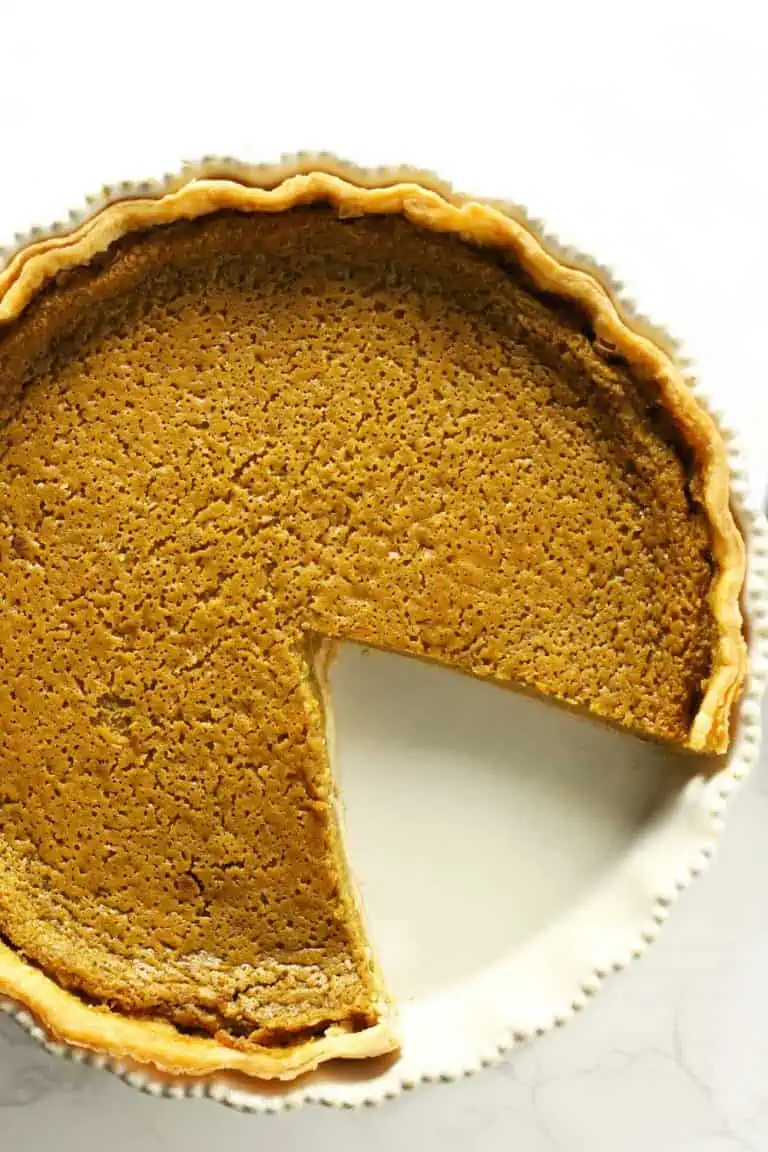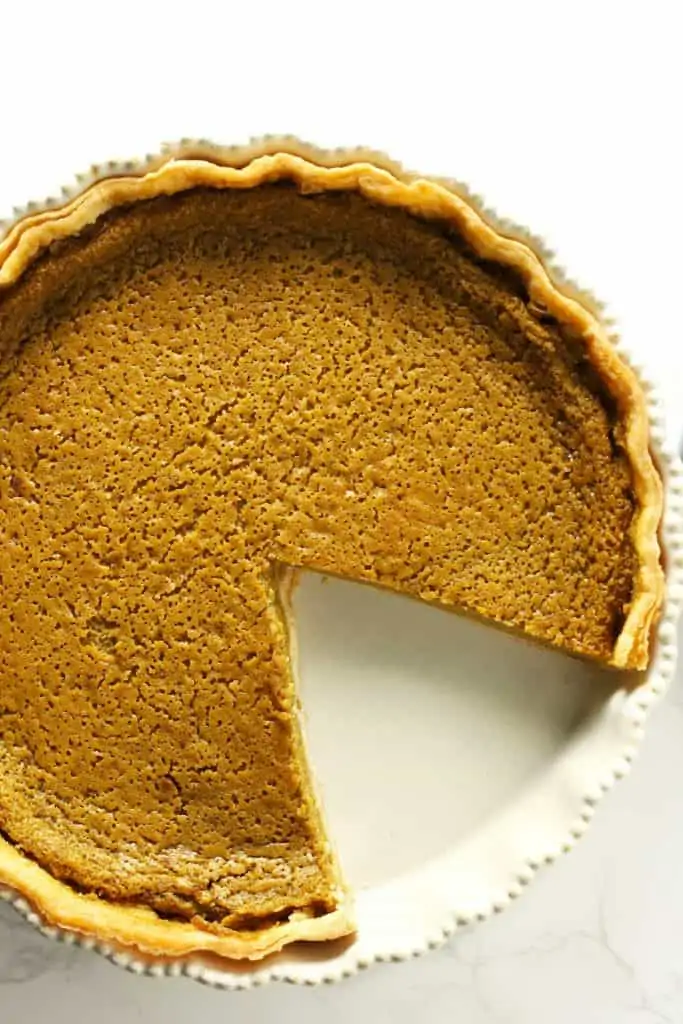 ---
Make Memories
The Tale of Brian and the Pumpkin Pie
I recently shared one of my favorite Thanksgiving stories about how my dearest brother, Brian, massacred the mashed potatoes at Thanksgiving two years in a row (checkout the mashed potatoes post). After that whole extravaganza, the following year he was committed to redeeming himself.
My whole family pitches in on Thanksgiving. This particular year, my mom assigned Brian pumpkin pie. So, Brian showed up with an absolutely beautiful pumpkin pie complete with a decorative leaf crust.
If that wasn't shocking enough, he then told me he MADE the pie. Brian was brilliantly talented at many things but cooking was absolutely not one of them. So, naturally I didn't believe him for a second.
He assured me he made it and said he took a pie baking class on the main floor of his condo building. I was familiar with the classes he was referring to but I still didn't believe he took a damn class just to make one pumpkin pie.
My mom chirped in and said Brian called her a few weeks ago and asked a couple random baking questions when he was doing a "practice run". Then my sister, Taylor, rolled her eyes and with a big sigh said, "He sent me a picture of him making the pie. Great. Now Brian is good at EVERYTHING."
After dinner I started doing dishes with my sister, Taylor. I asked her AGAIN if Brian really made the pie. This time she snapped at me and said he really made the pie and now I was making him feel bad. He for sure didn't feel bad but I dropped it because Taylor's response finally convinced me he made the damn pie.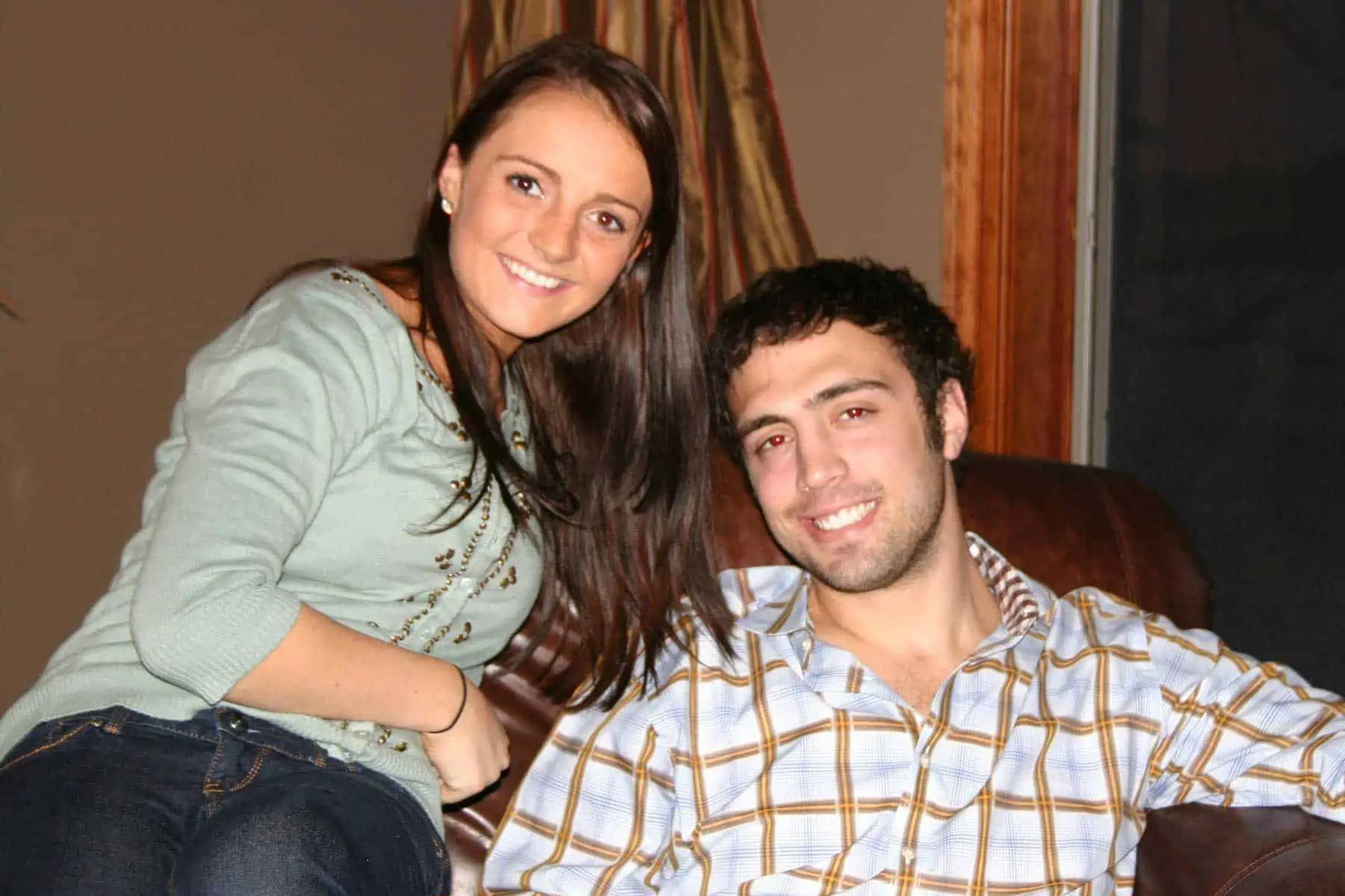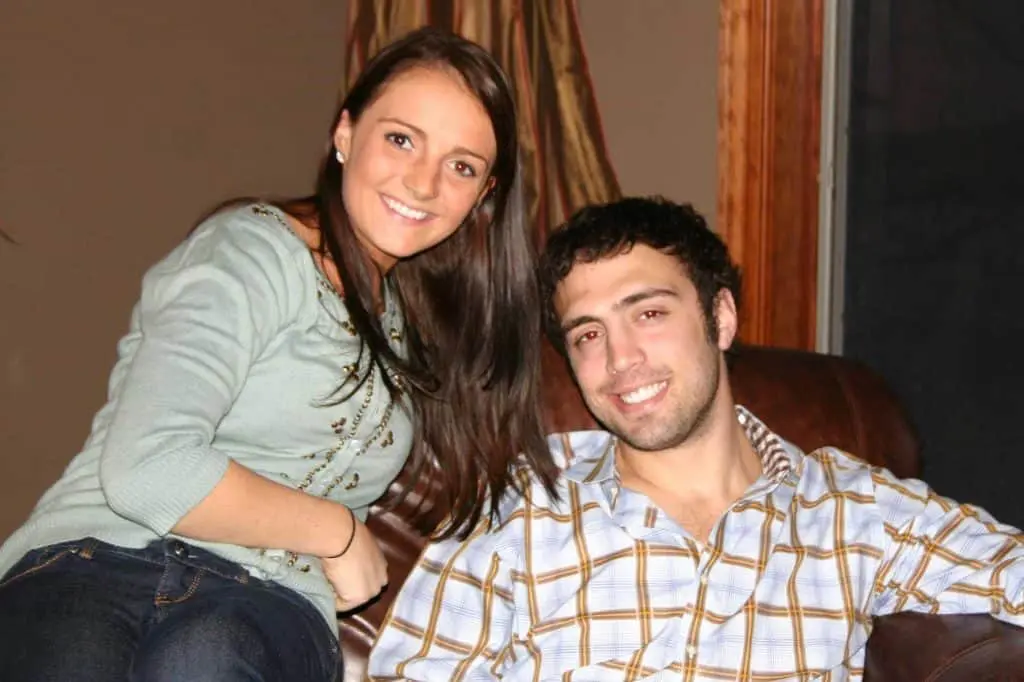 I'm not going to lie. The pie was stunningly beautiful and equally delicious. Everyone was raving about this pie and couldn't stop talking about how impressed they were with Brian's new baking skills.
Initially, I thought the last thing Brian would ever do is take a cooking class and learn to make a pie just to redeem himself at Thanksgiving. At the same time, Brian is one of those people that decides to do or learn to most random things and usually excels at them. So, I guess I wouldn't put it past him.
Anyway, later that evening we were all sitting around watching tv and flipping through Black Friday ads when Brian randomly says in a monotone voice, "Yeah, I didn't make the pie but you all believed me. " and then went back to reading his newspaper.
So, he strategically planned out this lie in detail which he carried out over a months time. He researched a specific pie making class he could refer to. Then he convinced my sister to be in on it and vouch for him (GREAT performance Tay!). He even went so far as to research pie making questions he could ask my mom a few weeks ahead of time to make his story seem plausible.
He went to great lengths to hoodwink us on Thanksgiving. All for what? To randomly confess at the most anti-climactic time? Strange but hilarious dude and I loved him for it.
---
How to Make Easy Pumpkin Pie
---
Top Recipe Tip
Let pumpkin pie cool completely.
Let your pumpkin pie cool completely before cutting into it or putting in the refrigerator. Pumpkin pie is technically a custard. When you pull it out of the oven, the center should have a little jiggle to it. As the pie cools, it will continue to cook and firm up.
---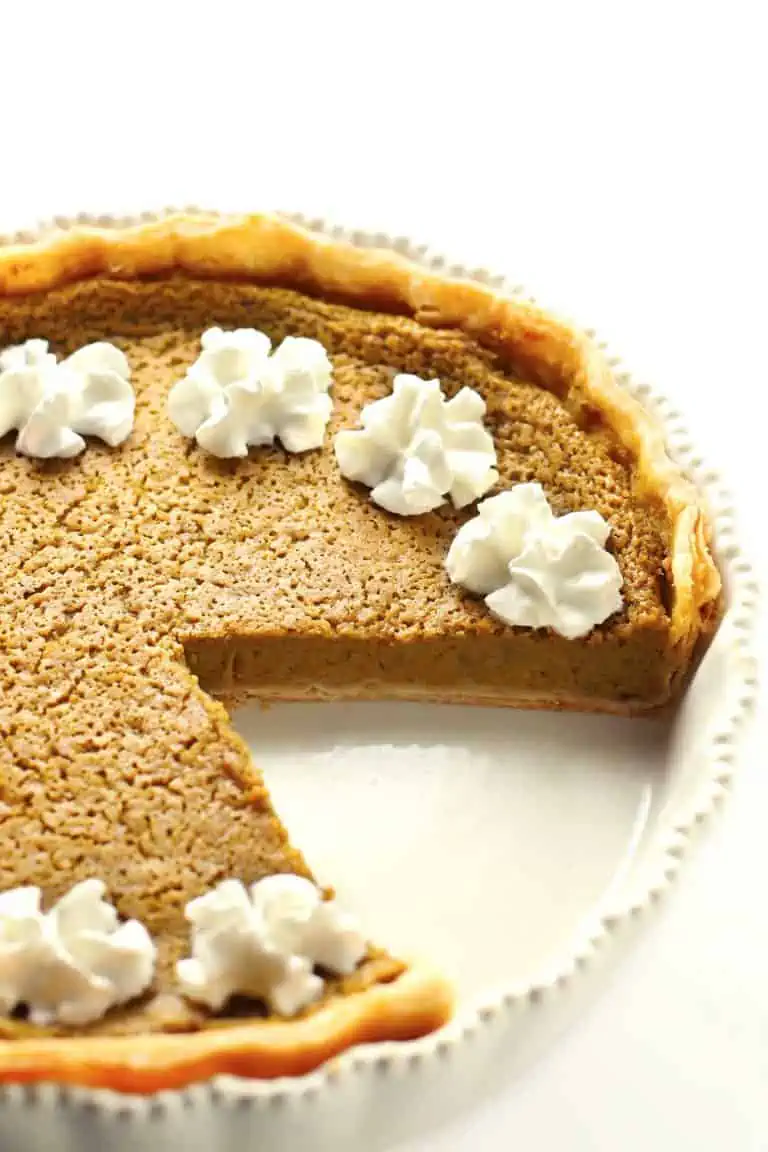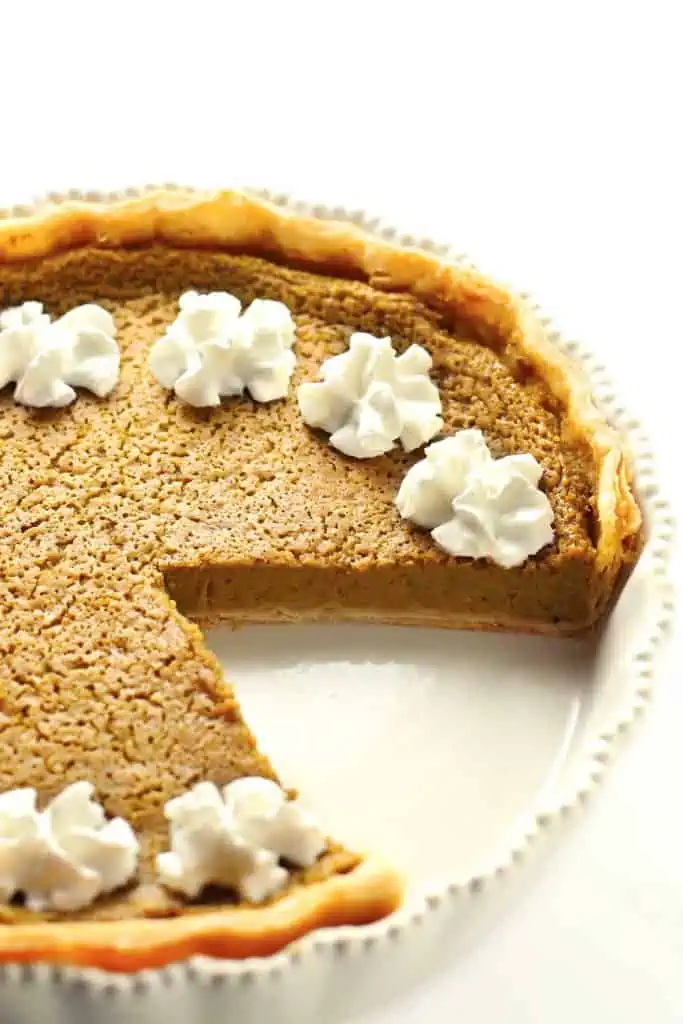 ---
Pumpkin Pie Q&A
Store-bought or homemade pie crust?
This is entirely up to you! Personally, I use store-bought pie crust most of the time because it's easy. Unless you're experienced with making crust from scratch, I recommend going the store-bought route if you're making this pie for a holiday or event. Make it easy and set yourself up for success!
Can I make pumpkin pie the day before?
Sure can! You can actually make this recipe up to 3 days ahead of time. Just let the pie cool completely, cover it tightly with plastic wrap and put it in the fridge until needed.
What rack should I bake my pumpkin pie on?
Bake your pumpkin pie on the bottom or middle rack. This will ensure the bottom crust is nice and flaky instead of soggy.
How do you know when a pumpkin pie is done?
Gently nudge the pie. If the entire pie jiggles, continue baking but if only the center jiggles the pie is likely done. However, I recommend doing the knife test to be sure. Insert a knife in the center of the pie. The pie is done if the knife comes out clean. If the filling coats the knife, continue baking.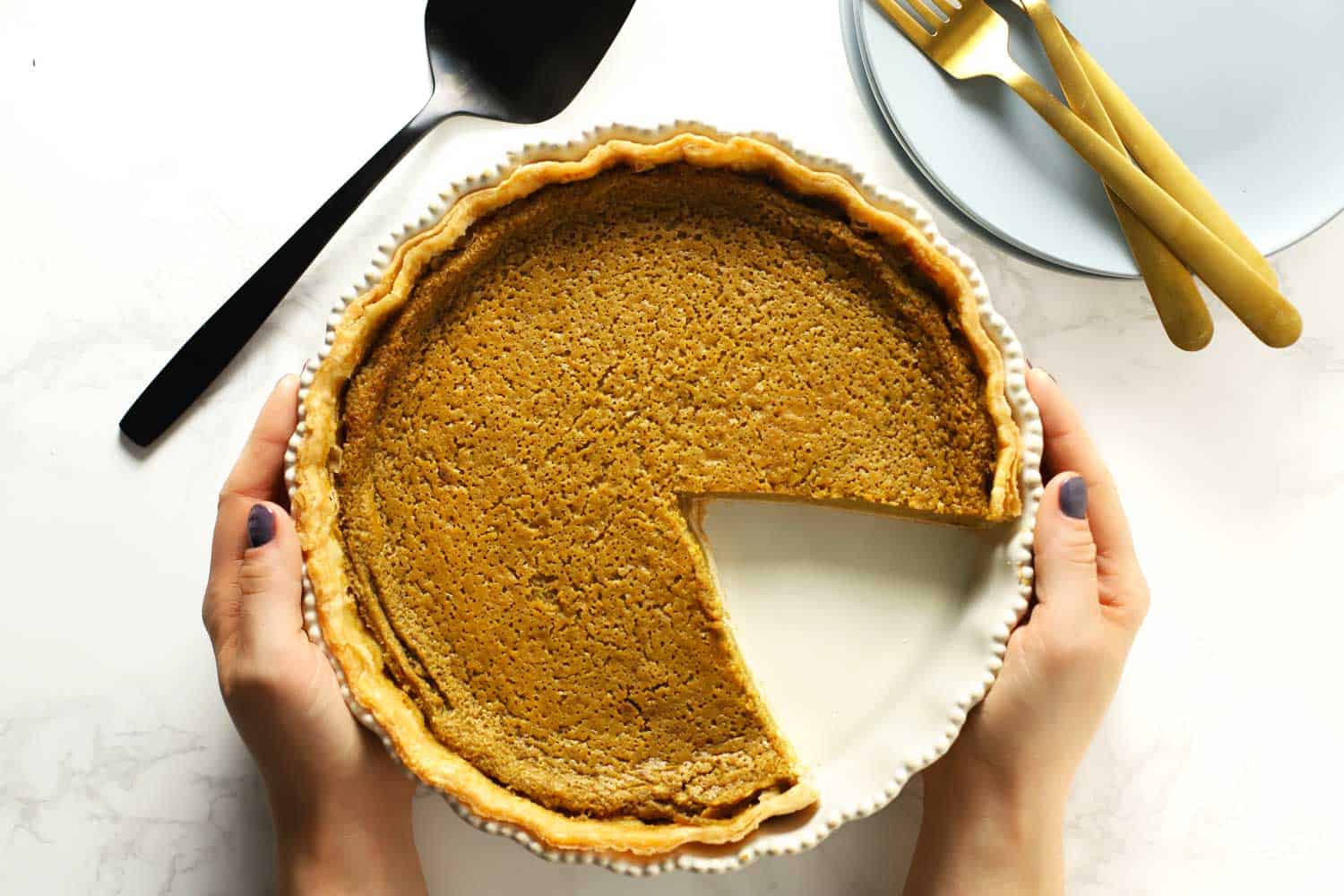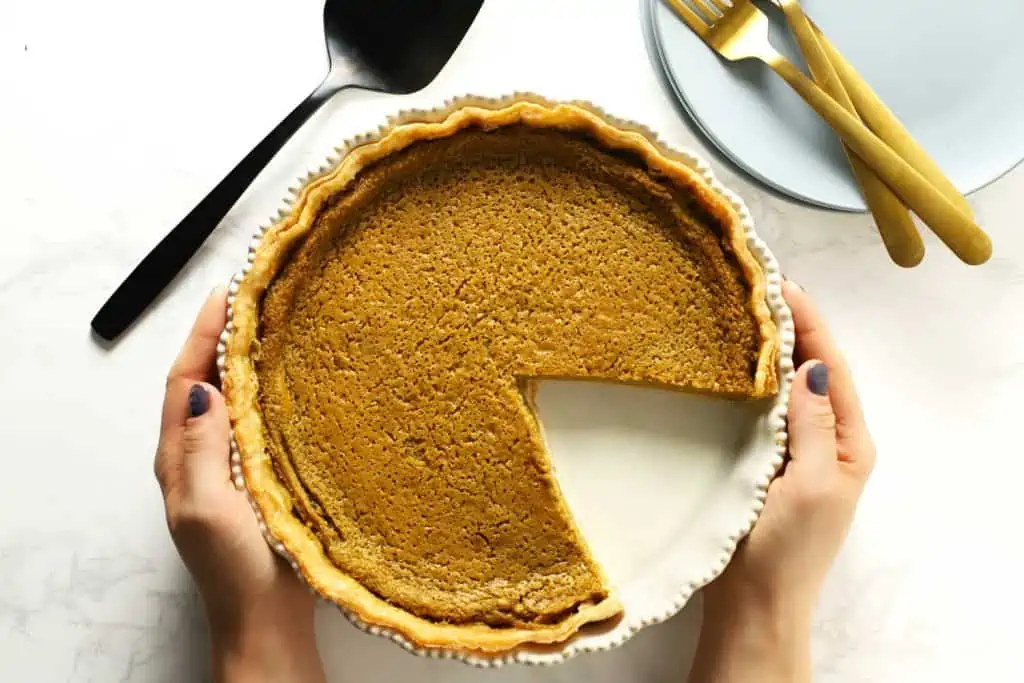 Does pumpkin pie need to be refrigerated?
Yes! After the pie is done baking, let it cool completely. Then cover it in plastic wrap and refrigerate until needed. It can safely sit at room temperature for a couple hours.
Is pumpkin pie eaten hot or cold?
Both! I'd say more often than not, pumpkin pie is eaten cold but it certainly can be eaten hot as well! If you want warm pumpkin pie, bake the pie and let it cool completely to room temperature. This is imperative to the cooking/setting process. Then warm individual slices in the microwave for 15-30 seconds or until warmed through. You can also put an entire pumpkin pie in the oven at 300°F for 10-15 minutes.
How do you keep a pumpkin pie from cracking?
Cracks usually occur when pumpkin pie is overdone. Don't worry though! The pie will likely still be good to eat unless it is really overdone.
Who cares if there is a little crack in your pie? I think it makes it look rustic and homey! However, a cracked pie isn't anything a little whipped cream can't cover up!
---
Other Recipes You Might Like
Like the idea of make-ahead recipes and a stress-free Thanksgiving? Grab a free copy of my ultimate guide to a make-ahead Thanksgiving!
---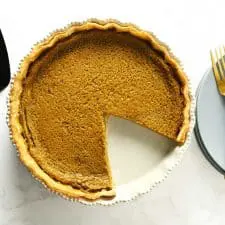 How to Make Easy Pumpkin Pie
Pin Recipe
Print Recipe
Rate Recipe
Make good old fashioned pumpkin pie with this easy recipe. Add some whipped cream and dessert is served!
Ingredients
1

pie crust

,

unbaked

3

large eggs

1

can pumpkin

,

15 oz.

1

cup

sugar

1

teaspoon

cinnamon

1/2

teaspoon

ground ginger

1/4

tsp.

nutmeg

1/8

teaspoon

ground cloves

1/4

teaspoon

salt

1

can evaporated milk

,

12 oz.

whipped cream

,

optional
Instructions
Preheat: Preheat the oven to 350°F. 

Prep Crust: Roll out the pie crust and put it in the bottom of the pie dish. Use your fingers to gently press the crust against the bottom and sides of the pie dish. Trim any excess crust. 

Prep Filling: In a large bowl whisk together the eggs, pumpkin, sugar, cinnamon, ground ginger, nutmeg, ground cloves and salt until well combined. Slowly add the evaporated milk and whisk until combined. Pour the filling into the pie crust. 

Bake: Cover the edges of the pie with strips of foil to keep the crust from burning. Put the pie in the preheated oven for 50 minutes. Remove the foil from the edges of the pie and bake for an additional 10 -20 minutes or until a knife comes out clean after being inserted in the center.* Cool completely at room temperature. Serve immediately with whipped cream (optional) or cover and refrigerate until needed.  
Notes
*The center of the pie will still have a bit of jiggle to it when it is done. Even if you don't think the pie is done, test it anyway by sticking a knife in the center of the pie. If it comes out clean, the pie is done even if it is still jiggly. It will continue to cook and firm up as it cools. 
Nutrition
Serving:
1
/8 of pie
|
Calories:
299
kcal
|
Carbohydrates:
45
g
|
Protein:
7
g
|
Fat:
11
g
|
Cholesterol:
75
mg
|
Sodium:
231
mg
|
Fiber:
2
g
|
Sugar:
31
g
Have you tried this recipe?
Let me know what you think! Rate this recipe and leave a comment below.