This homemade steak seasoning recipe is a delicious combination of bold flavors that perfectly compliment a good steak. No need to marinade. This steak seasoning has all the flavor you need!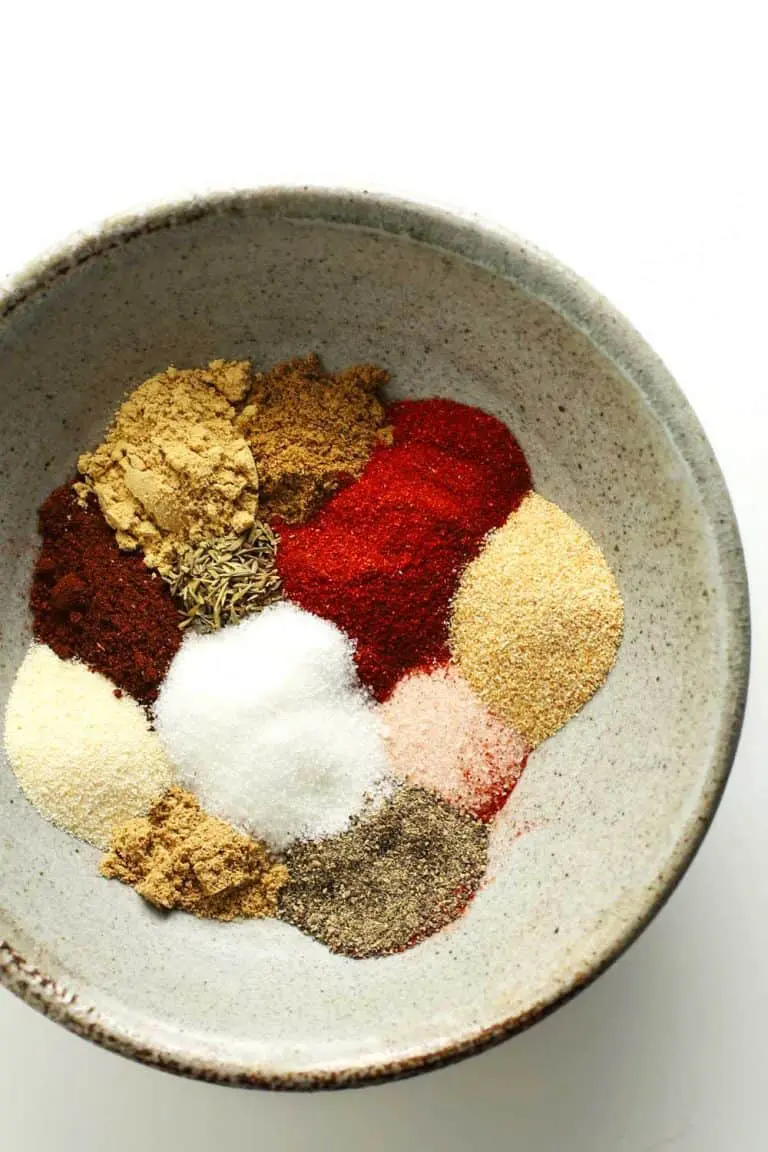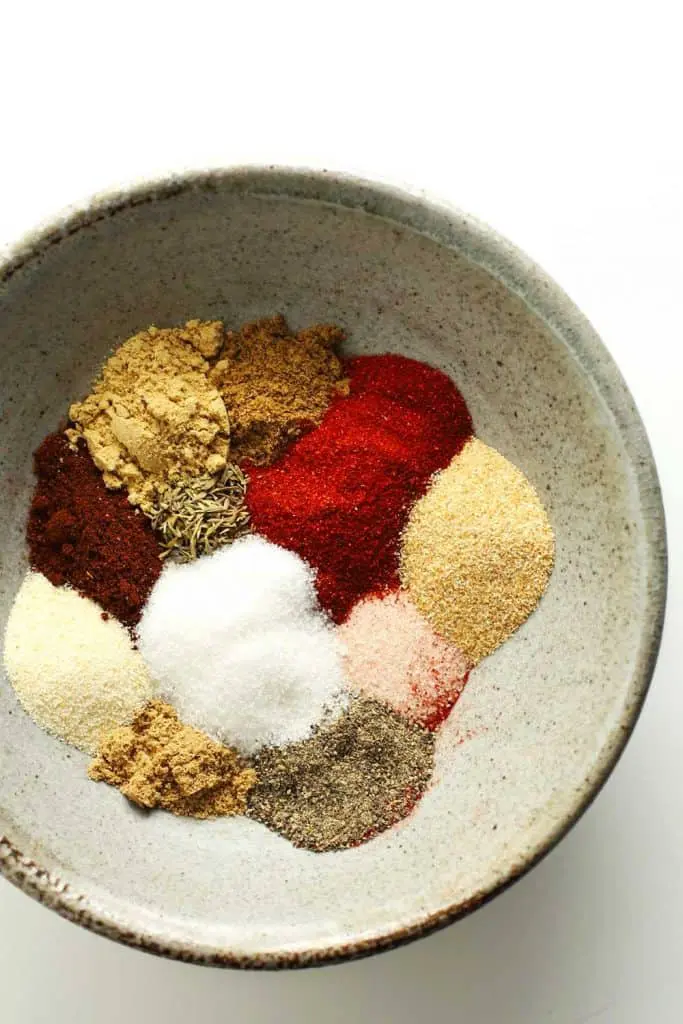 ---
About
Flavor: This steak seasoning has a little bit of a southwest flavor with ancho chili powder, paprika, cumin and coriander with unique a touch of ginger. There is also a little bit of sugar which perfectly balances the savory flavors and helps achieve a perfectly seared crust on the steak.
Tip: Make a big batch of this steak seasoning. Store it in an airtight container or jar in the cupboard for convenient use whenever your heart desires!
---
How to Make Steak Seasoning
---
Recipe Q&A
How to season steak?
The natural flavor and texture of red meat can handle heavy seasoning. A good piece of steak definitely needs salt and pepper at the very minimum. This steak seasoning a great go-to option. Go ahead a generous use this spice blend to coat all sides of the steak. Then use your hands to rub the seasoning into the steak before cooking.
Do spices go bad?
Spices don't go bad in the sense that they don't spoil or risk making you sick. However, they can lose their flavor over time. This greatly depends on how they're stored.
The key to keeping dried herbs and spices fresher longer is to store them in a dark, dry and cool place.
Dark – Herbs and spices are photosensitive. So, the flavors will breakdown when exposed to direct sunlight over long periods of time. Storing herbs and spices in a cupboard or pantry is your best bet. Avoid storing them on the counter unless they are in containers that are entirely opaque.
Dry – Keep your herbs and spices away from the stove (steam), dishwasher and sink. If it gets really humid where you live, air tight containers are a good option to keep out moisture!
Cool – Although the cupboard above the stove is a popular place to store herbs and spices, avoid that if at all possible. The heat from the stove will rise and quickly deteriorate the flavor of the herbs and spices. Keep them in a cool location instead.
Can you use steak seasoning on chicken?
You sure can! I've actually used this steak seasoning to make my air fryer chicken dinner and it was DELICIOUS!
---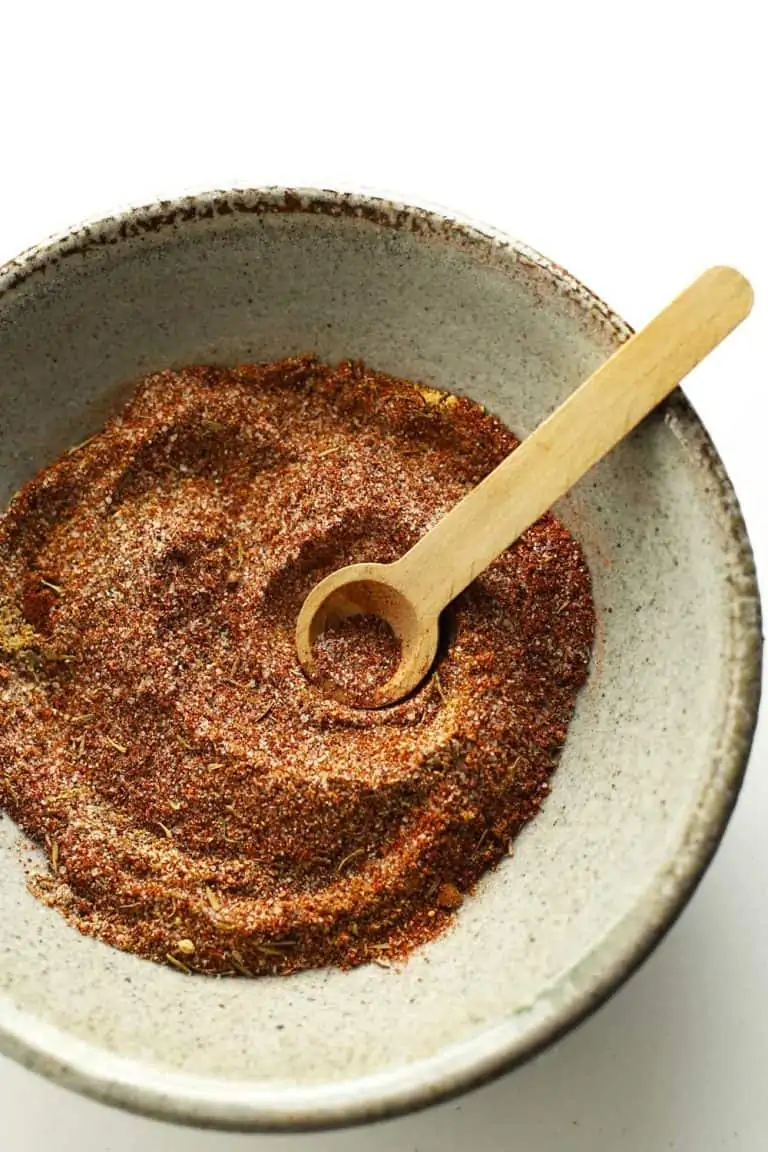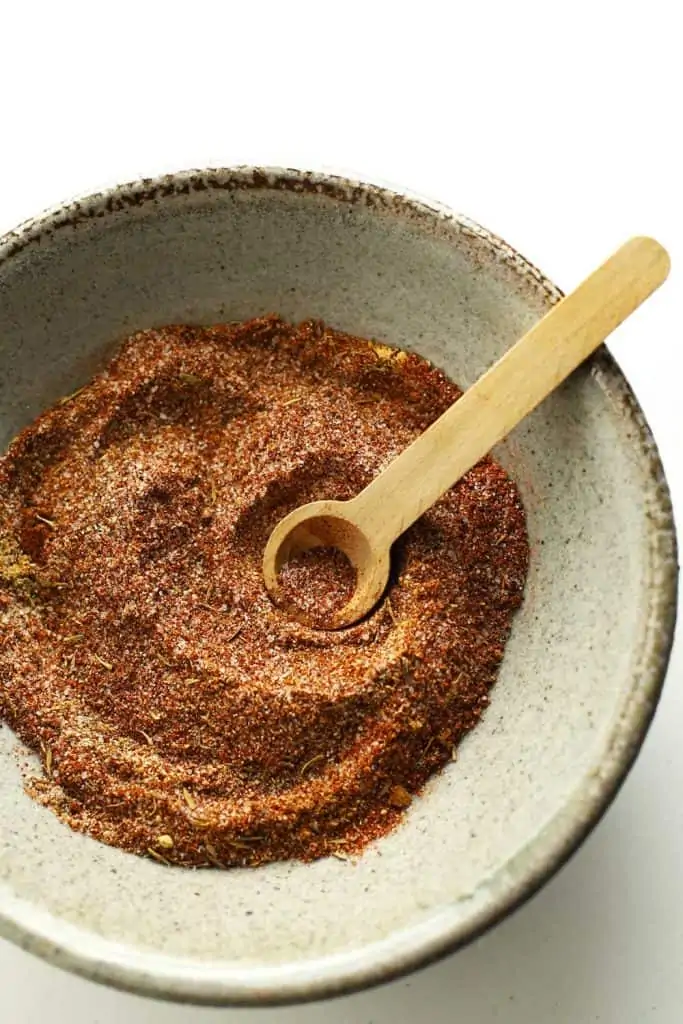 ---
Spice Storage
Spice Jars
I used to store all my herbs and spices in a disorganized cramped cupboard in which I could never find what I was looking for. I had so many duplicates it was ridiculous.
Anyway, several years ago I had to put an end to the madness! I cleared out my chaotic spice cupboard and tossed old or duplicate spices. Then I bought a bunch of matching spice jars off Amazon, slapped labels on them and emptied all my spices into those jars. Next, I cleared out a drawer, organized them alphabetically and laid them flat in the drawer so I could see all the bottles without having to move anything around.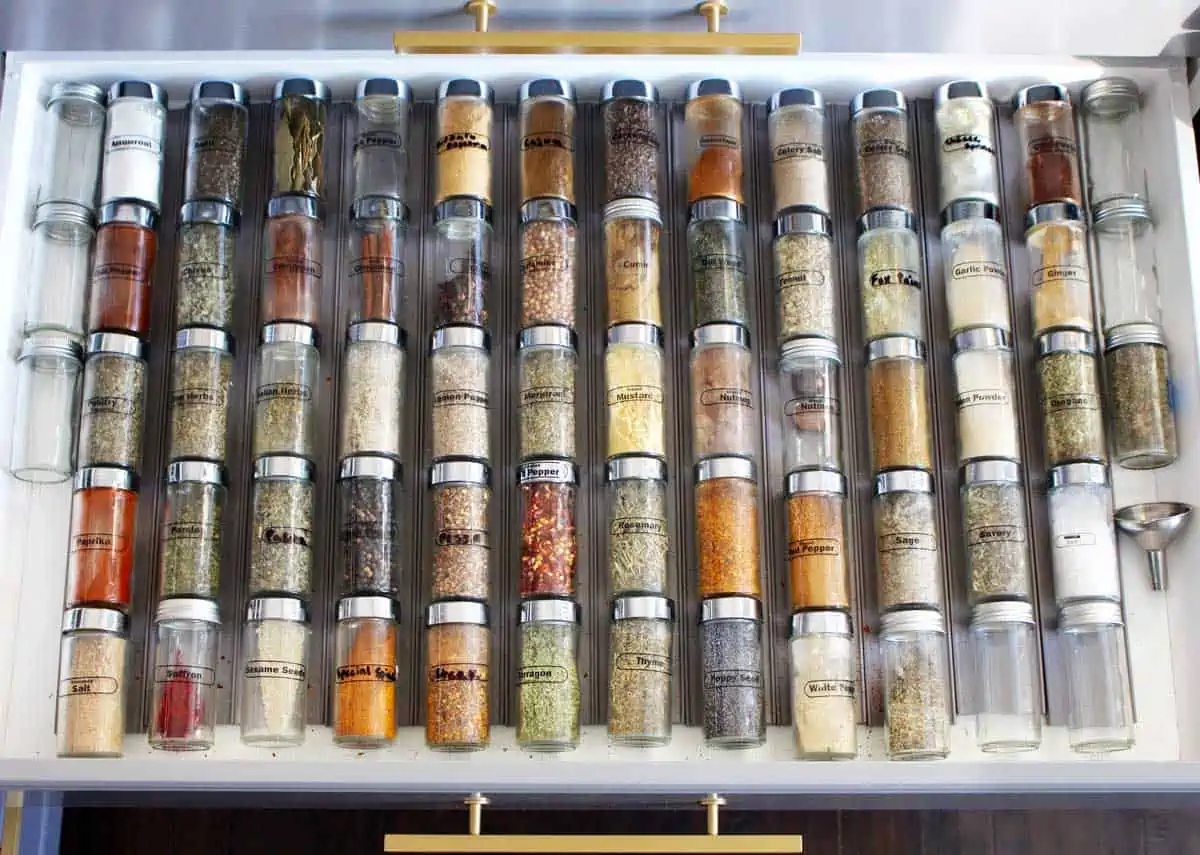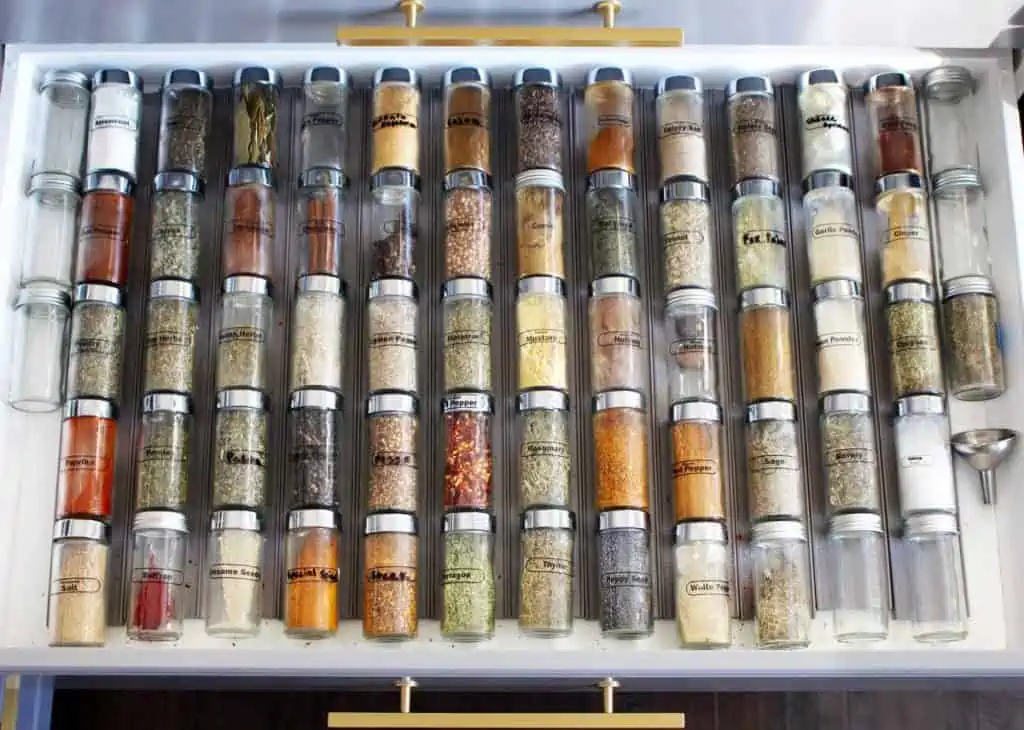 It might sound like I went overboard but I swear to you this is THE BEST AND MOST BENEFICIAL kitchen improvement I've ever done.
This little reorganization project has saved me a ton of money and my patience! Best of all, I actually use my herbs and spices now which makes food so much more delicious.
Spice Racks
Whether you're storing spices in a cupboard, a drawer or the pantry, there are affordable organizers. The Spice Drawer Liners are my personal favorite because you can cut them to fit your drawers exactly and there is no clinking when you open and close the drawer.
---
Other Spice Blends and Uses
I'm a fan of homemade spice blends. I have a stock of this steak seasoning, Italian seasoning, Cajun seasoning, and taco seasoning in my kitchen at all times because I frequently use them in recipes like spicy tofu tacos, taco salad and my mom's famous Italian beef! 
---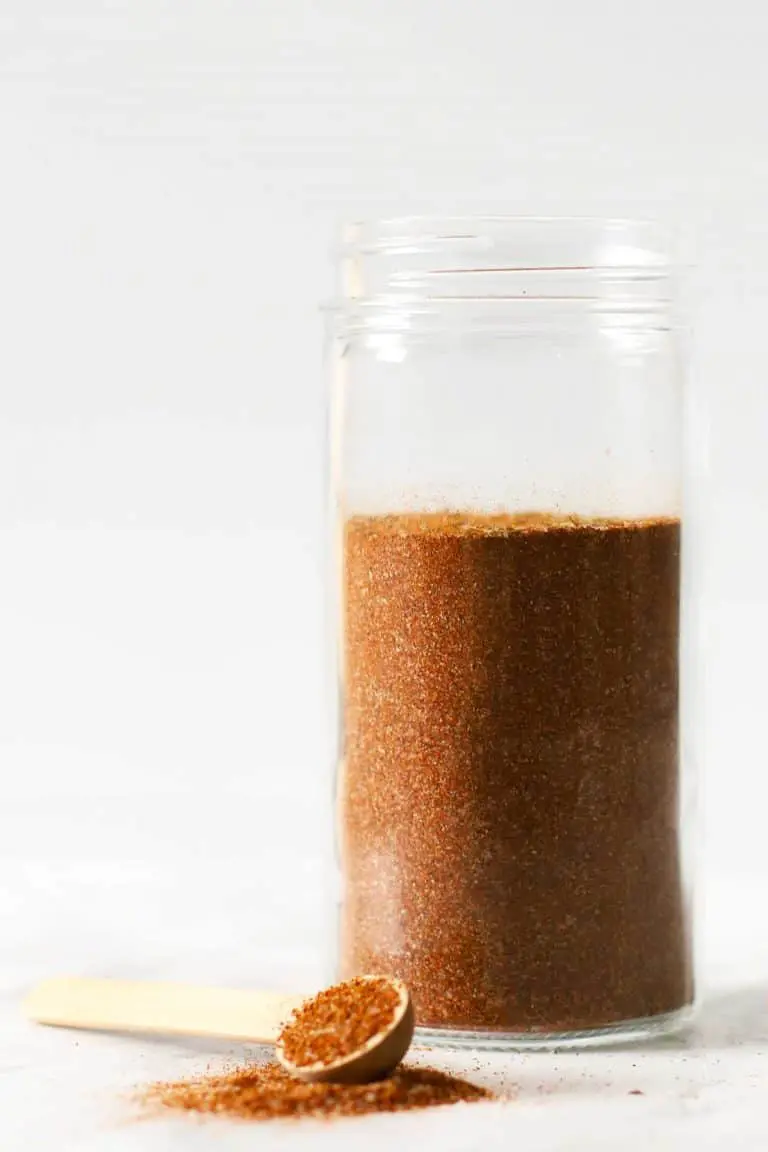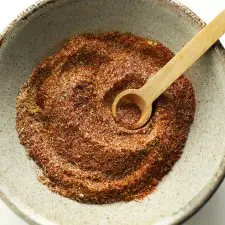 Steak Seasoning
Pin Recipe
Print Recipe
Rate Recipe
This homemade steak seasoning recipe is a delicious combination of bold flavors that perfectly compliment a good steak. No need to marinade. This steak seasoning has all the flavor you need!
Ingredients
3

Tbsp.

salt

2

Tbsp.

ancho chili powder

2

Tbsp.

paprika

1

Tbsp.

cumin

1

Tbsp.

sugar

1

tsp.

black pepper

1

tsp.

thyme

1

tsp.

ground coriander

1

tsp.

onion powder

1

tsp.

garlic powder

1

tsp.

ground ginger
Instructions
In a small bowl, stir all ingredients until well combined. Store in a sealed container or jar. 
Notes
Store in an air tight container out of direct sunlight. 
Nutrition
Serving:
2
tsp.
|
Calories:
18
kcal
|
Carbohydrates:
3
g
|
Protein:
1
g
|
Fat:
1
g
|
Sodium:
1107
mg
|
Fiber:
1
g
|
Sugar:
1
g
Have you tried this recipe?
Let me know what you think! Rate this recipe and leave a comment below.