Easy Strawberry Rhubarb Pie
This Strawberry Rhubarb Pie recipe is near and dear to my heart. It is quick, easy, delicious and a good way to show someone you care.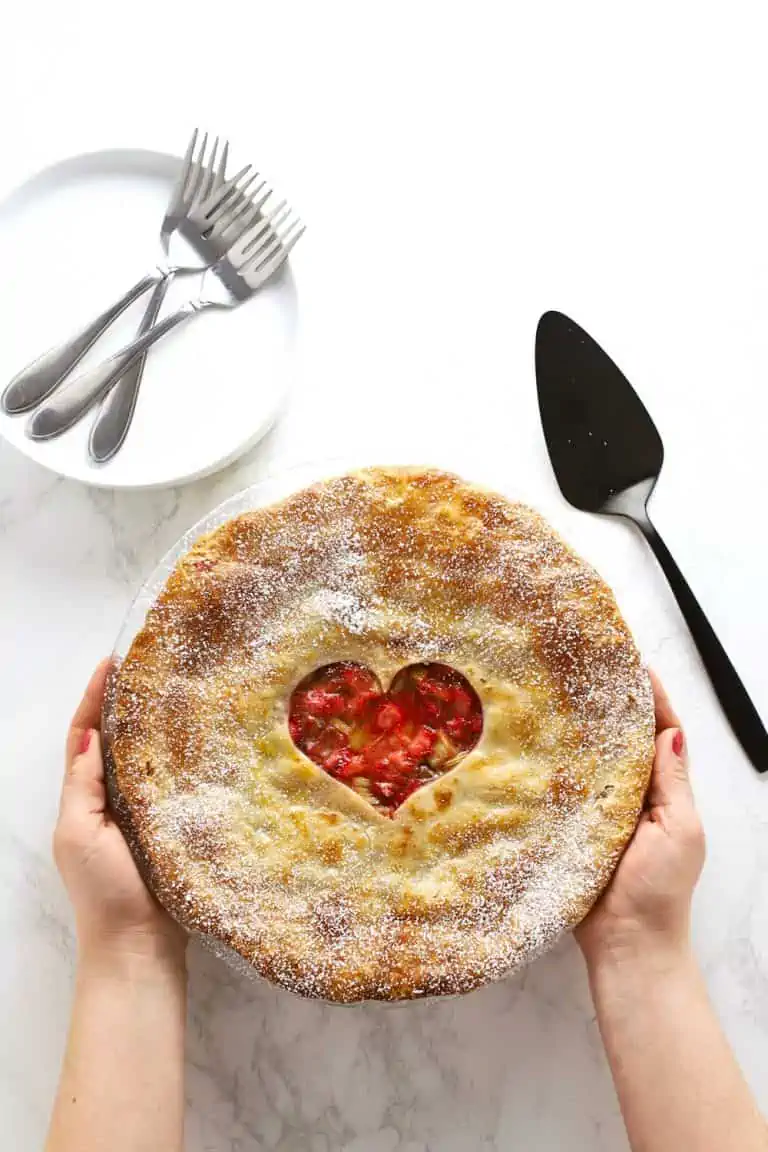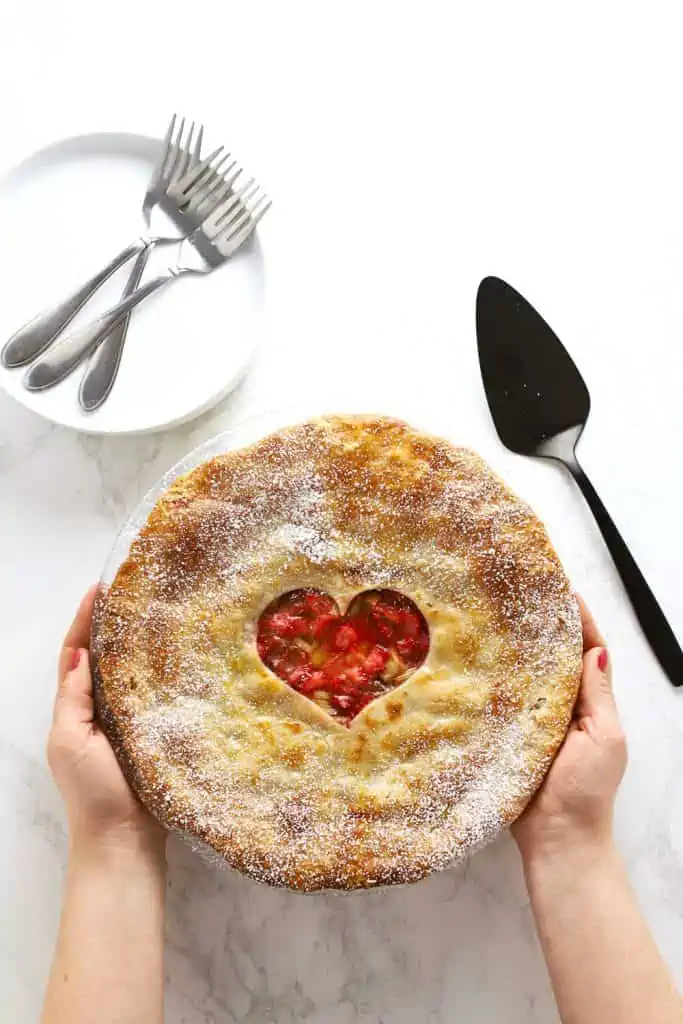 ---
A Recipe for My Brother

This recipe is dedicated to my dearest brother and guardian angel, Brian. He suddenly and unexpectedly passed away on February 22nd at the young age of 31. He went to sleep and simply never woke up.
Brain was extraordinary and the world was a better place with him in it.
When I am ready, I plan to honor my brother by sharing the story of his meaningful life and tragic loss. Right now the wounds of his passing are too fresh and raw. So, for now I will share the story behind this recipe.
For the first time in my life, I don't know what to do. I don't know what to do to move forward. I don't know what to do to help my family. I don't know what to do when I get out of the bed in the morning. It is a hard concept to explain to those who've never experienced it.
Last week, I was desperately looking for a way to feel close to my brother. I felt helplessly far away from him and didn't know what to do about it.
Hour spent looking at pictures didn't help. I wasn't ready to listen to music that reminded me of him. Reading one of his favorite books was out of the question because my mind was somewhere else.
Then it came to me. Strawberry rhubarb pie. It was Brian's favorite and it always reminded me of him. As I started carefully crafting the dessert, I found myself making the pie for him. Tears silently streamed down my face.
To make a decorative boarder around the edge of the pie, I used my thumbprint so Brian would know the pie was from me. I cut out a heart in the crust to make sure he knew how much I loved him.
It was beautifully simple, perfectly sweet and made with all the love I had to give.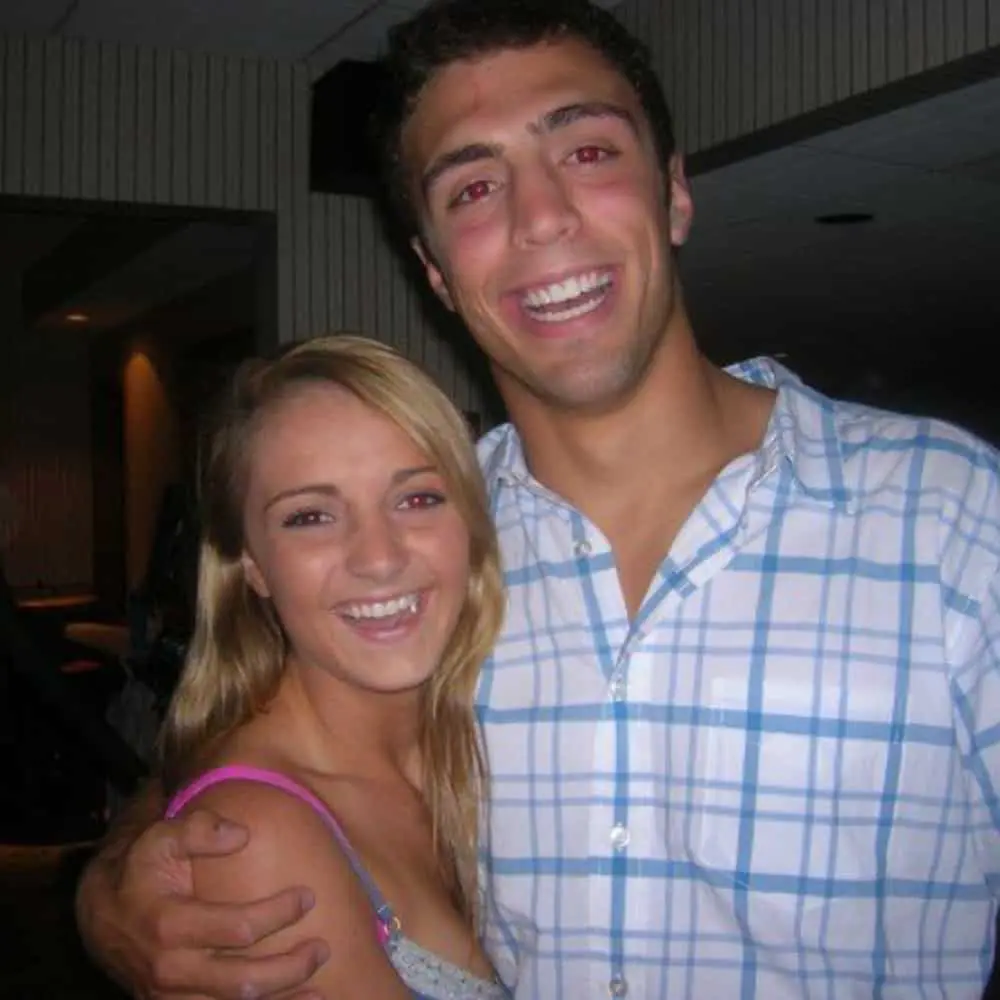 ---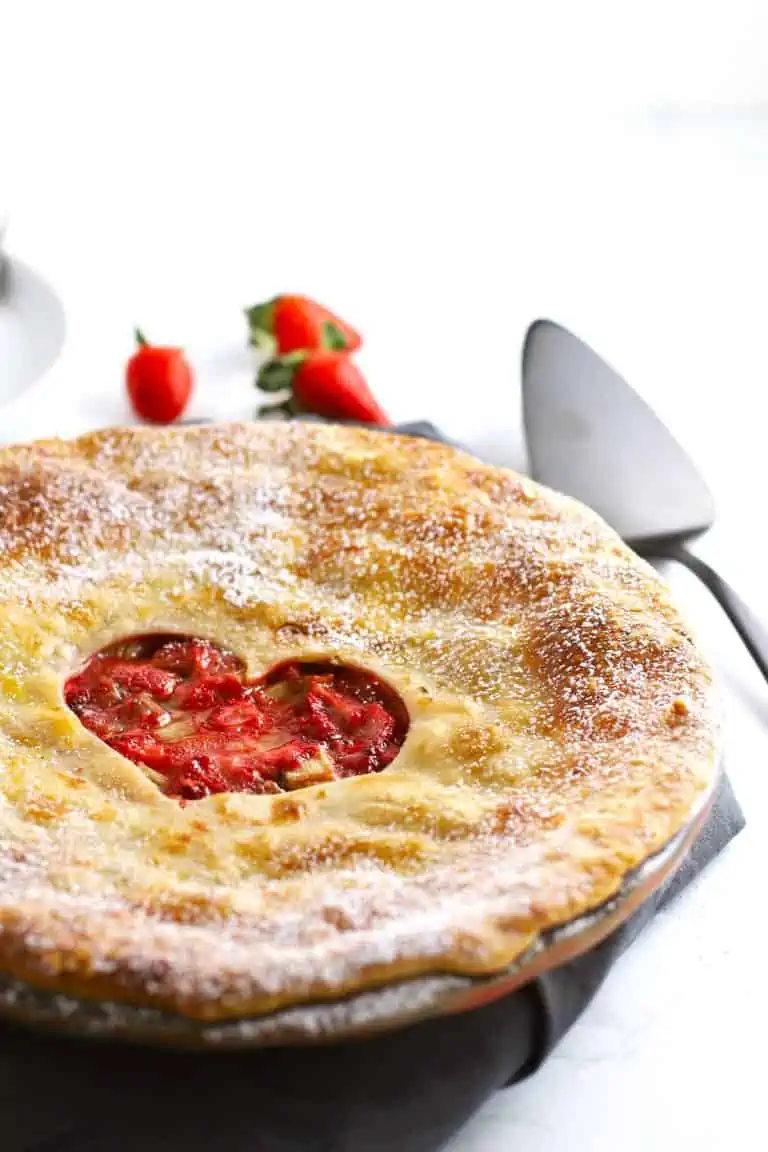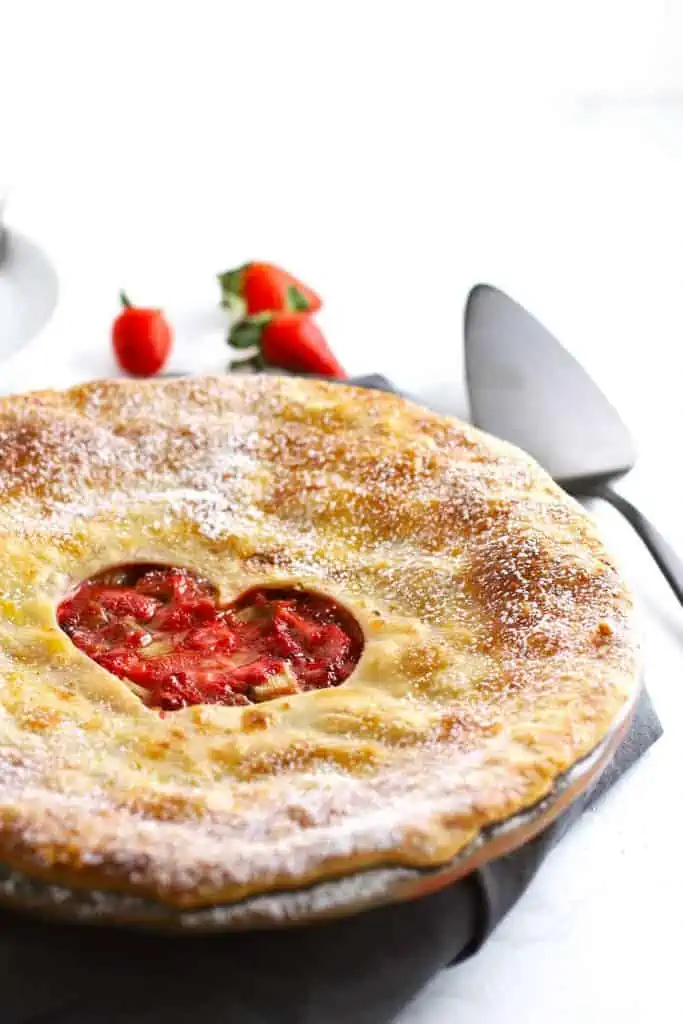 ---
Recipe Hints & Tips
How to make strawberry rhubarb pie without tapioca.
This recipe uses cornstarch instead of tapioca as a thickener for the filling. I prefer this method simply for convenience. I always have cornstarch and rarely have tapioca.
Why is my strawberry rhubarb pie watery?
A watery strawberry rhubarb pie means there is too much liquid/moisture in the pie. Excess liquid/moisture comes from the strawberries and/or rhubarb. Here are a few tips to fix it.
Tip 1: Allow the pie to cool before cutting into it. This helps thicken the filling post baking.
Tip 2: Dust the bottom pie crust with additional cornstarch before adding the filling.
Tip 3: If using frozen strawberries and rhubarb, make sure to thaw and drain them really well before using them in the recipe. Also, dabbing them with paper towels will help remove any excess moisture.
Does strawberry rhubarb pie need to be refrigerated?
It depends how long you want to store it for. Strawberry rhubarb pie can be stored at room temperature for 2-3 days or in the fridge for up to 5-6 days. Make sure to always cover with foil or plastic wrap!
Can strawberry rhubarb pie be frozen?
Yes! Strawberry rhubarb pie actually freezes quite well. Add 1 additional Tbsp. of cornstarch to the recipe. This helps thicken any excess liquid that may be expelled during the thawing process. Make the pie up until it is ready to be baked. Then put the unbaked pie in the freezer until is has frozen solid. Once frozen solid, wrap the pie in plastic wrap or put in a large Ziplock baggie and return it to the freezer.
When it comes time to bake the pie, thaw it in the fridge overnight. Then bake as instructed in the recipe.
How to make strawberry rhubarb pie with frozen fruit.
Frozen strawberries and frozen rhubarb work just as well (if not better) than fresh. I actually prefer using frozen because it is convenient and the texture of the filling is a little smoother.
Simply thaw the frozen strawberries and rhubarb and drain them really well. I also recommend dabbing them with a couple paper towels to remove a little more moisture which will keep your pie from becoming runny. That is it! Proceed with the recipe!
When is strawberry rhubarb pie in season?
Strawberry rhubarb pie is in season roughly from late spring through the summer because that is when strawberries and rhubarb are in season. However, you can make a really good strawberry rhubarb pie any time during the year with frozen strawberries and frozen rhubarb.
---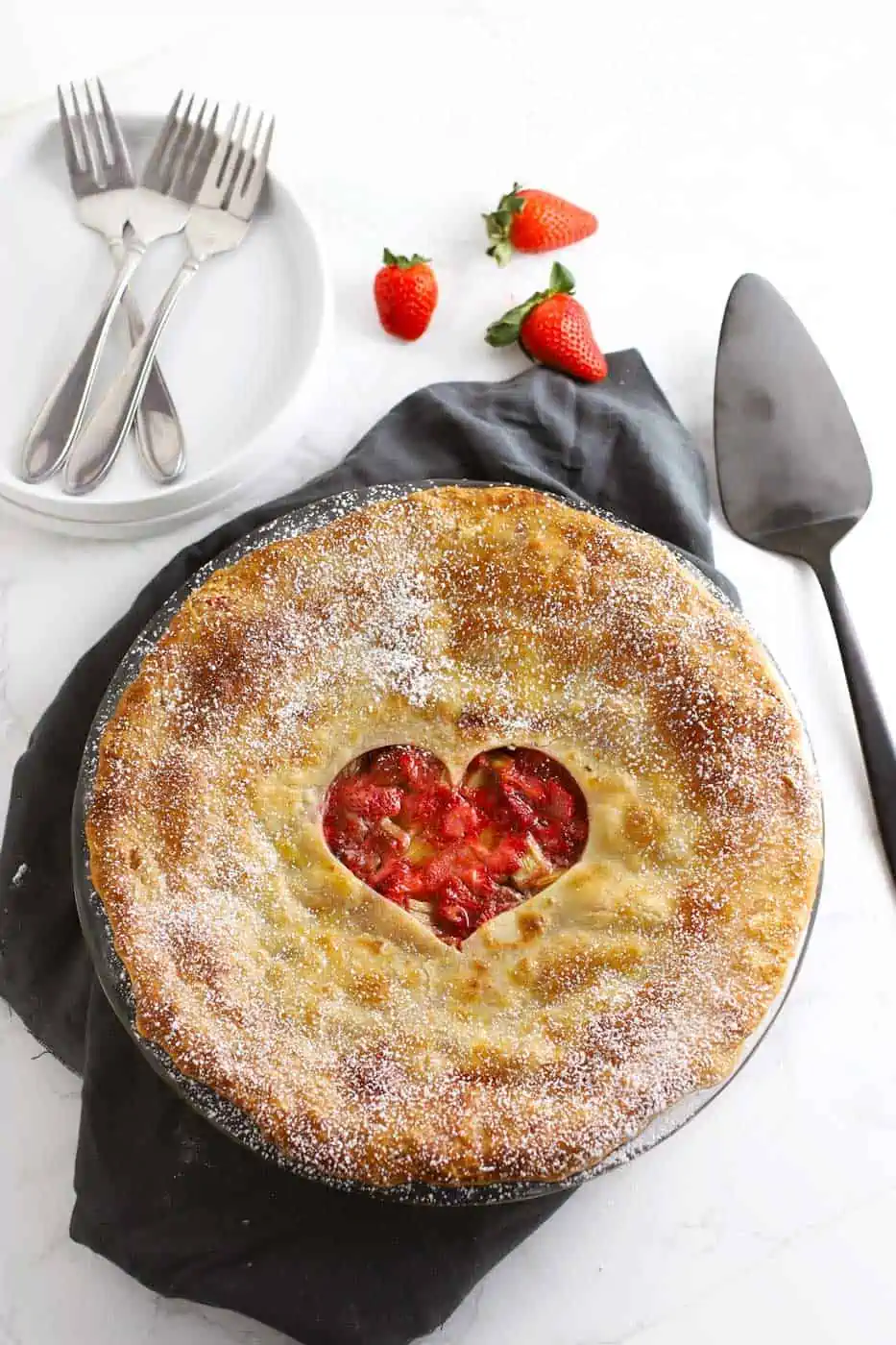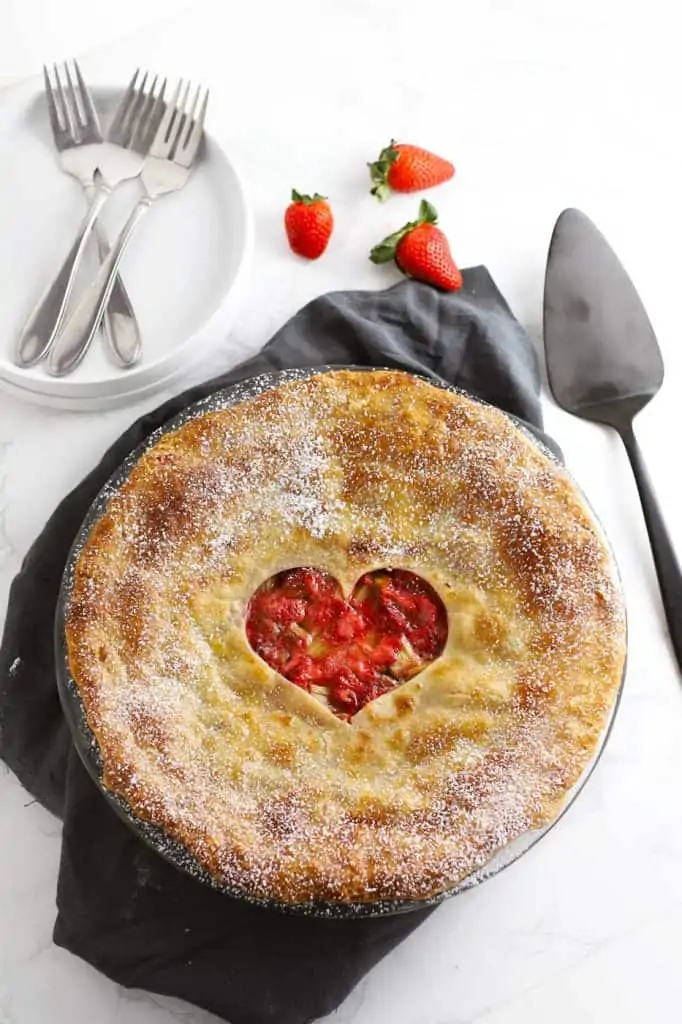 ---
Other Quick and Easy Dessert Recipes
---
How to Make Strawberry Rhubarb Pie
---
Optional Tools & Equipment
The tools below are helpful but you can get away without using them if you don't have them or want to limit the number if tools you're using.
For the crust, you can use as much or as little creativity as you want. I used a simple heart cookie cutter but any other shape will work as well. To keep it super simple just make a few slits (eg. an X in the middle) in the crust with your knife to allow for venting.
Instead of using a basting brush to spread the egg wash over the crust, clean hands can do the same job if you don't mind getting a tiny bit messy.
I have successfully used store-bought pie crust without a rolling pin. It usually comes rolled up (see video for example) that easily unrolls and is ready to use.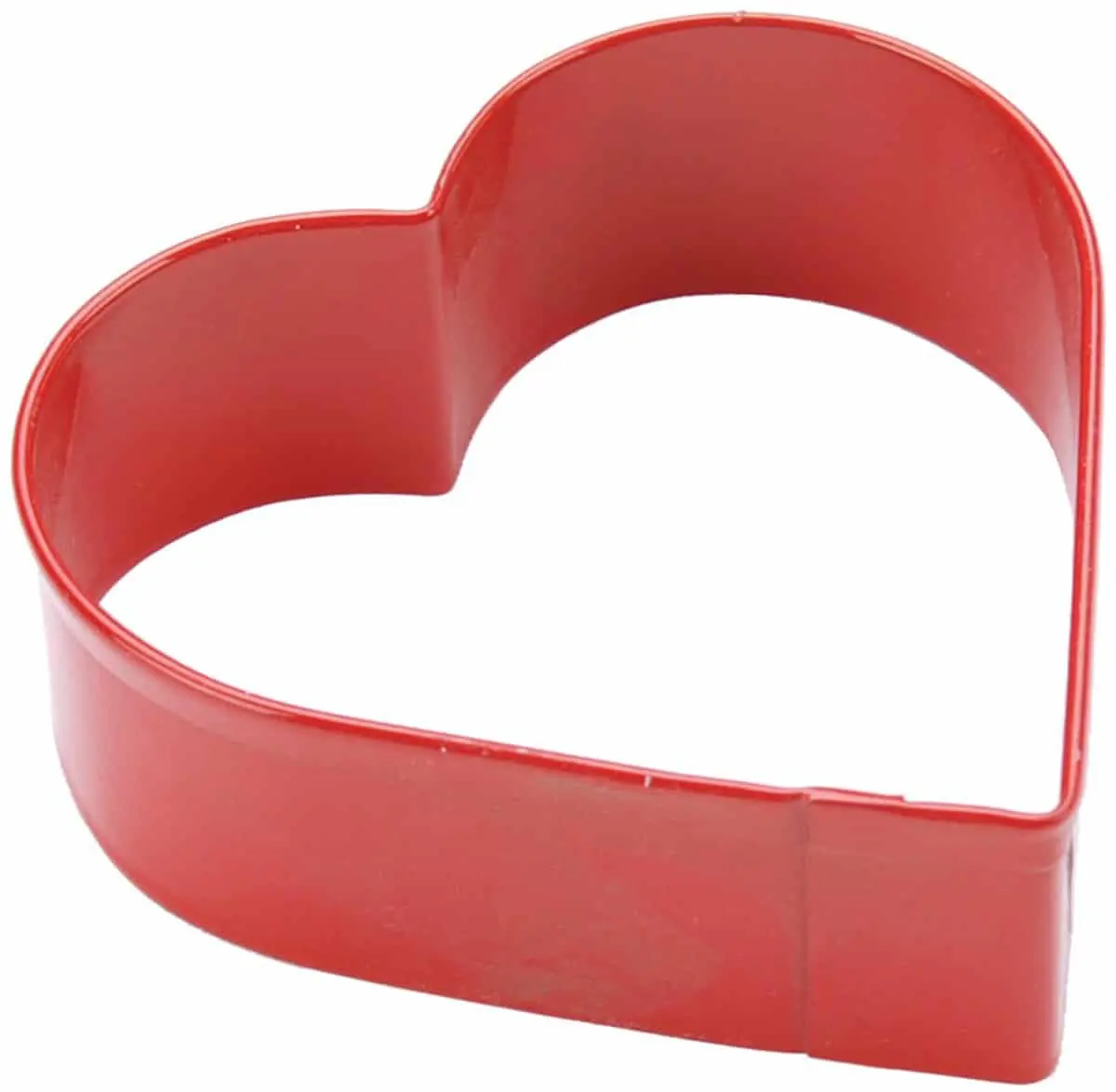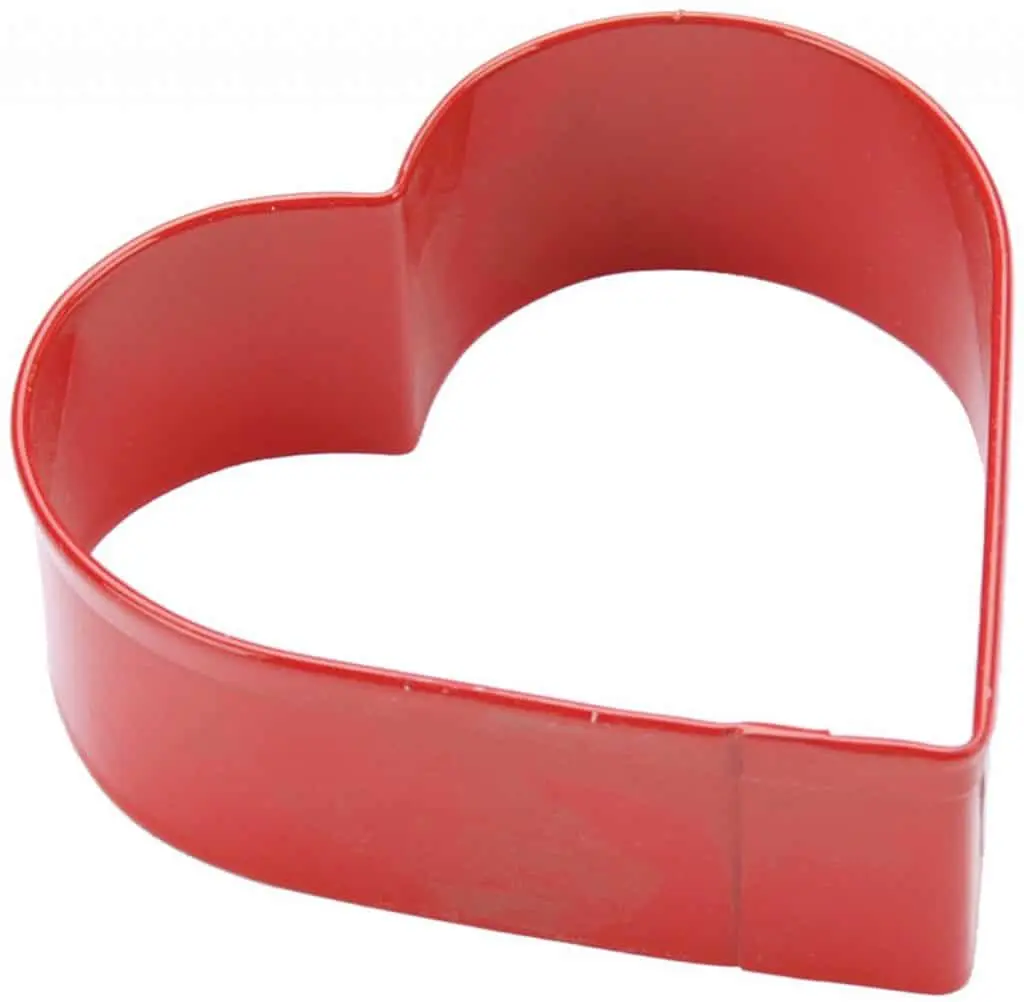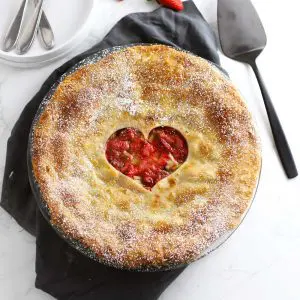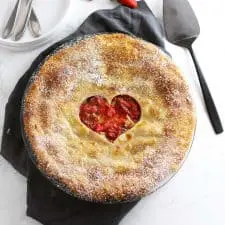 Easy Strawberry Rhubarb Pie
Pin Recipe
Print Recipe
Rate Recipe
This Easy Strawberry Rhubarb Pie recipe is near and dear to my heart. It is quick, easy, delicious and a good way to show someone you care. 
Ingredients
Filling Ingredients:
1

lb.

rhubarb

,

fresh or frozen**

1

lb.

strawberries

,

fresh or frozen**

1

cup

sugar

3

Tbsp.

cornstarch

zest of 1 lemon

1

tsp.

lemon juice

1

tsp.

vanilla extract

1/4

tsp

salt

2

Tbsp.

butter
Instructions
Preheat: Preheat the oven to 400 degrees. 

Prep Ingredients: Zest the lemon. Prepare the rhubarb and strawberries. See note 1.

Make Filling: Add the rhubarb, strawberries, sugar, cornstarch, lemon zest, lemon juice, vanilla extract and salt to a large bowl and stir until well combined. Set aside. 

Bottom Crust: Unroll one of the pie crusts and put it in the bottom of the pie dish. Press the crust against the bottom and sides of the pie dish. It is ok to have extra pie crust hanging over the edge. In fact, it will make Step 6 easier. 

Add Filling: Pour the filling into the crust-lined pie dish. Cut the butter into small pieces and distribute evenly over top of the filling (see 0:27 of video for reference). 

Top Crust: Gently place the second pie crust on top of the pie.***  Then pinch the edges of the bottom crust and top crust together to seal (see :40 of video). Fold over or trim excess crust. Use your thumb to press a decorative boarder around the edge of the pie (also known as fluting). Cut slits in the top of the pie crust to allow for venting during baking. Beat the egg in a small bowl and brush onto pie crust. Sprinkle the pie with a little sugar (1/4-1/2 Tbsp.).

Bake: Using 2-3 inch wide strips of foil, cover the edge of the pie to prevent it from burning. Put the pie on a baking sheet and place in the oven for 35 minutes. Remove the foil and return the pie to the oven for an additional 10-15 minutes for a total time of 45-50 minutes. 
Notes
*Get the dough pie crusts. 
**The rhubarb and strawberries can be fresh or frozen. I haven't noticed much difference between fresh strawberries and frozen strawberries. Frozen rhubarb is always a safe bet. If you want to use fresh rhubarb, I recommend only doing so when it is in season (summer time). 
***You can choose whether to put a design in the pie crust or not. I used a simple cookie cutter to make the heart shaped crust seen in this post but feel free to get as creative and do your own design. If you prefer to have no design at all, just make sure to cut a couple slits in the top of the pie crust to allow for venting while it is baking. 
Note 1:
If using fresh… remove and discard the leaves from the rhubarb and cut the rhubarb into 1/2 inch pieces. Remove and discard the strawberry hulls. Cut the strawberries into pieces the same size as the rhubarb. 
If using frozen… thaw and drain the frozen rhubarb and strawberries. Pat dry with paper towels to keep your pie from becoming too watery. Cut the rhubarb and strawberries into 1/2 inch pieces (if not already cut).
Nutrition
Serving:
1
slice
|
Calories:
319
kcal
|
Carbohydrates:
59
g
|
Protein:
4
g
|
Fat:
15
g
|
Cholesterol:
28
mg
|
Sodium:
284
mg
|
Fiber:
3
g
|
Sugar:
29
g
Have you tried this recipe?
Let me know what you think! Rate this recipe and leave a comment below.