This blender hollandaise recipe is super easy only needing four ingredients and a few minutes to make. Pour this golden deliciousness on everything from eggs to veggies to fish.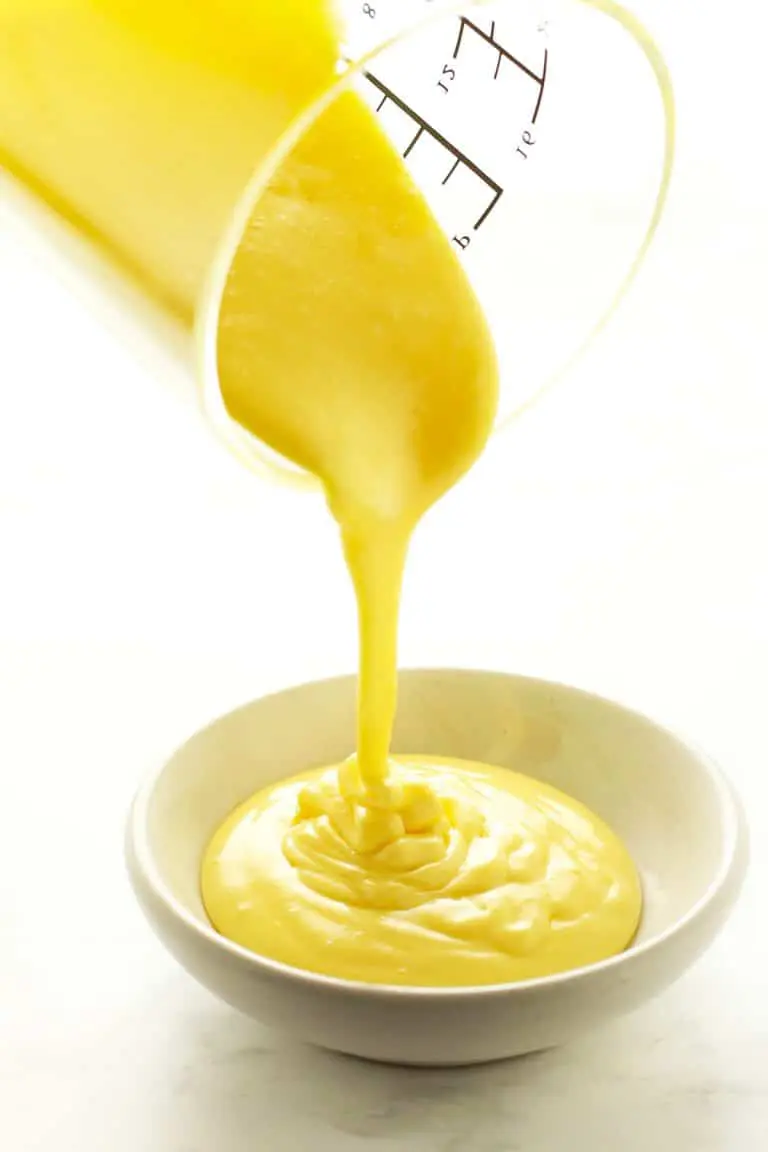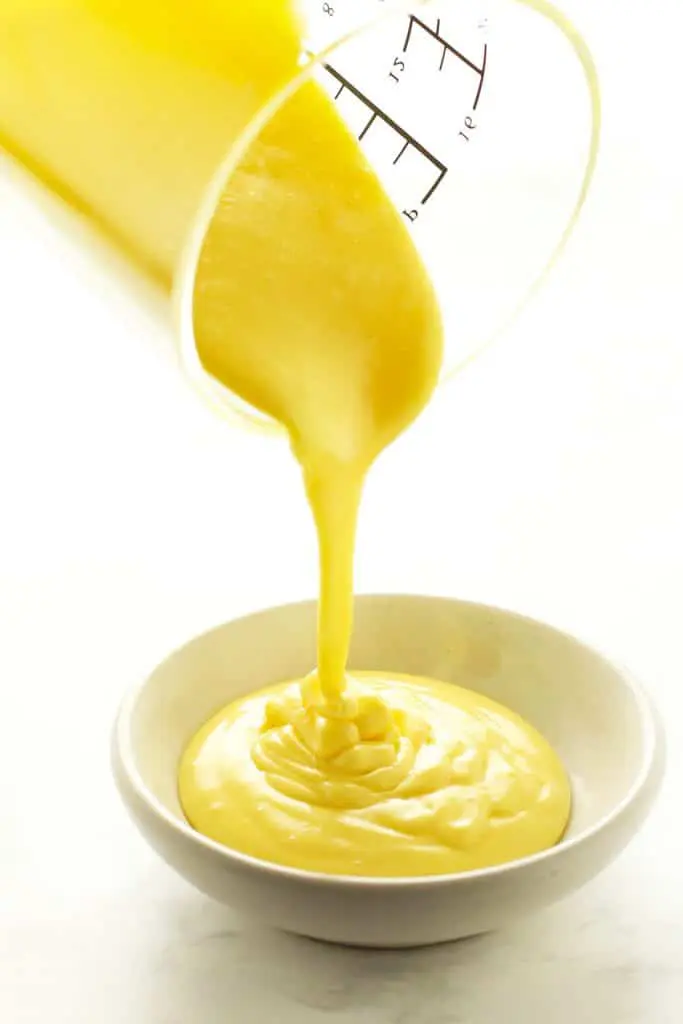 ---
About This Recipe
What does hollandaise sauce taste like?
Hollandaise is very rich. It tastes like a delicious creamy buttery sauce with a hint of lemon. The lemon perfectly balances out the richness of the buttery flavor. It is so good and one of my favorite sauces of all time.
Blender hollandaise is easy and fast… like really fast.
The recipe says it takes 5 minutes to make this sauce because as a general rule, 5 minutes is the minimum amount of time I put on any of my recipes just to be realistic . This sauce could be put together in 2-3 minutes.
All you have to do is blend a few ingredients for 10 seconds. Heat butter in the microwave and let cool for 1 minute. Then slowly pour the butter into the blender while it is running which usually takes around 20-30 seconds. That is it! SO FAST!
What does hollandaise sauce go with?
Hollandaise is commonly poured over classic eggs Benedict. It also goes well with tons of other foods such as vegetables, fish, other egg dishes, breakfast hash and steak.
Asparagus is a popular vegetable to eat with hollandaise and my personal favorite. You could serve hollandaise with steak and roasted vegetables or with a salmon dinner. Once I put a couple spreads on my breakfast sandwich and it was AMAZING.
---
Helpful Hints
Can you make blender hollandaise ahead of time?
I'm all about the make ahead recipes but unfortunately this isn't one of them. Hollandaise is best made immediately before serving. Making hollandaise too far ahead of time could cause it to break or separate. Also, if it were to be made ahead of time and refrigerated, it would turn into a solid with a consistency similar to cream cheese.
If absolutely needed, hollandaise can be made up to 1 hour ahead of time. Immediately after making the sauce, put it into a heat-proof container like a glass measuring cup. Then cover it tightly with plastic wrap and put it in a pot of really hot water to keep it warm until serving. If the sauce thickens too much whisk in a tablespoon or so of water to thin it out.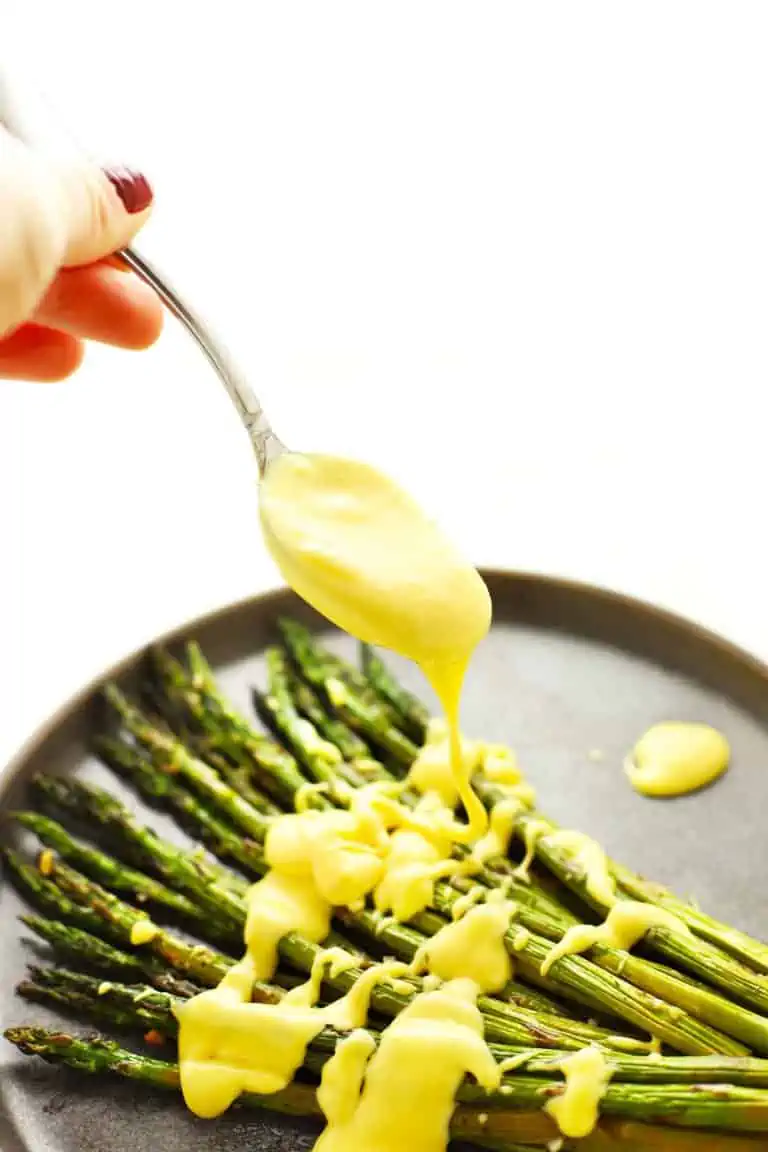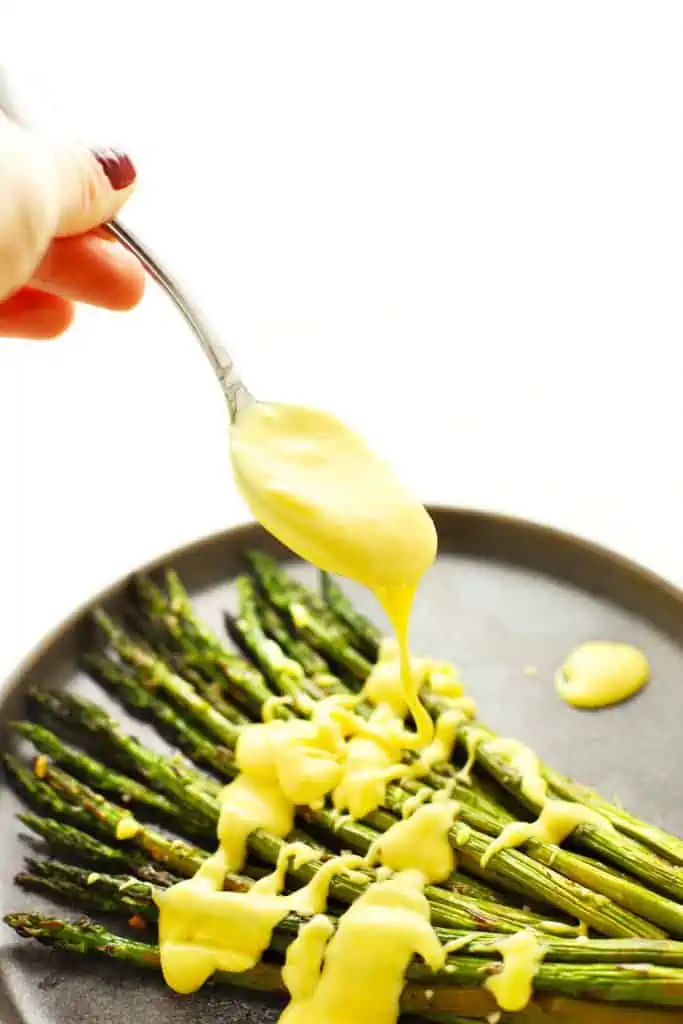 Why did my hollandaise split?
You can tell when your sauce splits or breaks because it will separate and become watery and/or grainy and chunks. Unappetizing compared to the smooth velvety sauce that hollandaise is supposed to be. There are two main reasons why this happens.
Reason 1 – Butter Added Too Quickly: It is extremely important to add the melted butter very slowly (just a thin stream) to the blender when it is running. I don't want to get too technical but in short, hollandaise is an emulsion and the egg yolks are the emulsifying agent.
An emulsifying agent connects two types on ingredients that normally don't mix together (like oil and water) to make a perfectly smooth sauce. However, if butter is added too quickly, the egg yolks get overwhelmed and can't make that connection.
Think of it like this. A dog leash (the emulsifying agent) connects the dog to its owner. If the dog is moving slowly, it is easy to connect the leash to the dog's collar and for the owner to pickup the other end of the leash. If the dog is running too fast when trying to connect the leash to his collar, it is impossible to make that connection. I know. My analogy is a stretch but it is the best I could come up with.
Reason 2 – Butter Too Hot: After melting the butter, let the butter cool for a minute or two before adding it to the blender. If the butter is too hot it actually starts to scramble the eggs. This will cause your sauce to break and become chunky.
---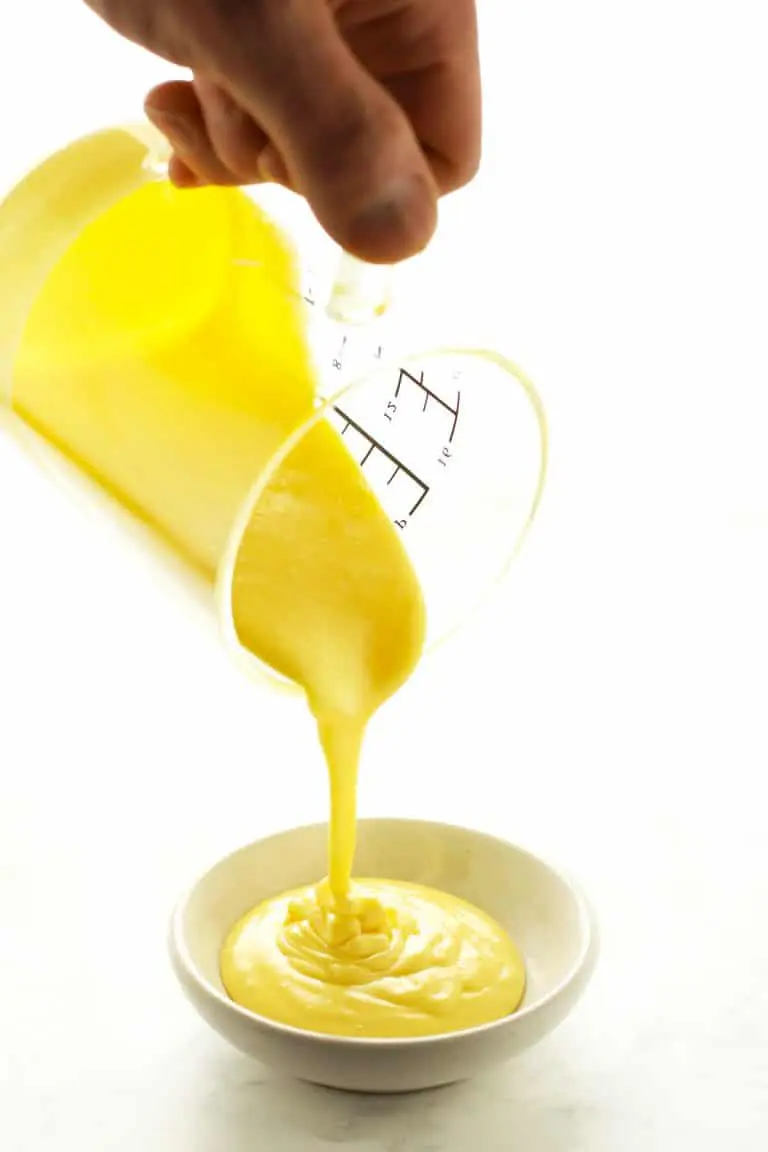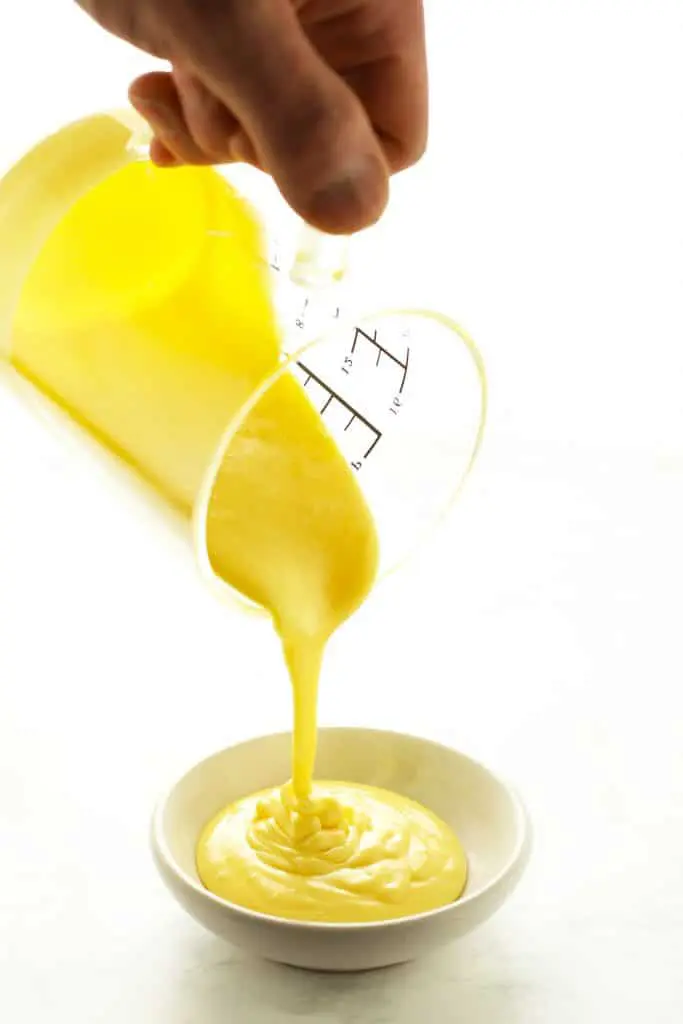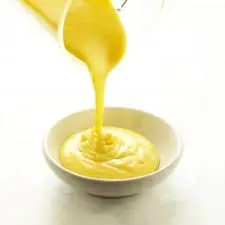 Blender Hollandaise
Pin Recipe
Print Recipe
Rate Recipe
This blender hollandaise recipe is super easy only needing four ingredients and a few minutes to make. Pour this golden deliciousness on everything from eggs to veggies to fish. 
Ingredients
3

egg yolks

1

Tbsp.

lemon juice

1/4

tsp.

salt

1/4

tsp.

Dijon mustard

,

optional

1/2

cup

butter

,

1 stick
Instructions
Blend: Put egg yolks, lemon juice, salt and Dijon mustard in blender. Blend for 10 seconds or until well combined. 

Heat Butter: Microwave the butter for 20 second intervals until completely melted but not boiling over. Let cool for 60 seconds and then immediately continue to step 3. 

Add Butter: Turn on the blender to low/medium speed. While the blender is still running, slowly pour the butter into the blender in a thin stream. Once all butter is added, continue blending for 5 seconds. It should be a thick cream consistency. Add additional lemon juice, salt or Dijon to taste. Serve immediately! 
Notes
If the butter is too hot, it will scramble the eggs or cause the sauce to separate. Make sure to let it cool for a minute or so after microwaving. 
The volume of this recipe is relatively small. A large blender may not be able to sufficiently blend small amounts of ingredients. Either use a small to medium sized blender or double the recipe is using a large blender. 
Nutrition
Serving:
2
Tablespoons
|
Calories:
42
kcal
|
Carbohydrates:
1
g
|
Protein:
2
g
|
Fat:
3
g
|
Cholesterol:
100
mg
|
Sodium:
107
mg
|
Sugar:
1
g
Have you tried this recipe?
Let me know what you think! Rate this recipe and leave a comment below.